The specialty ingredients business is a $30bn plus industry. This industry manufactures and sells ingredients that improve appearance, color, flavor or texture or provide additional health benefits for food and drink, cosmetics and pharmaceutical industries. All these ingredients (flavors, hydrocolloids, vitamins, prebiotics, probiotics, omega fatty acids, enzymes, etc.) are found in well-known food brands for the dairy, baking, fruit juice, beer, wine, savory and functional food segments, etc. All the ingredients have to meet strict regulatory requirements.
The industry itself is highly fragmented and has a high potential for consolidation. The consolidation process has already started. Bigger players are buying the smaller ones.
The industry is dominated by several big companies like Kerry Group (OTCPK:KRYAY), Ingredion Incorporated (NYSE:INGR), Royal DSM (OTCQX:RDSMY) (via DSM Nutritional Products and DSM Food Specialties) and Associated British Foods plc (OTCPK:ASBFY). Although, not all the production of these companies are ingredients. In most cases, these companies have other activities in parallel. These big companies are followed by much smaller players - Naturex (France), Novozymes (OTCPK:NVZMY) (OTCPK:NVZMF) (Denmark), Frutarom (OTCPK:FRUTF) (Israel), Diana Group (France), etc., in the market.
I would like to look at the business of Kerry Group, the biggest fish in the pond.
Kerry Group plc
Kerry Group plc is an Irish food company that is listed on the Dublin and London stock exchanges. Started in 1972 as a small, private dairy company, it later expanded and diversified its operations. The Kerry Group has 126 manufacturing facilities, approximately 24,000 employees and operated in Europe, North America, South America, Australia, New Zealand and Asian markets. Since 2000 till 2014, this company made 70 acquisitions. In 2015, it continued this path and acquired or is in the process of acquiring Red Arrow Products (US), Island Oasis (US) and Biothera Inc.'s Wellmune business (US).
The company has approximately €5.8bn in revenue and €0.636bn in profit.
The activities of Kerry Group are split into two parts:
Taste & Nutrition - Manufactures functional ingredients and actives for the food, beverage and pharmaceutical industries (74% of revenue and 83% of profit). The business is split between the Americas (45% revenue), EMEA (36%) and Asia-Pacific (19%).
Consumer Foods - Manufactures added-value branded, and customer branded chilled foods, principally to the UK and Irish consumer foods markets (26% of revenue and 17% of profit).
For the three quarters that ended on 30 September 2015, the volumes of Taste & Nutrition (3.4%) grew faster than Consumer Foods (2.6%).
The company wants to achieve growth mostly in developing markets: the Asia-Pacific, Europe, the Middle East and Africa (EMEA) and Latin America. The growth should come from organic growth and targeted acquisitions.
Kerry Group targets for 2013-2017 are presented below.
Stock performance
Analyzing the stock performance since 2011, it should be remarked that the stock price grew steadily from €23.99 on 29 January 2011 to €73.70 on 28 January 2016 at a compounded growth rate of 25.2% (see graph below).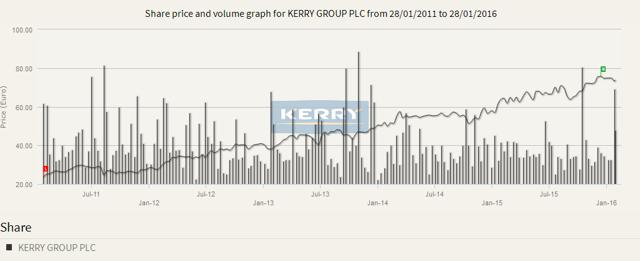 Kerry Group was not immune to the current market volatility and lost 3.42% from the closing price on 31 December 2015 (see graph below). That is a relatively modest drop in share price during the volatile month of January 2016.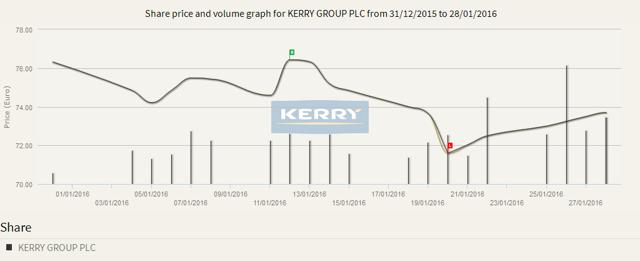 The stock's attractiveness is evaluated using a simple method. The estimates for three future years are taken and then multiplied by the P/E ratio for the stock that it is believed to be in the market for the particular stock in question. To simplify the calculations, the P/E ratios of the past five years are used: the minimum and the average of the past five years and compared with the average for the industry. Only if the estimated stock price implies the 15% annual return, the stock is considered for investment.
According to the FactSet database, the estimated EPS for 2015-2017 are as follows:
| | | | | |
| --- | --- | --- | --- | --- |
| | 2014 | 2015 | 2016 | 2017 |
| EPS estimate, in EUR | 2.79 | 2.99 | 3.32 | 3.66 |
| EPS growth rate | | 7% | 11% | 10% |
| Stock price using min P/E of 5 years (12.3x) | | 36.78 | 40.84 | 45.02 |
| Stock price using average P/E of 5 years (35.3x) | | | 117.20 | 129.20 |
| Implied annual return | | | 26% | 20% |
Conclusion
According to me, Kerry Group will continue with its strategy to achieve growth through organic growth and acquisitions, the strategy it has pursued since 2000. Being the biggest fish in the highly fragmented ingredient market, the company has enough potential to acquire smaller companies in different geographical areas.
However, it is not very clear the strategy to keep the higher growth ingredient business with the slow growth consumer business in matured markets of the UK and Ireland. I would assess the possibilities of divesting or selling the consumer business segment.
The current stock price below €75 is a valid point for investment.
Disclosure: I/we have no positions in any stocks mentioned, and no plans to initiate any positions within the next 72 hours.
I wrote this article myself, and it expresses my own opinions. I am not receiving compensation for it (other than from Seeking Alpha). I have no business relationship with any company whose stock is mentioned in this article.
Editor's Note: This article discusses one or more securities that do not trade on a major U.S. exchange. Please be aware of the risks associated with these stocks.