Delivering more than 11 million pizza slices on Super Bowl Sunday, Domino's Pizza (NYSE:DPZ) describes itself as "the recognized world leader in pizza delivery," focusing on its distribution network rather than the taste and value, which seems bizarre for a business model. That, however, is how Domino's Pizza has, until recently at least, wished to be seen, and how it distinguishes itself from competitors like Yum Brands' (NYSE:YUM) Pizza Hut, Papa John's (NASDAQ:PZZA), Noble Roman's (OTCQB:NROM), privately-held Little Caesars, and the small mom-and-pop pizza parlors in most towns.
Dominos does have the largest market share of the pizza delivery business. It relies on a heavy investment in advertising to promote brand awareness, and claims to be the first organization to introduce heat-retaining delivery bags, the corrugated pizza box and online ordering and tracking. The three dots on the domino in the company's logo represent the first three stores opened in the 1960s, but fifty years on, Domino's has more than 9,500 stores in over 70 countries selling 400 million pizzas annually.
Both company-owned and franchise stores are designed around the concept of low-cost and efficient delivery, and the supply chain service includes a centralized dough manufacturing and ingredient distribution system now copied by other fast food groups. Recent technological advances include the introduction of iPhone and iPad ordering apps and games.
US same-store sales in 2010 grew by 9.9%, after three years of decline from 2006 followed by modest growth in 2009. Accumulated same store growth of 12.5% from 2009 to the end of Q3 2011 outstripped both Starbucks (NASDAQ:SBUX) and McDonalds (NYSE:MCD). See Investor Day Presentation (pdf).
Before the recent upsurge, market research had shown that while Domino's headed the list of customer service satisfaction, it was bottom of the league for taste. Subsequently the company spent two years conscientiously striving to improve the core ingredients of crust, cheese and sauce, and succeeded in overtaking both Papa John's and Pizza Hut for customer taste satisfaction. At the same time it introduced an advertising campaign focusing on transparency, and the "show us your pizza" photo crusade, inviting customers to identify the condition of real pizzas delivered to their doors.
Domino's international stores have delivered nearly 18 years of positive quarterly same store sales growth, a remarkable record. International stores represent 49% of the total number, delivering 50% of global sales and 36% of operating income. It is far ahead of its pizza industry competitors in international store growth. Its star international markets are Australia and New Zealand, India, Malaysia, Turkey and the UK and Ireland. All of its top ten overseas markets still have significant room for growth.
As well as competing against the specialist pizza providers already mentioned, Dominos is also fighting for the fast food dollar against other Yum Brands' outlets, like KFC and Taco Bell, and of course McDonald's, Starbucks, Burger King (NYSEARCA:BKC) and Wendy's (NYSE:WEN). Like all of these players, Dominos has to find ways to combat the opinion that all fast foods are fat-laden enemies of healthy eating, just one more temptation along the primrose path that leads to obesity, diabetes and heart disease. Dominos counters this perception with initiatives like the Domino's school lunch; whole wheat, low sodium, nutritious "Smart Slice"; and its collaboration with the Alliance for a Healthier Generation.
The company is also exposed to volatile commodity markets for its basic ingredients, particularly cheese and wheat flour, but its 2012 outlook predicts only a moderate overall cost increase of 1-2% for these items. In any case, these products are supplied at a constant mark-up rate to franchisees, transferring the risk. The strengthening of the US dollar will have a negative impact on its international royalty stream, but the company is not currently engaging in currency hedging.
Global retails sales in 2010 were $6.3 billion - $3.3 billion in the US and $3 billion internationally. This translated to total 2010 revenues of $1.6 billion (up 12% on 2009), operating income of $228 million (up 20% as a result of improved margin) and diluted EPS of $1.45 compared with 2009's $1.38 (Q4 2010 financial results (pdf). Q3 2011 ended on September 12, and year-to-date revenues were $1.15 billion (up 5.5% on comparable 2010), while operating income of $183 million grew by 14% following more margin improvement (Q3 2011 financial results (pdf).
Domino's CFO Michael Lawton referred to the 9.1% growth in global retail sales during the Q3 2011 earnings conference call. Including positive currency impact, the increase was 13.3%. Year-to-date a net 190 new stores had been opened. General and administrative expenses had grown slightly as a result of the in-house development of new technology initiatives. CEO J Patrick Doyle commented on the recent increase in US cheese prices, which had impacted negatively on franchisee profitability. He observed that the sales turnaround had now proved itself to be more than a short-term spike following the company's new recipe and transparency initiatives. A response in the Q & A segment revealed that online sales now represent around 30% of the total, with 1.5% attributable to the iPhone app alone.
Domino's stock price has doubled over the last year, as shown below: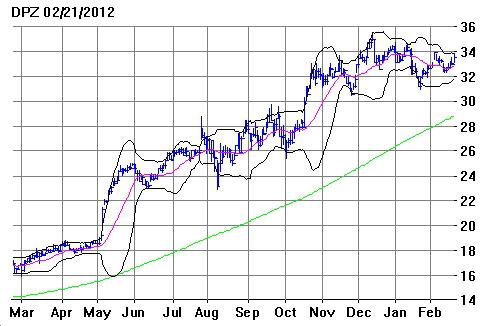 Additionally, Domino's stock price is near its pre-Great Recession peak, realized in 2007. The company has made great progress in transforming itself and expanding internationally, however, international results may be less than spectacular with the sovereign debt issues related to Europe. Domino's upcoming earnings results may not be as good as some are expecting. To alleviate concerns with the upcoming earnings release, an investor might consider a collar position. A collar position is entered by selling a call option against a stock and using some of the proceeds to purchase a put option for protection.
Using PowerOptions tools, a collar was found for Domino's with a potential return of 2.5% (16% annualized) and a maximum potential loss of 10.9%, even if the price of the stock drops to zero. The specific call option to sell is the 2012 Apr 34 at $1.30 and the put option to purchase is the 2012 Apr 29 at $0.45, as shown below:
A profit/loss graph for one contract of the collar position is shown below: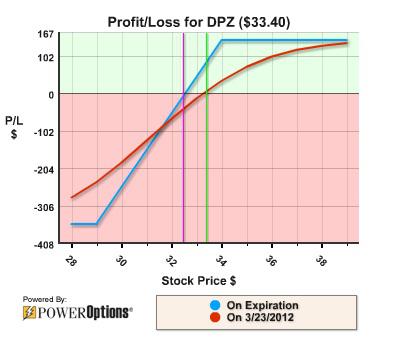 As a bonus, if the price of the stock is greater than or equal to the $34 strike price of the call option at expiration in April, the collar will return 4.5%. And, for a stock price less than the $29 strike price of the put option, the value of the collar will remain unchanged with a maximum potential loss of 10.9%, even if the price of the stock drops to zero.
Disclosure: I have no positions in any stocks mentioned, and no plans to initiate any positions within the next 72 hours.