The Dividend Champions spreadsheet and PDF have been updated through 1/29/16 and are available here. Note that all references to Champions mean companies that have paid higher dividends for at least 25 straight years; Contenders have streaks of 10-24 years; Challengers have streaks of 5-9 years. "CCC" refers to the universe of Champions, Contenders, and Challengers.
Off to a Flying Start
January 2016 may best be remembered for a painful sell-off, but it's clear that there are still many positives at work in the stock market. Most Dividend Growth companies continue to raise their payouts on a regular basis and the CCC universe expanded once again, moving to 761 companies from 753 at the end of 2015, with 14 new Challengers, 6 deletions, and one promotion. The Near Challengers listing picked up 22 "NEW" notations (in Appendix B on the Notes tab), bringing the number of Near-Challengers to 135, up from 124 last month and the record of 281 companies in September 2014. After December's action saw the average price of CCC stocks drop by $1.87, that figure declined by another $2.49 in January. While the average "age" of the dividend streaks remained at 13.8 years, the average yield surged from 3.23% to 3.40% and the average of the Most Recent Increases dipped from 9.44% to 9.32%.
The new year began with a note of caution concerning the MLPs (Master Limited Partnerships) that have suffered due to the collapse in the price of oil. In the wake of cuts in distributions by Kinder Morgan (NYSE:KMI) and two Teekay MLPs (TGP and TOO), I suggested in this article that numerous reductions among the MLPs (especially those yielding over 10%) might take place when they declare their next distributions, typically in late January or early February. Fortunately, there were just three cuts in January. There have been some increases, mainly among MLPs yielding 6.5% or less, but several firms have kept the distribution rates unchanged, ending long strings of quarterly increases. To highlight the highest yields, I've added Conditional Formatting to the Yield column this month, so that any yields over 10% appear in Bold Red.
Explanations are in order for a couple of this month's deletions, three of which were due to acquisitions. First, on January 14, ACE Limited (whose symbol was ACE) completed its acquisition of Chubb Corp. and changed its name to Chubb Limited and adopted the symbol CB. As a result, a Champion with a 33-year streak of increases was deleted, but the "new" Chubb is a Contender with a 23-year streak, so it should become a Champion in 2017. A second deal involved two Challengers and closed on January 29, with Avago Technologies acquiring Broadcom Corp., which was deleted. But the acquirer will immediately change its name to Broadcom Limited, while retaining its stock symbol AVGO. The month's other acquisition involved the takeover of BioMed Realty Trust by the Blackstone Group.
As always, please use the CCC only as a starting point for more in-depth research. Feel free to leave any suggestions in the Comment area below.
Quick Summary
The Summary tab includes a table comparing the composite numbers from the latest update to those from the previous month and the end of the previous year. Below that is a summary of the latest month's activity, in terms of companies added, deleted, or promoted. That is reflected below:
Quick Summary:

1/29/16

Champions

Contenders

Challengers

Total

No. of Companies

106

251

404

761

Ave. No. of Years

41.2

15.0

5.8

13.8

Average Price

68.07

61.33

47.36

54.85

Average % Yield

2.80

3.38

3.57

3.40

Ave. MR % Increase

6.64

7.73

11.75

9.32

12/31/15

Champions

Contenders

Challengers

Total

No. of Companies

107

250

396

753

Ave. No. of Years

41.0

14.9

5.8

13.8

Average Price

69.72

63.23

50.28

57.34

Average % Yield

2.76

3.21

3.37

3.23

Ave. MR % Increase

6.76

7.81

11.96

9.44

12/31/14

Champions

Contenders

Challengers

Total

No. of Companies

106

246

259

611

Ave. No. of Years

40.2

14.4

5.9

15.3

Average Price

69.58

68.71

56.76

63.79

Average % Yield

2.50

2.64

3.12

2.82

Ave. MR % Increase

8.25

8.61

12.28

9.93

MR = Most Recent

Additions:

Apogee Enterprises Inc. (NASDAQ:APOG) to Challengers

Booz Allen Hamilton Holding Corp. (NYSE:BAH) to Challengers

Cortland Bancorp (OTCQX:CLDB) to Challengers

EQT Midstream Partners LP (NYSE:EQM) to Challengers

Investors Bancorp (NASDAQ:ISBC) to Challengers

Kaiser Aluminum Corp. (NASDAQ:KALU) to Challengers

Las Vegas Sands Corp. (NYSE:LVS) to Challengers

MainSource Financial Group Inc. (NASDAQ:MSFG) to Challengers

Mercantile Bank Corp. (NASDAQ:MBWM) to Challengers

Old National Bancorp (NASDAQ:ONB) to Challengers

Quest Diagnostics Inc. (NYSE:DGX) to Challengers

South State Corp. (NASDAQ:SSB) to Challengers

Sunoco LP (NYSE:SUN) to Challengers

United Bancshares Inc. (NASDAQ:UBOH) to Challengers

Deletions:

BioMed Realty Trust Inc. (NYSE:BMR) from Challengers

Broadcom Corp. (NASDAQ:BRCM) from Challengers

Chubb Corp. (NYSE:CB) from Champions

CSI Compressco LP (NASDAQ:CCLP) from Challengers

Global Partners LP (NYSE:GLP) from Challengers

Noble Energy Inc. (NYSE:NBL) from Challengers

Promotions:

CMS Energy Corp. (NYSE:CMS) from Challenger to Contender
(Table from author; may include underlying data from FinViz.com)
Every Picture Tells a Story
As a bonus, I'm inserting one of Chuck Carnevale's F.A.S.T. Graphs below, highlighting one of the companies listed above. When the price line is in the green area, it suggests possible undervaluation.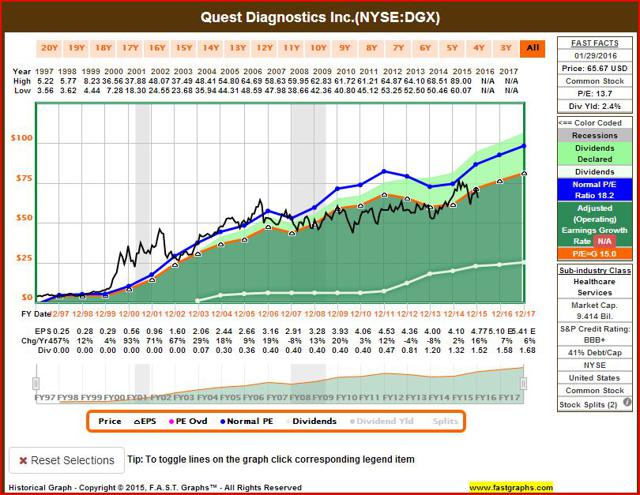 Disclosure: I/we have no positions in any stocks mentioned, and no plans to initiate any positions within the next 72 hours.
I wrote this article myself, and it expresses my own opinions. I am not receiving compensation for it (other than from Seeking Alpha). I have no business relationship with any company whose stock is mentioned in this article.
Editor's Note: This article covers one or more stocks trading at less than $1 per share and/or with less than a $100 million market cap. Please be aware of the risks associated with these stocks.