Like all U.S. steelmakers, Nucor (NYSE:NUE) has been under pressure from imports, and has been vocal about dumping. China produced 50% of world steel output in 2015, and declining domestic Chinese demand over the last few years, particularly declines in construction activity, has released this supply onto world markets. The U.S. industry's complaints have been heard: in November the Commerce Department imposed countervailing duties of 236% on Chinese corrosion-resistant coil, and subsequently it imposed an additional 256% tariff on Chinese imports as well as lower ones on South Korean, Italian and Indian steel.
These measures may be too late to be of more than symbolic value. Total imports of finished steel declined 6.9% in 2015 and import market share fell eight percentage points to 26% over the course of the year, although the average of 29% was a record. Chinese imports fell 25.5%. But the damage has been done: prices are weak, as is capacity utilization.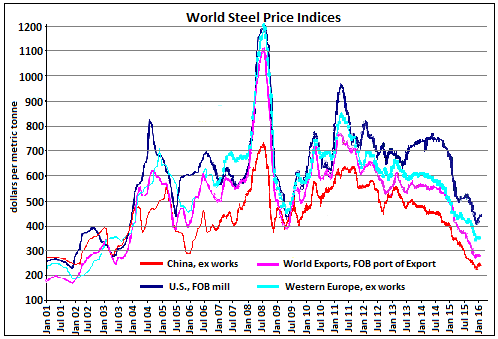 Source: steelbenchmarker.com
U. S. prices are their weakest in twelve years. Thanks to automobile sales and commercial construction, the U.S. was one of very few countries with healthy steel demand in late 2013. U.S. prices rose in the face of declines everywhere else, so the U.S. became a magnet for foreign steel until prices collapsed. Last summer's pause in the decline encouraged production increases, which only made matters worse when higher prices couldn't be sustained: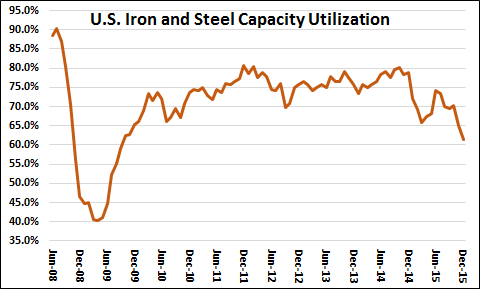 Source: Federal Reserve of St. Louis
China shut 4.4% of its capacity in 2015 and production fell 2.3% to its lowest in level in thirty-four years. Mills are being shuttered in Europe and the U.S., and there are partial closures worldwide, but these are just pinpricks in global oversupply that can only be remedied by China. But the Chinese government is sensitive to the risk of unrest stemming from closures. How much additional Chinese capacity reduction there will be is consequently a good question, although many Chinese producers are financially distressed.
Since it is more efficient than most of its U.S. competitors, Nucor has not yet needed to shut capacity. In 2015 its utilization rate dropped ten percentage points to 68%, roughly the national average. Tonnage shipped to customers declined 11% as the revenues it generated fell 22%.
In contrast to most companies in the industry, Nucor enjoys a very sound financial structure (equity items were 54.5% of its balance sheet total on December 31, 2015, while operating cash flow and cash on hand were up 62.2% and 89.4% from 2014, respectively), flexible and geographically dispersed capacity and a pipeline of new products that has been fortuitously timed. Scrap costs declined 29% in 2015 and energy costs by $3 per ton, despite the energy inefficiency of lower capacity utilization rates. During its Q4 conference call, Nucor's CFO said, "Rather than fighting for survival, the Nucor team is executing our strategic plan for driving profitable growth and delivering attractive returns to our shareholders." This is not just bluster: in a doomsday scenario, Nucor will unquestionably be the last North American survivor.
Is that really the steel industry's situation? The stock market does not seem to think so: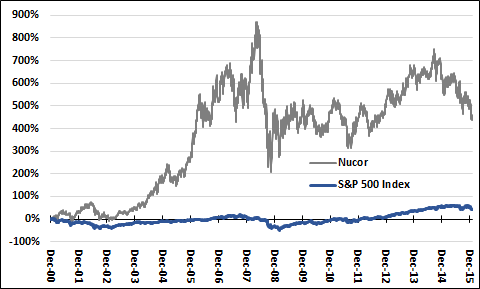 Source: Yahoo! Finance
From its September 2014 price peak, Nucor's stock is down 35% ─ unquestionably painful, but not out of line with the markets' treatment of other industrials. The shares are trading at 17.9x the Yahoo! Finance consensus estimate for 2016, which is hardly a distressed valuation, and the consensus estimate for 2017 calls for a 31.8% earnings increase.
Optimism about Nucor's outlook depends on the assumptions that
U.S. automotive demand remains buoyant;
construction continues to recover, not only office space (which is within a whisker of regaining 2008 levels) but manufacturing plant and highway infrastructure, too;
imports continue to lose market share; and
prices are firmer than at present.
The outlook for 2016 automobile demand is promising, although it got off to a bumpy start because of winter storms. Some commentators question the market's ability to continue growing into 2017, but the industry's recovery has not made up for sales lost during the recession, and such forecasts seem unduly pessimistic: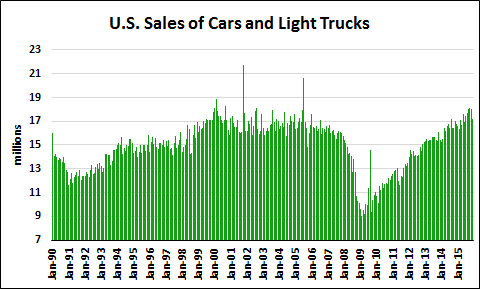 Source: Federal Reserve of St. Louis
U.S. non-residential construction has not recovered as strongly, although office space is within a whisker of doing so. This is due to weak highway and infrastructure spending, although factory construction could be stronger, too. The highway bill signed in December may not provide as much spending as some had hoped, but its five year duration provides a respite from the uncertainty created by annual stopgap measures. However, state and municipal investment will remain depressed. The American Institute of Architects' July consensus of forecasts was for an 8.2% increase in the value of U.S. non-residential construction in 2016, and its next release in February is unlikely to show a retreat from this level.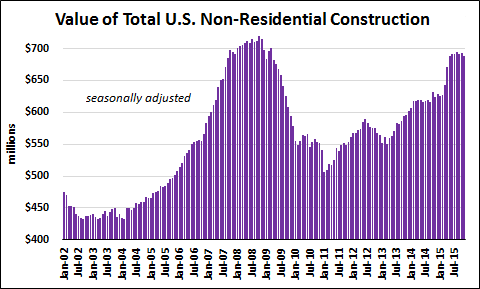 Source: Federal Reserve of St. Louis
Nucor's increased its capacity utilization somewhat since the turn of the year, which suggests that it is confident that, bad weather or no, business will be good even in the seasonally weak first quarter. All that is needed is some sign that steel prices are improving and optimism for Nucor will be amply justified: steel manufacturers, especially highly efficient ones, have enormous operating leverage. The stock has reacted well since its Q4 announcement ─ up 7.5% compared to 2.4% for the Standard & Poor's 500 Index ─ suggesting that management isn't the only group with confidence in Nucor's future.
Disclosure: I/we have no positions in any stocks mentioned, and no plans to initiate any positions within the next 72 hours.
I wrote this article myself, and it expresses my own opinions. I am not receiving compensation for it (other than from Seeking Alpha). I have no business relationship with any company whose stock is mentioned in this article.