2015 turned one of the hottest growth stocks of the 2000s into yesterday's news in a flash. Boston Beer Company (NYSE:SAM) is showing signs of stagnation, and investors reacted by fleeing. Its price as of the close on 1/27/16 represents a $2.05 billion discount compared to its enterprise value just one year ago. So what happened? I will not restate what has been exhaustively identified in other articles, but the short story is simple:
The once guaranteed growth engine is ironically falling victim to its own success- the emergence of craft beer.
The chart below shows SAM's annual sales growth over the past ten years (Figure 1). Investors who expected explosive growth forever suffered a rude awakening last year as Samuel Adams (full year) and Angry Orchard Hard Cider (Q4) sales stumbled, dampening future projections. Just when the stock fell out of favor with the trend-following growth "investors" who locked in their horrible permanent losses, I became intrigued as a value investor as a potential rebound story.
Figure 1: SAM Historical Beer Production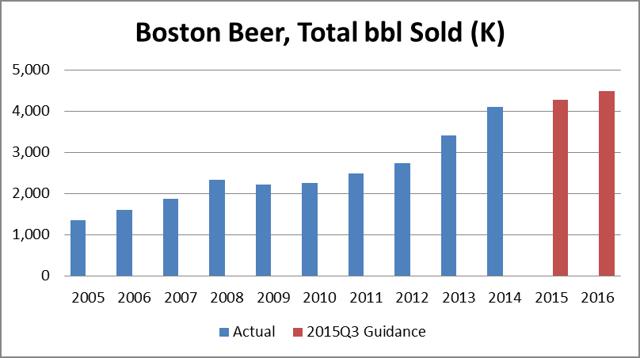 Source: (Boston Beer Earnings Releases)
Those well-mentioned headwinds
The number of breweries increased another 20% in 2015! With a record 4,144 U.S. breweries (Source: Brewers Association) open at the end of last November, the shelf is getting too crowded for established national brands. Easily masked by robust total growth in other brands, the flagship brand, Samuel Adams, suffered a difficult 2015, with Q4 being the toughest.
SAM has been able to innovate as the first mover in new markets, which has given it a huge competitive advantage and allowed the company to defer having to deal with the slowing beer sales problem. First, it happened with Angry Orchard Hard Cider and Twisted Tea, and later with Coney Island Root Beer.
Now, Angry Orchard is the problem. Although it dominates with huge category share and saw admirable growth in 2015, total cider sales did not meet expectations. In fact, as mentioned by Cider Journal, 2015 Q4 saw declining sales of 4.6% across the entire cider category, signaling a panic amid SAM investors. Let's not panic just yet about the "End of Cider as We Know It". In net, this could all be attributed to the cannibalization of its own doing via Coney Island Root Beer, which could end up benefiting the company.
Though the first three quarters of 2015, SAM's total barrels sold increased 5.7%, yet the full-year guidance indicated a range of 3-6% volume growth, and analysts are bracing for the worst. Guidance for 2016 suggests that "depletions and shipments percentage growth of mid- to high-single digits".
I will not claim to know what 2016 will bring other than that there should be tremendous deflationary pressures on beer prices as consumers wade through their overwhelming drinking options. One positive for cider is that it has the fortunate position of being distinguished, and should operate independently of craft beer amid the overcrowded micro market.
Fortunately for SAM, if there is a price war in 2016, craft consumers may actually "trade down" to its brands compared to overpriced local brands, which cannot be said about brands from Molson Coors Brewing Company (NYSE:TAP) and Anheuser-Busch Inbev (NYSE:BUD).
What should go right in 2016?
I identified three main points working in SAM's favor:
Significant Gross margin expansion. The inflation in cost of goods sold and G&A spending cannot continue. With increases in advertisement investments, the belt tightening will have to come from somewhere. By bringing in new leadership in its Supply Chain and Finance, some changes will be in order.
For one, shipping expenses that increased from $13.22/bbl to $15.26/bbl in 2014 should decline. After five years of increasing costs per barrel, if the network is not significantly expanding and diesel prices are lower than they have even been over the six years, there should be opportunity of $3-5/bbl, or $15-20 million (see Figure 2).
Secondly, G&A spending spiked from $50.2 million to $66 million from 2012 to 2014. With the results below expectations, assume raises will not be in line with history.
Thirdly, the commodity super-cycle has ended, and the company should see huge commodity deflation in its raw materials in 2016. Frankly, it's amazing that the company managed to allow costs per barrel to increase in 2015 (see Figure 3).
Figure 2: Shipping Cost vs. Diesel Price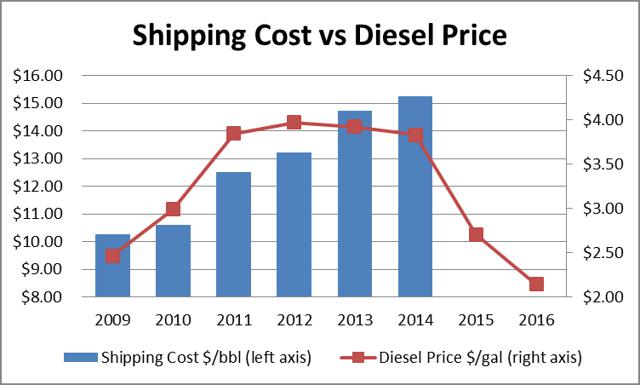 Source: Own, compiled using SAM 10-Ks and Quandl
Figure 3: COGS Excluding D&A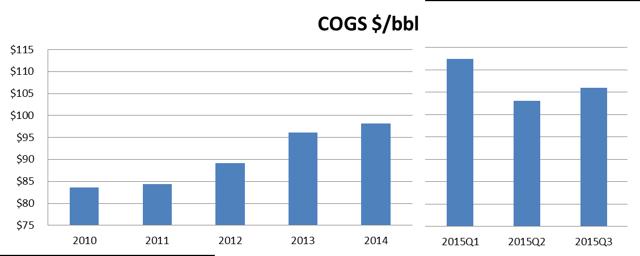 Source: (Boston Beer Earnings Releases)
Commodity prices have plummeted nearly across the board. Since January 2015, aluminum price have declined 19%, malting barley prices have declined 25%, and natural gas prices have declined 25%. Looking back further than the beginning of 2015, the prices are even lower in relative terms. I anticipate $15 million, or $3.30/bbl, in lower costs for 2016, based on market price moves from January 2015 (see Commodity Assumptions at the bottom). Depending on when inputs were booked for 2015, the opportunity could be even higher.
Better product mix. While the guidance suggests another difficult pricing environment and expects national price increases of 1-2%, a volume shift in brand mix should allow SAM to continue to increase its revenue per barrel at a higher rate with growth in higher-value brands and SKUs. 2015 Q3 had 4% higher net revenue/bbl YoY. Coupled with moderate volume growth of, say, 3%, top line improvement could near 7%.
Figure 4: Net Revenue per Barrel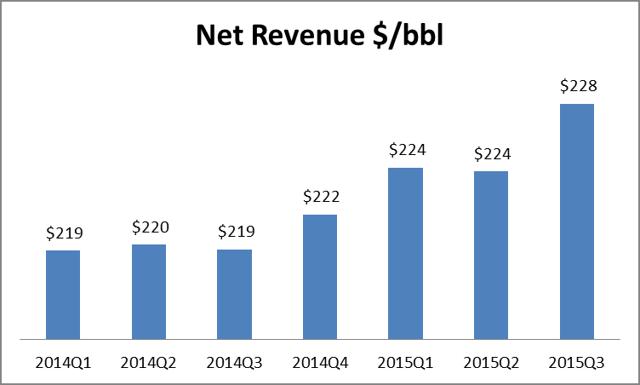 Source: (Boston Beer Earnings Releases)
Holding its Value. I enjoyed reading SA author Value Investor's recent article that brought up this point, but wanted to gain a better understanding of the math myself. See the table below for an enlightening comparison.
Figure 5: Fall 2015 Brewer Acquisitions Table

Sources: Own, compiled using Constellation Brands, The Wall Street Journal, Molson Coors, Fortune, SEC, and The Press Democrat.
Certainly, the hot acquisitions by Heineken (OTCQX:HEINY) and Constellation Brands (NYSE:STZ) last fall are not apples-to-apples comparisons to Boston Beer. Lagunitas is less than one-fifth the size of Boston Beer, and is still in an explosive growth stage. While the details were not public, it is expected that the 50% acquisition by Heineken values the company somewhere between $800 million and $1 billion, or $1,000 per barrel, or 4-5X 2015 net sales.
Constellation Brands' acquisition of Ballast Point makes the Lagunitas purchase look like a bargain. Ballast Point just surpassed $100 million in sales in 2015 and was in the process of launching an IPO before it sold for over $3,400/barrel and nearly 9X sales at $1.0 billion to STZ.
To me, the most interesting acquisition came when the global AB InBev / SABMiller (OTCPK:SBMRY) deal came through - the Molson Coors purchase of the majority stake (58%) of MillerCoors for $12 billion. With declining volume (over a string of consecutive years) and net sales, the company sold for 2.6X sales, or at an EV/2015 EBITDA of 12.0. While there is more value to uncover for TAP, including cost savings that will increase gross margins over time, the fact of the matter is the 58% stake sold for $12 billion.
Some bearish prognosticators will say SAM will begin to suffer share erosion and never recover with long-term volume decline like the number one and two U.S. brewers. This could very well happen. If it does, its conservative exit value could fall somewhere near the low MillerCoors multiple of 2.6X declining sales. As its growth prospects are nowhere near the same "explosive" category of the smaller IPA companies, it does not deserve anywhere near those multiples. On the other hand, SAM's prospects are not quite in the same gloomy category as MillerCoors: consistently declining market share and net revenues, and a shrinking bottom line.
For the sake of comparison, I will use the 2.6X sales and 12.0X current EBITDA to set conservative values on a share of SAM. Using the trailing 12-month EBITDA of $204 million would imply a value of $191/share using the same MillerCoors multiple. Similarly, using the trailing 12-month net sales of $963 million would imply a value of $192/share with the same MillerCoors multiple. These prices represent approximately a $20/share, or 12%, premium above prices from 1/27/16.
While SAM has not gotten cheap by Graham standards, its valuation relative to recent acquisitions make it a low risk. One word of caution using this methodology: Do not let this give you an illusion of safety. I must emphasize that basing a purchase on what someone else was willing pay at one point in time has not always worked out for folks in the past. They have created a name for this trading strategy - the Greater Fool Theory.
Needless to say, should the company maintain its market position, buying its stock in this attractive industry for the long term (who knows when Mr. Koch will entertain selling?) while it is trading significantly below the value of its lesser competition seems prudent.
My buy target: $165.
Commodity Assumptions:
Aluminum: Assume 40% of volume in cans. Assume 30 lbs/100 cans => 17,000 MT of aluminum. ($341)/MT market change => $6 million
Malting barley: Assume 42% of volume is beer. Assume 65 lbs malt/bbl =>53,000 MT of malt or 67,000 MT of barley. ($70)/MT market change (Source: Idaho Barley Commission) => $5 million
Glass: Conversion costs impacted by a 25% decline in natural gas prices => $3 million
Energy: Brewery Power and Shipping costs on inbound materials => $1 million
Disclosure: I/we have no positions in any stocks mentioned, but may initiate a long position in SAM over the next 72 hours.
I wrote this article myself, and it expresses my own opinions. I am not receiving compensation for it (other than from Seeking Alpha). I have no business relationship with any company whose stock is mentioned in this article.