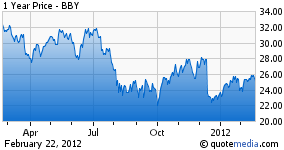 Best Buy (NYSE:BBY) is considered by many to be a company on the decline. The retail chain has successfully branded itself as the go-to brick and mortar retail store for electronics as it carries almost every major brand in consumer electronics, digital media and appliances. As the consumer electronics and digital media value chains continue to transform and people no longer look to brick and mortar retail as often, a lot of analysts question the future of Best Buy. The company's stock has had some very bearish activity over the past few years despite its earnings having a generally upward trend. In this article, I evaluate the pros and cons that will affect Best Buy's performance and explain why now is not the best time to invest in BBY.
Pros
Best Buy's P/E ratio is currently 9.08 and its one year forward P/E ratio is 7.02 as the company is expected to report strong Q4 earnings soon and have 9.2% EPS growth over the next fiscal year which ends in February. The largest determining factor of stock price is forward earnings, and for those who believe the "Best Buy" will be innovative going forward and maintain earnings growth should definitely consider going long on Best Buy stock.
Product Scope
Best Buy sells a lot of different products and as certain products start to go obsolete in brick and mortar retail stores, it can simply find new products to sell to replace SKUs. In addition, products that are almost obsolete in brick and mortar stores, like CDs, have more revenue potential as consumers will go to Best Buy to purchase other products and then make impulse buys.
Cons
The Consumer Electronics and Digital Media Value Chain
Many of Best Buy's previous competitors are now out of business. Netflix put video stores out of business, the iPod put music stores out of business. Many computer stores have gone under as consumers tend to buy computers online nowadays. Gamestop (NYSE:GME) has been one of the most shorted stocks in the market due to the fear of video games becoming downloadable in the near future. Circuit City went under and had a very similar business model to Best Buy. CDs, DVDs, personal computers and video games take up about half of Best Buy stores' stock-keeping units and despite the company being profitable as a whole right now, this could change in the future.
Damaged Reputation
Last holiday season, Best Buy canceled several orders before Christmas that it initially guaranteed to have delivered by Christmas. The company's reputation for reliability was severely damaged and any customer who was canceled on will probably make every effort to avoid buying from Best Buy in the future. Retail is an industry with very few moats and long term competitive advantage is derived from brand image and long term customer loyalty (just ask how Apple (NASDAQ:AAPL) Stores are doing). This tragedy will definitely hurt the company in the future. Best Buy was even named as one of the ten most hated companies in America.
The Bear Hug
Analysts, and now some consumers, have a very negative outlook on Best Buy, and with new earnings coming up in the next month or so, anything short of outstanding performance will cause Best Buy shares to take a big hit. In addition, forward earnings estimates tend to be very unpredictable for bearish stocks. A year ago, Research In Motion (RIMM) looked like a great value buy and the stock's performance has since been miserable as RIMM trades at a P/E ratio of 3.51.
Conclusion
Currently, I recommend staying away from Best Buy's stock, at least until its next earnings report. Stock performance should be a lot more volatile than usual and is way too much of a risk. With a bearish outlook, Best Buy can trade as low as $22 by the end of March and will be a better pick-up at that time.
Disclosure: I have no positions in any stocks mentioned, and no plans to initiate any positions within the next 72 hours.