I love gold. I love to hold coins or bars in my hands and feel the weight and the density of the precious metal. I love the history of gold. I love that every ounce ever produced in the history of the world still exists. I love the fact that this store of value has remained deeply ingrained in the psyche of humankind for thousands of years, if not more. I love its shine, its unique luster.
My love for gold is due to its unique value. I believe in the value of gold; the price is an entirely different matter. For those of you who read my pieces on gold, you will remember that I was quite bearish on the price of the yellow metal throughout 2015. While I was bearish on price, I was never bearish on the value of the yellow metal. In a recent article for Seeking Alpha entitled, "Gold Strong But Weak", I wrote, "the ultimate value of gold continues to rise when measured against other commodity and asset prices." This was the case in 2015, and this trend continues into 2016. Gold is strong; like a bull, but the question in terms of price is can this turn the long-term gold bear into a bull this year?
Higher in 2016
While the vast majority of assets have moved lower in 2016, gold has shined. The equity markets have moved lower across the board so far this year. Other commodity prices have moved lower, some making new multi-year lows. Uncertainty has gripped markets, and gold has been one of the few beneficiaries along with high-quality bonds.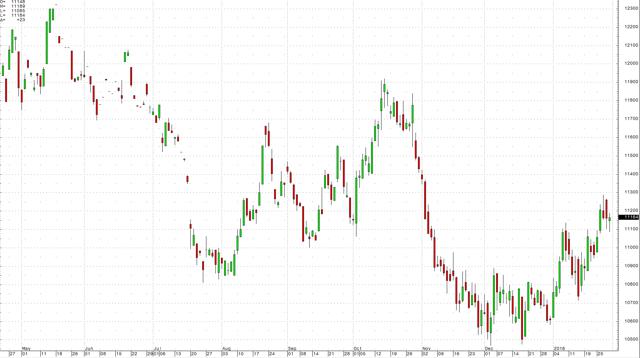 So far, in the first weeks of 2016, gold is doing better than it did last year. Gold traded to highs of $1128.70 per ounce last Wednesday, January 27 -- $65 per ounce higher than the December 31, 2015 price. Last Friday, it closed at $1116.50 per ounce on the active month April COMEX futures contract. Gold was over 6.5% higher in this young year at last week's highs. At the same time, many commodities are lower thus far in 2016, so gold continues to strengthen on a relative basis as well. This is a testament to the strength of gold, the fortitude of its value.
Lower since 2011
At the same time, gold has been in a protracted bear market since 2011 when it traded to all-time non-inflation adjusted highs at $1920.70.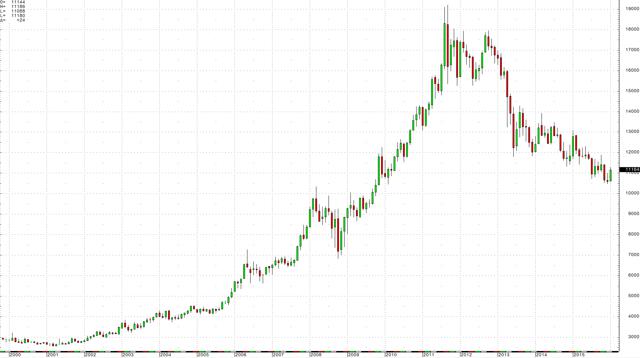 The monthly pictorial of gold's price displays almost a perfect bearish trend. The price has done nothing but make lower highs and lower lows since the peak in 2011. Even though it is rallying in 2016, gold will need to trade above the $1190 level to break the bear market cycle and return to the bullish trend that commenced in 2002 that took the market to those all-time highs.
One of the strongest assets out there
While gold lost over 10% of its value in 2015, its value against the vast majority of other commodities rose. Gold's value increased against every other precious and base metal with the exception of lead. It increased in value against every grain other than corn, which marginally outperformed the yellow metal last year. Gold was stronger than every form of energy. The fact is that gold did well on a relative basis in 2015. In 2016, the same trend is continuing.
In precious metals, gold has out-shined all others.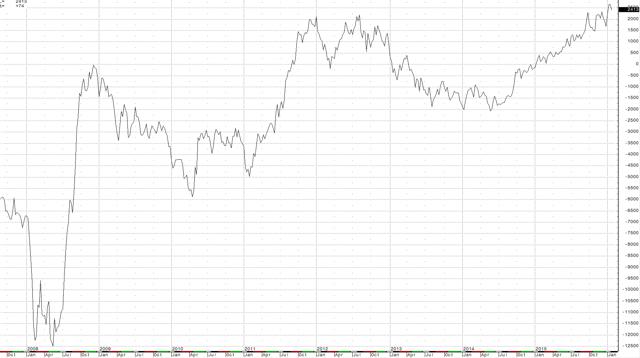 This weekly chart shows that since May 2014, the price of gold has increased by over $450 per ounce against the price of platinum.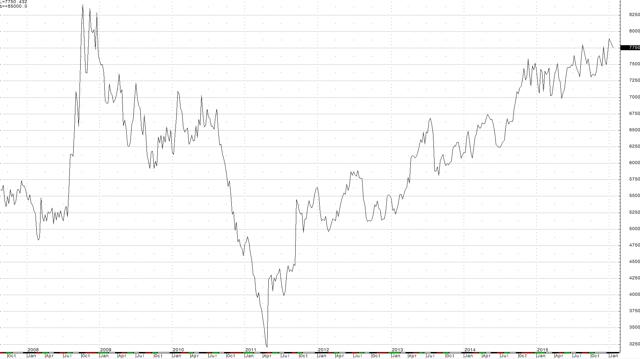 Another weekly chart shows that since April 2011, the price of gold has outperformed silver by over 100%.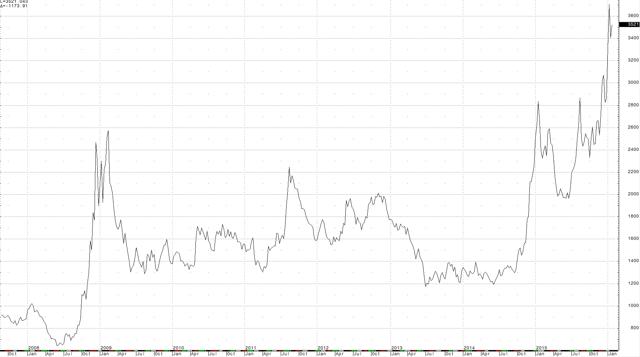 Since 2014, the price of gold has increased in value relative to crude oil. In June 2014, it took around 12 barrels of oil to buy one ounce of gold; recently that ounce cost over 35 barrels of the energy commodity.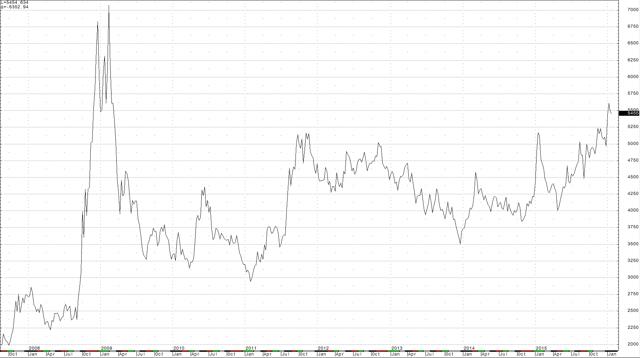 In late 2013, it took 350 pounds of copper to buy an ounce of gold. Today an ounce of gold will get you over 545 pounds of the red metal.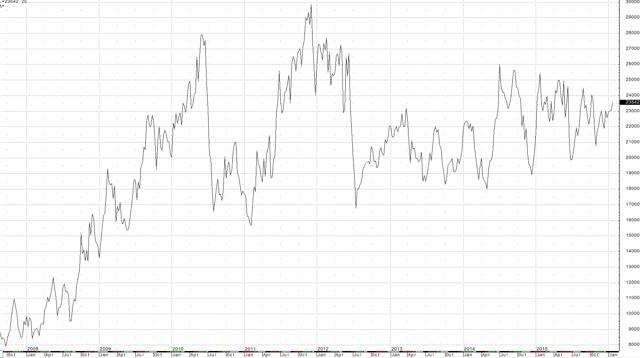 In May 2014, it took only 180 bushels of wheat to buy an ounce of gold. Today, you can feed many more mouths with that ounce of the yellow metal as it will fetch over 235 bushels of the grain.
The fact is that gold is strong, and it is not just strong in commodity terms; it is showing strength against currencies other than the U.S. dollar.
Rallying in all currencies
The dollar is the pricing mechanism for most commodities. That is because the U.S. currency is the reserve currency of the world. Therefore, gold in dollars has a different dynamic than it does against other means of exchange around the world. While gold as moved lower in dollars, it has done much better against other currencies.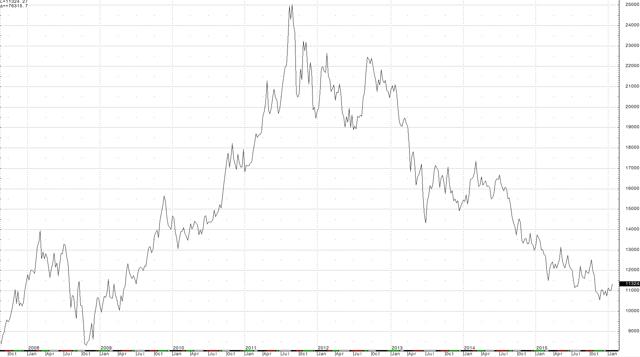 This weekly chart of the price of gold divided by the U.S. dollar index futures contract clearly displays the bear market action of gold in dollars.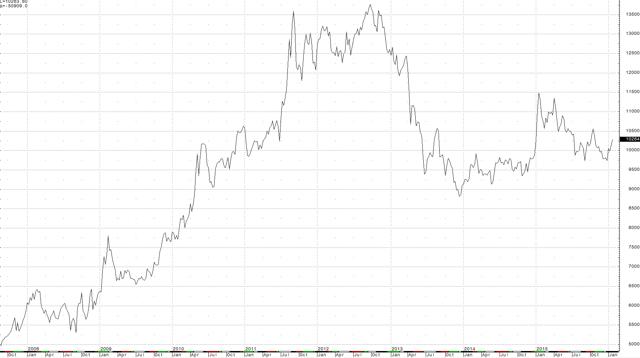 The price of gold in euros has performed far better than gold in dollars. Gold is down 41.6% in dollars from the all-time highs. In euros, it is only down only 25%. While gold was down 10% in 2015 in dollars, it was down only 1.26% in euros. While gold has done nothing but make lower highs and lower lows in dollars since the highs, the chart in euros looks far more constructive.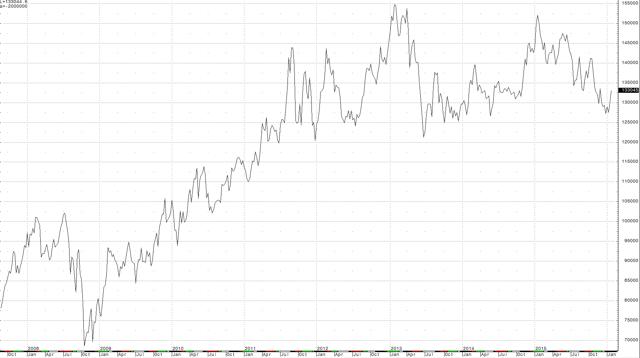 The weekly chart of gold in yen terms looks even better. Gold in yen has rallied since 2009 and it has held its gains. In other currencies, those of nations that depend largely on revenues or cash flow from commodity production, the price of gold has done very well over recent years. Gold has retained its value against the Canadian dollar and the Australian dollar. Against the South African rand, Russian ruble and Brazilian real, the price has exploded.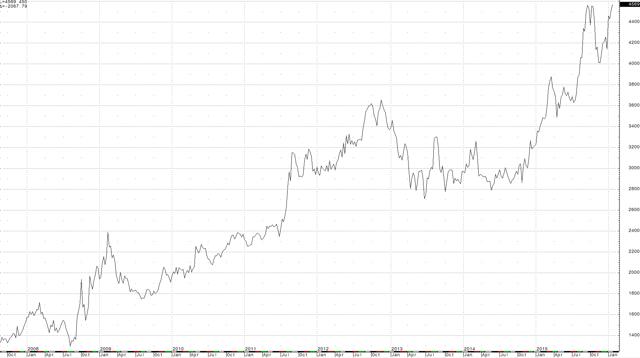 The weekly chart of the price of gold in Brazilian real highlights just how strong the precious metal has been over recent years. This is quite a difference from the price of gold in dollars. The bottom line is that gold's value remains an unquestionable fact and that value depends on where one stands.
Lots of work ahead for the bear to turn bull
Now that I have you loving the value of gold as much as I do, and it is quite a compelling case, we will return to a discussion of gold in dollars. Gold trades in dollars on the liquid futures exchanges in the United States and it trades in dollars on the London Bullion market. That is because of the importance of the dollar in the world. The strength of gold in other currencies and against other hard assets is a testament to the strength of the dollar. The U.S. economy has been growing at a moderate pace. The currency of the U.S. reflects that it is the exchange mechanism of the most reliable nation on earth. The conclusion to this piece is that gold is strong, but so is the dollar.
When it comes to gold, I will never question its value because I respect the relationship between the yellow metal and the human condition. The price of gold at any time is a different issue. I respected gold when it was below $300 in 2000 and the Bank of England was selling their reserves. I thought they were crazy. I respected gold when it was $1900 in 2011 and I respect gold today at $1125 per ounce.
In 2016, we face a battle -- gold versus the dollar. Both are likely to be volatile. Since 2014, the greenback, a paper currency, has been winning the most recent battle. However, if gold breaks above the $1200 per ounce level, it will turn the page on a new chapter in an ongoing war. Above that technical level, gold will break a vicious five-year cycle of lower lows and lower highs. Gold makes a statement about the value of all fiat currencies each day. In 2016, it will continue to make that statement. Gold is the ultimate arbiter by virtue of its longevity. Today, I remain cautiously bearish on gold; $80 above these levels, I will likely sing a very different tune.
As a bonus, I have prepared a video on my website Commodix that provides a more in-depth and detailed analysis on the gold market to illustrate the real value implications and opportunities.
Disclosure: I/we have no positions in any stocks mentioned, and no plans to initiate any positions within the next 72 hours.
I wrote this article myself, and it expresses my own opinions. I am not receiving compensation for it (other than from Seeking Alpha). I have no business relationship with any company whose stock is mentioned in this article.
Additional disclosure: The author always holds part of his portfolio in gold. That percentage varies with market conditions.