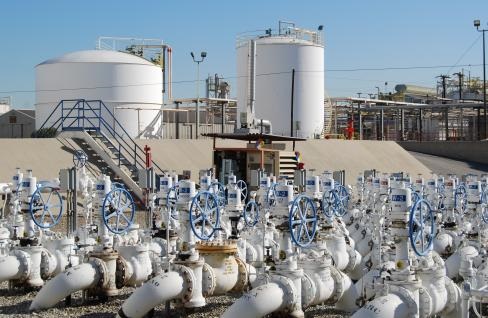 Source: Kinder Morgan website
Note: Readers familiar with KMI's 2015 stock price performance can skip passed the background discussion.
Background
Kinder Morgan Inc.'s (NYSE:KMI) stock was brutalized in 2015 crashing from a high of $45 to under $15, it fell further in 2016 before retracing its 2015 lows. I wrote several bullish articles on the company because operations are insulated from commodity prices with long-term contracts, I'm bullish on natural gas usage in the American economy and KMI has good economic moats in its gas transportation business but the shares were down like it was any other energy company.
The basis for valuation I used was KMI's forecasted dividend based on management's intended growth trajectory at 8-10% per year. Under those assumptions it was the investors' responsibility to assess the company's ability to grow and pay that dividend and decide how valuable that future stream of income is worth to you today. The problem came when the market lost faith in KMI's ability to withstand ever declining commodity prices which lead to a vicious cycle of equity selloff challenging the company's ability to fund new growth through equity issuance which would make dividend growth more challenging which makes the equity value weaker and so on. KMI may have been able to stave off a full collapse and begun a recovery after tax loss selling abated but then the company took on significant debt buying further into Natural Gas Pipeline Company of America LLC (NGPL) prompting Moody's to put the company's debt on watch for a downgrade. Finally the company conceded defeat and slashed its dividend.
Before being cut, the dividend would have yielded 13% at today's $16 share price.
I contend that KMI's approach to funding growth through capital markets was not inherently flawed and did not amount to paying dividends with new equity. It was, however, an approach that required the capital markets to work smoothly and be willing to supply liquidity at modest rates to energy companies based on their specific circumstances rather than grouping all energy companies together. But that was no longer the case in the second half of 2015 and won't be the case again until confidence and market sentiment in the energy sector recovers.
Distributable cash flow
KMI focuses its performance metrics on 'distributable cash flow' (DCF) being cash from operations less 'sustaining' capital expenditures, as opposed to total capital expenditures (sustaining + "growth"). Previously growth CAPEX was funded through equity and debt issuance which left DCF to pay dividends. As DCF was grown, dividends could grow too, boosting the company's yield despite heavy growth investment. When the share price collapsed and its debt rating was put on negative watch by Moody's, the company was forced to slash its dividend to fund growth CAPEX with cash from operations rather than capital markets.
For 2016 KMI expects distributable cash flow of $4.9 billion. $200 million higher than 2015. Here's how it will be spent: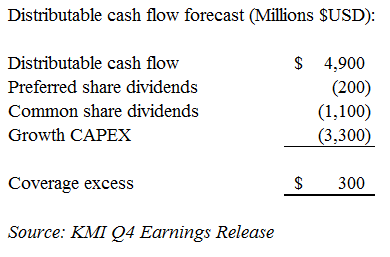 We can see from the above that the company is budgeting for excess coverage to ensure it does not need to access capital markets.
Given the decline in earnings in the current year for lower oil prices, here is a look at the impact on distributable cash flow for KMI given changes in West Texas Intermediate (NYSE:WTI) crude oil prices and Henry Hub natural gas prices: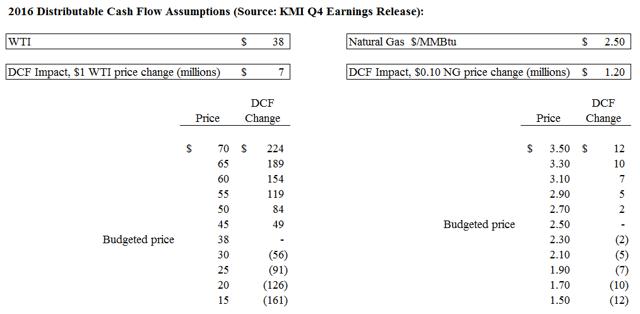 There are two key pieces of information to take away from the above charts.
First is that the company is primarily exposed to commodity price risk for oil at its CO2 segment. Natural gas could theoretically fall to zero and only impact DCF by $30 million.
The second piece of information is to see that if WTI prices fell as low as $15, it would reduce DCF by $161 million on an annual basis which still leaves $139 million of excess coverage to ensure the company can fund its entire growth CAPEX budget and pay its current dividend.
Considering continued commodity price declines would not impair the company's ability to meet its current dividend and CAPEX needs, commodity price risk is modest. And on the positive side, any recovery in oil prices will drive KMI's DCF higher by potentially $100-$200 million (33-66%) for WTI prices of $52-$67.
Since the company no longer needs to access capital markets to fund growth and has budgeted significant excess coverage for 2016, the current dividend, at 3.3% has a low risk of being cut further and has a strong chance of being increased in the next 1-3 years.
Valuation approach
Before its 2015 collapse, KMI's valuation was based on an assessment of its risk profile and the sustainability of the dividend compared to other income-generating assets. Now we are in the weeds as dividend investors avoid a stock that slashed its dividend and value investors are still spooked by the high P/E ratio and high levels of debt. The shares don't fit neatly into either investment thesis, creating significant uncertainty and volatility in the share price. The question is whether investors can still rely on distributable cash flow as the primary factor in valuing KMI's business.
The rationale for using DCF instead of FCF or earnings boils down to two reasons. First is that the company is investing heavily in growth. Using the cash for growth CAPEX leaves less available for distribution to shareholders but it is adding value to the company by increasing the asset base and future available cash flows. GAAP earnings are given less weight because they are non-cash and because the assets are unusually long-lived and their upkeep is included within the 'maintenance CAPEX' excluded from DCF. Since the share price has collapsed, have these characteristics of the business changed? In short, no they have not. It may be difficult to value the company based on its dividend yield and forecast growth but we can still rely on DCF as the basis for valuing KMI.
DCF Growth
Given organic operating growth and a modest improvement in crude oil prices, it is likely that DCF will increase substantially, providing cash that can be directed to growth CAPEX, share buy-backs, debt reduction or higher dividends; all of which could help drive the share price higher.
Growth CAPEX
KMI's management naturally believes in the company's future prospects and are bullish on U.S. infrastructure growth. DCF growth can be expected to be directed heavily towards growth CAPEX, especially while share prices remain low. Growth CAPEX will add value to the business and increase future cash flows. Continued commodity price weakness will also provide KMI the opportunity to acquire assets at distressed prices.
Share buybacks
There is strong insider ownership of KMI who undoubtedly believe the stock is significantly undervalued. Current share price weakness offers an excellent opportunity for the company to buy back shares at a steep discount to intrinsic value. Share buy backs would increase the cash available per share for dividends to boost dividend growth or improve cash flow by leaving dividends per share unchanged. Share buybacks would also give continuing shareholders a larger ownership position in the company boosting their future returns.
Debt reduction
One of the biggest concerns investors have with KMI is its high debt load. The shares spiraled lower when Moody's put the company's debt on negative watch. Increased DCF can be applied towards reducing the debt component of the capital structure, reducing liquidity and interest rate risks. Funding growth CAPEX with internally generated funds is reducing the relative size of debt in the company already.
Dividend increases
KMI was committed to being a strong income generating investment with forecast dividend growth of 8-10% per year until 2020. The dividend was cut because the market clearly no longer valued the dividend KMI was offering, forcing the yield ever higher. It is likely DCF growth and share price appreciation will be directed towards dividend increases again but likely not as aggressively as was done historically. Dividend increases will also benefit insider holdings that will receive cash on their investments which is a likely motivator for dividend growth.
What management ultimately decides to do with increasing cash flows is hard to predict considering the events of 2015. But investors can consider KMI's operations and management's incentives and communications to assess the likelihood and magnitude of the above options being pursued. Regardless of their various merits, all of the above should reasonably be expected to drive the share price higher through improved cash flow per share and multiple expansion.
DCF multiple growth will drive share appreciation
Unquestionably increased cash flow will be viewed favorably by the market. 2016 DCF is budgeted to increase $200 million from 2015, a modest amount at about 4%. As a percentage of the common share dividends, it's a better number at 18%. What will drive KMI's share price significantly higher is the multiple shareholders are willing to assign to KMI's DCF. With forward DCF of $4.9 billion, the company is currently trading at 6.5 times forward DCF which compares to a year ago when it traded at 20 times actual 2015 DCF ($4.7 billion). A modest increase of this multiple to 10x would give a market cap of $49 billion, or 50% higher than today.
A multiple of 15x DCF would bring the valuation back above $70 billion and a share price in the mid-thirties where it was trading for most of 2015. Investors need to ask themselves two questions: when will the market assign this multiple to DCF again and to a long-term investor, does it matter? If you were willing to pay 15x or 20x DCF in 2015 then you should be thrilled to pay 6.5x DCF today. Aside from weakness in the CO2 segment (12% of revenue) the fundamental operating results of KMI have not changed, only its growth CAPEX funding approach. Presumably when market sentiment improves and the share price recovers the company will be able to fund growth with new capital issuance, freeing cash for increased dividends and growth CAPEX in a virtuous cycle of growth mirroring 2015's vicious cycle of decline.
Conclusion
KMI's future is positive. DCF has been pressured by the CO2 segment but the rest of the company is doing well with a large backlog of projects to pursue for growth. More than anything KMI has been a victim of market sentiment that will recover in time leading to DCF multiple expansion that will result in significant share price appreciation.
Disclosure: I am/we are long KMI.
I wrote this article myself, and it expresses my own opinions. I am not receiving compensation for it (other than from Seeking Alpha). I have no business relationship with any company whose stock is mentioned in this article.