Chipotle (NYSE:CMG) has been getting hammered over the last months, which was mainly the result of several health issues related to some of the company's restaurants. Over the last two weeks Chipotle's shares are up though, based on a couple of positive news. In this article I'll take a look at whether this up movement we have seen is just a bounce or whether Chipotle's shareholders have the worst behind them.
Recap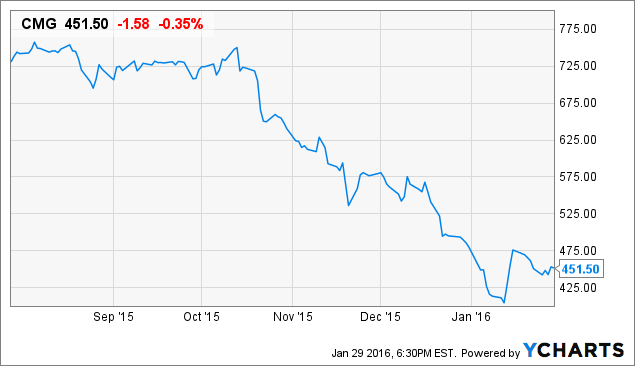 Six months ago Chipotle was trading at $725, right now Chipotle's shares trade at 451 -- forty percent below the 52 week high, but 13 percent above the 52 week low. The E. coli outbreak related to some of Chipotle's stores got public in November, but shares have been weak even before that: From August to November Chipotle's shares went down by more than ten percent despite the fact that no material news got out. After the E. coli issue went public Chipotle's shares accelerated their down movement, bottoming in January, slightly below $400.
E. coli outbreak
About fifty people have reported an E. coli infection starting in October, November and December. The majority of these people had eaten at a Chipotle restaurant in the weeks before they got sick, but some did not eat at any Chipotle restaurant and were infected with the same strain of the disease nevertheless.
Since we have not heard of any new cases in 2016 it seems the issue is under control now, yet we do not know which ingredient did cause these infections (or whether it may not have been Chipotle's fault after all). Nevertheless, with more than a full month without any new cases and the issue out of the media, the E. coli problems could be over for Chipotle.
These food scandals have a huge short term impact, as Chipotle's fourth quarter numbers will show in February, but consumers tend to forget fast, and in the end Chipotle's image will likely not be tainted by this for long.
Other restaurant companies have had E. coli outbreaks in the past, and did not suffer from this in the long run:
McDonald's had to deal with an E. coli outbreak (of about the same size as the current one related to Chipotle) in 1982, yet shareholders have seen their investment grow 13,000 percent from 1982 -- an annual return of 23 percent. Investors who held McDonald's shares when news about that outbreak got public surely weren't happy, but those who held onto the shares were rewarded massively.
In 2006 Taco Bell has had an E. coli outbreak -- bigger than the one attributed to Chipotle -- and yet the parent company's shares (NYSE:YUM) did well over the next decade: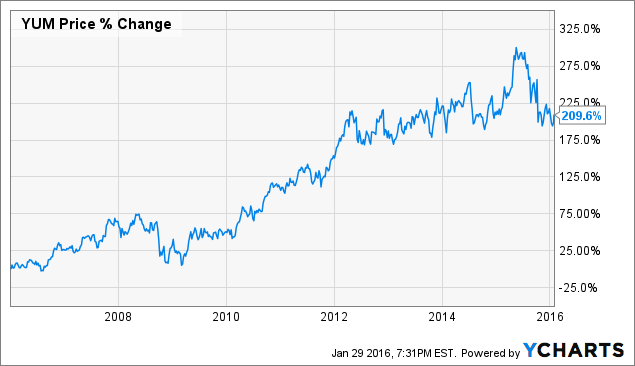 With a share price increase of more than 200 percent since the issue went public in 2006 Taco Bell's shareholders will be happy they held onto the company's shares during this short term issue.
Chipotle's guidance
Following this E. coli scandal Chipotle has changed its guidance for Q4 2015 results: In December Chipotle stated that comparable restaurant sales would likely show an eight to eleven percent decline in comparison to the prior year's quarter. Additionally Chipotle will face one time expenses in the $6 million to $8 million range. Chipotle has also stated that earnings per share for the quarter would come in at a lower level, likely around $2.65.
Let's first look at the company's comp sales guidance: With average sales per restaurant declining around ten percent, a lot of people would assume this must mean lower revenues for the quarter in comparison to the prior year. Yet, this does not account for a larger restaurant number: At the end of 2014 Chipotle operated 1763 restaurants, during 2015 this number grew by 220 to 1983, for an increase of 12.5 percent.
When same restaurant sales decline ten percent, and the number of restaurants increases by 12.5 percent over the same time, total revenues will be up slightly -- despite the E. coli outbreak Chipotle should be able to report increasing revenues for the fourth quarter.
With earnings per share of about $2.65 for the fourth quarter, Chipotle's EPS would total $15.60 for the full year. This would still represent a ten percent increase over 2014's $14.13 per share. With the E. coli issue out of the media and likely out of consumers' minds in the near future, and an additional twelve percent restaurant count growth in 2016 (Chipotle guides for 220 to 235 new restaurants in the current year), Chipotle should be able to grow 2016's earnings (as well as revenues) over 2015's results again.
Valuation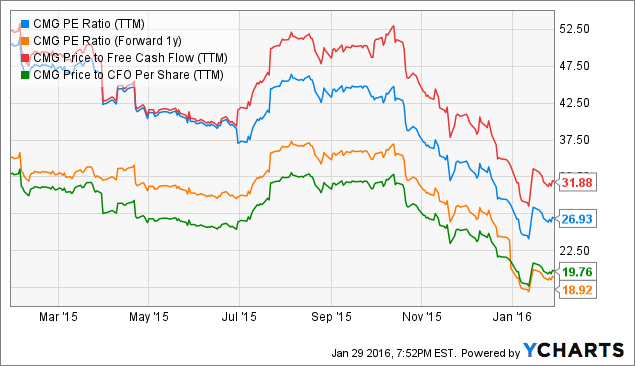 Although Chipotle's valuation is not especially low on an absolute basis, the company's valuation definitely is low relative to how the company was valued in the past: Trailing and forward PE multiples are down substantially over the last year, the forward earnings multiple hasn't been this low for more than five years.
Looking at Chipotle's valuation relative to the cash the company generates, we get the same picture: Chipotle's valuation has gone down a lot. With a trailing FCF multiple of 31.9 the company's free cash flow yield is above three percent, and that is despite huge capital expenditures (for restaurant count increases). The fact that Chipotle's operating cash flows are so high they can fund double digit restaurant count growth each year whilst still generating surplus cash flows that could pay for a three percent dividend yield is a huge positive. Chipotle will use some of these cash flows (as well as cash the company holds on its balance sheet) to repurchase shares whilst the valuation is this low.
Takeaway
Chipotle's E. coli scandal is already out of the media again, and if past E. coli outbreaks are an example this one will be out of consumers' minds in the near future as well.
Chipotle's lower guidance for Q4 will still allow for growing revenues, and FY 2015 earnings should still come in ten percent above the number for 2014.
The huge share price decrease provides a buying opportunity at historically low levels.
Disclosure: I am/we are long CMG.
I wrote this article myself, and it expresses my own opinions. I am not receiving compensation for it (other than from Seeking Alpha). I have no business relationship with any company whose stock is mentioned in this article.