Boeing (NYSE:BA) reported fourth-quarter and full-year results which beat estimates this week, yet the company's shares sold off heavily due to lower than expected guidance numbers. I believe this selloff, in addition to the share price weakness we have seen over the last months, provides a great buying opportunity for this income stock with a defensive profile.
Earnings recap
Boeing reported fourth-quarter revenues of $23.6 billion, beating estimates slightly, which means a yoy decline of three and a half percent. Earnings per share came in at $1.60, which beat estimates by $0.34, or more than twenty percent.
Full-year revenues came in at $96 billion, which is a company record, whilst full-year earnings per share totaled $7.72.
Boeing's backlog at the end of the year stood at $489 billion, net orders for the year totaled $83 billion. Theoretically speaking, Boeing could keep revenues at the current level for five years without any new orders over that time frame.
Cash generation and use
One of the best things about Boeing's fourth quarter and FY 2015 was the company's vast cash generation: During the fourth quarter, Boeing generated operating cash flows of $3.1 billion, operating cash flows for the full year totaled $9.4 billion. This gives the company a price to cash flow ratio of just 8.5, and it shows the company's growing ability to generate huge cash flows - the fourth quarter's annualized cash flow would total $12.4 billion, an even bigger amount than the full-year number (which was up six percent over the prior year).
Boeing's cash uses include capital expenditures, which totaled $620 million in the fourth quarter and $2.5 billion in 2015. This leaves $2.5 billion as free cash flow for the fourth quarter and $6.9 billion in free cash flow for the year. Boeing has returned $6.8 billion to shareholders via share repurchases (shrinking the share count by 47 million shares, or seven percent) and also paid out dividends totaling $2.5 billion. This means Boeing's shareholder returns came in at $9.3 billion, which was $2.4 billion higher than the company's free cash flow number - this amount has been financed by shrinking the company's cash position (from $13 billion to $12 billion) and issuing new debt (long-term debt stood at $8.7 billion at the end of the quarter, which was up $600 million yoy, but is still pretty low, at less than one year's operating cash flows).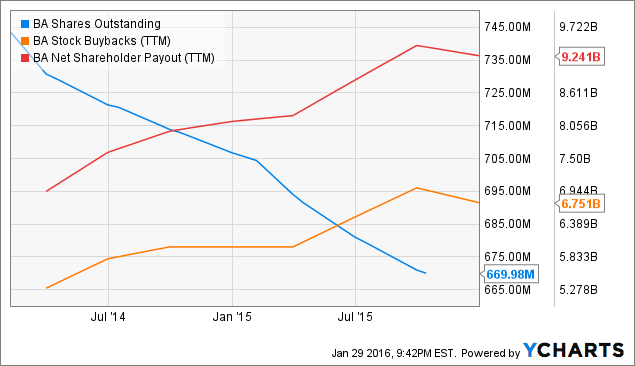 I rate Boeing's cash returns to shareholders as very attractive, the dividend, which was increased by twenty percent in December, yields 3.6 percent, which is a lot higher than the broad market's average of 2.2 percent.
Boeing's share repurchases lead to a substantially shrinking share count, which, in turn, means that each of Boeing's shares represents a higher amount of the company's net income - earnings per share are increasing. Over the last two years, Boeing has bought back ten percent of the company's outstanding shares, buyback activity has reached a high in 2015.
As the share price is rather low right now (as well as the valuation), Boeing's share repurchases are very effective at the current level: With a buyback pace of $6.8 billion, Boeing is able to reduce the share count by eight and a half percent each year, this alone is good enough for earnings per share growth of 9.3 percent each year (1/0.915). If Boeing's share price remains this low for a couple of quarters (or even years), and the company keeps directing a huge portion of its cash flows towards share repurchases (or uses some of the company's $12 billion cash position), the effects of a fast shrinking share count could be very beneficial for Boeing's shareholders in the long term.
If Boeing could reduce the share count by 8.5 percent a year over the next five years (assuming current buyback pace remains constant and share prices remain at the current level), Boeing's share count would decline by more than forty percent, and even if Boeing's net income does not increase at all through 2020, Boeing's earnings per share would be up more than seventy percent. This shows the huge potential effect of ongoing share repurchases at a time when share prices are low.
Another positive of Boeing's share repurchases is the fact that the company doesn't have to pay dividends to those who sell their shares to Boeing. By reducing the share count by 47 million in 2015, Boeing will save $205 million in dividend payments in 2016. These savings can then be redeployed towards more share repurchases, higher growth investments [capex] or bigger dividend increases.
Valuation and outlook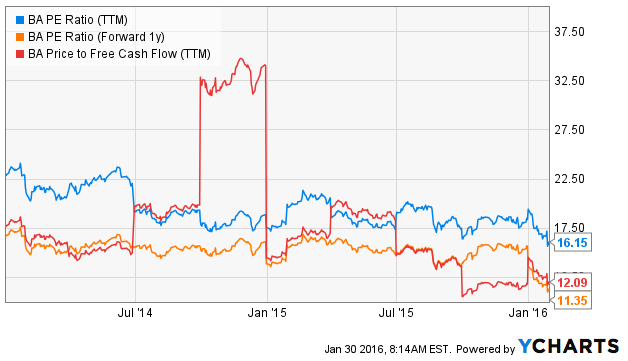 Boeing's valuation is rather low on a relative basis (in comparison to the broad market) as well as relative to how the company was valued in the past: Boeing's trailing P/E ratio of 16.2 is 24 percent below the broad market's 21.4 trailing P/E multiple. Two years ago, Boeing was valued at 23 times trailing earnings, which shows the huge valuation decline the company's shares have seen.
Boeing's forward earnings multiple o 11.4 is very low as well, and substantially below the two-year average of around fifteen.
Boeing' price to free cash flow ratio of 12.1 gives Boeing a free cash flow yield of 8.3 percent - Boeing theoretically is able to pay investors more than eight percent of their investment back each year (after capital expenditures for future growth).
In order to find a fair value for dividend growth investors, I used the finbox.io valuation model:

For Boeing's cost of equity, I used a risk free rate of two percent, an equity risk premium of seven percent and Boeing's beta of 1.08, which gets us to a cost of equity of 9.5 percent.
Using Boeing's current dividend of $4.36 a year, we can calculate the company's fair value in a couple of scenarios: Boeing would be fairly valued right now if the company would grow its dividend by four percent a year in the future. With a dividend growth rate of five percent, the company would be undervalued by roughly twenty percent right now, with a dividend growth rate of six percent Boeing would be undervalued by almost fifty percent right now.
I believe a dividend growth rate of four percent is very conservative, but even in this case it wouldn't be a bad idea to buy the company right now - when one assumes that Boeing will grow its dividend by more than four percent a year in the future, we get to the conclusion that Boeing is undervalued right now.
Boeing has a low valuation despite two secular trends which will allow for long-term growth:
Global passenger numbers are growing at a fast pace, which means that demand for airplanes is growing as well.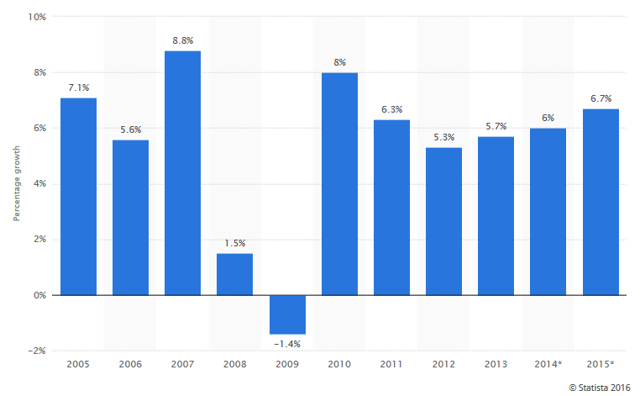 In 2015, global passenger numbers grew 6.7 percent, the highest increase since 2010. In ten of the last eleven years global passengers increased, the average growth rate over that time frame was 5.4 percent. With growth rates above that level in the last three years, and yoy increases during these three years, we can say that global passenger growth is accelerating.
In order to move these passengers airlines need more planes, which, in addition to the base demand for the replacement of existing planes, should mean long-term demand growth for Boeing's products.
The other long-term trend Boeing will benefit from relates to the company's defense/military operations: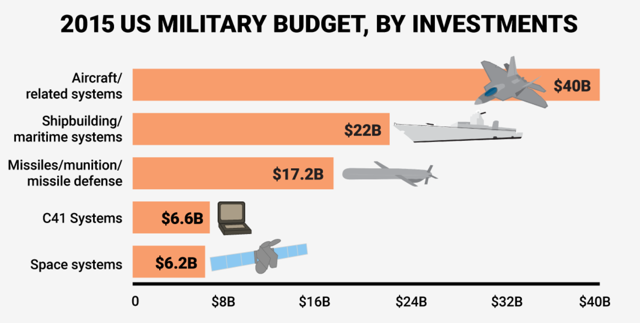 (source: businessinsider)
The US military spent $40 billion on aircraft and related products in 2015, aircraft are thus the products with the largest invested amounts by far. Not only the US military spending on aircraft is very high, demand from other countries for US produced military aircraft is at a multi-year high as well: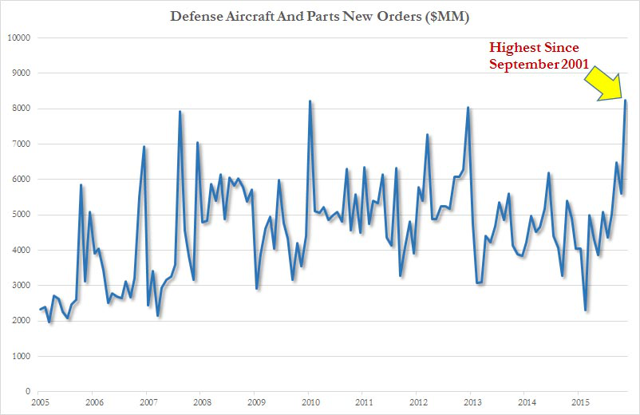 The amount of new orders for US produced military aircraft and related products hit a level last seen in September 2011 late last year. This shows the world's high demand for such investments, and it is also a huge positive for Boeing. With orders being very high right now, we can assume that revenues for Boeing's defense segment will be high in the future as well (when these orders are produced and sold). Since Boeing's margin is slightly higher for defense products than for civil aircraft, we can also assume that this military spending spree we see globally will result in growing margins for Boeing.
We can summarize that the long-term outlook for Boeing's civil aircraft segment is good due to global passenger volumes growth accelerating, and demand for Boeing's defense segment is high as well, with global orders at a decade high right now.
Takeaway
Boeing sold off after the Q4 earnings report, despite earnings and revenue beats and improvements in cash generation.
Boeing continues to return a lot of cash to its owners, yet the company trades at a low valuation right now, both relative to the broad market and to the company's historic valuation.
With long-term trends in favor of Boeing, I believe the company looks attractively priced right now for income investors as well as those looking for capital appreciation with a long-term view.
Disclosure: I/we have no positions in any stocks mentioned, but may initiate a long position in BA over the next 72 hours.
I wrote this article myself, and it expresses my own opinions. I am not receiving compensation for it (other than from Seeking Alpha). I have no business relationship with any company whose stock is mentioned in this article.