Introduction
"Smart beta" strategies are currently all the rage. Simply put, smart beta strategies employ alternative weighting strategies that aim to increase alpha by emphasizing a particular style or "factor", in contrast to the traditional capitalization-weighted schemes employed by most equity funds. In an article entitled "Finding Smart Beta In The Factor Zoo", Hsu and Kalesnik (2014) from Research Affiliates point out that while the last decade has witnessed an explosion in the number of factors (up to 81!) that have been claimed to add alpha to an equity portfolio, only three are considered to be "highly significant": value, low volatility, and momentum. Two other well-known factors are size and quality, although their existence has been somewhat more controversial than the first three.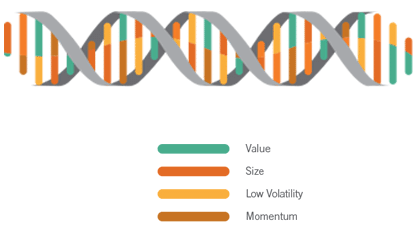 (Source: Global X)
Not surprisingly, the ETF industry has enthusiastically adopted the idea of factors and the number of funds that aim to exploit this alpha has greatly proliferated in recent years. For example, as a value investor at heart, I am drawn to value funds such as the iShares Russell 1000 Value ETF (NYSEARCA:IWD), which have low-P/E dividend favorites such as Exxon Mobil (NYSE:XOM), General Electric (NYSE:GE) and Wells Fargo (NYSE:WFC) as its top 3 holdings. Unfortunately, the past year has seen a bifurcation with value stocks greatly lagging growth stocks, as represented by the iShares Russell 1000 Growth ETF (NYSEARCA:IWF), as well as the broader market, as represented by the iShares Russell 1000 ETF (NYSEARCA:IWB).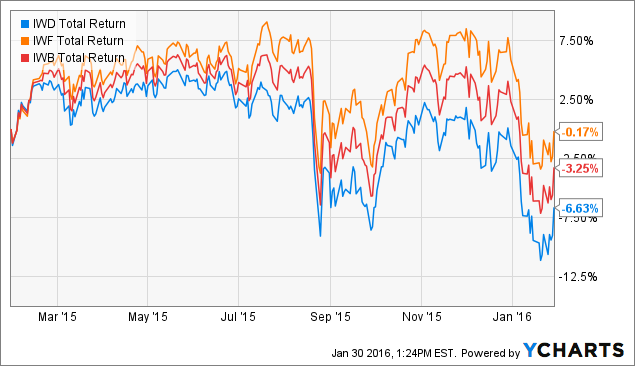 IWD Total Return Price data by YCharts
The above illustrates a risk of only focusing on one factor. Even though value stocks beat growth stocks over long periods, there can be short stretches in time where the value factor underperforms. In an article "Is The Current Underperformance Of Value Stocks Worrisome?", Seeking Alpha author Fred Piard reported that in addition to the present period, there were two other periods in the last 17 years (May 1999 and May 2007) where value underperformed growth for at least a 52-week period.
Scientific Beta's Multi-Beta Multi-Strategy approach
One approach that can be used to tackle the above problem is to employ a multi-factor approach. While a single factor can underperform over a period of time, it is far less likely that multiple factors will simultaneously underperform for sustained periods. Joseph P. Porter has written an excellent summary of two series of multi-factor ETFs, the BlackRock's iShares FactorSelect ETFs and the Global X's Scientific Beta ETFs, in a Jul. 2015 article entitled "Pursuing Smart Beta: Multi-Factored ETFs".
The Global X Scientific Beta ETFs utilize value, momentum, size and low-volatility as the four factors to emphasize in their portfolios. Additionally, the stocks in each factor are weighted by incorporating five independent schemes ("Multi-Strategy"), in order to lower risk:
Maximum Deconcentration: equal weights to minimize firm-specific risk.
Maximum Decorrelation: minimizes volatility based on historical correlations between holdings.
Diversified Risk Weighted: volatility and weight are inversely correlated (greater volatility gets lesser weight)
Efficient Minimum Volatility: minimize portfolio volatility based on both correlations and volatilities.
Efficient Maximum Sharpe Ratio: maximize risk-adjusted performance based on expected returns and volatilities.
The four factors are then combined ("Multi-Beta") using a Equal Risk Contribution [ERC] methodology so as to equalize their contributions to the tracking error risk. Global X launched four ETFs based on the Scientific Beta methodology in May 2015, which each ETF focusing on a specific geographical region:
ERI Scientific Beta has published a comprehensive document (dated May 2014) outlining their rationale for the multi-beta multi-strategy approach. Backtested data are impressive across all geographic regions. Over a 10-year period from 2003 to 2013, the average annual alpha obtained for the four factors over a capitalization-weighted index was 2.53% [USA], 2.62% (Eurozone), 3.12% [UK], 2.17% (Japan) and 3.33% (Asia ex-Japan). Over a 40-year period from 1972 to 2012, the annual alpha obtained using the multi-beta multi-strategy ERC approach was 3.79% [USA].
Out of sample performance
One thing that investors have to be careful of is not to be overly swayed by the historical data that is presented alongside the launch of new products, particularly if it is backtested (after all, who would launch a new ETF based on a strategy with a poor historical record?). Moreover, the jargonic nature of the terms associated with the Global X ETFs, such as "Multi-Beta", "Multi-Strategy" or even the name of the institute itself, "Scientific Beta", would probably have also triggered alarm bells in the cautious investor's head. However, it should be noted that the factors emphasized in the Scientific Beta methodology, namely size, value, momentum and low-volatility, are quite well-accepted within the academic community. Additionally, Scientific Beta did show in their document that the Multi-Strategy weighting approach that is applied to each factor does provide outperformance compared to a cap-weighted scheme for the same factor, justifying their use of their approach.
That said, the true measure of a methodology's success is in out of sample performance: in order words, how do the performances of the indices fare after the ETFs are launched? To study this, I compared the performance of the Global X ETFs with their comparable cap-weighted ETFs: the SPDR S&P 500 Trust ETF (NYSEARCA:SPY) , the Vanguard FTSE Europe ETF (NYSEARCA:VGK) (Europe), the iShares MSCI Japan ETF (NYSEARCA:EWJ) (Japan) and iShares MSCI All Country Asia ex Japan ETF (NASDAQ:AAXJ) (Asia ex-Japan). The following chart shows the total return performance of the Global X Scientific Beta ETFs vs. their corresponding benchmark ETF since the inception of the multifactor funds (~8 months).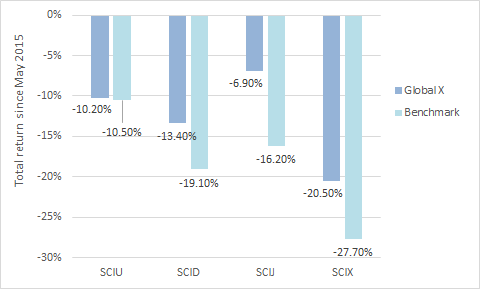 Obviously, the past 8 months has not been kind to equity markets worldwide. However, the above chart clearly shows that even for this relatively short time period, the Global X ETFs have outperformed their cap-weighted benchmarks across all four geographical regions. The following chart shows the excess alpha obtained by the multifactor ETFs over their benchmarks since May 2015.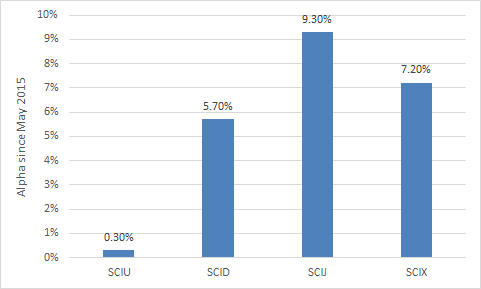 We can see from the chart above that the Japanese market has been where the Scientific Beta methodology has been able to make the greatest contribution, with an excess 9.30% return for SCIJ vs. EWJ since May 2015. SCIX outperformed AAXJ by 7.20%, while SCID bested VGK by 5.70%, which are actually quite remarkable alpha values for passive (multi)-style funds. Only for the USA market did the Scientific Beta [SCIU] and cap-weighed [SPY] ETFs perform comparably.
Can we expect 5%+ degrees of outperformance from the Global X Scientific Beta ETFs going forward? Probably not, given that the historical average annual alpha of the multi-strategy indices for the different regions over the past 10 years ranged from only 2.17% to 3.33%. Nevertheless, the fact that three out of four of the ETFs have smashed their benchmark ETFs since inception cannot be considered as anything other than a resounding success for Global X and Scientific Beta.
On the deathwatch
Unfortunately, despite their wonderful performance, the Global X Scientific Beta ETFs have not attracted much interest from investors. All four ETFs have tiny liquidity, and all four are on Ron Rowland's "ETF Deathwatch" list, which is a list of ETFs and ETNs that are susceptible to being shut down due to low volume. That would be shame, due to their aforementioned outperformance, as well as their reasonable expense ratios (0.35-0.40%). Relevant data for the ETFs are presented below (source: Morningstar).
| | | | | |
| --- | --- | --- | --- | --- |
| | SCIU | SCID | SCIJ | SCIX |
| Expense ratio | 0.35% | 0.38% | 0.38% | 0.38% |
| Inception | May-15 | May-15 | May-15 | May-15 |
| Assets | $12.4M | $12.0M | $11.6M | $1.9M |
| Avg Vol. | 1.3K | 0.7K | 1.6K | 0.3K |
| No. holdings | 479 | 575 | 460 | 377 |
| Annual turnover | 21% | 18% | 20% | 59% |
Summary
The Global X Scientific Beta ETFs employ a multi-factor ("multi-beta") approach that emphasizes four academically-recognized factors: size, value, momentum and low-volatility. The use of multiple factors rather than a single factor for the construction of an equity portfolio reduces the risk of underperformance due to the time-varying nature of each factor's alpha. The risk of the portfolio is further reduced by utilizing five independent weighting schemes ("multi-strategy") that are combined in an equal-risk contribution fashion.
Three out of four of the ETFs have crushed their benchmark ETFs since inception, with alphas of up to an incredible 9.30% in 8 months. While this degree of outperformance is unlikely to persist, I believe that these ETFs should be able to gradually accumulate significant alpha over their cap-weighted benchmarks when held over long periods of time. Based on the long time-frame historical (backtested) outperformance of the indices, and the now-demonstrated out-of-sample outperformance of the ETFs, I am comfortable with holding these funds as core components of my equity portfolio.
Unfortunately, these funds have tiny liquidity and are also on the ETF Deathwatch list. This means that their volume may only be suitable for small investors, and additionally, limit orders should be used for both buys and sells while keeping a close eye on the true NAV of the funds as published on the Global X website. Hopefully, by drawing more investor interest to these funds, their liquidity situation could be improved and they won't have to be shut down by the sponsor.
Disclosure: I am/we are long SCID, SCIJ, SCIX.
I wrote this article myself, and it expresses my own opinions. I am not receiving compensation for it (other than from Seeking Alpha). I have no business relationship with any company whose stock is mentioned in this article.