In my article titled "Dry Cargo Shipping Market Update" of November 24 I warned that there would be much more pain to come. I also explained that the reason for this is that the shipowners lacked coverage for their fleet.
I do not know if they can be blamed for this lack of hedging. It would not be fair of me, as we do not know if it was possible charter out more ships on period charters. We need to bear in mind that the number of period time charter deals can be very erratic. At times, very few, if any, reputable counter parties can be found, in the long term chartering arena. After all, it is dependent upon finding such a counterparty taking the opposite view. In other words, shippers and cargo owners like BHP Billiton Limited (NYSE:BHP), Rio Tinto (NYSE:RIO) and Vale (NYSE:VALE) would have to be of the opinion that it would be wise for them to take coverage in the market, as it could go up.
One way they can hedge themselves is through the Freight Future market. We do not know how much such hedging has taken place, as not one of the Dry Bulk owners, like Navios Maritime Holdings (NYSE:NM), Golden Ocean (OTCPK:GDOCY), Star Bulk Carriers (NASDAQ:SBLK), Scorpio (NYSE:SALT), Dryship (NASDAQ:DRYS) reports how much, if any, exposure they have to the freight forward market.
How low can it go?
The Baltic Dry Index is the product of an unweighted average of TCAs for all vessel classes and a "continuity multiplier," which changes when routes or vessel classes are added to or removed from the index. The Index calculation is as follows;
Capesize Timecharter Average + Panamax Timecharter Average + Supramax Timecharter Average + Handysize Timecharter Aerage / 4 * 0.113473601
The Baltic Dry Index ended Friday 29 January at 317.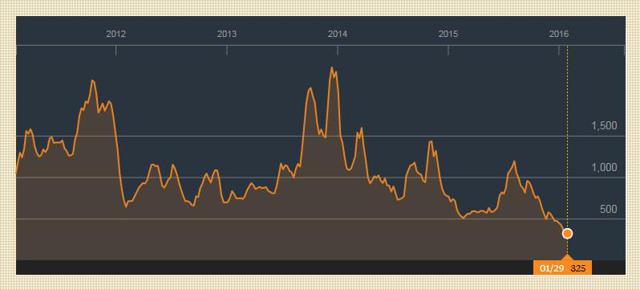 This has never been seen before. The good news is that it cannot go much lower. The reason being that if the spot market, which is what the index represents, is now below the cost of operating a vessel. Operating cost, excludes the cost of capital. First in line comes the servicing of the debt on the asset. (interest plus principal) of a loan, and return on equity, plus amortization of the asset,. That is referred to as operating cost. Its main components are the cost of the crew , insurance of the ship, repair and maintenance plus docking the vessel from time to time, provision, lube oil, spare parts and consumables.
Period Time Charter deals recently concluded:
M/V "Aliki" 180,435 Deadweight, Built 2005, Delivery China spot for 11/14 months trading, Redelivery worldwide USD 5,300 daily
M/V "Nirefs" 75,311 Deadweight, Built 2001, Delivery China 12/16 Jan for 11/14 months trading , Redelivery worldwide USD 4,600 daily
Source: Dryships
From these two deals just concluded, it is easy to see that shipowners do not collect enough money to pay for the running of the ship and the financial commitments that comes with it.
How long can it last?
The two factors affecting the market is as we know the supply of ships and demand from the shippers to move raw materials around the world. We can predict fairly well into the next 12 months, as we have data on the size of the present fleet, and how many ships are on order at shipyards. The big unknown is the demand.
Parts of it we can estimate with some accuracy. Such as demand for iron ore and coal. China, as the big consumer, is facing huge challenges. I believe these are structural and not just cyclical. Both these industries are losing big money. According to Macquire, the steel industry lost RMB 200 for every ton of steel produced at the end of last year. In fact, these losses could potentially cause the Chinese banking sector to a face a financial crises similar to the one we experienced in the United States in 2008.
The more difficult part to predict is the grains/soybean portion of the bulk trade, This can change quite unexpectedly, due to severe change in climate and crops. With China's growing affluence, this trade has doubled since 2008 with import growing from 20 million tons per year, to nearly 40 million tons in 2015. However, in view of the fact that China imports 930 million tons of iron ore, grains is still a small part of the overall market.
To answer the question of how long it will last, we need to see what the Chinese government is going to do in terms of restructuring these two industries. They know that they cannot move too fast, because it would have huge impact on employment. What they need to do, is to grow other parts of the economy to counter balance for jobs lost in the coal and steel industries. Many countries went through similar structural changes. We know that it takes time.
What it all means
The 4th Quarter results will be revealed early February. I believe it will not be comforting news. I expect big losses from all of the above 5 companies. Losses that stem from the trading activities. They also need to write down the value of their assets considerable.
To illustrate this, a 2 year old Kamsarmax of 81,700 dwt just sold at USD 13.8 mill (it cost approximately USD 26 million to build) and a 3 year old Supramax of 56,700 dwt changed hands at only USD 8 million. It would have cost almost three times that when it was built. This is also why it is very difficult as a value investor to assess what is the actual market value of a fleet.
The price of Golden Ocean Group, Navios Maritime Holdings, Star Bulkers, Dryship and Scorpio Bulkers have fallen considerably over the last two year.
DRY BULK SHARES DEVELOPMENT LAST 2 YEARS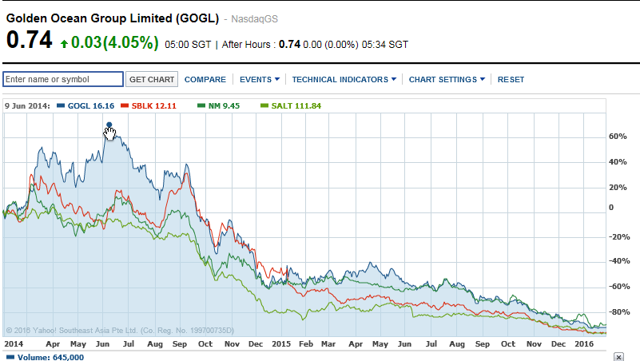 For some value investors, it could look tempting to buy what looks like "ten cent on the dollar". Before doing so, you need to ask two very important questions. One, which is raised above, is how long this can last? The second is, will the company survive without major restructuring?
I do remember the 1980s. Shipowners went bankrupt. The banks took over the assets, and had ship management companies run the ships, until they could sell them off. If history is anything to go by, and judging from the dire condition the owners of ships are faced with, if this market lasts for another 12 to 24 months, I believe we will see a repeat of the 1980s.
Disclosure: I/we have no positions in any stocks mentioned, and no plans to initiate any positions within the next 72 hours.
I wrote this article myself, and it expresses my own opinions. I am not receiving compensation for it (other than from Seeking Alpha). I have no business relationship with any company whose stock is mentioned in this article.
Editor's Note: This article covers one or more microcap stocks. Please be aware of the risks associated with these stocks.