The Fatal Attraction
I initially became attracted to shares of GoPro (NASDAQ:GPRO) around last September. The company had just reported a blowout quarter in August. It beat on the top and bottom line and increased guidance. Yet, the stock had sold off mercilessly along with the rest of the market in August. The stock was sitting at $35, down from an all-time high of around $90. It made sense that the stock should be revalued after its post-IPO craze, (the PE got up to around 90 which is just absurd, no matter how fast you are growing) and it looked very attractive considering the strong and consistent earnings growth, high margins, and pristine balance sheet. So I decided to evaluate the company both qualitatively and quantitatively.
After determining that the company had a sustainable competitive advantage, a clearly articulated growth strategy (both will be discussed in detail later), and that it was undervalued relative to its past and projected growth rates, I made the second worst mistake in my young investing career (the worst will be explained shortly). I bought 15 shares of GPRO for $34. Looking back at my investing journal that I keep for myself, my fundamental logic was sound for the most part. The company had a forward PE of just over 15 and had past earnings growth of close to 100%, compounded annually for the past four years. It was projected to grow earnings by close to 30% for the next five years. Either way you look at it, I thought that a PE of 15 was way too low. Furthermore, the company had much higher margins than competitors, strong cash flow growth, and almost $3 a share in cash on the balance sheet with no long-term debt Sounded like a Carl Icahn "no brainer" to me.
However, my analysis was slightly biased and incomplete. I pretty much ignored my discounted cash flow model and the chart simply because the PE multiple and projected growth looked so compelling. Looking back at my reverse DCF (which tells me what the current share price is implying in terms of sales growth and operating margins), my initial purchase price of $34 implied 50% sales growth for the next 3 years and 100 basis point margin expansion per year for the next 3 years. In hindsight, that 50% sales growth does not seem very reasonable given that sales growth had been decelerating from 80% in 2013, to 40% in 2014, and 30% projected in 2015. The margin expansion was certainly possible under the premise that GPRO will continue to offer premium products at premium prices. I also ignored the technical picture that the chart was painting. The stock was in an established downtrend with no bottom in sight. Essentially, I was just guessing that GPRO will bottom soon because it seemed too cheap, never a solid strategy. The stock continued to fall going into the Q3 earnings announcement as smart money started building up short positions against GPRO. I then made the biggest mistake of my investing career and bought an additional 50 shares of GPRO before the earnings announcement. Given the fact that GPRO had never missed earnings expectations in its entire existence as a public company, I thought there was no way it could miss this time.
Most of you know that the story has only gotten worse since that Q3 earnings miss and guide down. The new camera was priced too high and it flopped, 7% of the workforce has been laid off, the head of the entertainment division has been replaced, and a nasty earnings pre-announcement was made bringing revenue and earnings expectations down even further for the fourth quarter. All of this, coupled with a market-wide sell-off has resulted in a sickening decline from my cost basis of $30 all the way down to $10 last week. Here I am, with two-thirds of my investment gone and my tail between my legs trying not to make an emotional decision and possibly sell at the bottom. I determined that the only logical action was to re-evaluate the company's competitive environment, current valuation, and growth strategy going forward to determine if anything has changed. If things have fundamentally changed for the worse, the only thing I can do is sell into strength and move on. However, after further analysis, I have determined that the best thing to do is to hold on for now and even buy more at the first sign of a technical bottom. The current bearish thesis, which is the only thesis out there by the way, consist mainly of two parts that I will address separately: 1) GPRO will never be anything more than a hardware company and it sells a product that can be easily copied by competitors. Market share will be taken from the company while it has to keep cutting prices. 2) The growth story/general strategy is in jeopardy because management has no idea what the hell they are doing.
Does GPRO still have a competitive advantage?
Wall Street and Mr. Market believe that GPRO will be destroyed by two sets of competitors, companies that make cameras for smartphones (Apple (NASDAQ:AAPL), Samsung (OTC:SSNLF)) and companies attempting to make their own action cameras (Sony (NYSE:SNE), Cannon, Nikon (OTCPK:NINOY)). I am going to make a bold contrarian argument that GPRO still has a competitive moat that will inhibit and deter these competitors in the long run.
First, I will address competition from Apple because that is the most prevalent argument. The bears think that people do not need a GPRO anymore because the smartphone cameras are basically just as good. The smartphone camera is great for taking high quality pictures in stable environments when you are not moving. But have you ever tried to take a video or picture with your iPhone while you are moving? I have, and it looks horrible. I also doubt that a snowboarder/surfer/base jumper/sky diver would risk damaging their iPhone in an extreme environment. GPRO cameras have professional grade features, such as high resolution video, that allow them to capture quality content at high speeds. They are also durable enough to survive in extreme environments without expensive "life proof" cases that may or may not work. This is what differentiates GPRO cameras from smartphone cameras.
Another key point to understand is that GPRO is not targeting the average consumer, but the rare extreme sports enthusiast. It is true that GPRO will probably not convince Joe Smith, whose most exciting activity is reading the Wall Street Journal every Sunday morning, to buy a GPRO camera. But they are a must-have for certain individuals who want to document their life threatening activities. You are probably thinking that Apple could make its own action camera and instantly steal market share from GPRO. Although Apple certainly has the resources and capabilities to make a superior action camera and absolutely annihilate GPRO if it wanted to, it would not be financially beneficial for it to do so. First of all, the total addressable market of extreme sports enthusiasts is fairly small and would provide only a marginal revenue boost for a company as large as Apple. Also, if it did want to enter the market, it would most likely just buy GPRO for its current market cap of $1.5 billion. It makes way more sense to instantly acquire all of GPRO's resources, capabilities, and customers than spending a similar amount (maybe more) to develop its own action camera and trying to steal customers away from GPRO.
What stops other competitors in the action camera market from making the exact same product for a cheaper price? Nothing if they have the capabilities and resources to do so. However, this is where the power of brand recognition will benefit GPRO. Although most people have no need for a GPRO camera and probably will never buy one, everyone I have ever talked to is at least aware of its brand and products. This demonstrates that management has done a great job of marketing the brand. A strong brand targets a consumer's emotions and makes them believe that the company offers a product that is better and cooler than the competition even if it is technically not. Also, brand awareness will steer prospective buyers to first check out a GPRO before any other cameras simply because that is the only one they are likely aware of. I can only speak for myself living in the United States, but GPRO is the only action camera on the market that I am aware of. It may be different in international markets where GPRO has not gotten a chance to market its brand.
GPRO can maintain margins and charge a premium price for its products if it can continue to offer unique features and make consumers believe that its product is superior to competitors. A strong brand and good marketing team really helps the consumer believe, even if the product is technically exactly the same. Furthermore, if GPRO can innovate and offer a product that has outstanding features and capabilities that other products don't, the power of the brand will only get stronger. Why do you buy Nyquil over the generic Walgreens brand that is made with the exact same ingredients? Because you see those catchy commercials on television where Drew Brees is sleeping soundly after overdosing on Nyquil. This demonstrates the power of advertising a brand.
Lastly, I believe that GPRO's complementary products, such as the unique accessories, mobile apps, and GPRO Rewards, have created an ecosystem that will allow it to retain customers over time. GPRO users are able to easily utilize its app to quickly edit and share content to millions of viewers. With the recent launch of GPRO Rewards, a program where GPRO has committed to granting up to $5 million annually, users can actually be compensated for sharing compelling content with the world. Although its market is much smaller, GPRO's strategy is no different than Apple's. Both companies aim to retain customers and continue to make its existing products better while at the same time developing new products and revenue streams. This will drive long-term earnings as long as it can continue to innovate and convince existing customers to upgrade their cameras. Why would you buy a Sony for a comparable price when you already have the unique accessories tailored specifically for GPRO cameras, and you can easily edit and share your content using the GPRO app while possibly get compensated for doing so?
Can management execute the growth strategy?
There is no doubt that management has recently made some crucial mistakes. They failed to effectively market their new camera; it was priced too high from the very beginning, the timing of the release was poor, and they have now overestimated sales/earnings two quarters in a row. No management team is perfect, and even the best companies do not execute flawlessly all of the time. I am going to give management the benefit of the doubt because they owned up to their mistakes on the last conference call and came up with a plan to fix them. CEO Nick Woodman started out by saying that he was gravely disappointed by the earnings miss, and that it can be attributed to a mispricing of the new camera and an underinvestment in marketing. Going forward, GPRO plans to increase spending on marketing and entertainment initiatives while reducing other variable costs. This plan has already started to play out. GPRO just announced a strategic partnership with Periscope, is returning to television with a super bowl advertising campaign, and has laid off 7% of its workforce. It also announced a $300 million buyback which signifies that management believes the stock to be undervalued.
Bears will argue that the recent price cuts to the new HERO4 session signify that GPRO's competitive advantage and pricing power are diminishing. The initial price of the camera was in line with GPRO's current premium cameras, the HERO4 silver and HERO4 black. The new camera did not offer many new features; it was just smaller and more convenient. Thus, customers could not justify buying the new camera at the current price. It should have been marketed as more of a lower priced, complementary product. It is also noteworthy to realize that the new camera was competing against existing GPRO products, not against products made by competitors. All the bears focus on is the price cuts for the new Session. What nobody talks about is that the price of GPRO's premium cameras have remained unchanged. Secondly, GPRO failed to effectively market the new camera. Consumers were simply not aware of the new camera and GPRO did a poor job of explaining the new features and benefits of owning one. Lastly, the timing of the release was questionable. Instead of releasing prematurely in Q3, it should have focused on marketing the new camera in Q3 and waited until right before the holiday season to actually release it. There was no anticipation or buzz of new GPRO products going into the holiday season. I have confidence that management has learned from their mistakes and the next product release will be executed with more precision.
GPRO is also making investments to diversify its revenue stream in 2016 by entering new markets. As mentioned earlier, it is planning on releasing a quadcopter drone with 360 degree video capabilities and a unique six camera rig that captures virtual reality content. GPRO will be able to leverage its brand and global marketing/distribution networks to instantly gain traction in these new markets. It will be extremely successful and able to charge premium prices if it can differentiate its products from competitors. Furthermore, GPRO's core camera business still has room to grow vertically and horizontally. The total addressable market has not been saturated yet and GPRO aims to reach vertical markets, such as hunting, fishing, and music. Lastly, there is still the possibility it figures out how to monetize content created by GPRO users and viewed by millions around the world. Right now, the strategy is to create and distribute as much content to as many viewers as possible. It has committed to continue investing in its content editing, sharing, and management platform. It is also exploring the possibility of more strategic alliances like the one just made with Periscope. This partnership allows GPRO users to create live video feeds that can instantly reach millions of viewers. Currently, GPRO content basically serves as free advertisements that drive demand for GPRO hardware products. However, if enough viewers can eventually be reached, the company could start to sell advertisements. The fact is that a strong brand can be utilized in so many different ways to generate revenue. I am going to throw out a quick idea. Imagine if GPRO made a movie (similar to the snowboarding movie "The Art of Flight") that was shot only with GPRO drones and cameras. It could make the movie itself or strike a deal with Fox (NASDAQ:FOX) or Disney (NYSE:DIS). I am probably getting carried away, but you get the idea. The best part about all of these growth initiatives is that they are not at all priced into the stock because management has not quantified them yet.
Valuation
I could not come up with adequate comps for GPRO because there is really no other pure-play competitor in the action camera market. Therefore, I will analyze PE relative to the industry as a whole, historical values, and earnings growth. Analysts forecast full-year 2015 EPS to be $0.84. If this forecast is met, that means GPRO will have a trailing PE of 12.6. Analysts still forecast GPRO to grow earnings by 11% on average for the next five years. I think this is reasonable given all of the catalysts mentioned in the above paragraph. In general, a fairly-valued company should have a PE that is roughly equal to its growth rate. Thus, GPRO is fairly valued based on these assumptions and could be undervalued if these earnings growth estimates prove to be too conservative. It also seems undervalued relative to the industry PE and its historical PE. The average PE of the Photographic Equipment and Supplies industry is 41.5. GPRO's average PE over the past 5 years is 42.2, the high is 85.8, and the low is 8.7 (which is actually the current PE based on 2014 EPS). If management can successfully diversify GPRO's revenue stream and execute its growth strategy, we could see significant multiple expansion going forward.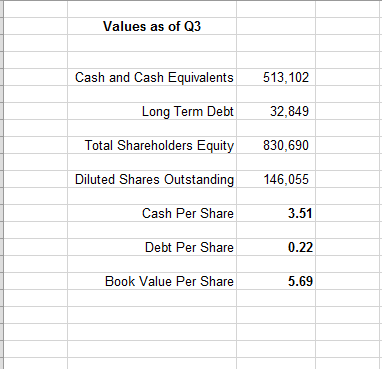 It is also important to note that GPRO has a bulletproof balance sheet. At the end of Q3, it has roughly $3.51 per share in cash and only $0.22 per share in long-term debt. Thus, at $10, you are essentially buying the core business for $6.71. This lowers the PE ratio based on 2015 earnings to only 8. GPRO has a book value of $5.69, which gives it a price/book ratio of only 1.75. For comparison, Fitbit (NYSE:FIT) has a price/book of 4.15. I chose FIT as a comparison because it is also a young company with similar growth characteristics. It also generates the majority of its revenue from one hardware product that could be copied by competitors. I suspect that GPRO at these levels would even have Benjamin Graham interested. GPRO's massive cash hoard and miniscule debt load give it the financial flexibility to easily add debt to the balance sheet to increase its buyback, pay dividends, develop products, enter new markets, or even make an acquisition.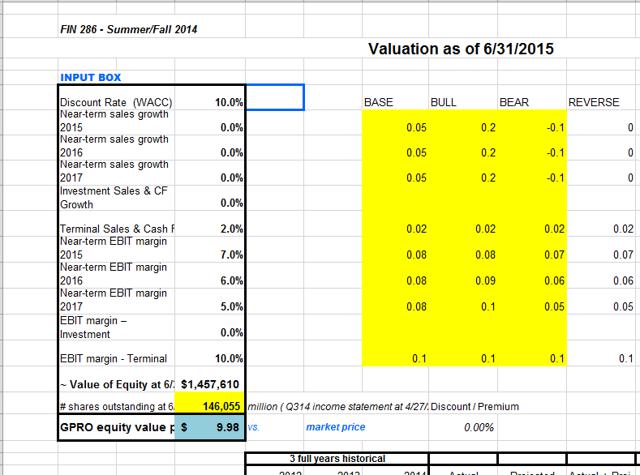 My reverse discounted cash flow model is pictured above. I prefer reverse DCFs over normal DCFs simply because you do not have to project future cash flows. All you do is manipulate the inputs until your model yields the current market price. This allows you to see what the current market price is implying in terms of sales growth and margins. You can then determine if these sales and margin expectations can be met by the company going forward. Even the best Wall Street analysts with unlimited resources and information at their disposal struggle to accurately predict future cash flows. It is especially difficult to project the cash flows of a young, growing company such as GPRO.
A share price of $10 implies no sales growth and 100 basis point margin contraction per year for the near term (3 years). It also implies 2% sales growth and an operating margin of 10% in the terminal state. I think that GPRO's core camera business alone can at least grow sales by a small percentage in the near term given the vertical and horizontal expansion opportunities and possibility of a new portfolio of cameras coming to market in 2016. I am extremely confident that sales will increase if GPRO can successfully diversify its revenue streams by entering the drone and virtual reality markets as planned. I also think that margins can at least be maintained in the near term given the competitive strengths mentioned earlier in the article (remember that the price of the premium cameras has not come down). It is perfectly reasonable to assume that GPRO can grow sales by at least 2% in the terminal state, which is in line with historical GDP growth. I think the terminal margin of 10% is easily attainable even though it is about 200 basis points above 2015 margins. The terminal margin is still below historical averages, and GPRO's competitive strengths mentioned earlier will allow it to enter new markets and charge premium prices over time. Also, it is conservative to assume that GPRO will reach a terminal state in 3 years. It is still a young company with a lot of growth potential going forward.
Clearly, the market is assuming that GPRO's core camera business will experience no sales growth and margin contraction due to increasing competition. More importantly, the Wall Street is completely ignoring GPRO's future growth opportunities in other markets and giving it zero chance to eventually monetize content and achieve its ultimate goal of becoming a media company. I think that a lot of bad news is priced into the stock and the current market price reflects a worst case scenario.
Technical Analysis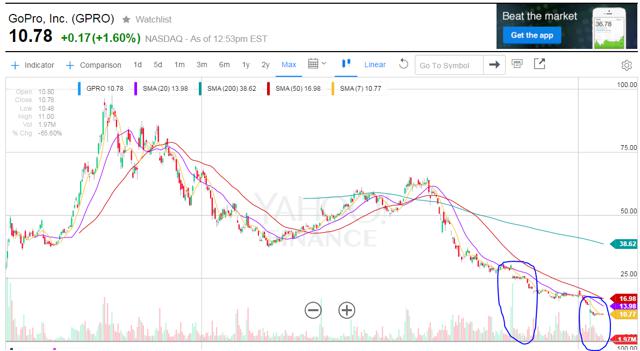 I do not think that you could find a chart out there that is uglier than this. GPRO is in a long-term downtrend and has continued to make lower highs and lower lows. It is currently trading below all of its key moving averages and has no long-term support anywhere in sight. I thought that the IPO price of $28 might provide support, but that was easily sliced through on high volume after the Q3 earnings miss (larger circle on the left). On January 14th (smaller circle on the right), GPRO made its earnings pre-announcement and gapped lower again on huge volume. It closed at an all-time low of $10.57 on January 19th. The next day, it reached an intraday low of $9.90 but ended up closing at $11. It has showed some stability as of late and has not closed below the low of $10.57.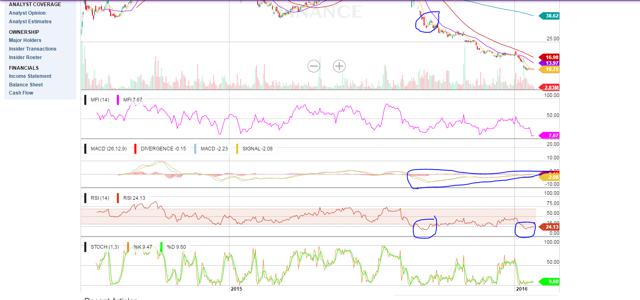 As you can see above, the relative strength index (RSI) indicates extreme oversold conditions. In fact, GPRO experienced a bounce from $31 to $37 (top circle) last time it reached this level on the RSI (bottom two circles). Also, if you look at the MACD indicator (middle circle), you will notice what is known as bullish divergence. Divergence basically means that there is a disconnect between the price and the indicator. The MACD is giving us a positive signal here (it is moving up while making a series of higher lows and higher highs), while GPRO stock is moving downward. Divergence like this can sometimes signify that a change in trend is on the horizon. However, taking action on divergence alone without confirmation from a primary indicator (such as a bullish MA cross) is not very prudent. It is also worthy to note that gap openings in the direction of the trend on high volume sometimes signals a change is coming soon. We have had two of those recently, which I mentioned in the above paragraph and circled in the first chart. At some point, there will be no more sellers left and these two high volume events tell us that institutions have already dumped large amounts of stock. Even though my technical analysis suggests that a bottom could be coming soon, bottom picking is a fool's game and should be used for speculative purposes only. It is better to wait for a real bottom, and maybe miss the first leg of the new trend, before you commit a large amount of capital.
Summary
In my opinion, the fears of GPRO being destroyed by competition are overblown. Product differentiation and a strong brand will allow GPRO to continue charging premium prices in the action camera market and new markets it chooses to enter. Its ecosystem of complementary products will allow it to retain customers and market share. Management has made a number of mistakes in 2015, and it has been a rough year for shareholders. But instead of making excuses, it has admitted mistakes were made and taken action to correct them. The new camera did not deserve to sell at a premium price, and was destroyed by competition from other GPRO products.
There are legitimate growth opportunities on the horizon that are not at all reflected in the depressed stock price. Strong cash flow and a pristine balance sheet will give GPRO flexibility to pursue these growth opportunities. The Q3 miss and Q4 guide down have lowered expectations to a level that can now be beaten. Full-year EPS for 2016 is now expected to be $0.65, a 25% decline compared to this year. I just do not see earnings coming down that much in 2016 with all of the growth opportunities ahead. Lastly, 45% of shares are sold short. If GPRO can beat estimates and provide any quantification or commentary about new revenue streams on the conference call, a short squeeze rally is very likely.
The technical picture still does not look promising, but some signs of a bottom are starting to develop. GPRO has performed well since that intraday low of $9.90. It has bounced off the $10.50 level a few times and is now trading at $11.45. The Q4 earnings report this week could provide the catalyst that breaks the current downtrend.
All this being said, please do not make the same mistake that I did and commit too much capital to GPRO before the earnings announcement. I would wait for after the earnings to start establishing a substantial position. If the stock goes up on high volume after the earnings announcement, it would be safe to start establishing a position on pullbacks. I do think that this quarter is worth speculating on. I would recommend buying some call options or a very small amount of stock because I think that the possibilities of a short squeeze here are pretty high. I urge fellow shareholders to hang in there with me and best of luck to speculators!
Supporting Documents
Disclosure: I am/we are long GPRO.
I wrote this article myself, and it expresses my own opinions. I am not receiving compensation for it (other than from Seeking Alpha). I have no business relationship with any company whose stock is mentioned in this article.