As illustrated by the above chart (of a normalized DXI vs. Micron (NASDAQ:MU) stock), Micron's stock has been correlated to the movements of DRAMeXchange's DXI. The DXI is highly correlated with the spot price of DRAM. While Micron's stock over the last year has trended in the same direction as that of the DXI, Micron's stock price movements have been more dramatic than that of the DXI. A gently falling DRAM spot price is good and normal for the health of the DRAM industry. What we have witnessed over the last 12 months has been nothing short of horrific for investors of Micron (and other memory manufacturers). While it is true that the vast majority of DRAM today is sold in large blocks via contracts with OEMs (at contract price), the spot price of DRAM is still relevant for the simple reason of contract and spot prices of DRAM tend to converge over time. The long-term prospects of Micron will be dictated by the success or failure of 3D XPoint and 3D NAND. Until Micron is able to prove to the market that its strategy in non-volatile memory is not only viable but also a sustainable extremely profitable revenue stream, DRAM prices are likely to dictate Micron's short-term future (over the next 12-18 months).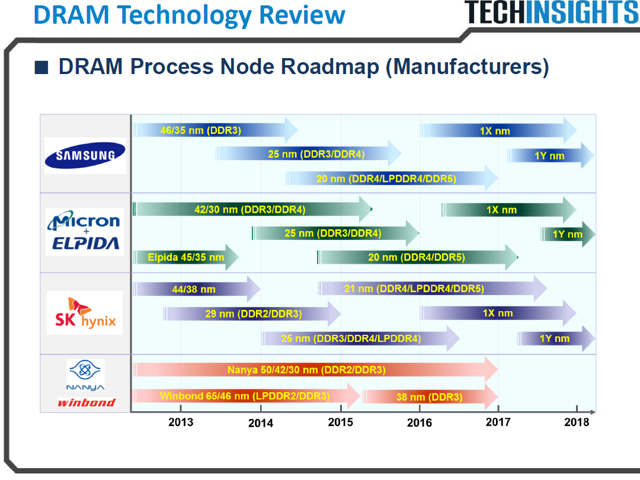 The above image from TechInsights is a reflection of the market's perception of the roadmap for DRAM over the next several years for the major DRAM manufacturers. (To be fair, this is a very aggresssive view of the expected DRAM roadmap. The above image also does not describe when bit crossover occurs during the ramping process.) Micron is in the midst of a difficult transition from the 30nm and 25nm process nodes to 20nm. This conversion has been going (extremely) slowly. While Micron CEO Mark Durcan and other executives at the Idaho-based company have consistently pushed the message that the 20nm ramp is on schedule, it is abundantly clear that Samsung (OTC:SSNLF) (and SK Hynix (OTC:HXSCF)) have encountered fewer problems at this process node. Yields on Micron's 20nm process are lagging that of the competition, but there is good reason to remain hopeful that this problem will get corrected over the next several months. Micron will be cost competitive with its Korean foes in DRAM sometime during 2016. Even if ASPs (average selling prices) of DRAM continue to fall, there is a reasonable chance that Micron will return to significant profitability in this segment when cost per GB come down. By the end of calendar-year 2016, the cost per GB of producing DRAM at Micron will fall by over 25% relative to today's costs if the 20nm transition is successful. The idea of the second half of the year experiencing accelerating growth was presented last year by Micron's management. That scenario did not materialize.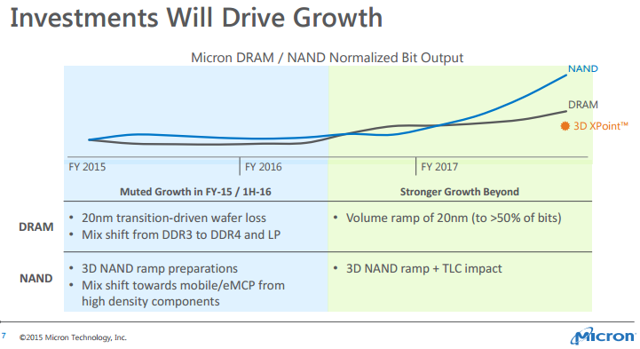 (This comes from Micron CFO Ernie Maddock's presentation at the UBS Global Technology Conference in November 2015. This same slide has been presented a few times in prior months by Micron management.)
Micron's management has again projected the second half of the year being the turning point. While many semiconductor companies also predicted accelerated growth in Q3 and Q4 2015, this time IDC and Gartner are also on board with those projections. IDC estimates that PC (including detachable tablets) sales were down 7.5% in 2015 compared to 2014. IDC has now changed its earlier estimates of 2016 growth from -3.1% to growth of 1 to 2%. 2016 will bring about a healthier memory market than the one that existed in 2015.
One sign that Maddock truly believes in the turnaround story beginning in the second half of 2016 that he has presented a few times can be found in his publicly disclosed trading activity. Maddock has made three open market purchases of Micron's stock. He bought 5,000 shares at $17.50/share in July 2015. He followed that up with a purchase of 10,000 shares in December at $14.32/share. As the price of the stock has fallen quite a bit more since then, Maddock accumulated another 10,000 shares at a little under $10.70/share. While there are many reasons that an executive may sell shares of the stock of the company at which he works, there is only one good reason to buy. These shares were not stock option grants with below market strike prices. They were open market transactions by an executive who joined the company in May 2015 looking to profit from a rise in Micron's stock. For what it's worth, Ernie was not a part of the Micron management team that projected a rebound in the second half of 2015. While it is nice to know that the company's newest C-Suite executive believes the company's stock is undervalued, this does not make a major impact on my opinion of the company's stock.
The big picture is what long-term investors of Micron should be concerned with. I have consistently pitched the message that the future of Micron is mostly dependent upon the success or failure of 3D XPoint and 3D NAND. However, DRAM does not completely disappear from Micron's future. Micron CEO Mark Durcan has stated, "We absolutely expect to close the gap with Samsung as we move to 16nm, both in timing and in terms of overall deployed bit density in the market." (For the purpose of this discussion, the 1X node is what Durcan was referring to when mentioning 16nm.) From here on out, Micron (and SK Hynix) will not allow Samsung to maintain a process node advantage for any extended period of time. The reason for why Micron and SK Hynix will quickly counterattack any Samsung push in DRAM is eloquently explained by Jaret Wilson here.
Without government intervention, the optimal strategy for Samsung, SK Hynix and Micron is very clear. The three DRAM giants would collude to artificially keep the price of DRAM high. In fact, DRAM manufacturers in the past successfully implemented this price fixing scheme. Unfortunately for the DRAM manufacturers, the US government began a multi-year battle that led to a $310 million settlement. There is no doubt the US government (and other governments) are well aware of the incentive for the last three major DRAM manufacturers to attempt another price fixing plan. While this price fixing is not allowed, Micron and SK Hynix can use a tit-for-tat strategy in which both memory companies immediately and aggressively begin a node shrink when Samsung attempts to gain a cost advantage via superior lithography. Since node shrinks are always very expensive (and continue to get even more expensive), the benefits of a node shrink are achieved for a DRAM manufacturer when it is able to ramp up production at a new process node and create DRAM at a lower cost per bit than that of the competition for a prolonged period while DRAM average selling prices drop significantly less than the cost of production. With the tit-for-tat strategy, Samsung's attempt to gain an edge would lead to an expensive node shrink with no extra profits. Profits would likely even decline at the Korean chaebol.
Because Micron has struggled so mightily at 20nm, it would not be surprising if Samsung attempts the strategy of gaining a large cost advantage over the competition again by moving to the 1X node while Micron is just getting 20nm yields up to reasonable levels. On the most recent conference call, Durcan said that Micron will in 2016 be focused on "ramping 20-nanometer DRAM and enabling 1X DRAM in manufacturing, ramping 3D NAND and enabling second generation 3D NAND in manufacturing, and finally accelerating the development of advanced controllers to enable growth in SSDs and other system-level solutions." Durcan's game plan is to play the tit-for-tat strategy in preventing Samsung from gaining a meaningful cost advantage in DRAM for more than a few months. Micron's engineering team has failed spectacularly in the 20nm DRAM transition. The 16nm transition will be the first time in which the engineering team from the company formerly known as Elpida Memory (which was acquired by Micron) will jointly develop a DRAM manufacturing process with Micron's US-based engineers. As a Micron long, I can only hope that Micron's Japanese engineers are the answer to make the next node shrink more successful than this one.
I will again refer to the most recent Micron quarterly conference call. Durcan stated he "can envision a future in which no additional DRAM wafer capacity is required." This would be great news for the stability of DRAM pricing. To make things better, I believe there will be no signs of significant movement on the 1Y process node showing up at any DRAM manufacturer in 2017 or 2018. In an answer to Stephen Breezy's question here about "Will anyone produce sub-20nm DRAM?" and "Is it commercially viable?" By my estimation, the answers to both questions are yes. Certainly the 10-15% loss of wafers with each node shrink below 20nm will have a major impact on the economics of a node shrink. Each node shrink will be more expensive and the cost reduction (as a percentage) will diminish. This comes on top of the necessity to find solutions to several major technical challenges that are unlikely to come quickly and cheaply to enable sub-20nm DRAM process nodes.

Micron also presented this technology roadmap at its Summer Analyst Conference in August 2015. It's important to note that each rectangle represents only volume enablement. On this same slide, Micron management stated it intended to "drive faster introduction cadence on DRAM technology with rapid 1Xnm and 1Ynm delivery." Let us assume for a minute that Micron is able to keep roughly on pace with Samsung on the 1X process node and Micron also begins work on enabling the 1Y process node shrink soon after. According to TechInsights, Samsung, Micron and SK Hynix are all 12-18 months away from beginning major R&D spending to enable the future 1Y process node transition. I believe this is not the future roadmap of DRAM. In fact, this is not even close to the roadmap that I am projecting.
While I think the 1X process node will be viable and will absolutely happen for all three major DRAM manufacturers, I am far less certain about the prospects of 1Y. I believe 1Y is not guaranteed to enter the market by 2020 for any of the big three. I am starting to believe fellow Micron ultrabull Stephen Breezy's assertion that 3D XPoint is the biggest breakthrough in semiconductors since perhaps the dawn of the transistor in the 1940s. Because of the tit-for-tat strategy that Micron and SK Hynix will likely employ when Samsung moves to the 1X process node, Samsung will be significantly discouraged from attempting to push the pace at anywhere close to what would be dictated by Moore's Law when it comes to DRAM process technology. The slowing of Moore's Law is an indisputable reality of today's semiconductor industry. This slowing will be even more pronounced when it comes to DRAM.
The technical challenges of developing an economically viable 1Y process node technology will slow the process at Samsung enough for me to declare that the ramp of the 1Y process node for manufacturing DRAM may not occur until after 2020. While multi-patterning, EUV, major architectural changes and other advancements at memory fabs are likely to make future node transitions significantly more expensive, they will also lengthen the time between major capital expenditures in DRAM fabs. From an accounting standpoint, the estimated useful life of fab equipment will be lengthened and annual depreciation expense will be lowered. Over the next five years, Micron's 3D XPoint will evolve into a technology that can cannibalize some DRAM demand. And to make it clear, I believe XPoint's ultimate fate will be as a successor of NAND. While I have some qualms with the technical descriptions that Stephen Breezy gave in his article titled "Micron: The Shining Briefcase," I am confident that a transistor-less memory built on a non-silicon substrate is the future.
If Micron's 3D XPoint is everything it is advertised to be, Micron can sell DRAM manufactured on an inferior process node at elevated prices by physically packaging DRAM and XPoint (and perhaps 3D NAND) together or refusing to sell XPoint to anyone who does not also buy DRAM from Micron. It is not a foregone conclusion that SanDisk (NASDAQ:SNDK) (with Western Digital (NYSE:WDC)), SK Hynix or Samsung will be able to create a memory product with similar or greater performance than that of XPoint before the turn of the decade or ever. As absurd as it seems, I do not believe the stories of carnage and consolidation in the industry is completely over yet. I am predicting at least one of the major manufacturers will cease to exist (or fall to the point it no longer has a meaningful market share) in a decade as a result of an inability to compete with XPoint. For the record, I believe Micron and Samsung are the clear survivors. I am less certain about the others. Despite the concerns about China, a future recession and a very volatile market, I have added to my MU position (via stock and long-dated call options) over the last week. While I am certainly a little afraid after witnessing the events of the last several weeks of trading activity in the global markets, I remain confident in the strong long-term prospects of Micron.
Disclosure: I am/we are long MU.
I wrote this article myself, and it expresses my own opinions. I am not receiving compensation for it (other than from Seeking Alpha). I have no business relationship with any company whose stock is mentioned in this article.
Editor's Note: This article discusses one or more securities that do not trade on a major U.S. exchange. Please be aware of the risks associated with these stocks.