On January 4, Forest City Enterprises (NYSE:FCE.A) said it had concluded its REIT conversion following the completion of the merger of FCE Merger Sub Inc. with and into the company on December 31, 2015. FCE will serve as a wholly owned subsidiary to the successor company, Forest City Realty Trust, which began operating as a REIT on January 1. The shareholders of Forest City Enterprises automatically became shareholders of Forest City Realty Trust.
Forest City Enterprises was converted into a Delaware limited partnership, which will serve as the company's operating partnership. Shares of the company will continue to trade on the NYSE under the ticker symbols FCEA and FCEB.
Prior to listing as a REIT, Forest City has been quite busy streamlining its business model in hopes of building a strong, sustainable capital structure, in order to improve its balance sheet and debt metrics. As part of the company's strategic initiatives, Forest City is now hoping to capitalize by becoming a prime-time player.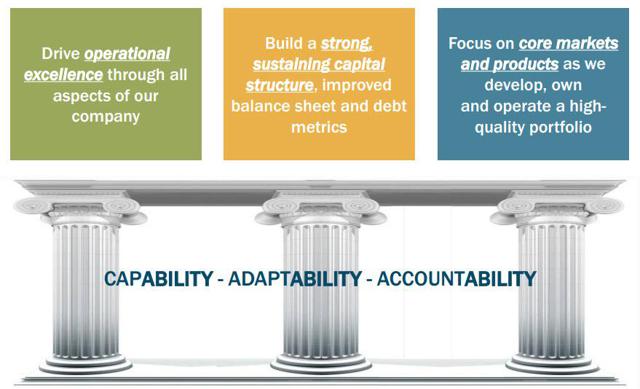 A REIT 95 Years In The Making
Forest City was founded in 1920 after the Ratowczer (later changed to Ratner) family emigrated to the U.S from Poland. Through hard work and good fortune, the family building materials business - started by four siblings, Charles, Max, Leonard and Fannye Ratner - grew and expanded beyond the founders' wildest dreams.
It originally sold building materials to contractors, eventually expanding into retail. In the 1930s, the company purchased its initial lots for community development and bought its first apartment building. Forest City built prefabricated apartment housing in the 1940s, while also developing its first strip shopping malls.
Forest City's real estate operations continued to grow as the company went public in 1960, initially offering 450,000 shares over the counter and joining the American Stock Exchange a few months later, and eventually moving to the New York Stock Exchange, where the shares are traded today.
The 1960s, '70s and '80s saw the company's development footprint expand from the Midwest to California and New York as it became known for dynamic urban developments. The company would exit the retail and lumber businesses to focus on the ownership, management and development of real estate.
In the '90s and 2000s, Forest City completed some of its most well-known projects, including the world-renowned Stapleton community in Denver, The New York Times Building in Manhattan, University Park at MIT near Boston, and Victoria Gardens in California.
Today, the company is strategically focused on creating value for all stakeholders - including residents, customers, partners, associates, shareholders and communities - as a brand new real estate investment trust. As a REIT, Forest City is differentiated as follows:
Exceptional retail, office, apartment and mixed-use operating assets
Core markets focused on vibrant urban environments
Transformational development and place-making strengths
The Business Model
Forest City's assets are located in core markets characterized by urban centers with strong demographics and superior growth potential. As you can see below, around 87% of its assets are in core markets: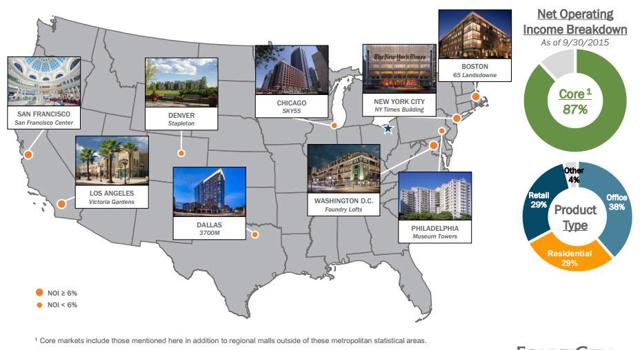 Forest City is a diversified REIT that invests in three major property sectors: Office (38%), Residential (29%), and Retail (29%). The portfolio is well balanced, with the top exposure in New York City (37.3%), Washington DC (10.1%), Boston (9.4%), Los Angeles (7.7%), and San Francisco (6.8%).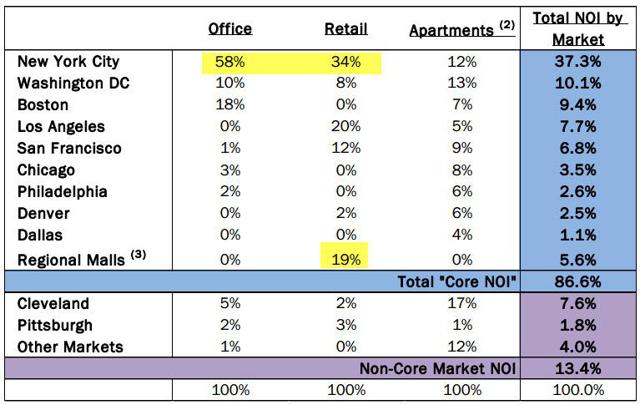 The Office portfolio consists of 37 Life Science properties and 22 traditional office properties. Around 58% of the overall office portfolio is in New York and 18% in Boston.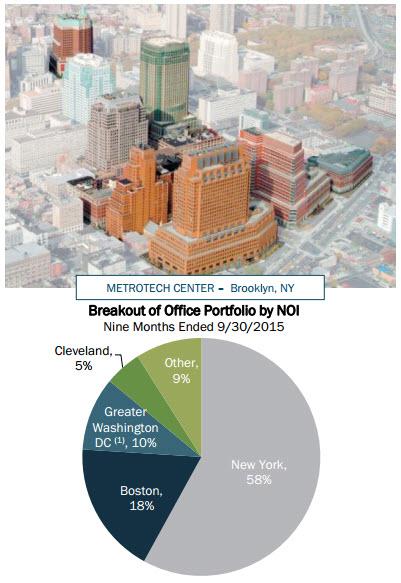 The retail portfolio consists of 38 properties - 14 regional malls and 24 specialty retail centers.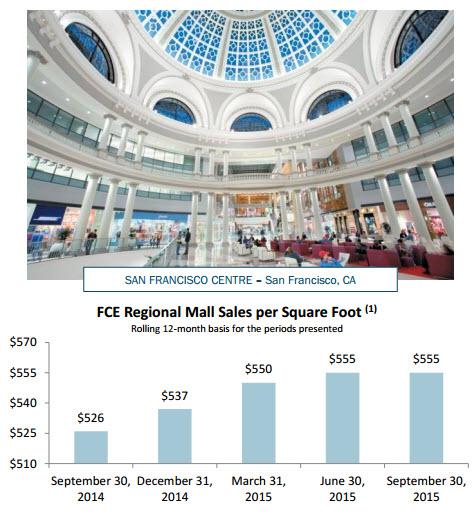 The apartment portfolio consists of 112 properties - 73 multi-family properties and 39 senior housing communities.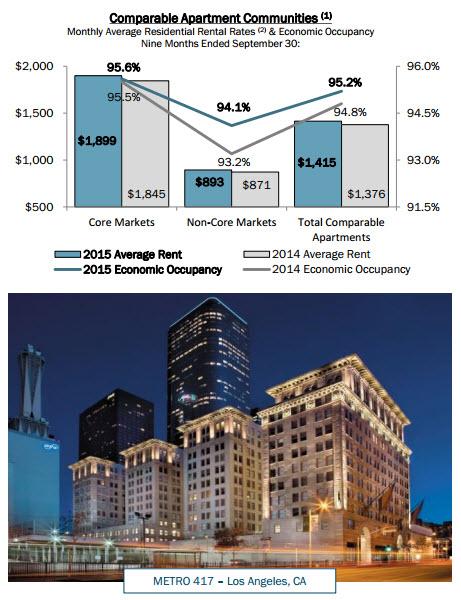 Forest City has partnered with the Arizona State Retirement System to develop a portfolio of multi-family properties. The $400 million equity fund will be paired with project financing for around $1 billion in new projects located primarily in four core markets: Washington DC, Philadelphia, Los Angeles, and San Francisco.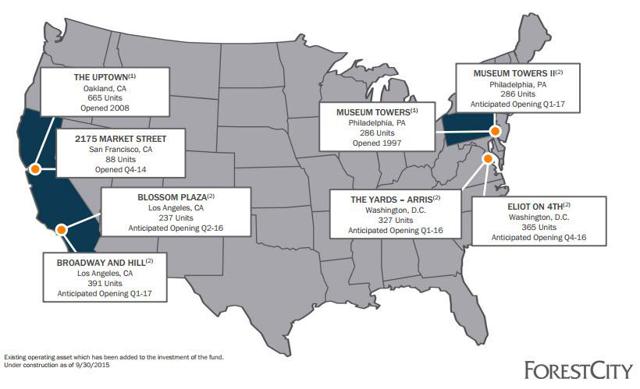 Focusing On The Core
Forest City agreed to divest its entire portfolio of military housing assets to Hunt Cos. The military housing installations are the Air Force Academy in Colorado Springs, Colorado; Air Force Southern Group, which consists of Arnold AFB in Tennessee, Charleston AFB and Shaw AFB in South Carolina and Keesler AFB in Mississippi; Navy and Marine Corps bases on Oahu, Hawaii; military housing associated with three Naval installations in the Puget Sound area of Washington; and six military housing communities at Naval Station Great Lakes in Illinois, Naval Surface Warfare Center in Crane, Indiana, and Navy-Mid-South in Millington, Tennessee.
Closing is expected to take place in the first quarter of 2016, subject to certain third-party consents and other customary closing conditions. The acquisition adds approximately 15,000 units to Hunt's existing portfolio, increasing its total number of military housing units owned to over 51,000. Forest City is expected to net proceeds of around $200 million.
The REIT has also announced various other initiatives to sell off non-core assets and JVs, with a goal of obtaining around $600 million of net proceeds.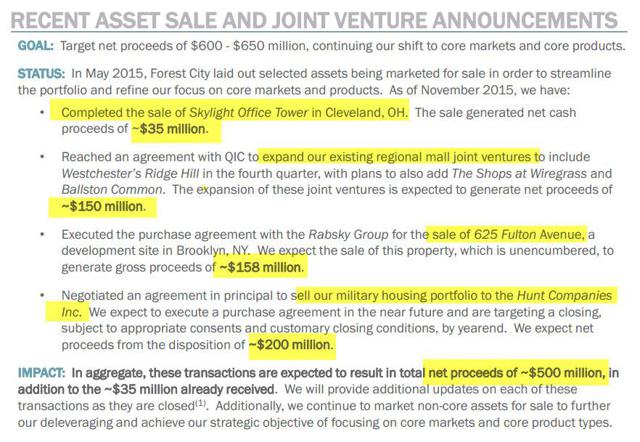 Forest City is developing a 48-acre mixed-use project in the neighborhood of the Washington Nationals baseball park in the Capitol Riverfront District of Washington DC. The project is expected to include 3,400 residential units, 1.8 million square feet of office space and 400,000 square feet of retail and dining space.
The company's Nets Sports and Entertainment subsidiary has inked a deal to sell its stake in the Barclays Center arena and the Brooklyn Nets basketball team to Onexim Sports & Entertainment.
The deal calls for Nets Sports to sell its 55% stake in the arena and its 20% non-controlling stake in the team. The transaction values the team at roughly $875 million and the arena at about $825 million, including the debt for each asset. Forest City owns approximately 62% of Nets Sports, which expects to receive proceeds from the deal in a combination of cash and notes receivable of approximately $285 million. The notes receivable are estimated to be 75% of the gross proceeds and will bear a 4.5% annual interest rate, payable in 3-5.5 years from the closing date.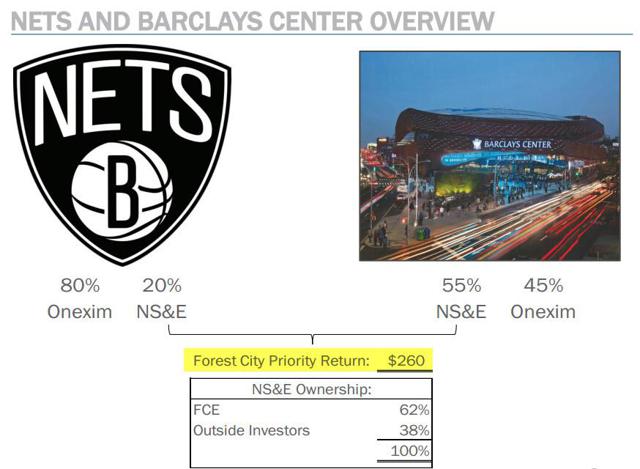 Surrounding the Barclays Center, Forest City controls a 22-acre mixed-use project that is expected to feature 6,400 residential units and 250,000 square feet of retail space.

Here's an overview of the company's Brooklyn portfolio: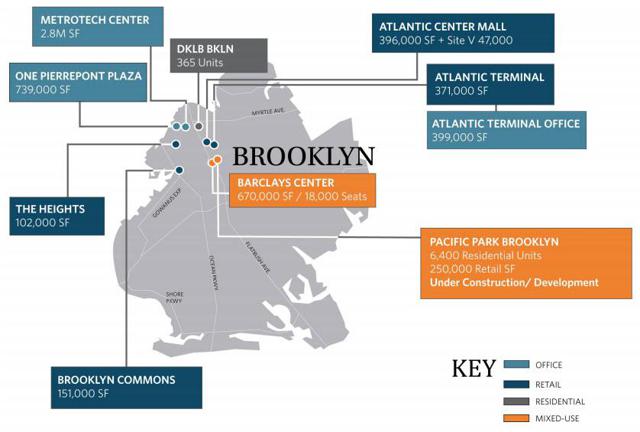 Portfolio Performance
Included in Forest City's latest investor presentation is a Q3-15 "Operating FFO Bridge". The bridge begins on the left-hand side with the company's third-quarter 2014 operating FFO of $61.6 million.
Moving to the right, FFO results for Q3-15 were positively impacted by increased operating FFO from new property openings and acquisitions of $10.4 million, with much of that gain coming from an acquisition in June of the company's former partner's interest in University Park at MIT.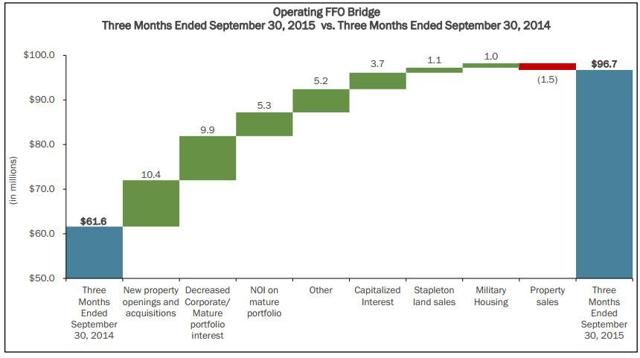 Next is decreased expense of $9.9 million, including both corporate- and property-level interest; increased NOI from the mature portfolio of $5.3 million; increased FFO from a variety of other sources of $5.2 million; increased capitalized interest of $3.7 million; increased FFO from land sales at Stapleton of $1.1 million; and an increase from military housing of $1 million.
These positives were partially offset by lower FFO from property sold of $1.5 million, resulting in third-quarter operating FFO of $96.7 million or $0.36 per share - a 24% increase over FFO per share in the third quarter of 2014.
Here's a snapshot of the REIT's Q3-15 results: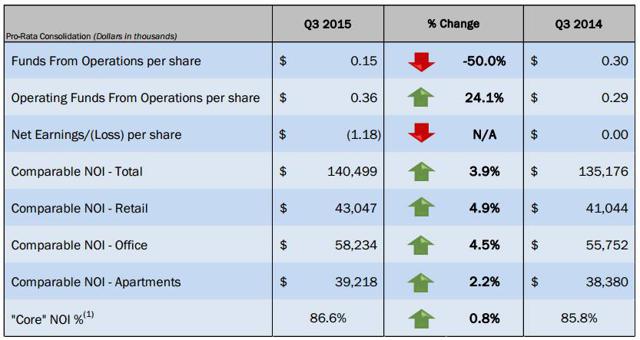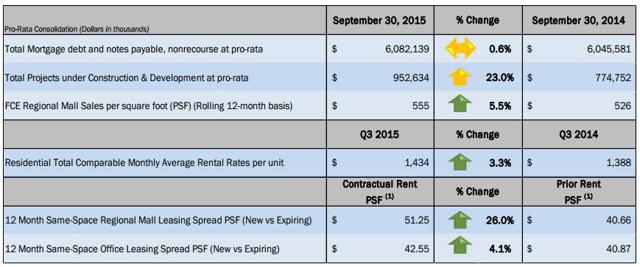 The Balance Sheet
Last year, Fitch Ratings affirmed Forest City's issuer default and senior unsecured convertible notes ratings at BB- and upgraded the company's secured bank revolving credit facility rating to BB from BB-. The rating agency also revised the ratings outlook for Forest City to positive from stable.
The revised outlook takes into account Fitch's expectation that the company's completed and forecast deleveraging will remain consistent with the BB issuer default rating, as the company's planned REIT conversion and subsequent distribution requirements will reduce corporate liquidity.
The ratings take into account the quality and durable operating performance of the company's portfolio. However, these are partly offset by structural complexity and significant development projects that make an impact on corporate liquidity.
Further, the positive outlook reflects the rating agency's view that the company's post-conversion targeted capitalization will align with a BB issuer default rating, although headline metrics will be volatile in the interim given the number of pending activities, including asset sales, noncore dispositions and margin improvement from organizational restructuring.
Hopefully, Forest City Is Ready To Be A Prime-Time Player
Forest City is now a "prime-time REIT player", and although I have initiated coverage of this Cleveland-based REIT, I am not formally recommending the shares. I'm going to wait a few quarters for the dispositions to close and for the management team to announce a formal dividend policy.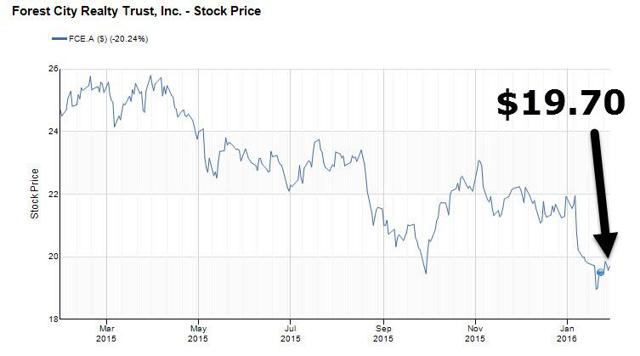 Hopefully, the company is prepared for the big league. Its more recent history as a C-Corp was ugly, as evidenced by the dividend cut in 2008.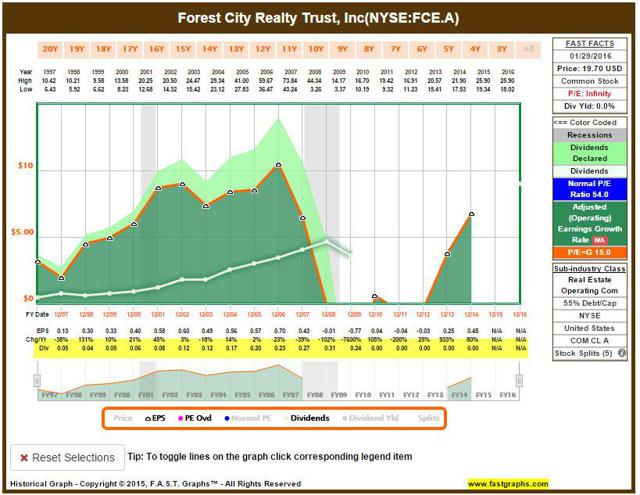 I guess we'll find out soon whether Forest City can play with the big boys! If not, there's a valuable lesson that will be learned, as Frank J. Williams explained:
If you are foolish and refuse to learn a lesson, it will ridicule you, laugh you to scorn, break you, and toss you to the rubbish-heap. The stock market is cruel.
Author's Note: I'm a Wall Street writer, and that means that I am not always right with my predictions or recommendations. That also applies to my grammar. Please excuse any typos, and I assure you that I will do my best to correct any errors if they are overlooked.
Finally, this article is free, and my sole purpose for writing it is to assist with my research (I am the editor of a newsletter, Forbes Real Estate Investor), while also providing a forum for second-level thinking. If you have not followed me, please take 5 seconds and click my name above (top of the page).
The only guarantee that I will give you is that I will uncover each and every rock I can in an effort to find satisfactory investments that "upon thorough analysis promises safety of principal and satisfactory return. Operations not meeting these requirements are speculative." (Ben Graham)
Disclaimer: This article is intended to provide information to interested parties. As I have no knowledge of individual investor circumstances, goals, and/or portfolio concentration or diversification, readers are expected to complete their own due diligence before purchasing any stocks mentioned or recommended.
Disclosure: I am/we are long O, DLR, VTR, HTA , STAG, GPT, ROIC, HCN, OHI, LXP, KIM, WPC, DOC, EXR, MYCC, BX, TCO, SKT, UBA, STWD, CONE, BRX, CLDT, HST, APTS, FPI, CORR, NHI, CCP, WSR, CTRE, WPG, KRG, SNR, LADR, HCN.
I wrote this article myself, and it expresses my own opinions. I am not receiving compensation for it (other than from Seeking Alpha). I have no business relationship with any company whose stock is mentioned in this article.