As you have surely heard by now, Friday's rally in the stock market was spurred by the Bank of Japan's decision to adopt a negative interest rate policy. In the midst of the risk-on stock fest, one fact failed to hit home: for over 25 years, Japan's economy has been suffering... and low interest rates have not been the cure.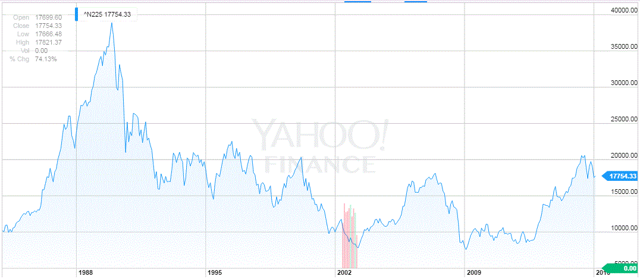 Source: Yahoo Finance
Accordingly, investors have to wonder what the BoJ expects to come of this.
At Pipeline Data, we continue to hold the opinion that extraordinarily low interest rates around the world have reached the point where it is stimulating de-flationary forces, not the in-flation that central bankers are hoping for. We have been chronicling these views (and the ramifications) via our free newsletter.
Remember, every economy is highly exposed to the relationship between supply and demand. When demand increases faster than supply, prices inch upward. For proof, just think about the hot holiday gift that sells out everywhere. Demand is high, but supply is low. Whoever has inventory of the product can commands top dollar from desperate consumers.
Conversely, when supply rises at a faster rate than demand, prices fall. Oil has been the most notable example in recent memory. Thanks to the advent of low interest rates (a.k.a. easy money), speculators were able to borrow or raise money to invest in oil extraction activities. In other words, the Fed's low-rate policy was successful in stimulating the increased supply of oil.
However, the Fed has failed to entice consumers (the primary source of demand) into taking on cheap debt to finance new purchases.
In fact, the opposite has been happening.
Consumers have been using their wage increases and gas price savings to pay down debt and/or save for retirement. As a result, demand for a growing number of products has been growing more slowly than supply. This has resulted in price pressure (as we have seen in the oil market).
That growing number of products includes a wide array of commodities. We have also observed this occurrence among high-end grocery stores. Companies like Whole Foods have been experiencing more competition from the likes of The Fresh Market. In fact our research found that Whole Foods is actually competing against itself in many markets due to overzealous expansion (spurred in part by the low rates, which feed into every companies' expansion/investment calculations).
You see, when a person or company sees that they can command attractive prices in the marketplace, they rush to expand their supply to take advantage of those attractive prices. However, in the process, they fail to calculate the impact of that increased supply on the balance of supply and demand (and therefore pricing).
More often than not, attractive prices inevitably vanish into thin air.
In the case of oil, prices have fallen by about 75%. They've gone from highly attractive to historically unattractive, placing hundreds of companies at risk.
We also saw signs of this last week in the pharmaceutical industry. Merck (NYSE:MRK) unveiled the pricing for its hepatitis C drug. It undercut competitor Gilead's (NASDAQ:GILD) pricing by 40%. That's some heavy deflation folks... and just one more reason why I'm especially bearish on biotechs. With biotech R&D spending at all-time highs, competition (and government sentiment) will continue to threaten profits in the space. Those who concur may opt to use market rallies as an opportunity to short the SPDR S&P Biotech ETF (NYSEARCA:XBI).
In the fast food market, cheap money helped to enable the emergence of a slew of new franchises, led by the likes of Chipotle Mexican Grill (NYSE:CMG) and Shake Shack (NYSE:SHAK). The increase in consumer choices helped to drive McDonald's (NYSE:MCD) into the doldrums. This led to MCD's decision to offer an all-day breakfast menu. In turn, this has pressured the breakfast business of Dunkin' Donuts (NASDAQ:DNKN), among others.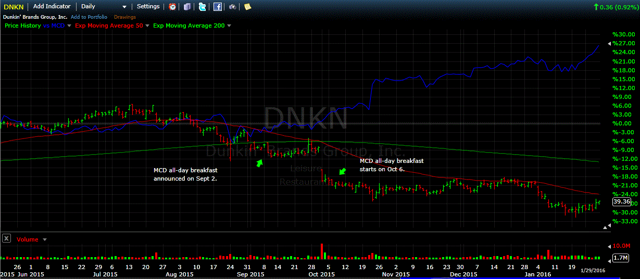 I expect the back-and forth battle to continue in the restaurant space, ultimately leading to lower margins across the industry. Tertiary newcomers and incumbents will be particularly hard hit. However, leaders like McDonald's and Chipotle will also be heavily impacted.
To be clear, I am not calling for outright deflation in the U.S. economy. However, several industries are already suffering from its effects... and several more will soon follow. The broader spread of competitive / deflationary pressures is evidenced by the sharply declining profit margins in corporate America.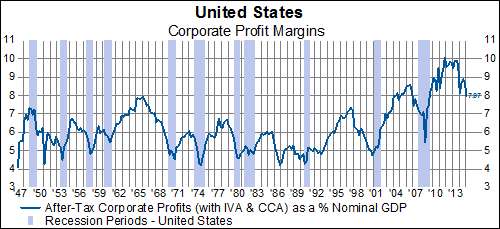 Source: Advisor Perspectives
Unfortunately, there is very little revenue growth to offset the falling margins. The result of this is an earnings recession, which is contributing greatly to the collapsing stock market.
With countries like Japan competing to offer the lowest interest rates (and devalue their currencies in the process), the problem is only getting worse. More importantly, it delays the deleveraging process required to complete the current economic cycle. This delays the day when we can once-again invest in stocks with confidence.
In other words, I believe that the stock market's recent action is bound to be the norm for the foreseeable future.
In the meantime, Wall Street might continue to blindly cheer decisions like the Bank of Japan's. Note that decisions like these tend to take place during times of crisis (when the stock market will tend to be oversold). As a result, while we cannot predict the exact decisions that will take place (nor who will make them), we can predict that such decisions will continue to occur with regularity.
This was also the case during the 2008 meltdown. As was the case back then, we can expect a series of aggressive, but short-lived spikes in the stock market (a.k.a. bear market rallies).
Indeed, I called for such a rally on January 20. By coincidence, the market bottomed a few minutes after my alert went out. More importantly, the market has been moving higher ever since.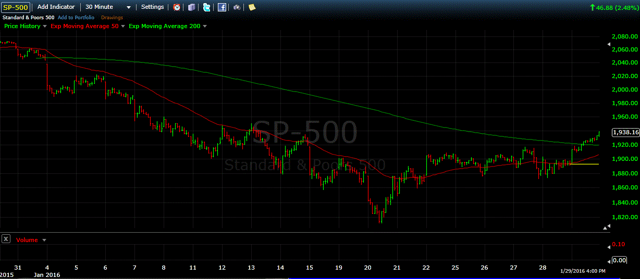 However, make no mistake. By definition, bear market rallies fade and give way to steeper legs down. If I'm right, this is indeed a bear market rally. Once it plays itself out, the dominant trend in the stock market will resume (to the downside).
Undoubtedly, Central Banks will continue to make desperate moves, but I expect them to fail at an accelerating rate. Accordingly, I continue to advise that investors exercise caution. This is particularly prudent for investors who focus on small caps, high-beta stocks, and any issues that are at-risk of succumbing to competitive and/or deflationary forces.
Disclosure: I am/we are short XBI.
I wrote this article myself, and it expresses my own opinions. I am not receiving compensation for it. I have no business relationship with any company whose stock is mentioned in this article.