Last week 3M (NYSE:MMM) reported its 4th quarter and full-year 2015 earnings. I don't think anyone was expecting any good numbers, and so earnings results weren't exactly a disappointment. 3M is, however, considered to be something of an economic bellweather because the company is a diversified industrial conglomerate, and is therefore both cyclical and broadly exposed. Therefore, I believe that 3M's earnings are telling us that the global economy is slowing down. This article takes a summary look at 3M's earnings, and also what the results might mean for the global economy. As always, my article examines 3M from a dividend-focused perspective.
A weight on earnings
Like all US-based multinational companies, 3M is being weighed down upon by the increasing US Dollar, whose incline renders overseas earnings less valuable in Dollar terms. Earnings per share dropped 0.6% in 2015, and sales revenue declined 5.4%. Sans the currency impact, and net of divestitures, revenue was actually 1.5% higher. That's not as bad, but it definitely isn't good for a highly cyclical company. Overall, operating margins also declined 100 basis points, or one percentage point. So, we can see that even absent currency changes, business is pretty flat.
3M is a conglomerate made of industrials, safety and graphics, healthcare, electronics and energy, and finally consumer. All except consumer and healthcare are cyclical businesses. Industrials are particularly sensitive.
Industrial revenue declined 1.8% on a constant-currency basis. Declines were centered on industrial tapes, industrial adhesives and 'advanced materials,' the latter of which has heavy exposure to oil and gas. Safety and graphics revenue was down 2.5% in local currency, but operating margins did increase, which is good. Electronics and energy revenue declined 7.7% Electronics materials, display materials and renewable energy all suffered.
What's more important to investors, however, is forward guidance. Management expects organic revenue growth of 1%-3%, with, perhaps, acquisitions adding another one percentage point. Earnings per share are expected to increase by 7%-11%, which is presumably thanks to productivity gains, cost management and share buybacks. Starting in 2016, 3M will start 'lapping' its previous, high-US Dollar comparisons from 2015, so I suspect that currency fluctuations will have less of an effect this year.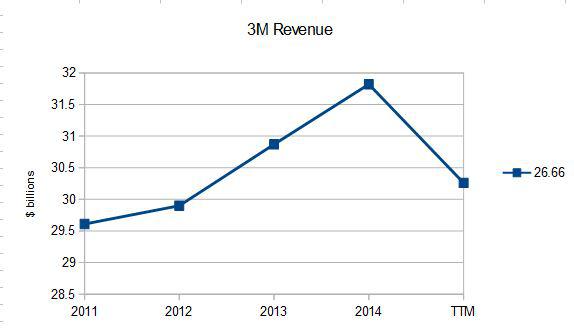 Data by Morningstar.
Here is 3M's revenue over the past five years. In my opinion, this revenue trend is a bit concerning because this is such a cyclical business. This trend could mean that accelerated decline in the future if the global economy continues weakening. To be sure, management doesn't think that further declines will happen. However, looking at things from a macro perspective, China is slowing considerably, Japan is anemic at best, and much of Europe, France included, is in the clutches of austerity. German economic growth was "probably minimal" in Q4. None of this bodes particularly well for 3M, and in fact, 3M's slower revenue could easily be a bellweather of the above economic points. In any case, I think there is more revenue downside than upside right now.
Valuation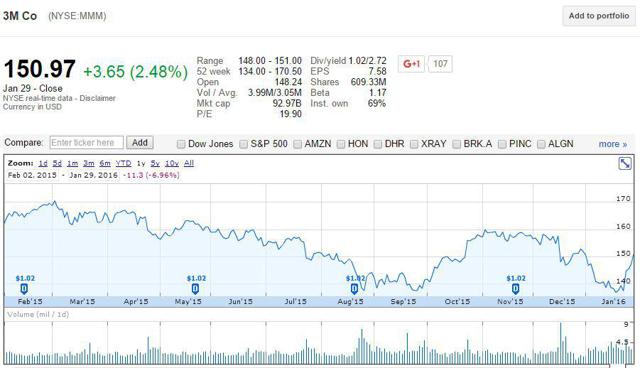 Courtesy of Google Finance.
I also happen to believe that there is more downside than upside when it comes to valuation. 3M currently trades at 19.9 times 2015 earnings. According to data from FAST Graphs, 3M has averaged a valuation of 17.1 times for the past ten years. If the global economy is indeed about to sputter, then the downside to the stock could be very substantial. For example, last time the global economy went into a recession, 3M was hit by a 'double whammy' of earnings declines and price to earnings contractions.
But even if that doesn't happen, and even if management's forecasts for 2016 all come true, think about what buying here means. It means paying up for top-line growth of just 1%-3%. As great a company as 3M is, I'm a bit leery on buying here. The dividend yield is only 2.7%, so while 3M has a good dividend growth record, I think shares could go quite a bit lower before the stock finds 'yield support.' Short-term upside is limited to a few dollars, but the downside is in the double-digits, in my opinion.
Conclusion
Given management's forecast of tepid top line growth, the company's fairly high valuation, and the lukewarm news about the global economy, I believe investors should pass on 3M for awhile. However, this Dividend Aristocrat remains on my watch list.
Disclosure: I/we have no positions in any stocks mentioned, and no plans to initiate any positions within the next 72 hours.
I wrote this article myself, and it expresses my own opinions. I am not receiving compensation for it (other than from Seeking Alpha). I have no business relationship with any company whose stock is mentioned in this article.