Urban Outfitters (NASDAQ:URBN) has taken quite a beating in the past year. In my last article, I discussed qualitative aspects of the company, attempting to answer this question: can Urban Outfitters continue to grow? I concluded that the company has managed to stay connected to its core customer through targeted marketing, forward-looking digital initiatives, and a product assortment the customer likes that is both innovative and unique. Urban is actively pursuing growth in international markets both online and through new retail stores, and their future domestic growth will primarily come from existing store expansion into large-format stores to house expanded product assortment. I believe that the company can continue to stay relevant and grow given the brand's commitment to its customer, to expansion, and to quality products.
Given that the company does have growth potential, the question is: is now the right time to buy? Or, is Urban undervalued? I put together a discounted cash flow (NYSE:DCF) model to take a closer look.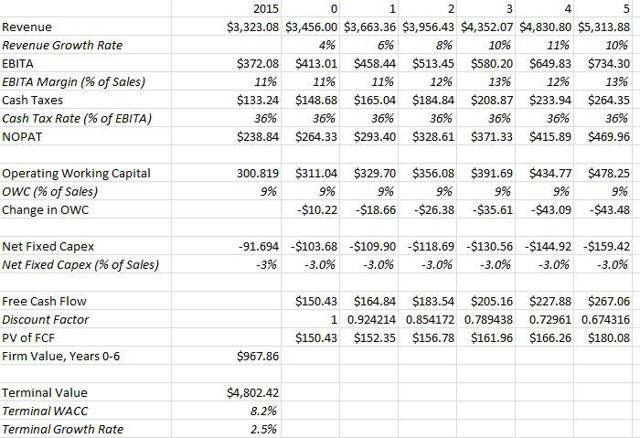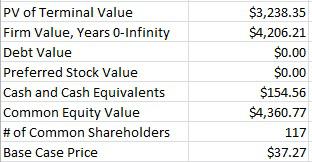 Source: All numbers pulled from the Bloomberg Terminal's balance sheet, income statement, and statement of cash flows for URBN.
From my DCF, we can see that Urban Outfitters (currently trading at $22.88) is in fact undervalued. However, a DCF is largely based on my own assumptions to create projections so I would like to take a moment to explain them.
Sales drives the DCF so the revenue growth rate is a particularly important number. I based this number on the company's historical information as well as future growth prospects detailed in my qualitative article, which is linked above. These prospects are namely conversion to larger format stores, larger product assortment, international expansion, and new digital initiatives. I calculated the EBITA margin based on historical information as well as future prospects: increasing margins from the Urban Outfitters brand with allowances for Anthropologie's lower performance. The EBITA margin is also based on expected increases in customer demand, especially in the Free People brand, and increased supply chain efficiency as discussed in the recent conference call. The cash tax rate and operating working capital are both based on historical information- at this time I have no reason to think they may change. Net fixed capital expenditure is based on the company's relatively early position in the life cycle as well as the retail industry conditions, and the WACC is pulled from the Bloomberg terminal.
I can conclude that Urban Outfitters, with a projected price of $37.27, is undervalued at its current price.
Supporting Documents
Disclosure: I/we have no positions in any stocks mentioned, and no plans to initiate any positions within the next 72 hours.
I wrote this article myself, and it expresses my own opinions. I am not receiving compensation for it (other than from Seeking Alpha). I have no business relationship with any company whose stock is mentioned in this article.