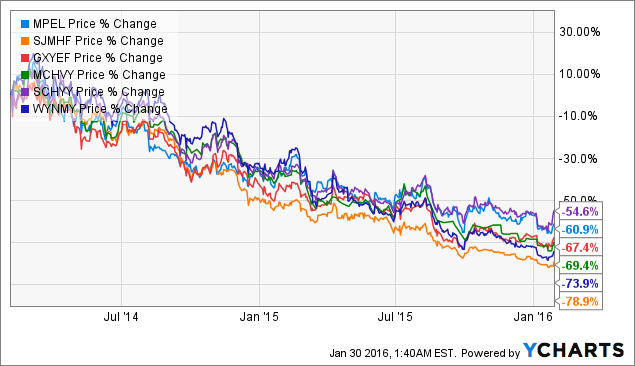 MPEL data by YCharts
Two-year chart of the six Macau-facing operators: Melco Crown Entertainment (NASDAQ:MPEL), SJM Holdings (OTCPK:SJMHF), Galaxy Entertainment (OTCPK:GXYEY), MGM China (OTCPK:MCHVY), Sands China (OTCPK:SCHYY), and Wynn Macau (OTCPK:WYNMY)
For two years now, investors have waited with bated breath for the slide in Macau-facing stocks to end, so far to no avail. The declines have moderated over the past six months or so, and the group posted nice gains over the past week (all except MPEL rose double digits), but the group still sits near multi-year lows.
From here, this week's action looks like another head fake, as I still think there's more declines to come in the revenue, profits, and stock prices of the six companies (along with US parents Las Vegas Sands (NYSE:LVS), Wynn Resorts (NASDAQ:WYNN), and MGM Resorts International (NYSE:MGM)). There are a lot of reasons to think that the worst-case scenario here portends a lot more downside, and even some of the bullish arguments don't sound particularly attractive with many stocks in the space still at high-teen multiples (or higher). In no particular order, here are the key reasons I'm still skeptical of a near-term bottom for Macau operators:
1. Macau is not "bouncing back," or "rebounding," or anything else; the decline has been too significant.
As the old saw goes, if a man falls off a horse in a second, it does not follow that he can get back on just as quickly. Macau's GGR has fallen off that horse: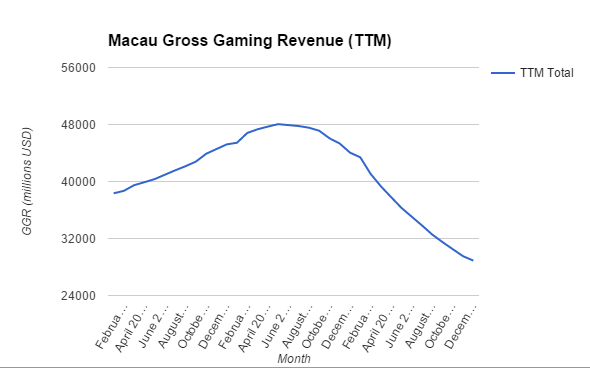 Source: author from Macau DICJ data
And it won't get up that quickly. It doesn't matter, really, that in 2014 WYNN traded near $240, and LVS $80, or that the group as a whole is down 60%+ over the past two years. Those share prices were driven in large part by VIP revenue which is collapsing - down 40% in 2015 alone - and isn't coming back any time soon, if ever. It's clear in retrospect that the 2014 peak was driven, at least in part, by an overheated Chinese economy and an overextended junket business, and there's no reason to expect a return to that type of environment. In 2010, few investors would have expected shares of US home builders to rebound to 2006-07 peaks; in the mid term, let alone the near term, it seems similarly unwise to expect anything similar from Macanese operators.
Environment aside, the sheer numerical power of the decline proves how long a rebound will take. Trailing twelve-month revenue for the market fell 40% between May 2014 and December 2015, and with most analysts expecting an additional decline this year, that peak-to-trough decline may expand. Even assuming that 40% decline is the worst of it still implies that the market must grow ~67% to retake that peak. 10% annual growth - another optimistic assumption - still means that peak wouldn't be regained until 2021.
And while flat revenue to mid-2014 levels would likely mean higher per-player profits, given the increasing proportion of higher-margin mass market players in that revenue mix, the huge expansion of supply doesn't necessarily imply that overall operating margin will rise to the same extent, if at all, as industry-wide costs will be far higher than they were two or three years ago. In short, it seems highly likely that it won't be until the next decade before Macau operators regain peak profits - assuming multiples stay reasonably consistent, that still implies maybe low double-digit appreciation on an annual basis. At the very least, these stocks need to be judged through the prism of what is, and what's coming, not what was hoped for eighteen months ago.
2. Competition is coming.
Over this multi-year stretch of growth - whenever it begins - it's not as if Macau will be alone in the world, or in targeting the Asian market. The common argument that "there are 1.3 billion Chinese and they love to gamble," ignores both that the overwhelming majority of that population can't afford even to get to Macau (per capita income in 2014 was about $7,600) and that Macau is not the only option.
Capacity is coming online in Macau, of course, with billions of dollars and thousands of hotel rooms going into the Cotai Strip. But beyond Macau, investment is heavy as well. In 2016 and 2017, neighboring countries will add more tables and nearly as many hotel rooms and slots as Macau will, even with the well-publicized expansion in the enclave's Cotai Strip. Cambodia's Nagacorp (OTCPK:NGCRY) is aggressively courting Chinese VIPs, some of whom may be wary of being seen in Macau. The first casino in Vladivostok, Siberia opened last year, and Russia has big plans for the gaming zone there. (If a Siberian casino sounds asinine on its face, note that Vladivostok is far closer to Beijing than Macau). South Korea already may have too much supply, with more capacity coming online in the form of a new integrated resort in 2017. The Philippines is trying to grow its industry, and Singapore's duopoly expires in 2017 (although the government appears disinterested in additional operators).
The point is that Macau is not alone, and while it's true that casinos outside China are serving customers from across the region, it's the Chinese VIPs and (now) premium mass customers that are the demand drivers in markets like Cambodia and the Philippines. If Macau seems less attractive to those customers, they will have plenty of options to go elsewhere.
3. The stocks still aren't that cheap.
Melco Crown trades at 18x 2016 free cash flow even assuming double-digit growth next year from its property in Manila, the new Studio City, and cost cuts. Wynn trades at ~11x 2015 EBITDA backing out the expense of Wynn Palace (scheduled to open later this year - hopefully), nearly the same multiple it received in 2012 amidst double-digit market growth. SCL's EV/EBITDA multiple is near 14x, and LVS trades at nearly 18x trailing EPS despite analysts forecasting an earnings decline in 2016 and the fact that its cost-cutting efforts are largely exhausted.
However you value stocks in the group, current prices imply reasonable growth going forward, and if profits decline in 2016, as appears to be likely, require double-digit net income and/or free cash flow growth to resume soon after. And that's just to support the current price; assuming any substantial price appreciation for the group in 2016 requires that multiples return near levels seen when Macau was the unquestioned future of gaming, not a messy environment full of political and macroeconomic concerns. That seems aggressive, to say the least.
4. Everyone is looking at the white swans, but not looking for the black swan(s).
The known problems in Macau, ranging from a potential full smoking ban to junket liquidity to the crackdown on corruption from the mainland, are well covered. But much of the discussion about the future of the enclave seems to ignore the possibility that an unknown and/or unforeseeable problem could arise.
It's clear that the Chinese economy has slowed down, but to what extent isn't clear because few people actually believe the government's figures. An economic wipeout there over the next twelve months is not out of the question - particularly for investors who question the long-term viability of a controlled economy. A Chinese recession (let alone a depression) timed with the expanded capacity of new facilities from LVS, MGM, and WYNN would be crushing for profits.
Meanwhile, too many investors (to be fair, myself included) on occasion forget that this still is China. The concessions in Macau expire in 2020 (MGM and SJM) and 2022 (Wynn, LVS, Galaxy, and Melco Crown), and while it seems unlikely that the Macanese government would pull those licenses, it's important to remember that this still is a Communist government. There's certainly a possibility that renewing those licenses will require some sort of compromise on the part of operators.
I'm not suggesting or predicting that the Chinese simply will pull the concessions in four years; it may well be that all six concessions are renewed with nary a modicum of effort. But Macau is a semi-autonomous enclave that is part of a Communist nation with an authoritarian government and a controlled economy. Things happen. Regardless of the current policies, and the current environment, there is an inherent risk in doing business in that country, as much and as often as investors and executives pretend that the Chinese government is made up of Ayn Rand capitalists in socialist clothing. There are risks here beyond table caps and smoking bans.
5. Again, it's China. Waiting for the cavalry to arrive may be a very long wait.
Here in America, we would never have a Las Vegas of the diversity we've had, if the city had told us how many tables we could spread. The table cap is the single most counterintuitive and irrational decision that was ever made. Here we are spending billions of dollars creating non-gaming facilities and then arbitrarily so much as "well, you should only have this many tables". No jurisdiction ever has imposed such - that kind of logic on us.
Steve Wynn's frustration with Macau's table caps on his company's Q3 conference call drew headlines, but it also highlights a near-term problem in Macau: Macau and the central government are not the same thing, and do not have the same goals. There are just 600,000 residents in Macau, and gambling remains illegal in China. The argument long has been that the central government tolerates Macau as a "release valve" for capital flows and gambling demand from the mainland.
But tolerating and supporting are not the same thing, and Wynn's complaint that no other regulator uses "that kind of logic" ignores the key fact: no other jurisdiction in which Wynn or its peers operate is run by a single-party authoritarian government. The table cap only is "counterintuitive and irrational" if you assume that Beijing's goal is to grow Macau. Here's Wynn's comments a moment later:
It isn't good for Macau; it isn't good for the citizens of Macau; it's not good for the tens of thousands of employees of Macau who are looking forward to promotions and raises and all kind of benefits that accrue because of the viability of these resorts. We build tens of thousands of rooms and restaurants and attractions, but we say [to customers] "you're not allowed to gamble because you can't have the tables," but that's one of the reasons they come to Macau. If you wanted to undermine and scuttle the viability of that industry, you put in table caps.
The problem is simple: Beijing doesn't give a damn about what's good for the citizens of Macau. They very well may be trying to undermine the gaming industry, figuring that with development of Cotai at a point of no return, the Western operators will have to turn even more aggressively to the non-gaming amenities it appears the government wants. If Steve Wynn, Sheldon Adelson, and Western investors lose a few billion dollars in the process, that seems a very small price to pay.
Whatever the strategy, Wynn's comments highlight the key problem with waiting for the government to boost the Macau economy, or make visas easier, or step back from the full smoking ban: Beijing's priority is not growing Macau. The enclave has less than one-half of one tenth of a percent of China's total population. And there's another issue that impacts the mainland's attitude toward Macau that has gotten little, if any, attention from US media and investors. Lawrence Ho, head of Melco Crown and the son of Stanley Ho, Macau's original "king of gambling," gave a different perspective on his company's Q3 call:
I think ultimately Hong Kong has probably had a negative impact on Macau as well, because in the grand scheme of things, China looks at Hong Kong and Macau side by side - they are, after all, sister administrative regions. And given what has happened and what has transpired in terms of Hong Kong politics and the fact that Hong Kong residents have been less than welcoming to mainland Chinese visitors, I think that has - that supposedly is the rumor, that has stopped some of the easing of further cities or easing to access [to Macau] of further Chinese mainland cities.
If you assume Beijing's priority is to grow Macau, the table cap decision makes no sense, and you should likely assume the central government will step in to stabilize GGR. If you assume that Beijing's priority is to protect its rule, and that its leaders might see Hong Kong's 2014 "Umbrella Revolution" as a threat to its power, then you might expect its treatment of Hong Kong's "sister" to deviate from purely economic considerations. And you might not be surprised that regulatory pressure on Macau increased not long after as that revolution in Hong Kong took place.
Macau's response to Wynn's comments was instructive. That weekend, the CEOs of Macau's casinos were called into "an uncomfortable, discouraging private meeting." The Macau government then issued a press release in which it called for "clear understanding and full compliance." One would imagine that "no other jurisdiction" would respond to the public comments of a CEO in such a way, either.
There are fundamental risks to doing business in Macau - and to owning shares in companies that do business in Macau - that have been overlooked in the euphoria of gaming revenue growth and profits in the enclave. Those risks are becoming clear to many - but I still don't believe they're fully understood, nor do I think they're priced in. It's a tough group to short at the moment, given price, volatility and timing, but any pops would provide an opportunity. WYNN, given the biggest exposure relative to LVS and MGM, its lack of market share, and problems at Wynn Palace, is probably my favorite short of the group, with MPEL a close second due to its being a mostly pure-play bet against Macau as a whole. I don't think this decline is over, and I think the focus on stabilizing revenue is obscuring the mid to long-term concerns that have been glossed over for too long. From a broader standpoint, these companies are still operating casinos in China, and it's been forgotten how difficult a business that might really be.
Disclosure: I/we have no positions in any stocks mentioned, and no plans to initiate any positions within the next 72 hours. I wrote this article myself, and it expresses my own opinions. I am not receiving compensation for it (other than from Seeking Alpha). I have no business relationship with any company whose stock is mentioned in this article.
Editor's Note: This article covers one or more microcap stocks. Please be aware of the risks associated with these stocks.