I must say I absolutely love my Earnings Call setup. For free, I can load up to ten companies into a feed, and once I do, their quarterly conference calls automatically load into iTunes as a podcast that I automatically get on my iPod. I can listen as I follow along on the transcripts here on SA, toggle over to the earnings presentation slides, and it's almost as if I'm on the call live. I do this with all the companies in my portfolio, with the most recent one I listened to being Johnson & Johnson (NYSE:JNJ).
Key Numbers From Last Week
Frankly, Johnson & Johnson just keeps plugging along. If you're not up to speed with the company's current state of business, it continues to derive 70% of its sales from products that are either #1 or #2 in market share. It now has 24 brands/platforms that each get over $1 billion per year in sales. But not only that, 25% of sales in 2015 came from products that have been launched in the last five years - leading one to think that the company continues to innovate rather than rest on its "Best in Show" laurels.
That being said, it wasn't all rosy: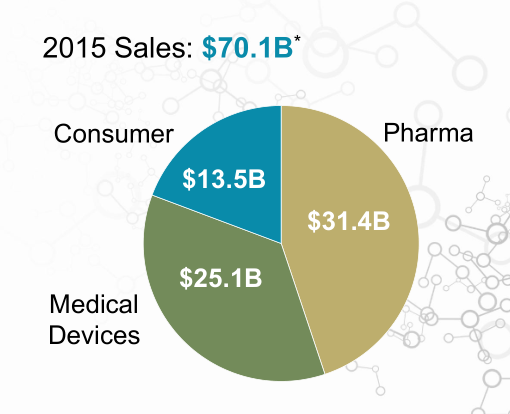 These numbers are quite prodigious, but each of them represents a loss before we make some key allowances:
The Pharma segment represented a 2.7% loss.
The Medical Device segment represented a 8.7% loss.
The Consumer segment represented a 6.8% loss.
Seeing this, what is the big deal about Johnson & Johnson? Why does its presence still dominate portfolios?
Not Quite "The Drinking Game"
Recently, T-Mobile (NASDAQ:TMUS) CEO John Legere made some waves in the business community when he proposed that listeners of Verizon's conference call take a swig of their favorite beverage whenever they heard certain buzzwords: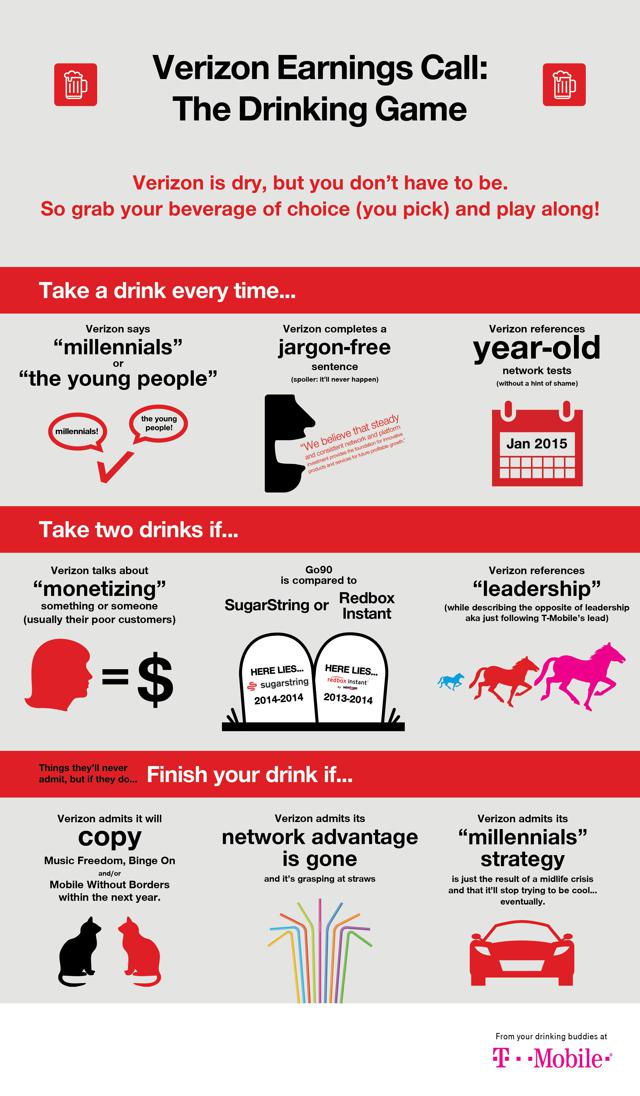 There is no denying that multi-national corporations have had the propensity to report two sets of sales and earnings for the past year - one that reports sales and earnings "as is", as well as one that accounts for the headwinds of foreign currency. Yes, "constant currency" would easily qualify as a drinking game phrase, but it actually is a real thing.
For Johnson & Johnson in particular, practically half of its sales occur outside of the US.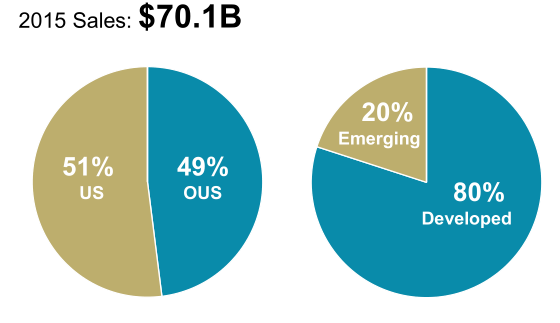 So, what does this mean? Management shared on the conference call that in the event that the Euro/US dollar exchange rate stayed at $1.09, this alone would negatively impact the company's EPS by about $.10 per share. If one extrapolates this example across all the countries in which Johnson & Johnson does business, one can easily see how its earnings would be greatly affected.
If we were to exclude the effects of currency fluctuations and focused on, yes, a constant currency basis, the Pharmaceutical segment's 2.7% loss becomes a 4.2% gain, the 8.7% loss for Medical Devices becomes a 1.4% loss (more on that in a moment), and the 6.8% loss for the Consumer segment becomes a 2.7% gain.
"See, What Had Happened Was..."
However, Johnson & Johnson almost could have had its own drinking game during this most recent conference call. I lost count of how many times I heard "excluding acquisitions, divestitures and hepatitis C...". One can understand how one-time acquisitions or divestitures would need to be excluded, but their ongoing hepatitis C efforts? Is that even permissible?
A Little Background
In 2013, Gilead (NASDAQ:GILD) and Johnson & Johnson were running neck and neck trying to get a hepatitis C drug approved. It turns out that the FDA approved them both in late 2013. In rather short order, though, Gilead's drug (Sovaldi) started destroying Johnson & Johnson's drug Olysio, because frankly, it worked better.
However, doctors soon discovered that if these two treatments were combined, the results would be better for patients who were having a hard time responding to treatment. This led to a blowout year in sales in 2014 for Olysio ($2.302 billion).
But, in 2015, Gilead brought a cheaper and better mousetrap to the table. In Harvoni, doctors now had a single-tablet treatment option that soon rendered doctors' use of Olysio largely obsolete, and as a result, its sales slumped all the way down to $621 million - an astonishing 73% loss from the sales of 2014.
If we did back out the sales of this one drug, the pharmaceutical segment would have reported a 2.7% gain instead of a 2.7% loss.
As a result, once one backs out the Olysio debacle, the pharmaceutical segment can actually tell a different story. It's not a struggling enterprise, but rather, a division that has very worthy entrants in Type 2 diabetes, oncology, autoimmune diseases, psoriasis and a whole host of other conditions.
2016 Guidance
Management shared the goal in 2016 to grow sales faster than the company's competitors, and to grow earnings faster than sales:

The second part of that goal above may at first appear to be a contradiction or impossibility, but what is in mind here is a cutting of costs.
For instance, the recently announced restructuring of the Medical Devices segment is expected to annually cut $800 million-1 billion from costs by 2018, with $200 million being realized in 2016. Just this announcement alone would eventually mean a realized $.28-.36 added to the bottom line based on the current share count.
On the growth side, there are a number of new possibilities across each of the segments:
On the Consumer side, there is a chance for growth, as the company introduces new flavors and sizes to its current OTC offerings, returns more of the products to the shelves, and launches new products.
In the Pharmaceutical segment, there are a number of pending approvals - STELARA (ustekinumab) for the treatment of Crohn's disease, EDURANT (a single-tablet treatment for HIV) and the growth of DARZALEX (daratumumab) for the treatment of double refractory (resistant to treatment) multiple myeloma.
In the Medical Device segment, the goal is to invest in areas of significant unmet need and continuing to capitalize on the company's partnership with Verily (formerly Google Life Sciences).
Incidentally, I must say I'm less than enthused about the prospects of the Medical Device segment. For that reason, if I had JNJ's cash hoard, it would be hard not to be on the prowl. It'd be extremely difficult for me not to reach around in the couch cushions and just go buy Owens-Minor (NYSE:OMI) so I could take over the MediChoice brand, take roughly one-third of the cash on the balance sheet and go buy C.R. Bard (NYSE:BRC), giving myself access to (among many other things) the healthcare industry's first vacuum-assisted biopsy system that is designed for use with ultrasound, or spend a little more cash to acquire Boston Scientific (NYSE:BSX) and really round out the whole device segment.
However, this would amount to a spree, whereas JNJ has historically been rather prudent. There is a stated gigantic stipulation that Johnson & Johnson will only make an acquisition when it sees "the right value-creating deal at the right price with the right partners". Of course, this is more prudent than I would be. So, the odds are high that my wild speculations above will remain just that.
Barring these, it will be interesting to see how the Medical Devices segment continues to take shape in 2016 and beyond.
Valuation
I must admit, I'm a little biased. Not only do I own J&J, but it's the second-largest position in my portfolio. It is my view that Johnson & Johnson belongs in not only every retiree's portfolio, but also the portfolio of any investor who skews conservative or defensive. True, it's not going to set the world on fire, but it's not going to take nearly as drastic a hit as many others in a market correction or bear market.
That being said, it's not a Buy at any price. There are a number of metrics one could use to figure out where to buy it.
1) Some take the 52-week high and lows, divide by 2, and seek for this price and under. Currently, that would mean waiting until JNJ falls to at least $93.64. We'd probably need another broad market sell-off for that to happen.
2) Some look for the way its valuation metrics compare with the broader market. Doing this would be a mixed bag. Currently, J&J trades at a higher P/E, Price/Book Value, Price/Sales, and Price/Cash Flow than the average of the S&P 500: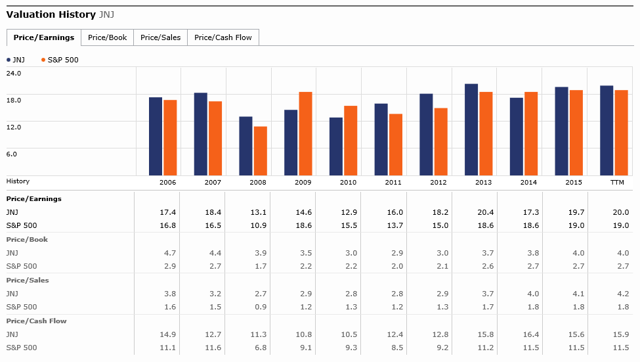 (Source: Morningstar)
However, many would say that JNJ deserves to trade at a bit of a premium. Additionally, the forward P/E (P/E on analysts' estimates of future earnings) is only 15.2, versus 17.2 for the broader market.
3) Others try to discount the value of future cash flows and then see if the current price is under that number. So if, hypothetically, I assigned a 10% discount rate (in my opinion, it deserves this due to a high credit rating and low beta) and estimated that the company would be able to grow its free cash flow by 5% (a more than reasonable estimate), fair value would be $117.94 - almost 13% under where it's trading now.
*Two caveats, though. Estimating the current value of future discounted cash flows does not mean the company will ever arrive at this number, or that the price of the company cannot fall further. For instance, at the time that I bought Parker-Hannifin (NYSE:PH), it was 7-8% under the estimated fair value. But it has subsequently dropped another 15% from my purchase price.*
4) Another reasonable way to pick an entry point for JNJ is to pick a point on the yield curve that one is comfortable with and buy when it climbs over this point: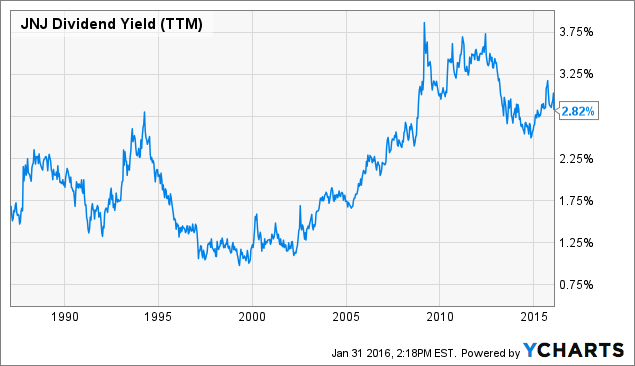 JNJ Dividend Yield (TTM) data by YCharts
In my personal portfolio, I have taken the stance that Johnson & Johnson is a Buy whenever it is yielding over 3%. At the current dividend yield, this would be anything under $100, though this number is due to climb a negligible amount in the first half of 2016.
Based on all the relevant information above, I would have to say that at current levels, JNJ is a bit overvalued. Barring a protracted bear market, buying here won't be the worst investment mistake you've ever made, but as the money in the market is made on the purchase, I would wait for more attractive pricing.
Summary
Even though a toddler's death ended Tylenol's slogan of "Nothing Safer", it is my view that you'd be hard-pressed to find a safer option in the stock market than the company that makes Tylenol and hundreds of other products. It continues to be one of only three AAA-rated balance sheets in the market, with the other two in highly cyclical (Exxon Mobil (NYSE:XOM)) and breakneck (Microsoft (NASDAQ:MSFT)) industries.
Yes, consistency is boring. But with the market seesawing to start 2016, one could easily make the case that boring is beautiful.
Disclaimer: I am not a professional investor, and as such, the companies and/or positions mentioned and any associated analysis are related to my personal experience and expertise, and is not intended to be a recommendation to buy or sell. As everyone has their own risk tolerance, goals and needs, it is important that you perform your own due diligence.
Disclosure: I am/we are long JNJ.
I wrote this article myself, and it expresses my own opinions. I am not receiving compensation for it (other than from Seeking Alpha). I have no business relationship with any company whose stock is mentioned in this article.