Crocs (NASDAQ:CROX) has been a serial loser for investors for the last several years with brief spikes always followed by more significant drops in the price. Over the last five years, the shares have made a series of lower lows with the company undergoing a chain of transformations that have done little to arrest the decline.
The latest restructuring following an ill-fated move into retailing with standalone store cut margins fairly significantly. Blackstone, in early 2014, made a large investment into the company on the back of newly installed management with a long history of experience in the shoe industry. We think with the new strategy of cutting losses of underperforming stores, the massive share buyback program, and emphasizing the wholesale channel with new and improved product launches, they could see a strong upside move given the weak sentiment in the name.
Restructuring Begets Restructuring
After shares spiked to over $74 in late 2007, they collapsed to just over $1 per share in early 2009 during the depths of the financial crisis. In 2010, they hired John McCarvel as the new CEO on the hopes of him staging a turnaround. The plan involved focusing on growing internationally while opening standalone corporate retail stores in an effort to achieve higher net selling prices compared to the wholesale channel. In terms of product, they shifted away from the clog shoe and towards sneakers, higher-end leather shoes, fur-lined boots, ballet flats, and other types.
The recovery in the business was apparent and revenue growth re-accelerated pushing the share price back up to ~$25 in mid-2011. But not long after, the results became lumpy and the new product designs, which saw an initial surge, slowed rather sharply. Revenue growth disappointed and the shares fell back to the low-teens during 2012.
In late 2013, with the share price back around $14, the company announced a partnership with Blackstone Group. The private equity company would invest $200 million in convertible preferred stock (13% of the company), available to be converted after three years, as well as seeking two board seats and new management.
By the end of 2014, McCarvel was replaced as CEO by Greg Ribatt, formerly of Spanx and Collective Brands, succeeding President Andrew Rees who was interim CEO after McCarvel retired in April 2014. Mr. Ribatt is just one of several seasoned executives with years of footwear experience brought into management and the board of directors. Overall, we think the new management team and board is a massive improvement from their prior executive pool.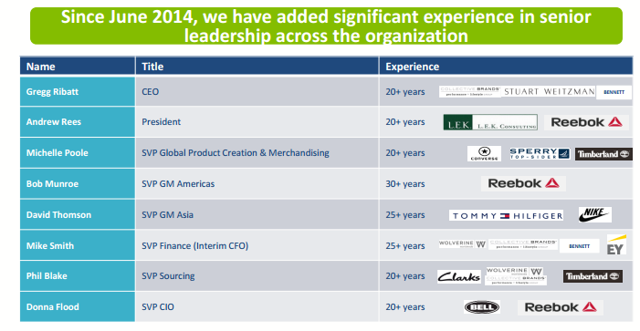 (Source: Investor Presentation)
New Growth Plan
Under the new leadership team, the company has pledged to return the firm to their roots: selling the clog and clog clones while cutting costs and moderating the retail channel's growth rate. Generally, sales are not the principal problem. They have grown every year since 2009 but have slowed recently (and are expected to decline low-single digits in 2015). McCarvel's move into corporate-owned stores and away from the core product created a spurt in sales, but it ultimately was harmful to the company. This is due to the inefficient cost structure that was created which reduced gross margins from the high-50% range to the mid-40% range it resides today. EBITDA margins fell from the high-teens in 2011 to the low single-digits in 2015.
Much of the decline was due to the growth in SG&A which grew much faster than sales along with poor and inefficient execution in the retail and wholesale distribution channels (35% and 55% of revenue). The turnaround plan is an attempt to stabilize and grow revenue while bringing gross and EBITDA margins back to their prior highs. The new CEO says he can get EBITDA margins back to the mid-teens level in short order if their new products work out and costs are eliminated on time.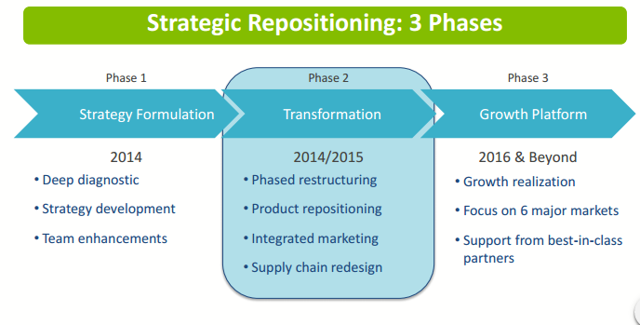 (Source: Investor Presentation)
Much of the strategy rests on reducing overhead costs in order to invest more into their marketing spend strategy. They are also re-emphasizing the wholesale channel while moderating the retail channel closing underperforming stores. On the cost-cutting side, they are simplifying and reducing their costs through 40% reduction of SKUs; a dramatic reduction in direct shipments and reduced lead times.
They have made significant progress over the course of 2015 creating a centralized global marketing function, integrating their $15-$20 million #FindYourFun campaign that was launched last year. The company reported that according to their surveys, brand consideration has increased by 27% and awareness by 11%. Much of the new campaign is being funded by the savings from the operational improvements and cost initiatives being made.
The company laid out their path to SG&A annualized savings with $17 million coming from store closures, $11 million in corporate overhead savings, $15 million from international corporate savings, for a total of $43 million. We think this $43 million estimate is likely low, by a large amount, simply given the growth of the line item in the last several years (from $342 million in 2010 to $558 over the last twelve months).
The company has closed 148 stores over the last 18 months, opened selective new stores, primarily in outlet locations, and hired significant new talent to lead their direct-to-consumer channel. In addition, they have narrowed their direct distribution to just five international core countries which when including the US represents 70% of total volume. Outside of these countries, they are utilizing third-party distributors. While sales are likely to finish down, due mainly to the exit of several low-margin wholesale relationships in China, we think they are setting themselves up for much better, more profitable growth.
Upcoming Catalysts
One of their key changes and growth plan strategies is their new product development. They have moved away from their de-centralized structure for product development towards a centralized team led by recent hire Michelle Pool who was hired from Sperry where she was the lead designer. During their investor day presentation, the company spent a significant amount of time on their new products and shift back to their core focus on the clog and flip-clop shoes.
The company is undergoing a radical product redesign with their new line being launched this spring, in conjunction with cruise season, which has historically been a strong driver for the company. We think the combination of stronger sales from these new products and the benefits from their restructuring plans enhancing margins, should greatly increase profitability over the next year.
We think the early results are encouraging but the full turnaround won't happen overnight. In the third quarter, sales were down fractionally on a constant-currency basis, but were up when adjusting for business model changes by 3.7%. There is still a ton of noise in the quarterly results due to the ongoing restructuring including approximately $4 million of inventory held up from being delivered to certain China distributors. Margins though were impacted as they aggressively cleared out aged and excess inventory but positions them for less clearance and markdown sales in upcoming quarters.
Valuation
Our base case assumes small revenue increases starting in 2016 through 2018 with gross margins rebounding towards 51%-52% in the near term and to 55%-56% by 2019. EBITDA margins should improve to 8% in the near term and 11%-12% by 2019. The model returns a warranted price of $12.50 today, for upside of 38%, and a one-year price of nearly $20.50, a more than double from the current trading price. We also modeled in the entirety of their current $350 million share repurchase program which would reduce the common by nearly half when completed. This reduces the fully diluted shares outstanding from 87 million (when including the Blackstone preferred) to approximately 70 million at year end.
| | | | | |
| --- | --- | --- | --- | --- |
| | 2016 | 2017 | 2018 | 2019 |
| EBITDA | 75 | 105 | 155 | 180 |
| Multiple | 8.5 | 8.5 | 8.5 | 8.5 |
| EV | 637.5 | 892.5 | 1317.5 | 1530 |
| Net Debt | -50 | -50 | -50 | -50 |
| Equity | 687.5 | 942.5 | 1367.5 | 1580 |
| Shares | 87 | 75 | 67 | 57 |
| Value | $ 7.90 | $ 12.57 | $ 20.41 | $ 27.72 |
| Upside | -13% | 38% | 124% | 204% |
The bull case shows a strong upside move and is predicated on strong market acceptance of the new products being launched over the next few months and deeper-than-expected cost savings. Under this scenario, sales grows by mid-single digits over the next three years with EBITDA margins expanding to 12%-13% by the end of 2017. But we assumed gross margins simply move back to their historical average. We also modeled in an accelerated share repurchase program with the company going through the authorization much faster. Under this scenario, the intrinsic values are up a few dollars mostly due to the 9.0x multiple used, instead of 8.5x, and the lower share count.
| | | | | |
| --- | --- | --- | --- | --- |
| | 2016 | 2017 | 2018 | 2019 |
| EBITDA | 78 | 110 | 165 | 190 |
| Multiple | 9 | 9 | 9 | 9 |
| EV | 702 | 990 | 1485 | 1710 |
| Net Debt | -50 | -50 | -50 | -50 |
| Equity | 752 | 1040 | 1535 | 1760 |
| Shares | 87 | 70 | 63 | 57 |
| Value | $ 8.64 | $ 14.86 | $ 24.37 | $ 30.88 |
| Upside | -5% | 63% | 167% | 238% |
The downside scenario is the key one. We modeled in nearly 10% top line annual sales decline with EBITDA margins sticking around the 7% level. We used a 6.5x EV/EBITDA ratio. We also modeled in the company not completinh the current share repurchase program by the end of 2019. Under this scenario, the shares are valued at $8.15 today and $11.75 one year from today.
Conclusion
We think there is a skewed risk-reward with the market currently factoring in a very weak rebound in the company's operating performance preferring to take a wait-and-see approach. A restructuring and improving of operations has been in the works for many years. Thus, the hesitation and lack of trust is likely warranted but presenting a solid opportunity. We believe there is a very strong upside opportunity given the low-hanging fruit of cost initiatives while the new product launches coming should present the sales rebound catalyst needed. We would note that previous product re-launches came with stronger sales but were done with lumpy execution and high costs. We think the company is finally getting back to their basics which should result in much stronger and higher-quality growth. We also think the downside is largely priced in with a floor likely around $7-$8 with upside near $20 and optionality even higher.
Disclosure: I/we have no positions in any stocks mentioned, and no plans to initiate any positions within the next 72 hours.
I wrote this article myself, and it expresses my own opinions. I am not receiving compensation for it (other than from Seeking Alpha). I have no business relationship with any company whose stock is mentioned in this article.