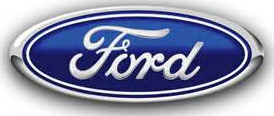 In the past year or so Ford (NYSE:F) has been one of those stocks that it seems good news is bad news and bad news is bad news. In other words, it seems not to matter what happens, the stock trades down. This has confounded numerous investors - including me - that think Ford's future is much brighter than the bleak, depressing price action we've seen in the stock in the past 12+ months. Indeed, I believe there are lots of reasons to own Ford and with the release of upbeat earnings and guidance following Q4, perhaps it is finally time for investors to realize just how good this company is.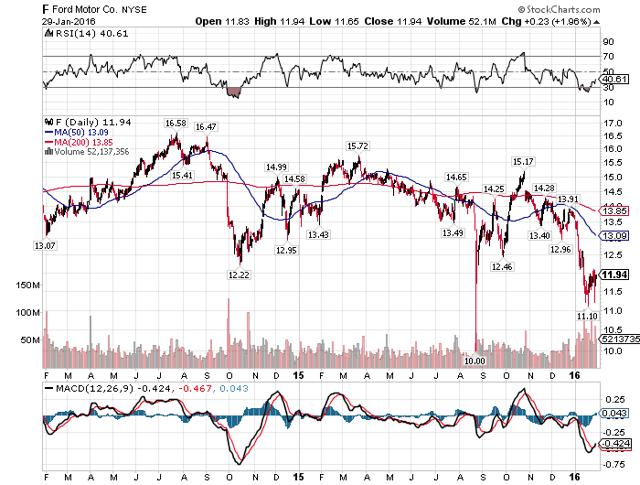 Ford has all the pieces of a great stock to own in terms of intangibles. It competes in an industry that had an amazing year overall in 2015 and that momentum looks set to continue this year. The automotive sector in general was very strong in terms of pricing, margins and deliveries and Ford certainly participated in the fun. Having a structural bull market tailwind of strong demand at your back is a great place to start when looking at investments.
That strong demand for Ford's new models allowed it to produce higher margins, helping it grow pre-tax income considerably in 2015. And the increases are coming from almost every corner of the business; the automotive portion of the business is flying with the exception of South America and the Credit business continues to improve, producing strong results again in 2015. In other words, the business is really as strong as it has ever been from top to bottom and yet, the stock continues to languish near its lows.
I won't go through the press release because there are lots of places you can do that but I do want to hit some of the highlights because Ford seems very well positioned for 2016 in a variety of ways. The North American business is the largest segment by far and to be fair, what North America does is far more important than all of the other segments combined. But the good news is that Ford's results here saw volume rise by 231K units, revenue rose by almost $10 billion and operating margins rose 120bps. All of those numbers are very strong and Ford's guidance for 2016 says that North America's operating profit will be about equal to the $9.3 billion it produced in 2015. That is the foundation of the business for Ford and the company just told us that the good times are set to continue in 2016.
The other enormous profit center for Ford - the Credit business - also had a banner year in 2015 as it produced $2.1 billion in operating profits. The company's guidance for Credit in 2016 was for managed receivables to grow by roughly 8% and for pre-tax profit to be equal to or higher than 2015. Again, Ford is telling us that its second largest profit center is going to have a better year in 2016 than it did in 2015. Combined with the North America business, Ford's two main profit centers are set to at least meet 2015's performance. But that is certainly not how the stock is trading of late so that is where the disconnect exists.
Ford is trading as though a significant slowdown is coming despite the fact that there is absolutely no evidence that this is occurring. I have rarely seen a sector that has been so strong fundamentally that trades so poorly and has sentiment as low as the auto stocks do right now. As I mentioned, the fundamental momentum isn't just for Ford; all of the major manufacturers had a terrific 2015 and guidance suggests that this is going to continue into 2016 but the sector as a whole continues to tank.
The thing is that analysts are as bullish as ever on Ford's prospects with EPS expected to rise slightly in 2016 and then more robustly in 2017. In fact, estimates have moved up in recent days, not down, as market action would have suggested. But Ford is trading so poorly that it really doesn't even matter if it can hit $2 in earnings next year; it's so cheap that it would still be cheap if it can only hit $1.50. Such is the predicament Ford holders are in right now; the disconnect between the stock and the fundamentals is enormous.
So what's going to change that? Will investors suddenly realize the automotive sector is not in perpetual decline and doesn't deserve to trade for 5 or 6 times forward earnings? I don't know and if anyone tells you they do, I'd like to see them prove it. The fact is that I'm shocked by the way Ford has been trading for the past year or so as the company's results have been stellar but its stock performance anything but. Ford has a very good shot at hitting $2 in EPS in 2016 and 2017 as volume and pricing continue to remain strong but as I said, the market is pricing in much less. I simply don't think it is reasonable to expect Ford to make only $1.50 or less this year and next year when it just told us that 2016 is going to be as good or better than 2015's numbers. Ford is going to be cheap regardless of what it produces within any reasonable guidelines of EPS for 2016; but will investors respond?
I'm hoping that Ford's dividend announcement will spur some sustainable buying interest in the stock. This is legitimately one of the best yields in the entire market as its total payout for 2016 should be about 7%. That's an unbelievable yield and that is what happens when a strong business pays out most of its earnings on a very weak stock. If you don't believe me that the fundamentals are stronger than the stock, the yield should be proof enough. Indeed, at a time when Ford just supplemented its already-huge yield with an extra payment, the stock seems to be pricing in a dividend cut. Rarely do yields reach 7% on virtually anything but that is where we find Ford today. Are investors that pessimistic?
When the market remains as negative on a stock for as long as it has with Ford, it can be challenging to keep the faith that at some point fundamentals will matter again. I'm astonished that the stock can trade as low as it is despite the fact that guidance and earnings estimates are moving up for 2016, not plummeting like shares are. Hopefully the special dividend on top of what is already a huge yield will do the trick in terms of spurring some buying activity but time will tell. In the interim, I'll continue to collect my 7% yield and wait for sunnier days. Eventually investors will wake up and realize how strong Ford is and it should trade for 8 times earnings again. That would be $4 or about 33% upside from here in addition to the 7% yield so I'll continue to be patient.
Disclosure: I am/we are long F.
I wrote this article myself, and it expresses my own opinions. I am not receiving compensation for it (other than from Seeking Alpha). I have no business relationship with any company whose stock is mentioned in this article.