Early in 2014 as the price of oil (NYSEARCA:USO) began its calamitous plunge a variety of industry insiders and analysts claimed that it would rebound just as quickly and as sharply as its fall.
Yet the oil bulls and industry insiders got it wrong with many then and now out of step with the reality surrounding crude. The majority underestimated the conviction of the Saudi's and their Gulf State allies to keep the spigots open and grow oil production as a means of gaining market share by keeping prices low and driving higher cost producers out of business.
This now sees crude stuck in a protracted downturn with it now trading at less than $35 per barrel.
While many pundits are talking up the positive outlook for crude thanks to OPEC flagging its interest in coordinating production cuts, the looming bankruptcy of U.S. shale oil producers that cause U.S. shale oil output to fall off a cliff and planned economic stimulus to bolster demand the fundamentals still indicate that sharply weaker crude is here to stay.
Iran is boosting production
The recent lifting of sanctions against OPEC member Iran have seen the Islamic Republic move to boost oil production in order to increase government revenues in what is an oil dependent economy. Tehran claims it can lift output by 500,000 barrels daily and with injections of capital, technology and expertise this could go to as high as one million barrels.
This threat has been on the horizon for sometime and to some extent has been priced in. The biggest concern is that Iran may be able to pull a rabbit out of the hat and boost output by far more than initially thought. This is because the country has considerable reserves with it holding the fourth largest oil reserves after Venezuela, Saudi Arabia and Canada.
With the government reeling from economic mismanagement, sanctions and weaker crude prices there is a considerable incentive for Tehran to considerably boost production.
It is also worth considering that Iran has built up considerable stocks of oil which could flood the market. Prior to sanctions being imposed Iran was producing around 3 million barrels daily and there are fears that its production could rapidly grow to that level again.
But to reach that level there would need to be a significant amount of investment made in the country's oil industry. As a result, any increase above 400,000 to 500,000 barrels daily is unlikely at least for the foreseeable future.
U.S. oil output has not fallen as sharply as expected
It was the ascension of the U.S. to becoming the world's largest oil producer in that triggered the Saudi's decision to boost output in order to push prices lower so as to push higher cost U.S. light tight oil producers out of business and regain market share.
To date this doesn't appear to have been an effective strategy.
Despite the U.S. rig count plunging to its lowest since 2002, U.S. oil production remains only around 4% lower than its peak of 9,610,000 barrels daily reached in June 2015 when WTI was trading at over $100 per barrel.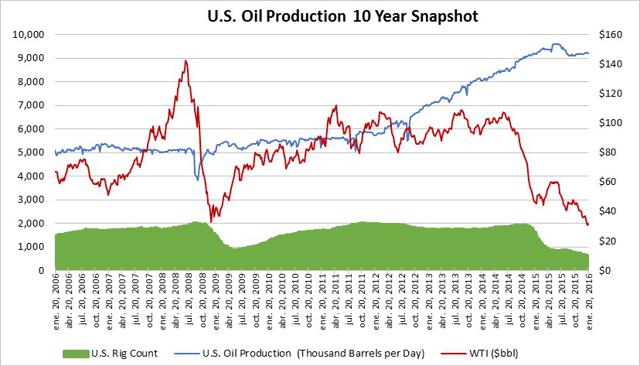 Source data: U.S. EIA.
The chart highlights the correlation between the U.S. rig count and the price of WTI but we are yet to see any correlation between U.S. oil production and lower prices.
Clearly, the sharp drop-off in U.S. oil output that was expected over the last year has yet to occur.
This is surprising when you consider that the majority of shale plays have breakeven costs of well over WTI's average 12-month average price of $47 per barrel, as you can see.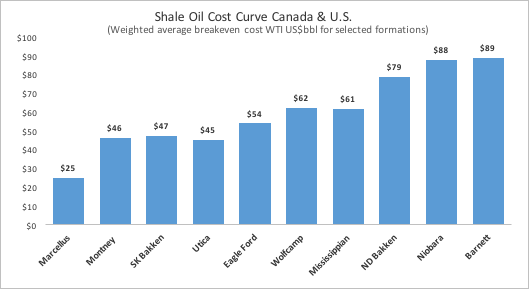 Source: Scotia Bank, UBS, Credit Suisse.
Notes: All prices are weighted indicative average estimates.
In fact, it has estimated that in the Bakken alone only 1% of the play is economically viable with WTI at $46 per barrel. It becomes even more difficult to understand when it is considered that the majority of E&P companies were cash flow negative by October 2015 when WTI was trading at an average of around $46 per barrel, as the table from Oppenheimer highlights.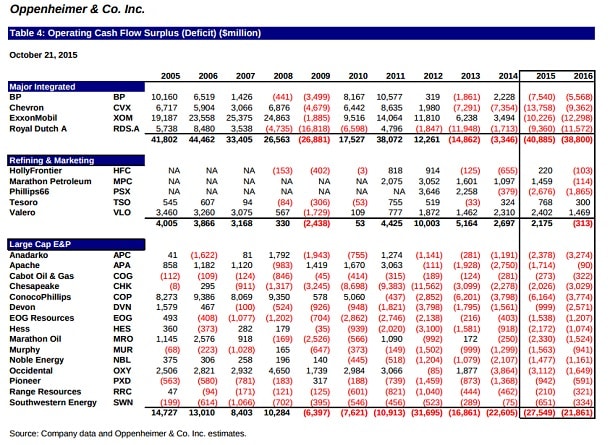 Source: Oilprice.com
This then poses the big question why hasn't U.S. oil output fallen and if prices remain sharply weaker will it ever fall?
There are a variety of reasons for this.
One of the most significant is that many companies continue to maintain production in order to generate cash flow so as to meet their financial liabilities and hopefully work through the crisis. Along with this is the fact that a number of companies are focused on slashing costs and boosting output from lower cost wells, while shuttering higher costs wells.
To date this has been reasonably effective with many shale oil plays having lower breakeven costs than a year ago.
Furthermore, those costs continue to fall.
At this time the Eagle Ford shale has estimated breakeven costs of $54 per barrel but analysts believe that this will drop to as low as $46 per barrel during 2016 as additional cost cutting takes effect.
It is also worth remembering that many operators have breakeven costs that are even lower.
After running the numbers on Baytex (NYSE:BTE) which is drilling in the sweet spot of the Eagle Ford, I found that it has full cycle breakeven costs for its Eagle Ford operations of $34 per barrel. This indicates that with WTI at $34 per barrel its operations in the Eagle Ford will breakeven, meaning that it can maintain production.
A key part of achieving such a low breakeven price has been the savage cutting of capital expenditures, particularly exploration capex.
In what many analysts regard as a bell-weather moment, Continental Resources (NYSE:CLR) has slashed its 2016 budget by 66% when compared to 2015 to $920 million. This it believes will allow its operations to be cash flow neutral with WTI at $37 per barrel and will only lead to a 10% drop in 2016 production. If WTI rebounds to $40 per barrel Continental has estimated that its operations will become cash flow positive to the tune of $100 million. This is quite impressive considering the company monetized its hedges in December 2014 and is completely exposed to market prices.
I am expecting the majority of other shale operators to have similar plans with WTI still stubbornly below $35 per barrel at the time of writing.
While this could see U.S. oil production fall by 10% or even as higher as 20% over the course of 2016, I doubt it will be enough to significantly reduce the global supply overhang and trigger a sustained rally.
Some analysts are predicting that a massive wave of bankruptcies will sweep the U.S. shale oil industry through 2016 and while the potential is certainly there I don't see that occurring. This is because as discussed, the majority of operators are in the process of adjusting their operations to the harsh operating environment now being witnessed through significant cost cutting.
As a result many will be cash flow neutral with an average WTI price of $37 to $40 per barrel, which means they will keep pumping crude.
Then you have to consider that the creditors which lent heavily to the shale oil industry in recent years are unwilling to lose their investment. As a result they have shown a considerable degree of flexibility with struggling shale oil operators, taking measures to restructure credit facilities and relax covenants in order to give those companies in trouble sufficient breathing space for oil prices to rebound. With over $169 billion of debt in the industry at stake, it is unlikely that creditors will seek to foreclose on those companies that are underwater any time soon.
There are signs that OPEC or more specifically Saudi Arabia is determined to keep prices low for even longer in order to claim a decisive victory against shale oil.
OPEC continues to grow capacity
The Saudi's along with their Gulf State allies, Kuwait and the U.A.E., continue to invest heavily in boosting their productive capacity. It is estimated that all three collectively increased their investment in oil exploration and production during 2015 by around 5% year over year. More startling is that Saudi Arabia's oil output is now at its highest level in three decades and the country's rig count continues to climb as the graphic shows.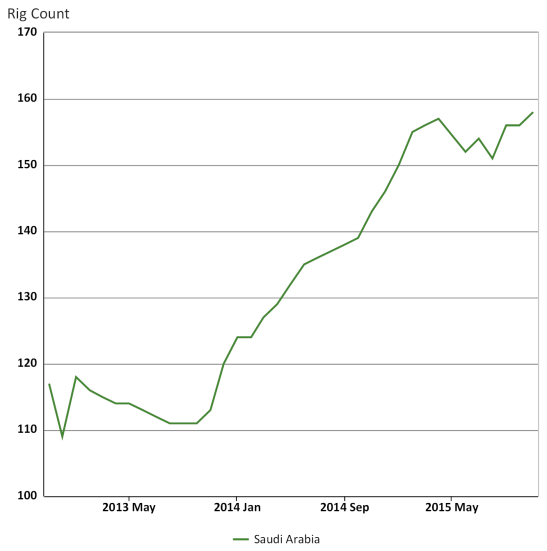 Source: OPEC.
In mid to late 2015, there were hopes that rising geopolitical tensions in the Middle East along with financial pressures in a number of OPEC states triggered by sharply weaker crude would be enough to force OPEC to reduce output and thereby boost oil prices.
If we take a look at the chart below illustrating the breakeven prices for OPEC members budgets, it is easy to see how much damage weaker crude prices are now doing to those nations financial health.
There are members of the cartel that are suffering significantly from sharply weaker crude prices, with Venezuela and Nigeria under the most pressure.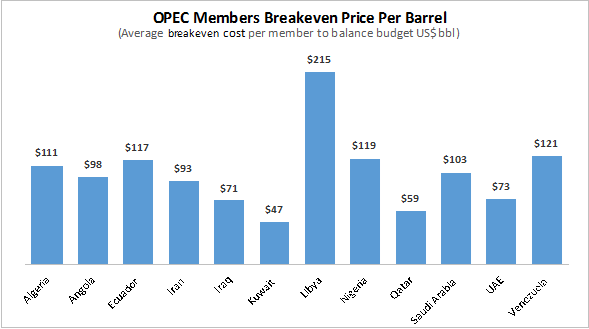 Source: IMF.
For 2015, Saudi Arabia had a budget deficit of around $98 billion and is expected to run a deficit of $87 billion in 2016 because of the significantly weaker oil prices now being witnessed.
Yet, even with the additional financial pressures of the Saudi's costly and protracted conflict in Yemen, the fight against Islamic State and rising tensions with Iran, there are still no signs that these additional financial pressures will incentivize them to reduce output.
You see, Riyadh has introduced a range of measures in order to shore up the budget and reduce the amount of oil revenue required. These include increases to fuel, electricity and water prices as part of a planned subsidy restructure. This alone has caused gasoline and a range of other energy prices to surge by 50-70%.
The government also has plans to introduce value-added taxes and privatize airports and other facilities in order to raise additional funds to bolster government coffers. Then there is the much discussed potential of listing the state oil company Saudi Aramco, which would raise billions of dollars. These measures will go a long way to increasing the country's resilience to weaker oil prices and ward off the risk of Saudi Arabia's cash reserves running out in five years as estimated by the IMF.
For these reasons I take the recent announcement that OPEC is willing to work with major non-cartel producers and coordinate production cuts as a means of reducing output with a grain salt. Even if production cuts occur it is doubtful that they would be meaningful enough to reduce the global supply overhang of two million barrels daily.
Clearly, the Saudi's are gearing up for a protracted fight and remain determined to keep oil prices low for as long as it takes to remove the threat posed by shale oil producers and other energy sources. This as we have seen could take years, with the U.S. shale oil industry showing greater resilience and capacity to adjust to sharply weaker prices than was expected.
It is also worth noting that a number of non-OPEC countries remain focused on boosting their own oil output because to put it simply they need the cash, the lower the oil price the more they need to produce to maintain revenue.
An example is Russia with its oil output reaching post-Soviet highs of almost 11 million barrels daily in 2015. There are signs this will continue with revenue from Russia's oil industry a key source of funding for Moscow, which helps to underwrite Putin's social spending and international ambitions.
Global oil inventories continue to grow
Another aspect of the equation is that global oil inventories have risen to record levels because of the massive supply overhang. This has created a situation where lower oil prices are incentivizing producers to store oil for sale at a later time when prices have rebounded. The graphic clearly illustrates the correlation between sharply weaker crude and growing U.S. oil stocks.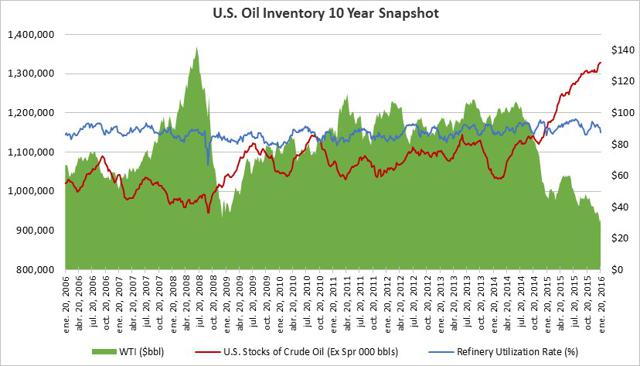 Source data: U.S. EIA.
It is quite clear that as the price of WTI falls the more oil that goes into storage in the U.S. with U.S. oil stocks of 1.3 billion barrels just below their highest level ever. This is despite the lifting of the export ban on crude and refinery utilization rates remaining close to 90%.
Such a large volume of oil stocks is keeping pressure on the price of crude with fears that a flood of oil could hit global markets pushing prices lower. This fear becomes even more prevalent with its claimed that 90% of U.S. storage capacity is filled and that if U.S. oil production continues at the current rate it will be full by mid-2016 according to Goldman Sachs. If this were to occur then a deluge of crude would hit global markets triggering a cataclysmic decline in the price of crude to $20 per barrel or lower, thereby triggering a sharp contraction in oil production and pushing higher cost and heavily indebted oil companies into bankruptcy.
This theory appears to be somewhat alarmist with many other analysts claiming there is sufficient storage capacity available despite the incentive for oil producers and traders to keep storing crude because of sharply weaker prices.
Nonetheless, it should be acknowledged that growing global oil stocks are keeping a lid on prices and even increased drawdowns by refiners won't be enough to reduce them at the current rate of growth.
Don't forget about the growing volume of drilled but unfinished wells. Drilling is one of the most costly activities in the oil industry and rising storage costs have incentivized many shale oil operators to leave wells completed but uncompleted or unfracked. At this time it is estimated that there are in excess of 470,000 drilled but uncompleted wells in North America that could be holding up to an additional 500,000 barrels daily of crude production, although accurate figures are hard to find.
An example of this inventory continuing to grow because it is a more cost effective means of storing excess capacity is Continental's plans to defer the completion of the majority of its Bakken wells in 2016. This will lift its inventory of drilled nut uncompleted wells by 44% to 195 wells.
Final outlook
Regardless of the glimmers of good news surrounding the outlook for oil, including signs that OPEC are willing to negotiate production cuts, the fundamentals indicate that prices will remain markedly weaker and highly volatile throughout 2016. The reasons for this are varied but even with hedges winding down and the U.S. rig count at 12 year lows, there is not sign of a sudden drop in production looming. If anything, sharply weaker prices have incentivized the shale oil industry to operate more efficiently and a number of companies are capable of being cash flow neutral with WTI at round $40 per barrel.
While output will fall I don't believe it will be sufficient to trigger a sustained rally, particularly when you consider that Iran is bringing up to an additional 500,000 barrels daily on line. Then there are the massive global inventories of crude that at some stage will have to be released on to global markets. Clearly, there is no good news in sight for oil yet and the global supply overhang will remain until there is a significant drop in global output.
Disclosure: I/we have no positions in any stocks mentioned, and no plans to initiate any positions within the next 72 hours. I wrote this article myself, and it expresses my own opinions. I am not receiving compensation for it (other than from Seeking Alpha). I have no business relationship with any company whose stock is mentioned in this article.