Vertex Pharmacueticals (NASDAQ:VRTX) is another biotechnology pharmaceutical company that has been adversely affected by the healthcare stock selloff that has progressed in waves since mid-2015. The combined stock price decline and the successful launch of its second CF (cystic fibrosis) drug makes Vertex undervalued by my accounting.
Vertex was long one of the darlings of Wall Street firms. In 2013 Vertex had a setback with Incivek, its Hepatitis C therapy. It had Q2 sales of $328 million in 2012, then declined to $156 million in Q2 2013 due to the introduction of new drugs from Gilead Sciences (NASDAQ:GILD). Although Kalydeco, its first commercial CF therapy, sales were already ramping during this period, overall revenues were declining in 2013. That did not stop the stock price from continuing on a bull run:

At the time the run up from the beginning of 2013 to the end of 2015 was rationalized by pointing to the value of the therapy pipeline. I believe in valuing stocks according to their likely future earnings, including therapies in the clinical trial process, and future revenues from therapies that have been approved but that take time to ramp. But Vertex has always been rich for my taste, compared to other biotechnology investments, until now. Now it looks quite attractive.
Q4 2015 Results
Q4 2015 results were released on January 27. They were outstanding, although of course they did not meet the bullish expectations of some promoters. Revenue was $417.9 million, up 35% sequentially from $309.8 million, and up 189% from $144.6 million in the year-earlier quarter.
Before looking at earnings, it helps drill down into revenue a bit. Almost all revenue comes from two drugs for CF:
Revenue
$ millions

Q4
2015

Q3
2015

Q4 2014

y/y % change

Orkambi

219.9

130.8

0

na

Kalydeco

180.7

165.9

124.4

45%

Incivek

6.0

5.8

0.6

900%

product subtotal

406.6

302.5

124.9

226%

royalties

6.3

5.8

8.8

-28%

collaboration

5.1

1.5

10.8

-53%

total

417.9

309.8

144.6

189%
Years after its first commercial approval, Kalydeco continues to ramp, up 45% for Q4 y/y. Label expansion and international expansion should allow it to grow for another year or two before leveling out.
But the big news was Orkambi, which reached $220 million in sales in Q4. That puts it near a blockbuster $1 billion per year run rate.
It also pushed Vertex into profitability for Q4, at least on a non-GAAP, "adjusted" basis. On a standard, generally-accepted accounting basis, Vertex had negative net income of $75 million and EPS of negative $0.31 per share. How do you lose money on 0.4 billion in revenue? Mainly Vertex invested heavily in further research. R&D expense was $310 million. The drugs are relatively cheap to make: cost of goods sold was $63 million. The international sales force and administration cost $97 million.
How did Vertex adjust GAAP accounting to claim profitability? Like most companies, it adjusted out stock based employee compensation, in this case $45 million. It also took $78 million in "other adjustments," which the footnote says were a $75 million payment included in R&D expense that was made to CRISPR Therapeutics AG, plus $3 million of other activity. The $75 million was real money, but presumably it was an event singular to the quarter that won't be repeated. Also it was a long-term investment, not a short-term expense.
I have no problems with non-GAAP accounting as long as it is clear why it is non-GAAP. On a non-GAAP basis Vertex net income of $43 million, which works out to EPS of $0.17.
What these results really mean is that barring a repeat of the $75 million expense, or some similar item, even GAAP numbers could be in the black when Q1 2016 is reported.
Vertex ended with about $1 billion in cash and $300 million in debt, so there should be no cash worries.
2016 guidance and my estimate
Guidance for 2016 is vague because Vertex did not want to put a number on Orkambi revenue yet. This apparently disappointed some Wall Street analysts who had already put a number on Orkambi 2016 revenue.
For the full year 2016 Kalydeco revenue is expected between $670 and $690 million. Vertex is specifically excluding label expansion to residual function mutations, which I will discuss further below.
Full year 2016 Vertex revenue, and hence earnings, will depend heavily on Orkambi revenue, which already exceeded Kalydeco revenue in Q4. Vertex promised an update when they have a better handle on it. In answering analyst questions, it was indicated that some sell-side (Wall Street brokerage) projections of Orkambi revenues seemed unreasonably high.
The total number of addressable patients for Orkambi is currently estimated at 8,500, with about 4,500 on medication at the end of 2015. In 2016 most revenue growth for Orkambi will come from the U.S. and Germany. Other European nations will take some time to okay reimbursements, and the numbers from Canada and Australia are relatively trivial.
My ballpark guess for 2016 revenue is $680 million for Kalydeco and $1.0 billion for Orkambi, totaling $1.68 billion. Given the Orkambi ramp, it is more likely to be higher than lower. The most likely reason for higher revenue would be reimbursement approvals coming earlier than expected in Europe.
Full year non-GAAP operating expenses are expected in the range of $1.18 to $1.23 billion, I'll call it $1.2 billion. Cost of goods sold in Q4 was 15% percent of revenue. Using my revenue estimate, that would imply 2016 cost of goods sold of $252 million. Interest expense should be around $80 million. Taxes will vary by GAAP and non-GAAP and by how much revenue is from the U.S., so I'll ballpark them at $40 million and admit that could be way off.
That would leave non-GAAP earnings of $110 million. That number is good enough for my purposes, but it is clearly a conjecture that could be off due to any one of several variables.
Pipeline value
Pipeline value estimates are always subject to caveats and differences of opinion. The important thing to keep in mind is that Vertex has proven it can take a concept from preclinical experimentation all the way to commercial success. Not every drug that enters Phase 1 trials will make it all the way to commercial success, but it is fair at this point to assume a high batting average for Vertex.
On February 7, 2016 we should know if Kalydeco for CF patients aged 2 and up with one of 23 residual function mutations is approved by the FDA. Vertex has not made any promises because the situation is somewhat novel. There are only about 1,500 patients with any such mutations in the U.S. There are not enough with any particular mutation to do a normal, large-scale Phase 3 trial. Vertex's submission is based on preclinical studies, plus a relatively small study that in some cases had few patients with a particular mutation. So the FDA could reject the application and demand more data. They could accept the application so that patients could get potential relief immediately, with follow-up data to be gathered to confirm efficacy. They might even split the decision down the middle, approving for the more common mutations that had more patients in the trial, while passing on the rarer mutations. I am guessing they will show compassion, and as a result Kalydeco revenue will be higher in 2016 that current estimates.
Vertex's determination to stay on top of the CF market with its pipeline is illustrated as follows: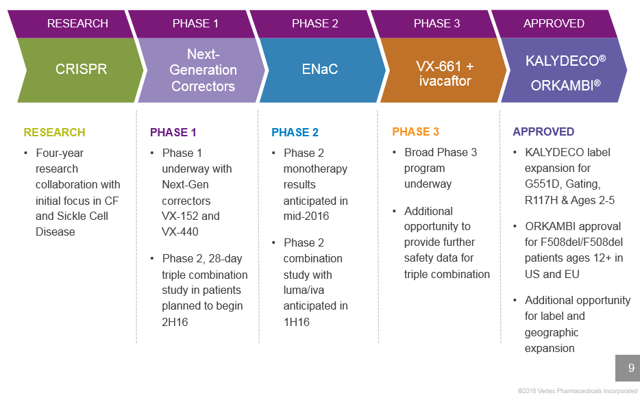 Vertex is also developing drugs for diseases other than CF, mainly in oncology, as show in its full pipeline: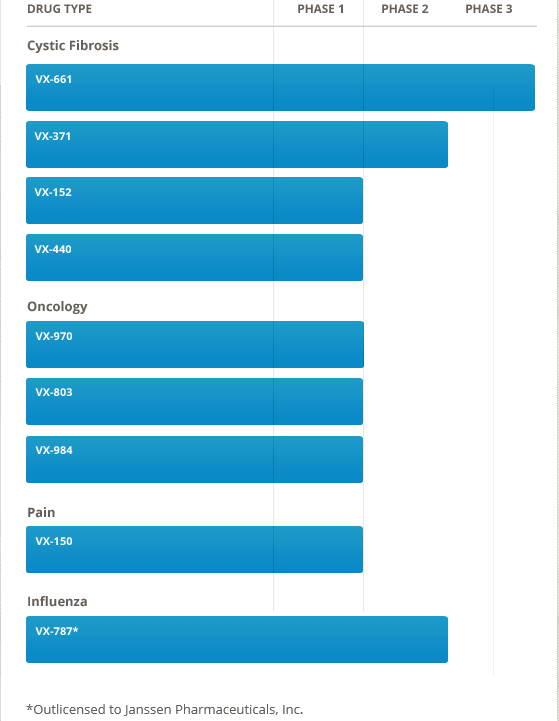 Given that VX-787 is outlicensed and the other drugs are in Phase 1, it will likely be years before we see drug approvals beyond the CF part of the pipeline. I won't try to assign a specific value to the drugs, which might make sense if Phase 2 studies are successful. Instead I would just note that for long-term investors it makes sense to assign a P/E that is higher than we would for a company with more limited growth prospects.
Conclusion
While we are still guessing at 2016 revenue and earnings, we can reason that 2017 revenue and earnings will improve as non-German European revenues begin to ramp. Therefore a higher than 20 P/E ratio should apply to Vertex at the end of 2016.
On the other hand, biotechnology P/E ratios have come down markedly since the beginning of 2015. Most notably Gilead , which I believe has a healthy pipeline and growing earnings, ended with a P/E ratio of 7.6 on Friday, January 29. It makes no sense to me that, in a world where return on investments is hard to come by, that Gilead would be being sold when its earnings return is 18.8% a year. Nevertheless, it does call into question whether, in the next few years, companies like Vertex will be able to count on high P/E ratios based on earnings projected from pipeline future drug sales.
Just a year ago I would typically use the term "high" for a biotech P/E of 40 or over. Times have changed.
At its 52-week high of $143.45 on August 10, 2015 Vertex had a market capitalization of about $35.2 billion. At that time it was still a favorite of Wall Street, sell-side brokers and analysts. At its close of $90.75 on Friday, January 29 Vertex had a market capitalization of $22 billion. It was down 37% from the 52-week high.
If my estimate of 2016 earnings of $110 million is used with Friday's price, that would give a spot-on P/E ratio of 20 (non-GAAP) at the current price. That would include no future pipeline value (unless you assume that rapidly growing companies should have P/E ratios of less than 20). I believe pipeline value should be considerable, so a P/E ratio of 25 to 30 would be reasonable.
Given my expectation that Orkambi sales will continue to ramp in 2017 in Europe, and that we will have some Phase 2 data on the newer drugs by then, I see Vertex as generating strong returns for investors if they buy at the current price and hold long enough to see the revenue and profit ramp from Orkambi. Successful Phase 2 oncology trials would be a bonus.
The usual caveats apply. A special one for Vertex is that its drugs are very highly priced and are of use to only a small number of patients. This is as it should be, given that Congress create the situation through its orphan drug legislation. However, what Congress gives, Congress can take away. I don't think that will happen, but it is a possibility that can't be entirely discounted.
Disclosure: I am/we are long GILD.
I wrote this article myself, and it expresses my own opinions. I am not receiving compensation for it (other than from Seeking Alpha). I have no business relationship with any company whose stock is mentioned in this article.
Additional disclosure: I may start a VRTX position, but probably not within 72 hours