I have been eagerly interested in the Canadian pipelines for the last three months. As Enbridge (NYSE:ENB) has dropped, I have been buying more. Mid-December, I also significantly added to my holding in Inter Pipeline TSX:IPL (OTCPK:IPPLF) and initiated holdings in Pembina Pipeline TSX:PPL (NYSE:PBA) and AltaGas TSX:ALA (OTCPK:ATGFF) and Parkland Fuel TSX:PKI (OTCPK:PKIUF).
As of today, my holdings in these companies total 16.02% of the portfolio. For a Canadian dividend-growth investor like myself, I think that 10-12% of the portfolio dedicated to pipelines is a reasonable target. The pipelines are excellent examples of high yielding, high dividend growth companies and are widely held by Canadian investors looking for income for very good reasons. According to Horizons ETFs, midstream companies make up about 10% of Canada's GDP.
Midstream companies - the ones involved in the transportation, storage, and wholesale of oil, gas, and related products - make excellent choices for income investors because of their yield. My holdings have a yield ranging from Enbridge at 4.36% to Inter Pipeline at 6.86%, very comfortable yields if one is planning to live on dividends alone in retirement. According to Horizons ETFs, historically these yields tend to be larger and more stable than the upstream or downstream companies. Suncor (NYSE:SU) the largest and arguably one of the more stable Canadian integrated companies currently yields 3.5%. In addition, these midstream companies also tend to grow their yields, so my income is increasing in excess of inflation, which is also what I want in retirement.
The reason these yields are more stable is that the midstream companies act as toll bridges. Their fee-for-service nature does not directly depend on the commodity prices. They generally have lower volatility than the broader upstream and downstream companies because they are far less exposed to the commodity prices. A number of the Canadian pipelines reported record earnings this past quarter. Their service costs are commonly fixed, and contracts for use are often made into the future. With the volatility in the oil and gas market, I do not own any upstream, downstream or integrated companies at this point, just the midstream.
Pipelines may be expensive to build but they do not have as many continuation issues, and decline in revenues as exploration and extraction companies do. Pipelines are also sticky businesses. As these last few years have proven for the largest projects, it is challenging to build new pipelines, so the competition is reduced.
I was asked recently why would I be interested in owning so many individual companies instead of an ETF. I often get the question of why I do not use more ETFs, actually. I have nothing against ETFs in general and have used them on occasion for specific, usually temporary purposes. There seems to be an ETF for everything and there actually is an ETF for Canadian Pipelines; TSX:HOG. Horizons Canadian Midstream Oil & Gas Index. HOG is an equal-weight index of companies on the TSX with market caps of at least $50 million, having an average daily traded value of at least $250,000 in the last three months. There are 13 companies in this index, so it is not a large one.
Here is the list in alphabetical order. My five are highlighted.
AltaGas Ltd.
Enbridge Inc.
Enbridge Income Fund Holdings Inc. (OTC:EBGUF)
Enerflex Ltd. (OTCPK:ENRFF)
Gibson Energy Inc. (OTC:GBNXF)
Inter Pipeline Ltd.
Keyera Corp. (OTC:KEYUF)
Mullen Group Ltd. (OTC:MLLGF)
Parkland Fuel Corp.
Pembina Pipeline Corp.
TransCanada Corp. (NYSE:TRP)
ShawCor Ltd. (OTCPK:SAWLF)
Veresen Inc. (OTC:FCGYF)
There are several reasons I am interested in looking at each company individually instead of just using an ETF. The dividend and dividend growth may vary between companies and an ETF. Sometimes company specific outlooks affect my decision, sometimes an ETF does not have the fundamental strength I am looking for.
The dividend of HOG is current at 4.27%. This is lower than the my lowest holding (ENB @ 4.36%). So right away, I lose interest in holding HOG for the long term as I will with the pipelines. HOG is still a fairly new product, with less than two years of history, trades thinly and has not established a record of dividend growth.
I prefer to choose my companies individually so that I can control which companies I am holding and how much of each. HOG holds TransCanada Pipeline. With the Keystone XL project having been politically squashed and Energy East still in decision, there are some significant headwinds for TransCanada. It is not a pipeline I would like to own at this point. I have no issues with the company and think it could be a fabulous investment, I am just not willing to make that choice at this time. I prefer to choose. Enbridge was my initial pipeline holding, but when it spiked, I sold some shares and invested in Inter Pipeline, which subsequently outperformed for a while, but IPL's share price performed very poorly last year. This year Pembina Pipeline looks to me to be set up for outperformance, so I initiated a holding. I like to control which companies I am partnering with instead of just getting an average.
My midstream holdings are not at all distributed the way I would like them to be yet.
I still have only a small portion of the holding I want in AltaGas and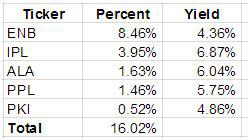 have been using cash-secured puts to try to buy a larger position. So far that tactic has not been successful at getting me new shares, but I have earned some nice income. On December 23rd, I purchased a small starter holding. My fourth ALA put is for 19 FEB $30. At this point it looks like I might have to try again. I recently wrote an article on AltaGas. The assets are very diverse and interesting from hydro-electric and gas utility, to pipelines, storage and floating coast shipping.
Enbridge is one of my longest holdings with the first purchase made on August 12, 2011 for $28.57. In January 2015, Enbridge represented about 2.5% of the portfolio and I wanted to increase the holding as the portfolio grew. July 29th I wrote my very first option: January Enbridge $54. The share price had recovered from the dip to $55 and I wanted to buy it at $55, but the price was now $58. An option seemed like a logical choice. As the share price continued to fall, I was certain I would not get the chance to buy more at prices below $50 for too long, so I also bought the shares I wanted outright, in three equal traunches: November 11th, November 30th and December 8th, more than doubling the holding. By then, I was also sure I would be put the shares of the option (which I was). The grossly overweight nature of the ENB holding is just a temporary condition. I am happy to keep one or two more lot of the option but to me the rest are extra shares because I already purchased what I actually wanted outright in the market at lower prices. I do not really want such a large holding for the long term, even though I think Enbridge will do just fine over the long term. I will write calls to sell the extras whenever I think the current swing is coming to a close. The ACB of the shares put to me is $51.84. I expect I will be able to make a profit on those shares when they are called away.
For me, Enbridge is a core holding. The dividend growth is excellent and the company expects to grow the dividend by 14% to 16% on average from 2015 to 2018. I do not think it will be the best performer of the pipeline stocks, but I think it is one of the strongest and most diversified midstream companies and well suited for a very long term hold. The new venture into off-shore wind complements their onshore wind, pipeline and storage assets, diversifying them for the world's future energy needs. It is a very broad and international company with a strong management team.
Inter Pipeline was a market darling who has lost its luster as the pipelines and oil and gas in general have fallen. It still has fantastic strategic assets. I first purchased February 8, 2013 for $22.50 and rode it up...and down. I began to worry about its quick rise and sold half September 16, 2014, but second guessed myself and bought the shares back a month later for a lower price. It has basically only fallen since. Oh well. The dividend is still good, the company still has excellent earnings and the capacity for more growth, so I doubled the holding December 15, 2015. I probably will not add to this holding for now for several years. It is a strong regional play on the pipeline side, but the storage assets it holds are on the international stage.
Pembina Pipeline has a host of projects and seems to be in the sweet spot of exciting possibilities, where Inter Pipeline was a couple of years ago. I like to partner my solid companies with a growth focused firm (BCE & Telus, JNJ & CXR, WMT & ATD.B). I see Pembina Pipeline as a new partner for Enbridge. I purchased a small, introductory holding December 22nd and now that I have some 'skin in the game', I look forward to getting to know this company more thoroughly.
I do not think of Parkland Fuel as fitting in with the other more pipeline oriented stocks. To me it fits better into the retail side, more similar to Alimentation Couche-Tard TSX:ATD.B (OTCPK:ANCUF) but it does have an amazing international wholesale distribution network, so I can see why it is listed in the ETF, which is why I am including it here as well. I have been hearing about this company for years and I am impressed with everything I have read. An introductory holding in this company was purchased December 15th, 2015. The company has been very steady in comparison to its peers.
This chart looks at my five companies over the last three months compared to HOG who is the winner. The downward chart has spanned all of 2015, but anyone who has been invested in the pipelines for a much longer period of time knows the value of these asset for their portfolio, strong, repeatable, high dividend growth.

Each of these five holdings are all within the midstream space but provide a different focus: from AltaGas with its utility and hydro-electric side to Parkland Fuel with its wholesale and gas station network. There is much diversity in the midstream space. I would not recommend HOG at this point with its much smaller dividend, short history, and illiquidity, but I would definitely recommend the midstream subsector as investments. The company list of HOG gives you a great place to start your research.
Disclosure: I am/we are long ENB, IPPLF, PBA, ATGFF, PKIUF, ACNUF.
I wrote this article myself, and it expresses my own opinions. I am not receiving compensation for it (other than from Seeking Alpha). I have no business relationship with any company whose stock is mentioned in this article.
Additional disclosure: Please note I am a Canadian investor and all quotes refer to the TSX and $CAD. With the $CAD near multi-year lows, this could be an excellent opportunity for American investors as well.
Editor's Note: This article discusses one or more securities that do not trade on a major U.S. exchange. Please be aware of the risks associated with these stocks.