Even after Ford (NYSE:F) reported good fourth-quarter and full-year 2015 earnings, the stock languishes. Even after growing its dividend by 20 percent, appeasing income investors, Ford is down 12.4 percent year to date. When will markets remove a steep discount on its share price?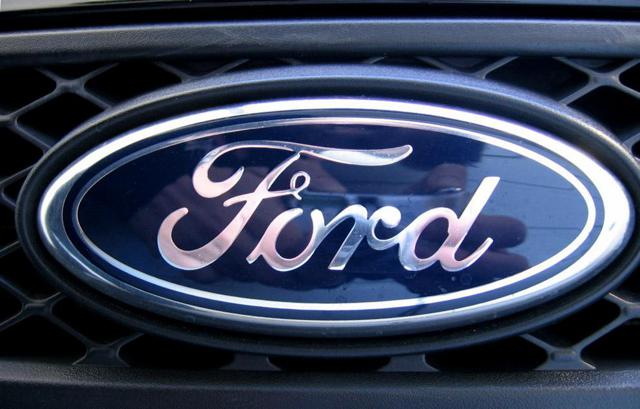 As an automotive firm, Ford is sensitive to changes in consumer spending and confidence. When the S&P 500 fell, the risk aversion spread negatively to Ford's stock price: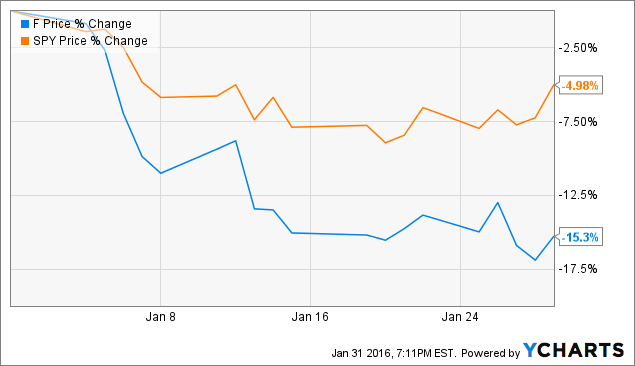 F data by YCharts
Ford ranks as the second worst performer and is not far behind Fiat Chrysler Automobiles (NYSE:FCAU). In 2016, Fiat may do better in growing its business, as it boosts its output of Jeeps and Ram pickup trucks. It is also developing hybrid electric versions and diesel-fueled Jeep Wranglers. Ford already has hybrid vehicles available for many of its popular models.
Based on the stock performance in the last year, investors have more confidence in the two Japanese car makers, Honda Motor (NYSE:HMC) and Toyota Motor (NYSE:TM). Toyota is understandably down the least as it wins the title of world's top-selling automaker.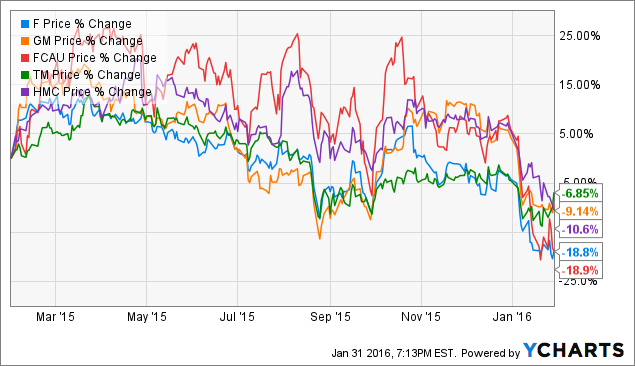 F data by YCharts
Automotive cycle at a peak
The negative performance of all the automotive stocks mentioned suggests the sector is at the top of the cycle for auto sales. In 2015, car companies achieved record sales. As markets rely on negative interest rate policies (Japan) and the Fed hesitates on a rate hike, neither moves will help stimulate demand. Car sales may reach another record high this year, and possibly in 2017. Beyond that, the costs for developing self-driving cars, electric vehicles, and hybrids will mean more costs and greater competition for all car companies.
Secular trend for cars is down
Uber's (UBER) popularity, along with Toyota setting the trend of long-lasting cars, limits the growth in demand for cars. Uber is so big that its valuation is bigger than Ford or GM (NYSE:GM). GM is responding by investing in Lyft and spending $500 million. Conversely, Ford is marching forward in improving the quality of its vehicles, but according to Consumer Reports, its entry-level car, the Fiesta, is unreliable. The product ratings firm also gave high marks for Hondas and Toyotas. A low score for a car targeting the mass-market hurts the company's growth plans.
In light of the possibility the world economy heads toward a downturn, Ford's stock is cheap, but it is in line with the other companies: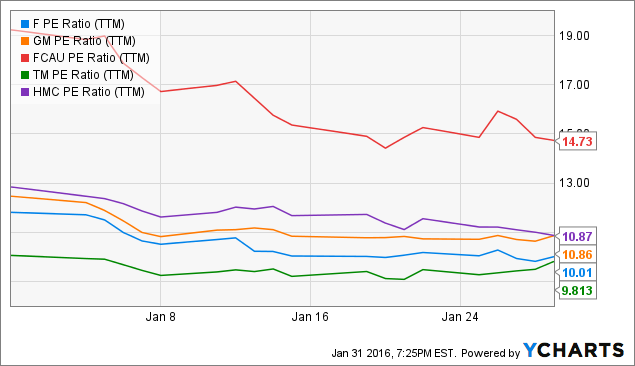 F PE Ratio (TTM) data by YCharts
Fortunately, consumer tastes change and so do trends. So long as Ford continues cutting costs and boosting income, the stock is attractive. In the fourth quarter, Ford's net income was $1.9 billion. Operating margins grew 2.7 percentage points to 6.1 percent. Ford's topline growth improved 12 percent.
Disclosure: I am/we are long F.
I wrote this article myself, and it expresses my own opinions. I am not receiving compensation for it (other than from Seeking Alpha). I have no business relationship with any company whose stock is mentioned in this article.