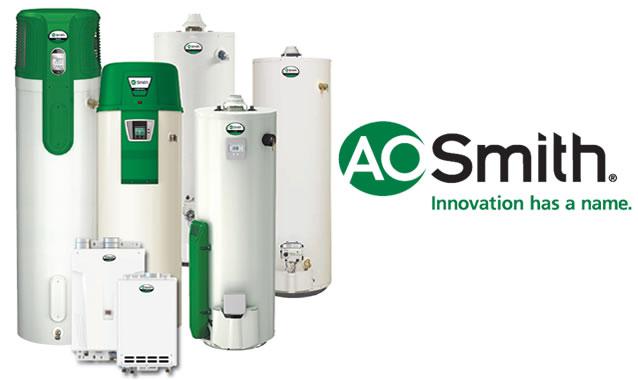 Source
After raising EPS guidance three times in 2015, A. O. Smith (NYSE:AOS) finally landed on a range of $3.08 to $3.12 for the full year. It started the year with guidance in the range of $2.65 to $2.80. When the water technology company reported earnings on January 29th, it was probably of little surprise that it reported earnings of $3.16. But, it should not be overlooked that A. O. Smith delivered a 16% gain over its original guidance midpoint for earnings per share.
Now, it could be A. O. Smith simply started with conservative guidance and purposely inched it higher. Or, there were other factors impacting the bottom line. For example, from 2010 to 2014, revenue grew at a compounded rate of 12.2%. For 2015, A. O. Smith expected organic worldwide revenue growth of over 11%. This growth was expected to be a result of:
Improvement in full year residential and commercial water heater demand in the United States,

Sales of Lochinvar branded products tracking at a 10% growth rate,

Sales in China growing at twice the rate of China's GDP growth.
A. O. Smith set a new record for sales in 2015 of $2.54 billion. This represented year-over-year growth of 7.7%. The compounded annual growth rate from 2010 to 2015 adjusted to 11.2%. Sales in the North America segment also set a new annual record, growing 5% year-over-year. One contributor to revenue growth in this segment was the pricing adjustment attributable to the changes designated by the National Appliance Energy Conservation Act (NAECA III) in the first half of 2015. Secondly, while sales of Lochinvar branded products were flat in the fourth quarter year-over-year, for the full year, sales did grow approximately 7%. Although this growth came in slightly under earlier projections, sales in China outpaced projections. The Rest of World segment found sales in China grew nearly 14% (16% in constant currency) due to sales of water heaters, water treatment products, and air purification products.
Considering EPS grew at a compounded rate of 38.5% from 2010 to 2015 compared to the 11.2% CAGR for revenue, it is evident increased sales are not wholly responsible for the uptick in EPS. A. O. Smith also has an active share repurchase authorization. For the full year, it bought 1.9 million of its outstanding shares. Had the shares not been purchased, full-year earnings per share would have decreased $.065. Therefore, like revenue, the share repurchase activity alone was not responsible for the eventual increase from $2.73 to $3.16.
A third factor expected to impact the bottom line in 2015 was a continuation of lower material costs. For the year, steel costs were lower. Indeed, in 2014, the cost of goods sold represented 63.5% of revenue. However, in 2015, the COGS was reduced to just 60.2% of revenue.
Therefore, it is conclusive the EPS guidance adjustments were driven by positive factors unfolding during the year. That is not to imply A. O. Smith is short-sighted. In 2012, the company set a goal to reach $3 billion in sales by 2015. It intended to acquire a company contributing $645 million in sales to help it get to the $3 billion mark. The acquisition has still not been made due to an expensive market. Adjusting the goal for the $645 million to $2.355 billion, A. O. Smith exceeded the original 2012 goal for organic sales growth at year-end 2014. The company reset its sights on achieving $2.5 billion in sales.
The $2.5 billion of revenue was originally intended to be achieved with a $1 billion contribution of revenue from emerging markets including $775 million of revenue from China and India. In 2015, A. O. Smith's Rest of World segment had sales of $866.1 million. China and India easily contributed at least $775 million in 2015. By year-end 2016, the Rest of World segment will likely be contributing $1 billion in sales.
On the subject of the elusive acquisition, A. O. Smith has cash and equivalents of $645 million at year-end 2015. Between its balance sheet and its credit capacity, the company could support a sizeable acquisition. It is important to remember A. O. Smith no longer includes the impact of an acquisition in its guidance. Its acquisition strategy is to target value-creating opportunities. The original criteria required adding to earnings in its first year, maintaining or increasing margins, and having growth capacity higher than the U.S. GDP. A ROIC was to occur by the second or third year. In the earnings release, CEO Ajita Rajendra assured:
"We are confident we have the resources available to take advantage of global opportunities that would add long-term value."
A. O. Smith has been committed to driving shareholder value for more than two decades. It has increased its dividend annually for over 22 years and by at least 20% each year since 2011. On January 25th, A. O. Smith announced a 26% increase in its dividend rate. At the company's December 2015 board meeting, the Board of Directors increased the authorization for share repurchases by 2 million shares. At year-end 2015, the authorization now totaled approximately 2.59 million shares.
A. O. Smith expects 8% organic revenue growth in 2016. Earnings per share are projected in the range of $3.40 to $3.55. If A. O. Smith exercises the majority of its share buybacks while achieving organic growth and maintaining similar margins, the company can easily hit its EPS range. As well, alert investors can feel confident if management, once again, starts updating guidance.
Disclosure: I am/we are long AOS.
I wrote this article myself, and it expresses my own opinions. I am not receiving compensation for it (other than from Seeking Alpha). I have no business relationship with any company whose stock is mentioned in this article.
Additional disclosure: I belong to an investment club that owns shares in AOS.