PLx Pharma Incorporated (NASDAQ: PLXP) expects to raise $72.4 million in its upcoming IPO. Based in Houston, Texas, PLXP is a specialty pharmaceutical company developing treatments for cardiovascular disease and medication for pain and inflammation.
We previewed the deal on our IPO Insights platform.
PLXP will offer 3.8 million shares at an expected price range of $17 to $19.
PLXP filed for the IPO on October 5, 2015.
Lead Underwriters: Maxim Group and Raymond James & Associates
Underwriters: Janney Montgomery Scott LLC
Business Summary: Specialty Pharmaceutical Company Developing Treatment for Cardiovascular Disease
PLx Pharma is a late-stage pharmaceutical company, developing oral medication for cardiovascular disease, in addition to prescription and OTC drugs to treat pain and inflammation. Its proprietary, patent-protected delivery system, PLxGuard is designed to deliver aspirin products in a safer, more efficacious method than conventional pill form. This system works by releasing the medication in the small intestine rather than the stomach, which improves the absorption rate and reduces severe gastrointestinal side effects, such as bleeding, ulcers and erosions.
The company's lead product, PL2200 Aspirin 325 mg, has been approved by the U.S. Food and Drug Administration, and it is a unique formulation of aspirin delivered by the PLxGuard system. The company notes in its SEC filings that this system provides superior antiplatelet effectiveness for cardiovascular disease prevention when compared to standard enteric coated aspirin. A similar product with an 81 mg dose of the formulation is in late-stage development.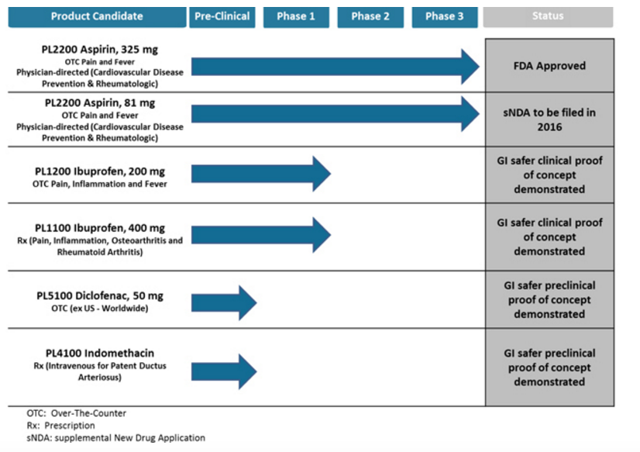 (SEC Filings)
PLx Pharma expects to sell their products through both the prescription and OTC markets, as well as utilizing a physician-directed sales force to educate physicians about the product's features. Their product pipeline also includes other oral nonsteroidal anti-inflammatory drugs, such as ibuprofen, that are delivered using the PLxGuard system.
Executive Management Overview
President and CEO Natasha Giordano was appointed to her position effective January 1, 2016. Previously, she served as the Interim CEO of ClearPoint Learning. Her other experience includes positions at Healthcare Corporation of America, Xanodyne Pharmaceuticals, Cegedim Dendrite, and Parke-Davis. Ms. Giordano holds a Bachelor of Science degree in nursing from Wagner College.
Acting CFO David Jordan has served in his position since June 2015. He is also the CEO for Nanospectra Biosciences. His previous experience includes positions at Nuo Therapeutics, Morgan Stanley, Genometrix, and Fayex Sarofim. Mr. Jorden has a MBA from Northwestern University's Kellogg School and a B.B.A. from University of Texas at Austin. He holds both Certified Financial Analyst and Certified Public Accountant designations. Mr. Jorden also serves on the board of Nanospectra.
Potential Competition: Bayer AG and Prestige Brands
PLx Pharma competes with other companies that produce and market aspirin and aspirin types products. These include Bayer AG, Pfizer (NYSE:PFE), Johnson & Johnson (NYSE:JNJ), Prestige Products (NYSE:PBH), which produces Ecotrin, Bedrock Brands, which produces St. Joseph, and private labels brands such as Walgreens (WAG) and CVS (NYSE:CVS). A variety of treatments based on aspirin type drugs for cardiovascular disease are in development with Pozen, New Haven Pharmaceuticals, Takeda Pharmaceutical, Oxford Pharmascience, Antibe Therapeutics, and The City College of New York.
Financial Highlights: No Product Revenue At Early Stage
PLx Pharma provided the following figures from its financial documents for the year ended December 31:
| | | |
| --- | --- | --- |
| | 2015 | 2014 |
| Grant & License Revenue | $172,000 | $176,000 |
| Net Loss | ($3,301,000) | ($4,055,000) |
As of September 30, 2015:
| | |
| --- | --- |
| Total Assets | $851,291 |
| Total Liabilities | $278,721 |
| Stockholder's Equity | $572,574 |
Conclusion: Consider Holding Off
PLXP's pipeline is relatively advanced (see chart above), with lead candidate having already received FDA approval. At the same time, significant commercial revenue has not been generated. With a smaller syndicate, and a weak IPO market, we remain hesitant on the deal.
We suggest investors consider holding off.
Disclosure: I/we have no positions in any stocks mentioned, and no plans to initiate any positions within the next 72 hours.
I wrote this article myself, and it expresses my own opinions. I am not receiving compensation for it (other than from Seeking Alpha). I have no business relationship with any company whose stock is mentioned in this article.