Groupon (NASDAQ:GRPN) is an internet retailer that sells "deals" on goods and services. As I write this article, Groupon is trading for 2.72 which is a huge discount to its $20 2011 IPO price.
Groupon profit is lacking, but execution is improving
I previously wrote about the how Groupon is executing terribly. It was spending much less on marketing, seemed to be focusing on the less lucrative goods business, but was missing things like customer reviews and the ability to sort products. While these issues have not all been resolved, there has been marked progress towards a more usable e-commerce experience.
In my previous article I complained that marketing expenses had plummeted while SG&A had continued to grow. As of November 2015, Groupon has a new CEO, Rich Williams, who has pledged to spend $150 - $200 million in marketing. This increase in marketing represents almost doubling what they current spend. They also have announced that they are cutting 1,100 jobs which accounts for about 10% of their employee count. Take a look at this chart to see how dramatic the decrease in marketing expense has been.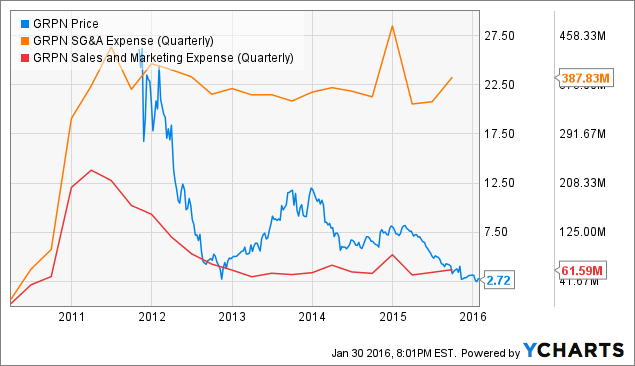 GRPN data by YCharts
Groupon's Value
Groupon runs a terrific core business. They sell coupons to the customer that can be used for goods and services at local merchants and pay the business a percentage of the revenue taken in. Groupon's problem is that this business is not growing as evidenced by the chart showing their gross profit falling and gross margin being diluted by goods revenue.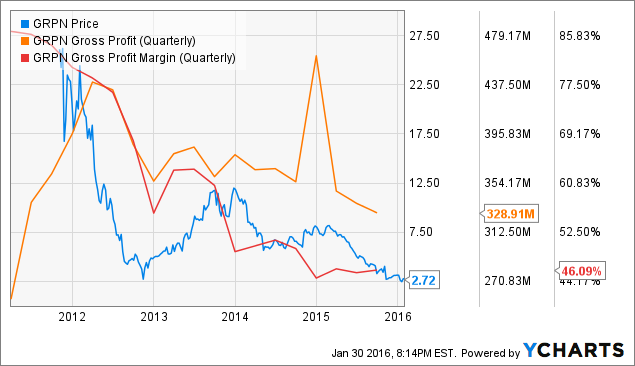 GRPN data by YCharts
The problem with growing that high margin local coupon business is that Groupon's take rate was too high and still is too high for many businesses. Groupon's average take rate was previously as high as 50% and has since fallen into the 35% range. For some high margin businesses this works.
With take rates and marketing expenses coming down, it's very hard to show profit growth. For those looking longer term, a decrease in take rate is actually a good thing. They open themselves up to more businesses and make Groupon profitable for the local businesses they are selling for.
Groupon's Big Opportunity
It's not hard to imagine Groupon behaving more like Amazon (NASDAQ:AMZN) or Google (NASDAQ:GOOG) (NASDAQ:GOOGL). The self service way to advertise your local business by offering special deals on products and services. SG&A should remain relatively flat or decrease. Groupon currently spends about 7% of North American revenue on advertising. The problem is only 40% is local business with ~85% gross margin and half is the goods business with ~13% gross margin. Even if all of the North America spend is driving local high margin business, it's easy to see that there is room to spend more to generate more incremental profit. The new CEO who joined Groupon as the Chief Marketing Officer understands that and has pledged to nearly double marketing spend with a return on investment within a year.... but that's not the big opportunity.
There is no other company better positioned in mobile to do what Priceline (PCLN) did to travel with local businesses. Groupon shouldn't be selling just a way to save money. They should be upselling experiences that are not usually offered at each local business. Imagine a nationwide restaurant week with a few different price points for price-fixed meals. Imagine buying tickets to restaurants instead of making a reservation. No show rates decrease, customers are more happy and Groupon gets a bigger cut of the enormous local restaurant industry.
I'm long Groupon, and will likely be buying more going into earnings. For the more risk adverse that still have long-term faith in Groupon, you can sell $2.50 Jan 2017 puts for $0.80.
Disclosure: I am/we are long GRPN.
I wrote this article myself, and it expresses my own opinions. I am not receiving compensation for it (other than from Seeking Alpha). I have no business relationship with any company whose stock is mentioned in this article.