Introduction
Lowell Miller is the founder and chief investment officer of Miller/Howard Investments, a form that he founded in 1984. Miller's investment philosophy focuses on dividend paying companies, and he has written three books on investing, including the well-known "The Single Best Investment: Creating Wealth with Dividend Growth".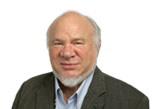 A recent (2014) interview with Miller has been conducted by Seeking Alpha author Jason Van Steenwyk. In that interview, Miller clearly states his logic for focusing on dividend-paying companies:
It's only logical that, over time, an increase in cash flows to investors will result in a commensurate increase in the value of the equity producing the dividend, all other things being equal. It's similar to income real estate; the property is valued in large part based on its cash flow. If the rents increase, then the value of the property increases. So the investor benefits from both higher income and from the appreciation that higher income induces.
The Miller/Howard shop has, to my knowledge, two exchange-traded products on the market: the Citigroup C-Tracks Miller/Howard Strategic Dividend Reinvestor ETN (NYSEARCA:DIVC) and the Miller/Howard High Income Equity CEF (NYSE:HIE). DIVC was launched in Sep. 2014, while HIE debuted in Nov. 2014. Jason Van Steenwyk has profiled both DIVC and HIE on Seeking Alpha.
The Miller/Howard High Income Equity CEF
Portfolio
HIE is a relatively small $173M CEF that debuted in Nov. 2014 and is managed by Miller, Principal Roger G. Young, Principal John E. Leslie, III and Analyst Bryan J. Spratt. HIE employs 16% leverage.
The objective of HIE is to seek high current income and long-term capital appreciation by investing in high-income equities strategically allocated across multiple sectors and industries focusing on high current income, growth on income and lower volatility.
The sector allocation of HIE (to Dec. 31, 2015) is shown below. As can seen from the chart below, REITs and MLPs are the two largest sector holdings of HIE, with 24.3% and 13.2% weights, respectively.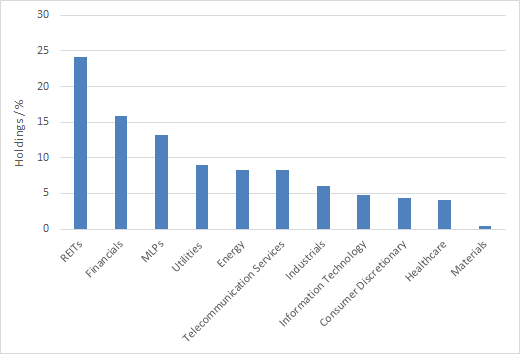 HIE runs a fairly concentrated portfolio, at only 45 stocks. The five-largest stocks in HIE's portfolio (Dec. 2015) are Seagate Technology (NASDAQ:STX), AT&T (NYSE:T), Digital Realty Trust (NYSE:DLR), DuPont Fabros Technology (NYSE:DFT) and Blackstone Group (NYSE:BX). The fund also contains a number of international stocks, such as Total (NYSE:TOT), GlaxoSmithKline (NYSE:GSK), STMicroelectronics (NYSE:STM) and Potash Corporation of Saskatchewan (NYSE:POT). The portfolio currently does not appear to contain any companies from Japan, Australia, Asia or Middle East/Africa.
HIE also has a provision to write both call and put options up to a notional amount of 20% of the total value of the portfolio. In HIE's annual report (Oct. 2015), Miller wrote that:
[In the past year] we sold put options on 31 positions, with 28 of them expiring worthless after we collected the premium and had three stocks put to us. We also sold calls on seven partial positions. Generally our option positions' notional value has represented less than 8% of the portfolio at the time of trade, well below the 20% limitation.
Recent performance
The 1-year performance of HIE looks bad. Its -41.4% total return for the past one year is simply terrible compared to that of the U.S. market, as represented by the SPDR S&P 500 Trust ETF (NYSEARCA:SPY), which was essential flat (-0.87%) over the same time period.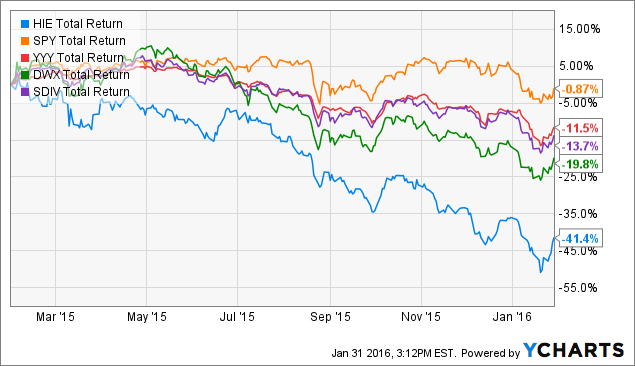 HIE Total Return Price data by YCharts
However, given that HIE tracks the high-income segment of the global equity market, it might be more fair to compare HIE to ETFs like the SPDR S&P International Dividend ETF (NYSEARCA:DWX), which returned -19.8% over the past year, and the Global X SuperDividend ETF (NYSEARCA:SDIV), which returned -13.7%. Additionally, the YieldShares High Income ETF (NYSEARCA:YYY), a portfolio of high-yielding CEFs, had a total return of -11.5%.
Moreover, one must keep in mind that the total return of a CEF is the composite of its NAV total return and the change in premium/discount in the fund over the time period. As can be seen from the chart below (source: CEFConnect), HIE's premium/discount had actually spiked to values in excess of 15%+ shortly after inception, but then embarked upon a period of gradual decline into significant discounts of -15% or more by the end of last year.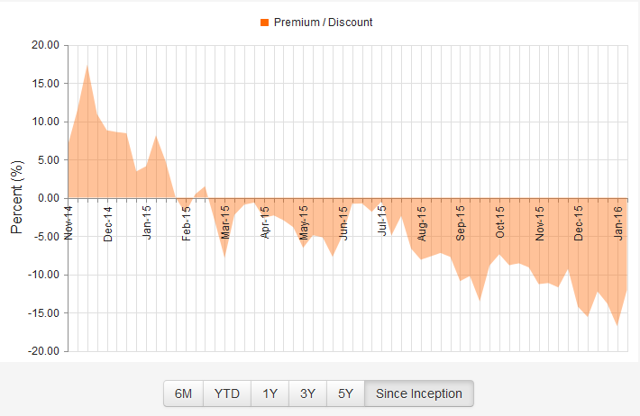 Thus, while HIE returned -41.44% by price over the last year, its NAV return was much better at -29.14%. Taking into account HIE's leverage of 16%, the fund's leverage-adjusted 1-year NAV return comes out to be -25.12%. While this is still significantly lower than its peers DWX (-19.8%) and SDIV (-13.7%), it's not as bad as it initially looked.
In HIE's annual report, Miller attributed the fund's underperformance to its overweight allocation towards energy companies, as well as general weakness in the high-dividend equity universe over the past year. The fund's top performers over the last reporting period included Macquarie Infrastructure Corp (NYSE:MIC), Lamar Advertising Company (NASDAQ:LAMR) and DLR, while laggards were obviously the energy MLPs in its portfolio, such as EV Energy Partners (NASDAQ:EVEP), Kinder Morgan (NYSE:KMI), Targa Resource Partners (NYSE:NGLS) and Williams Partners (NYSE:WPZ), as well STX.
Distribution
HIE pays monthly and has distributed a consistent $0.1160 monthly payment to unitholders since inception. This gives the fund a distribution yield of 13.54% (on market price), or 11.67% (no NAV).
HIE appears to remove companies from its portfolio if they cut their dividends, an approach that is also utilized by many DIY dividend-growth investors. Miller writes about EVEP:
...we exited in March when it cut its distribution,...
Three other dividend cutters during the reporting period, Baytex Energy Corp (NYSE:BTE), Linn Co (NASDAQ:LNCO), and Textainer Group Holdings (NYSE:TGH), were no longer in the fund's portfolio in Dec. 2015, suggesting that they had been similarly removed due to their lowering of distributions. KMI cut its dividend after the annual report was released, but was also nowhere to be found in the Dec. 2015 portfolio, indicating that it also had been sold for presumably the same reason.
How sustainable is this 13.54% yield? In their last annual report, Miller wrote that (emphasis mine):
With these specials, the premiums from selling options, and the regular dividends from the portfolio, as enhanced by our use of leverage, we have generated sufficient income to cover these declared distributions.
This appears to indicate that the fund did not have to recourse to the use of destructive return-of-capital to pay its distributions. Additionally, Miller noted that 60% of their stocks have declared dividend increases during the previous reporting period, with individual increases averaging 9.7% year-on-year (excluding special dividends).
However, given that several dividend cutters were removed from the portfolio (probably at depressed prices), it might be the case that the fund will have to lower its distribution in the future if it finds that the newly added components are not generating enough income to replace those that had been removed.
How to get Lowell Miller's expertise for free
Now we get to the most interesting part. Unlike the vast majority of CEFs, HIE has a fixed liquidation date on Nov. 24, 2024. This means that no matter what the premium/discount of the fund is at that time, investors will receive exactly the NAV of the fund when it is liquidated. Obviously, we would expect the premium/discount of the fund to narrow to its NAV the closer to get to the distribution date. In contrast, many equity CEFs trade at chronic discounts of 15% or even 20%+ to their NAV for many years because investors know that unless liquidation or conversion to an open-ended fund structure were to occur, there is no driving force for the fund to return to its NAV. Not to mention the fact that the emergence of low-cost passive ETFs means that investors now have even fewer reasons to consider the relatively costly, actively-managed CEFs for their equity exposure.
However, an opportunity for HIE arises when the fund is trading significant below its NAV. As can be seen from the table below (source: CEFConnect), HIE traded at a discount of -17.88% as recently as two weeks ago.

As HIE is set to liquidate in 8 years and 10 months, by purchasing the fund at a -17.88% discount you are essentially guaranteeing yourself a 2.02% annual bonus on top of the fund's performance as the fund trades up towards its NAV at liquidation time. 2.02% is more than enough to cover the fund's most recently reported annual expense ratio of 1.84%*, meaning that essentially, you are getting active management from Lowell Miller for free!
*Of this 1.84%, 0.13% are for interest expenses. After deducting this and accounting for HIE's leverage, the adjusted expense ratio for the fund is 1.47%. Moreover, according to HIE's annual report, the advisor fee paid to Miller/Howard is 1%. The remaining of the 0.84% in expenses is made up of the aforementioned interest fees, as well as assorted items such as professional fees, investor support service fees, administration fees and trustee's fees and expenses. Given that the first year of setting up a new fund generally requires more expenses than maintaining an existing fund, it remains to be seen whether this expense ratio will be lowered in future years. Certainly, 1.84% (or 1.47% adjusted) is a relatively high expense ratio for an equity fund.
Summary
The Miller/Howard High Income Equity CEF is a close-ended fund specializing in global high-dividend stocks, REITs and MLPs. Admittedly, its recent total return performance has been terrible compared to the U.S. equity market due to its exposure to energy stocks, international stocks and high-dividend stocks, all of which have underperformed over the past year. However, it's current distribution yield of 13.54%, paid monthly, and discount of -12.02% may make it attractive for investors seeking equity exposure that is managed by famed dividend investor Lowell Miller. Moreover, its set liquidation date of Nov. 24th 2024 means that if an investor were to purchase HIE at an appropriate discount, he or she would be essentially getting active management from Lowell Miller or free.
Editor's Note: This article covers one or more microcap stocks. Please be aware of the risks associated with these stocks.