I enjoy listening to Fox News show "The Five" while I work every day. This show offers serious discussion, lively banter and a somewhat balanced presentation (for Fox News, anyway) of viewpoints regarding political news and current events.
"The Five" has five hosts, comes on at 5:00 pm EST, and offers five different segments in an hour. A big reason to watch the show is Greg Gutfeld, whose hilarious dry wit can cut to the core of any issue. Another co-host is Dana Perino, George W. Bush's former press secretary. Apparently, she is diminutive in size. Since nothing is off-limits for Gutfeld, he often playfully pokes fun at her shortness of stature.
With respect to Gutfeld's sense of humor, this article will not poke fun at anyone but myself. Instead, we will piggy-back off of the theme of FIVE.
FIVE Plus Investor brings you:
FIVE experts in high yield investments, which are investments yielding over
FIVE percent in dividends, distributions or interest, with
FIVE of your most burning questions for 2016
Introducing Our Star Players
2015 was a brutal year for high yield investments. Worries over higher interest rates, coupled with crashing oil prices, wreaked havoc on the high yield market. No one was spared the carnage if you held on -- not even Seeking Alpha contributors like myself.
Being perfectly candid on my own portfolio: I stayed in Linn Energy (NASDAQ:LINE) (NASDAQ:LNCO) much longer than I should, finally selling out at $7.00 per share. Other holdings of mine took a beating as well. Take a look at these depressing charts:
Linn Co, LLC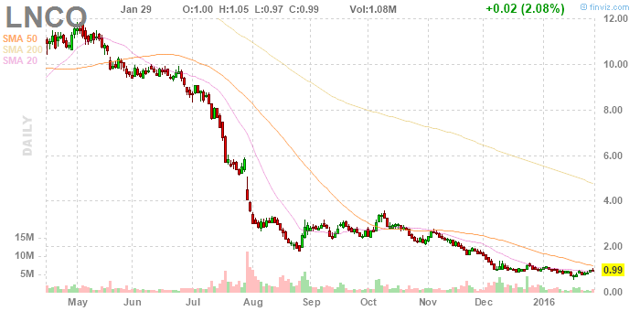 Ellington Residential Mortgage REIT (NYSE:EARN)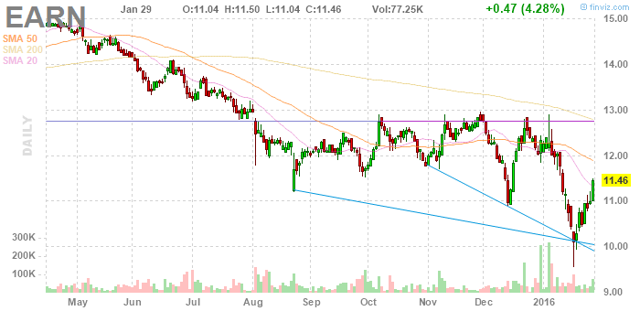 Triangle Capital Corporation (NYSE:TCAP-OLD)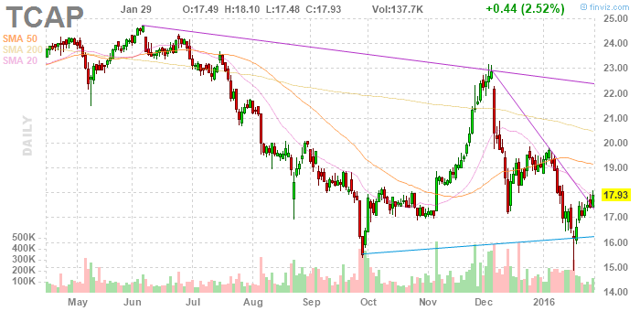 So I humbly confess that the genesis of the article is not only to address specific reader concerns, but to continue to grow and learn as an investor myself. As such, I asked FIVE fellow Seeking Alpha authors, who are experts in their respective fields of high yield investing, to contribute to this article.
These experts are:
Brad Thomas on REITs: Brad Thomas is consistently ranked the #1 Seeking Alpha contributor addressing Real Estate Investment Trusts, or REITs. He writes for Forbes, Kiplinger's, US News & World Report, to name a few. He is also a Senior Analyst at iREIT Forbes and Editor of the Forbes Real Estate Investor, a monthly subscription-based newsletter. Thomas will also be publishing a college textbook in a few months entitled "The Intelligent REIT Investor". Recent popular Seeking Alpha articles include:
BDC Buzz on BDCs: BDC Buzz has been contributing since 2013 and is a Income Investing favorite. With over 6,500 followers, BDC Buzz maintains a website, free monthly newsletter and a premium suscriber service covering every manner of Business Development Companies, or BDCs. Recent articles include:
Casey Hoerth on MLPs: Casey Hoerth, who has over 3,500 followers, is a contributing columnist for Real Money and theStreet.com. His articles on Master Limited Partnerships, or MLPs, are widely read and respected on Seeking Alpha. Recent contributions include:
ColoradoWealthManagementFund on mREITs: Colorado Wealth Management Fund has been a contributor since 2014 and has quickly risen to be one of the most popular contributors on mortgage REITs, or mREITs, and other high yield investments, with over 8,500 followers. Recent articles include:
Richard Lejeune on Preferred Shares: Richard Lejeune is a former hedge fund trader who now works an Independent Trader and is author of the Panick Value Research Report, the third most popular premium service on Seeking Alpha. Richard writes extensively on preferred shares and fixed income investments, especially those that are unduly distressed. Recent articles include:
Your Top FIVE Questions
I conducted an informal survey of readers and followers. I asked them, what would you ask these experts on high yield, if you had the chance? The answers were condensed down to the top FIVE questions and concerns, and they are as follows:
BUY: What specific or unique measures do you employ to evaluate a high yield investment for a buy? What is on your watch list for a buy?
SELL: What early warning signs do you heed, or specific formula do you follow, to determine when you will sell an investment going south?
RISK: How do you manage the risk of owning higher yielding investments, and do you manage this risk differently than other investments?
RESEARCH: What are your favorite research sources and financial news sources? Do you pay heed to ratings agencies, and if so, which ratings agencies are reliable?
PERCENTAGE: What is the maximum portfolio percentage you would invest in high yield securities? How about debt instruments?
Here's What You've Been Waiting For...
Finally, here are your experts' answers to your most burning questions.
What specific or unique measures do you employ to evaluate a high yield investment for a buy? What is on your watch list for a buy?
Brad Thomas (hereafter, "BT"): When I think about "high yielding" stocks in my coverage universe I'm referring to almost all equity REITs. As you know, REITs are forced by law to pay out at least 90% of taxable income in the form of dividends so the appeal for the equity REIT sector is the higher yields compared with most other asset classes. So when the (equity REIT) stock looks cheap, it offers out-sized capital appreciation plus a big dividend yield. That means it may be a good opportunity, but only if its dividend is sufficiently safe and poised for long-term growth.

In my opinion, the best way to truly "seek alpha" in any security, not just a REIT, is to spot the key differentiators of dividend safety -- that means REITs with the widest economic moats -- and determine whether or not the dividends are durable over the long haul. A few of the healthcare REITs I like today are Welltower, Inc. (NYSE:HCN), Ventas, Inc. (NYSE:VTR), Omega Healthcare Investors, Inc. (NYSE:OHI), and Healthcare Trust of America, Inc. (NYSE:HTA).

Welltower, Inc.

Omega Healthcare Investors, Inc.

BDC Buzz (hereafter, "BDC"): The key measure for evaluating business development companies is assessing management. This involves looking at historical actions taken by management to increase returns to shareholders, including growing or at least maintaining dividends and net asset value, or NAV, per share. My watch list is 10 to 15 BDCs that have historically managed the dividend policy and capital structure to ensure higher returns to investors, and I am waiting for them to report over the next three weeks before buying.
Casey Hoerth (hereafter, "CH"): In the high-yield sector, income safety has to be the most important consideration. When looking at MLPs, the metric I typically look for is Distributable Cash Flow (NYSE:DCF), vis-a-vis the distribution itself. DCF is a non-GAAP number, so it may differ slightly from MLP to MLP, but it's generally the same everywhere: operating cash flow, less maintenance capex, less interest expense. In my experience, DCF is the best way to measure an MLPs ability to pay distributions. I like upstream MLPs that have a DCF coverage ratio of 1:2 or higher. For midstreams, I can dip as low as 1:1 times.

(Regarding watch list), there's very little on my MLP watch list right now! Frankly speaking, I don't believe that the upstream MLP industry was made for crude oil prices of this level. Midstream MLPs are in a somewhat better position, but as production volume drops in North America (which I believe is inevitable), midstream names are going to feel the pinch, too.

ColoradoWeathManagementFund (hereafter, "CWMF"): When I'm looking for mREITS that deserve a buy rating, I'm focused on a few factors. The ideal investment would be trading at a materially larger discount to their estimated book value than peers. I run the estimations internally. I'm also looking for mREITS that are simpler to explain. Complexity is not a desirable trait. After that it comes down to the sustainability of the dividend and the efficiency of management. I want to see lower management costs and a dividend that is unlikely to be cut in the near future.
Richard Lejeune (hereafter, "RL"): Balance sheet leverage is important. I usually use (equity market capitalization) / (total enterprise value) as a starting point. The cash flow coverage is critical. For a preferred stock issue I will look at metrics such as (Adjusted EBIDTA) / (net interest + preferred stock dividend obligation). Metrics can vary somewhat from sector to sector. Many of the REIT issues such as RAS-PC and RSO-PA have gotten very cheap lately. Recession fears seem overblown.

RAIT Financial Trust
Resource Capital Corporation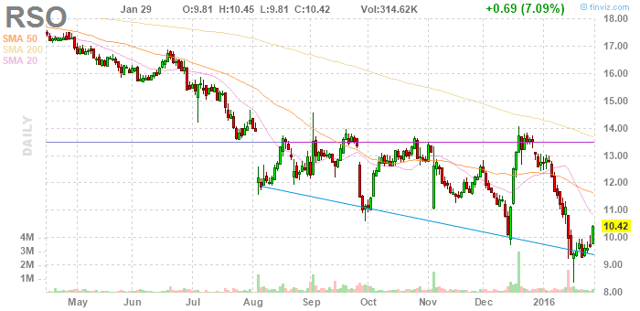 What early warning signs do you heed, or specific formula do you follow, to determine when you will sell an investment going south?
BT: (By way of example), around two years ago while I was covering VEREIT, Inc. (NYSE:VER) I began to (figuratively) smell smoke. Specifically, VEREIT was paying out 100% of dividends from its Funds from Operations, or FFO, and around 10% of the FFO was generated from the company's investment management business. Also, leverage was high and the overall dividend safety gave me pause. In that article (On October 23, 2014) I wrote, "I'm not going to add more risk. Mr. Market has warned me by providing a signal that I should proceed with caution. I am sitting on the sidelines for now..."

Then, just five days after my article, VEREIT disclosed it had falsified its earnings (or FFO) by over-stating them. Essentially that meant that VEREIT was not truly covering its dividend and management had been engineering its true profits in order to satisfy investor demand. My only regret in my article is that I did not initiate a SELL. I could have saved investors hundreds of thousands of dollars by taking a more aggressive stance.

BDC: A large part of the reason that BDCs are trading at depressed multiples is lower quality BDCs that took advantage of shareholder capital to grow assets and fees paid to management. That warning sign is now being compounded by the potential for later stage credit cycle concerns for BDCs, such as Fifth Street Finance Corporation (NASDAQ:FSC).


After investors have identified poorly managed BDCs that are continuing to have credit issues, capital losses and dividend cuts, I suggest looking at the relative strength index (RSI) for each and waiting for around 55 to 75 before selling, as mentioned in my article on Fifth Street Finance, mentioned in the introduction.

CH: With upstream MLPs, investors first need to look at the per barrel cost of production for any partnership they get into. Is the distribution supported by margins at the current oil price? Or is that distribution being held up by hedges? If it's the latter, how long does that hedgebook provide coverage for? What would happen in a prolonged low oil-price scenario?

Sometimes an MLP will have to cut distributions to remain within a debt covenant stipulated by a revolving credit line. My experience is that, when a partnership cuts distributions, it is more often than not to protect a debt covenant. Also, the debt maturity schedule can cut into distributions, particularly when junk-bond markets are not friendly.

If any of the above criteria are starting to look sketchy, then income-minded investors need to look twice at whether or not they can stomach a distribution cut.

CWMF: My biggest signals that an mREIT deserves a sell rating are an unsustainable dividend or a discount to book value that is materially smaller than peers. The unsustainable dividend issue can be a large catalyst for price movements in smaller mREITs because the market is less efficient and there can be some very harsh knee-jerk reactions.
RL: The common stock is often far more liquid and actively traded than the preferred stock and exchange traded debt issues I cover. High yield investors should watch for moves in the common stock. The preferred stock issues tend to follow the common stock in the same way that my dog "Cubby" is followed by his tail.
How do you manage the risk of owning higher yielding investments, and do you manage this risk differently than other investments?
BT: In terms of managing risks within the Equity REIT universe, there are a number of tools that I use on a daily basis. Although not limited to one, I spend a lot of my time analyzing historical and future dividend growth, as this research provides me with valuable clues to underlying corporate performance. I recently began a "rhino rating" system whereby I rank each REIT based on a number of durability attributes and, of course, dividend increases provide the best evidence of overall dividend safety.
BDC: I manage this risk a few different ways, including only buying specific companies rather than an ETN or fund. Many of the poorly managed BDCs make up a large allocation for these, with abysmal returns for investors. However, I do hold larger positions in at least 8 to 12 BDCs in my portfolio and adjust my allocations each quarter, depending on results. The more important aspect to investing in BDCs is timing, and due to the volatile nature I can usually make purchases during intraday lows, as discussed in the second bulleted article mentioned in the introduction. (Doing this), I usually do much better than the S&P 500, even over the last 18 to 24 months that has hammered most high-yield investments.
CH: Two ways: diversification and exposure. As I look through my portfolio, I actually have quite a bit of high-yielding investments: telecoms, REITs, utilities, royalty trusts and a limited amount of MLPs. My exposure to high-yield is spread across retail stores, communication carriers, energy, hotels, office buildings and electricity distribution. As with any investing discipline, diversification is a way to reduce un-systemic risk.

This may sound obvious, but the best way to manage risk of high-yield investments is to keep exposure limited. I try to blend my high-yield investments with lower-yield, higher growth businesses, particularly ones that are not capital intensive and can fund growth through free cash flow.

CMWF: Look for management that is properly aligned with shareholders, and check the portfolio for an intelligent construction that diversifies some of their risk exposure. Then limit the position as a part of the portfolio. In my opinion, 15% is about the maximum for this sector, and most investors would be advised to limit their allocations to less than 10%. At all times, investors should avoid justifying that a certain holding "deserves a substantial premium." Such arguments about quality works in some parts of the market, but they don't work in mREITs.
RL: Aside from diversification, I manage risk by watching issues closely and being willing to sell quickly if things start to go bad. For preferred stock issues, I will also watch bond market trading closely. Bonds tend to be traded by institution investors and preferred stocks are frequently traded by retail investors. Often bonds will start to sell-off before the preferred issues. It is not uncommon for me to advise Panick Value Research Report subscribers to sell a particular preferred stock issue based on how the common stock or bonds are trading.
What are your favorite research sources and financial news sources? Do you pay heed to ratings agencies, and if so, which ratings agencies are reliable?
BT: Without research I would not be writing today. first I should give a shout-out to Seeking Alpha, my first writing platform, that has led me to contribute for The Street, The Motley Fool, Marketwatch, Forbes.com, Investopedia, and other web-based sites. I also use SNL Financial daily. It's hart to obtain REIT data such as FFO, AFFO, and other industry-specific metrics, so SNL has been invaluable. I also use FAST Graphs quite a bit and I'm a bit fan of fellow Seeking Alpha writer, Chuck Carnevale (who also owns FAST Graphs).

A few months ago I launched a premium REIT service aimed to provide investors with more responsive research. Please see links to this service in the introduction.

BDC: Currently, only 12 BDCs are rated by the larger credit agencies as the BDC sector is still small at around $65 billion in assets, and also lacks sufficient coverage from most big banks and brokerages. The analyst ratings are usually worthless and based on price movements, rather than fundamentals. My preferred research sources are going straight to the source, including SEC filings and call transcripts. I also communicate directly with many of the companies, as well as look for news and updates to portfolio company intelligence, which can be difficult because most of them are private companies.
CH: Fast Graphs is my favorite. As a value-based investor, FAST Graphs makes my life easy by compiling things like average price-to-earnings, dividend coverage, dividend growth and earnings growth over many years. I would recommend it for any investor. Other than FAST Graphs I rely heavily on Morningstar for quick balance sheet info. I'll also sometimes check the debt rating with Moody's (not to be confused with analyst stock ratings). If I have any other uncertainties, I'll then dig into the 10-Q and 10-K regulatory findings. I typically do this when I need to look for debt maturity schedules and debt covenants.
CWMF: My favorite technique is to use my own models. However I still have to collect data to put into those models. There is more data available from the Federal Reserve than most investors know about. For ratings agencies, I would trust debt rating agencies if they have recently assigned a credit rating to a debt instrument.

For rating equity securities, the big institutions are useless. Research has demonstrated that their ratings have a strong correlation with past performance. Judging future performance using those ratings is no better than flipping a coin if we eliminate the movement in share prices on the opening morning after the opinion is released. I put absolutely zero faith in those ratings.

RL: I find that ratings agencies tend to be a lagging indicator. Seeking Alpha is a great resource. There is no substitute, though, to reading company SEC filings.
What is the maximum portfolio percentage you would invest in high yield securities? How about debt instruments?
BT: It's hard to offer broad-based recommendations for the purpose of portfolio modeling. Keeping it to my wheelhouse, I recommend that investors own between 15% to 25% in REITs. Last year I recommended 10% to 15% but I decided to increase the range, given the overall merits and performance of the asset class. Keep in mind, REITs have an over 50-year track record, so unlike MLPs and BDCs, REITs have become a more mainstream asset class with a remarkable record of performance.
BDC: It changes based on many things, including market fundamentals. I sold a large amount of BDCs in early 2014, mostly due to potential yield compression and lower net interest margins that drove dividend cuts in many of the lower quality BDCs. I have slowly started to reinvest in the BDC sector as mentioned in the article above.
CH: (Referring to dividend yield) I go by Jim Cramer's rule-of-thumb that a yield of over 10% is usually a "red flag." I do like high-yield securities, but only when those payouts are safe. I try to think of myself as an "accidental high-yield" investor. In other words, I like to buy typically lower-yielding businesses which are yielding more than usual, but only because the stock is down so much.
CWMF: I touched on this earlier, but I'd say around 15%. There may be some scenarios where I would temporarily go substantially higher to make a big play on a high conviction idea with a short-term horizon. For debt instruments as a whole, which includes treasuries and long term AAA corporate debt, I have no problem going substantially higher. Depending on valuations in the market it could make sense to be putting more than half the portfolio into high-quality debt. I wouldn't even consider that with junk bonds.
RL: Richard respectfully bowed out of this question, as he is an "active trader" and his personal strategies "may not be relevant to those who trade less actively."
Conclusion
Keeping with our theme, FIVE conclusions are apparent to FIVE Plus Investor from our FIVE experts' responses to our FIVE questions:
Management is "king." This is even more so true with high yield investments, as many are structured as partnerships, trusts, etc. Good management requires a proven track record of performance, trustworthiness, integrity and shareholder interest. Only buy high yield with proven management you trust.
Conversely, the primary warning sign for a sell on high yield is shifty business on the part of managers to mask problems with leverage, dividend coverage, mis-allocation of shareholder capital, improper hedging, etc. Consider selling when you have good reason not to trust the management of your investment.
In addition to watching management and the overall health of investment closely, risk can be mitigated through proper diversification. Keep your portfolio properly balanced between types of investments and sectors.
In addition to Seeking Alpha there are abundant sources for research, including SEC filings and other financial sites. However, by far the most popular resource recommended by our experts is FAST Graphs, managed by Seeking Alpha contributor, Chuck Carnevale.
High yield can have a place in most everyone's portfolio, but most of our experts recommend that it occupy no more than 10% to 15% of your portfolio. Because of the track record of equity REITs, Thomas recommends up to 25% allocation.
Be safe everyone, and happy investing.
Disclosure: I am/we are long OHI, TCAP, EARN.
I wrote this article myself, and it expresses my own opinions. I am not receiving compensation for it (other than from Seeking Alpha). I have no business relationship with any company whose stock is mentioned in this article.
Editor's Note: This article covers one or more microcap stocks. Please be aware of the risks associated with these stocks.