Investors in MBIA (NYSE:MBI) might be getting a value stock gem at this current price. Here are a few of the reasons why this stock is poised to outperform.
MBIA Inc. is a property & casualty insurance company with revenue of $876.00 million and a market cap of $1.02 billion. The stock qualifies as a small cap investment due to the market cap being between $300 million and $2 billion. However, the company's enterprise value is closer to $8 billion. Based on comparable value metrics and multiples, this stock may be undervalued.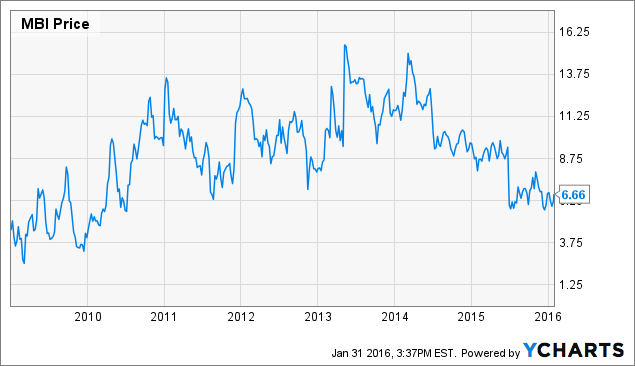 MBI data by YCharts
Valuation
Trailing P/E ratios are simply the current price divided by the last four quarters of earnings. A low ratio is best. The trailing P/E of 10.17 could be considered average. Most stocks trade near this range. The stock has a fairly typical forward P/E of 16.24. Forward P/E ratios are simply the current price divided by expected earnings. Some investors prefer this measure when valuing a stock.

One of the easiest measures of value is the price-to-book ratio, which shows a stock's price divided by book value per share. Low P/B ratios indicate a value stock. The measure of book value per share is currently $24.21. The value proposition is evident with this exceptionally low P/B of 0.27.
The price-to-earnings growth (PEG) ratio shows a stocks valuation in comparison to the growth rate. Lower PEG ratios are preferred. With a PEG ratio of 1.18, this stock may have a fair valuation.
Insider Buying
While there are multitudes of reasons why an insider might sell their shares, there's only one reason for an insider to buy shares. So, generally speaking, when someone like Keith D. Curry purchases 5,000 shares in December 2015, you have to take note. This buying may be verification of a positive future. Keith D. Curry now holds 26,156 total shares worth about $168,967.76.
Technical Perspective
Technical data can help an investor understand the stock's current momentum and pricing trends. The 52-week low is $4.94 and this stock is trading 30.76% above that price at $6.46. In the past year, the stock touched $9.98 and the current price is 35.27% below that level. A 52-week range for stocks says little by itself. One must look at this information as part of a holistic picture of valuation.

Price Target
Based on the current earnings multiple, you can assume that the stock price is depressed due to operating concerns (Puerto Rican debt, etc.). A more realistic long-term valuation might be created using the book value per share ($24). Assuming a valuation that approaches 60% of book value, a reasonable price target may be $15.
Disclosure: I/we have no positions in any stocks mentioned, and no plans to initiate any positions within the next 72 hours.
I wrote this article myself, and it expresses my own opinions. I am not receiving compensation for it (other than from Seeking Alpha). I have no business relationship with any company whose stock is mentioned in this article.