This is the fifth article in the series that aims to develop portfolio investment approach that 'beats the market'. The goal is to equip the readers both with 'the knowledge about the path' and 'the confidence to stay on the path'.
In the previous articles we have reviewed three theories of investment and how they can help in developing superior portfolios:
Initial two articles serve as a practical guide to structuring the core portfolio. While in the third and fourth articles, we started building the satellite portfolio. In this fifth article, we continue exploring factors that could be utilized to enhance portfolio performance.
Low risk = low return?
Capital Asset Pricing Model (CAPM) would imply that lower-risk investments are expected to yield a lower return. However, academic research and actual performance of low volatility indexes indicate that this might not really be true. Low volatility stocks tend to exhibit higher risk-adjusted return and yet another way of generating alpha over the long-term.
This goes back to Fama's criticism of beta being an imperfect measure of risk. One might also argue that statistical metrics (such as volatility) might not be the best definition of a risk. Such a position would be in line with advocates of efficient market hypothesis ("EMH", please refer to the first article).
However, if you subscribe to the camp of advocates of the noisy market hypothesis ("NMH", please refer to the third article), you might as well accept that some factors (e.g. small size, value, and momentum) have provided superior returns. Is low volatility one of such factors?
In their aptly named article "Low-Risk Stocks Outperform within All Observable Markets of the World", Baker and Haugen provide results of a study over the time period 1990 to 2011 for 33 developed and emerging countries. Their findings clearly indicate that phenomenon of low volatility stocks is not limited only to US market.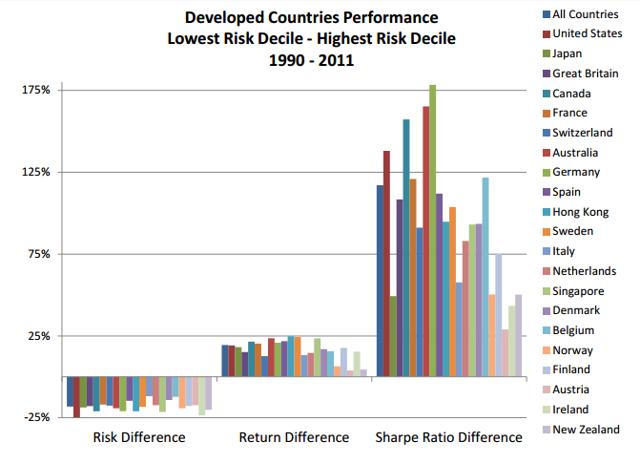 Source: Baker and Haugen (2011)
A similar result holds true for emerging markets as well - low volatility stocks generate alpha. Risky stocks seem to be selling at premium prices, which results in lower than CAPM-expected returns. This is true for most periods that Baker and Haugen analyzed.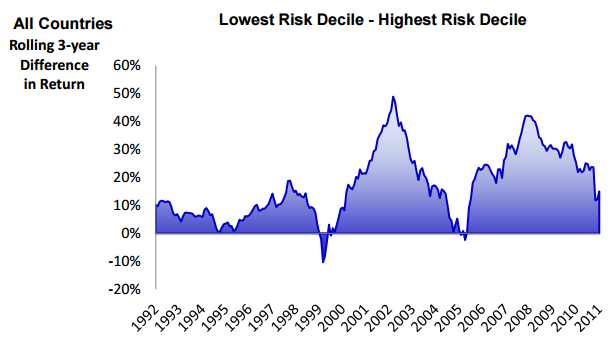 Source: Baker and Haugen (2011)
Baker and Haugen argue that such anomaly is persistent and might be driven by manager compensation issues. Given that manager compensation embeds option-like feature, exposure to riskier stocks increases chances of a higher payout. Baker, Bradley and Wurgler (2011) who reviewed data from January 1968 to December 2008, attributed the low-risk anomaly to average investors' preference for lottery-like payoffs (positive skewness) with high-volatility stocks and the institutional limitation on using leverage.
The research paper published by S&P indicates that "[l]ow-volatility strategies deliver superior risk-adjusted returns compared to market cap-weighted market benchmarks over a long-term investment horizon." The paper shows that low-volatility indexes outperformed their capitalization-based benchmarks regardless of size factor (i.e. large, mid-, and small-cap).
Low volatility indexes had higher annual geometric return while exhibiting lower standard deviation than the similar capitalization benchmark. As expected, low volatility indexes outperformed during the period of market downturn (hit rate of ~80%) and underperformed their capitalization-based benchmarks during upmarket (~70%-75%; i.e. hit rate of ~25% to 30%). Outperformance during down-market was significantly higher (~2%-2.5%) than underperformance during up-market (~1%-1.5%).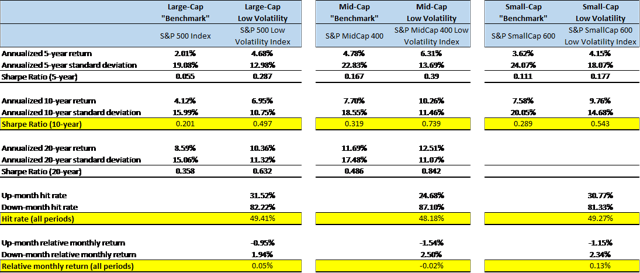 Source: S&P (2012)
In other words, low volatility indexes shine during down-market, which is the key source of their superior return over the long term.
Why do I think that low volatility anomaly will continue to persist?
Let's assume that large groups of investors realize the existence of low volatility anomaly and decide to shift their focus from high to low volatility stocks. As a result, low volatility stock prices will be bid up temporarily. However, as history showed, low volatility stocks will underperform capitalization-weighted indexes during up market. How many of typical investors will continue holding on to such "cold" investments when their counterparts are making "fortunes" in "hot" stocks (typically, high volatility stocks)?
In other words, typical investor would come in late into the game and probably will decide to quit a little bit early and miss out on the outperformance of low volatility stock during the downturn. It's likely that typical investor will end up holding his/her "hot" stock to see it crash and burn during down market.
As long as there are individual investors who view the stock market as an avenue for legal gambling (i.e. have a preference for positive skewness) and institutional investors' incentives resemble option-like payouts, there will be relatively higher demand for riskier stocks. As such, lower demand for low volatility stocks should ensure that such stocks will continue selling at a discount.
List of ETFs and Stocks
For the core portfolio, the recommended allocations are presented in the first two articles. For the satellite portfolio, I suggested tilting portfolio to the small-cap stocks and the value stocks (see the third article). In the last article, I recommend using Vanguard High Dividend Yield ETF (NYSEARCA:VYM) and Vanguard Dividend Appreciation EFT (NYSEARCA:VIG) to augment the satellite portfolio and take advantage of dividend anomaly.
In this article, I recommend the use of following ETFs to get exposure to low volatility indexes:
iShares MSCI USA Minimum Volatility ETF (NYSEARCA:USMV) (15bps of fee, AUM ~$7.5B, i.e. largest in his class) will give you an exposure to MSCI USA Minimum Volatility Index
iShares MSCI All Country World Minimum Volatility ETF

(NYSEARCA:ACWV) (20bps of fee, AUM ~$2.3B) will give you an exposure to MSCI All Country World Minimum Volatility Index
First of the ETFs, USMV, would expose you to US market only (large and mid-cap) while second ETF, ACWV, to more geographically diversified global capital markets (45 developed and emerging markets). Both are issued under iShares brand by BlackRock.
In case, earlier-quoted S&P research made the most impact on your decision and you would prefer ETFs that track previously-mentioned S&P indexes then here is the list:
ETF tracking S&P 500 Low Volatility Index:

PowerShares S&P 500 Low Volatility Portfolio ETF (NYSEARCA:SPLV) (25 bps of fee, issued by Invesco since 2011, AUM ~$5.5B)
ETF tracking S&P MidCap 400 Low Volatility Index: PowerShares S&P MidCap Low Volatility ETF (NYSEARCA:XMLV) (25 bps of fee, issued by Invesco since 2013, AUM ~$0.1B)
ETF tracking S&P SmallCap 600 Low Volatility Index: PowerShares S&P SmallCap Low Volatility Portfolio ETF (NYSEARCA:XSLV) (28 bps of fee, issued by Invesco since 2013, AUM ~$0.1B)
There's an alternative to owning above mentioned ETFs. In case you would like to mimic ETFs without paying for ongoing management fees you might just buy-and-hold top 10 holdings of such ETFs:
Current top 10 holdings of ACWV: Southern (NYSE:SO), Johnson & Johnson (NYSE:JNJ), Automatic Data Processing (NASDAQ:ADP), General Mills (NYSE:GIS), McDonalds (NYSE:MCD), Procter & Gamble (NYSE:PG), AT&T (NYSE:T), Takeda Pharmaceutical, Kimberly-Clark (NYSE:KMB), and Verizon (NYSE:VZ)
Current top 10 holdings of XSLV: Laclede Group (LG), Northfield Bancorp (NASDAQ:NFBK), Getty Realty Corp (NYSE:GTY), Inland Real Estate Corp (NYSE:IRC), Capstead Mortgage (NYSE:CMO), Agree Realty (NYSE:ADC), ProAssurance (NYSE:PRA), Healthcare Realty Trust (NYSE:HR), LTC Properties (NYSE:LTC), and Kaman (NASDAQ:KAMN). Please note that Financials make up ~54% of XSLV's allocation.
The size (i.e. small cap), style (i.e. value), dividends and low volatility are not the only factors that historically proved to generate the superior returns. We will discuss other factors in the next articles and determine sensible allocation to them. At that point, I will present the detailed execution plan (i.e. the list of all ETFs and allocations to each).
References/Bibliography
Article #3: Tilt Your Portfolio to Achieve Superior Returns
Article #4: Different Take on A Dividend Growth Investing
Baker, Malcolm, Brendan Bradley, and Jeffrey Wurgler (2011) "Benchmarks as Limits to Arbitrage: Understanding the Low Volatility Anomaly." Financial Analyst Journal, Vol. 67, No. 1.
S&P Dow Jones Indexes (2012) "The Low Volatility Effect: A Comprehensive Look"
Disclaimer: I'm not a tax advisor, please consult your tax advisor for any tax related matters.
Supporting Documents
Disclosure: I am/we are long SO, MCD, T, VZ.
I wrote this article myself, and it expresses my own opinions. I am not receiving compensation for it (other than from Seeking Alpha). I have no business relationship with any company whose stock is mentioned in this article.