I last wrote about Harley-Davidson (NYSE:HOG) in late October after its last earnings report and advised investors to wait on the stock, unless nibbling for the dividend yield and/or to dollar-cost average down. As the stock was trading at the time just under $50, the recommendation matched the outcome as HOG fell under $37.50 the day before earnings to end the week at $40 flat. It is now down over the past year nearly 40%. Even as the stock fell below $45, I stayed away from it due to the volatility in the markets, the appearance of an overall global slowdown, and because my cash went into other stocks in which I held more confidence - 3M (NYSE:MMM), Starbucks (NASDAQ:SBUX), Visa (NYSE:V), Under Armour (NYSE:UA), and Realty Income (NYSE:O) to name a few. But now, after its recent quarterly report, is a good time to reassess and consider nibbling at the stock.
First the bad - the engine trouble continues
In its recent earnings report and transcript, the key takeaway is simple: little to nothing has changed over the last quarter except the ticker price of the stock. While HOG beat on EPS, it lagged on revenues for what seemed like a "copy and paste" report from the last quarter largely due to lagging domestic sales and currency exchange effects from international sales. The report was "ho-hum" as the market took little notice and the stock traded with only a small spike over the past two days, trending with the overall market.
What are the key points of "nothing has changed?" Overall, the theme was a "challenging 2015." The reasons can be summed up in five main points:
HOG sales are still declining year over year (YOY) in a motorcycle industry that I noted in my last article saw mid-single digit YoY growth, with Ducati and BMW both having exceptional years. However, in the U.S., HOG saw a 3.1% decline and an overall drop of 1.7% as international sales helped mitigate some of the decline.
Currency exchange continues to pummel revenues, as noted in this statement: "Motorcycles segment revenue was down 4.7%, behind a 1.6% decrease in motorcycle shipments and a 4.4% decline due to foreign currency exchange." However, if rates stay where they are, management has reassessed their 2016 expectations and stated that impact would only be a -1% looking forward.
Price remains a challenge as HOG refuses to enter a price cutting competition with other motorcycle brands - a choice that helps maintain its healthy margins, but also creates a price gap between its competitors that does not encourage new consumers to embrace the brand. Making matters more murky, to mitigate currency exchange issues, some prices overseas had to actually be raised, thus increasing this gap in the international market.
Demographics continues to be a challenge as explained by Rich Duprey in his pre-ER analysis; HOG's ridership program looks to add new riders to its customer base in order to battle the increase in the average rider's age over the past 15 years (from 40 to 47). And as HOG generally appeals to older riders (a more mature-aged market), this statistic is alarming as many become "gray-haired" with time.
Lastly, their five point plan remains unchanged and questionable in its overall feasibility. I covered it in more detail in my last HOG article, but the bottom line is that it is not so much a plan as it is objectives for the company to meet. And it is clear point number five - beat the S&P - is not happening per below.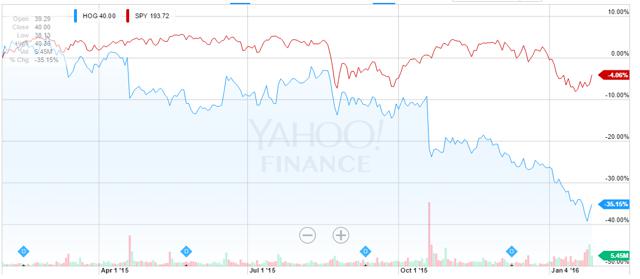 But even a rough engine can be tuned up: Reasons to consider nibbling
So the sky is falling…well, in this case, I would say it has already considerably fallen with the current price and a PE of 11. Some readers felt the stock's fall to under $50 to be unwarranted, and likely remain strong in their conviction. While I disagreed at that price, there are now a few reasons at $40 and under to consider nibbling on the stock - but don't go HOG-wild.
1. HOG is not losing money, not going out of business, and still a solid cash cow. The brand is strong and management has shown humility in acknowledging the issues. From this, they are attempting to sparking the brand with younger riders to stem the bleeding and gain traction with the next generation. Additionally, HOG does have its electric bike and new models that may help with young and legacy riders alike.
2. The dividend is now over 3% and does not appear to be in danger of being cut, pending a global slowdown equal to or worse that 2008-2009. It was not juicy enough at 2.5%, but now it may be worth establishing a small position to collect the yield.
3. And the most speculative reason of them all - the chance of a HOG buyout. Whether acquired or taken private, the stock's fall and current price does give this proposition a bit more credence and was noted by fellow SA author Edward Frost. However, this is not the first time the buyout rumor has hit the mill - it did so in both 2007 and 2010. So while this may never materialize, it remains a possibility. Potential buyers could be a competitor, but I would lean more towards a buyout that takes HOG private and keeps it distinctly American. One way to destroy the base of a company like HOG would be for it to become an foreign company, as it represents the quintessential Dennis Hopper in Easy Rider - all American.
Bottom-line: If you buy, stay in first gear — for now
To conclude, HOG is still experiencing engine trouble; however, the fall to $40 and under has presented an opportunity for investors to consider taking up a small position. I am personally considering adding this to a speculative investment account, but only in small increments of $25-40 per week (Sharebuilder account, so commissions are $1). I do not trust that it has reached bottom, but the opportunity for a solid yield and potential acquisition has me considering a position in the near-term future. As always, good luck to all - Happy investing.
Disclosure: I/we have no positions in any stocks mentioned, but may initiate a long position in HOG over the next 72 hours.
I wrote this article myself, and it expresses my own opinions. I am not receiving compensation for it (other than from Seeking Alpha). I have no business relationship with any company whose stock is mentioned in this article.
Additional disclosure: I am currently in consultations with the command element of my household to discuss the merits of taking a small position in HOG.