Note: This article is not an investment recommendation and should not to be relied upon when making investment decisions - investors should conduct their own comprehensive research. Please read the disclaimer at the end of this article.
Chevron's (NYSE:CVX) operating update and financial results for Q4 2015 were within expectation. However, the quarter highlighted continued high cash burn. Even greater cash flow challenges lie ahead in the next few quarters. Like other oil majors, Chevron does not hedge its commodity price exposure in most cases and the sharp deterioration in oil prices in January will drive lower operating cash flows in Q1 2016 and possibly beyond.
In 2015, the company's net debt increased by $10.7 billion to ~$28 billion. While Chevron's capital spending will gradually decline over the next two years as several mega-projects are completed, in the absence of a significant recovery in oil prices, the company will have to continue to rely on borrowing and divestitures to fund its dividends and any shortfall in the capital budget.
While increases in Chevron's debt levels are significant, any speculation about the company cutting its dividend in the near or even medium term are without merit, in my opinion.
A bigger concern, however, is the viability of the company's deepwater business going forward which appears to require oil prices substantially above the current futures curve to be able to compete for capital.
Chevron's Q4 2015 Results - Key Takeaways
The key financial metric in Chevron's report, in my opinion, is discretionary cash flow from operations. The following chart highlights Chevron's cash flow balance for the fourth quarter and full-year 2015.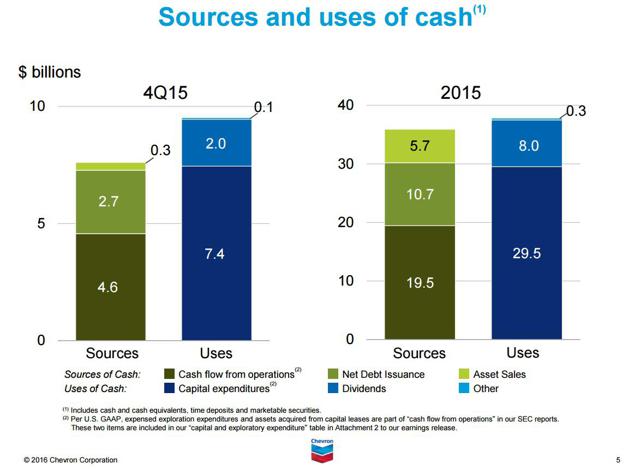 (Source: Chevron Corporation, January 2016)
During the fourth quarter, Chevron's cash flow from operations was $4.6 billion, as compared to $5.4 billion during the previous quarter. Uses of cash in Q4, on the other hand, amounted to $9.5 billion. The shortfall was $4.9 billion, or $19.6 billion on an annualized basis.
For the full year 2015, Chevron generated $19.5 billion in operating cash flow versus $37.8 billion in cash uses (including $29.5 billion in capex and $8 billion in dividend), a shortfall of $18.3 billion for the year. This shortfall was covered by:
$5.7 billion in asset sales;
$10.7 billion increase in net debt; and
$2.0 billion accrual for dividends.
It is important to note that some of Chevron's largest projects are LNG projects that require significant upfront investment but have flat, multi-year production profiles. Chevron's spending on its three major LNG projects in 2015 was ~$6 billion.
Excluding this amount and taking in consideration asset sales and ongoing cost savings, Chevron's funding gap is not nearly as catastrophic as it may appear on the surface. A case can be made that Chevron may in fact be able shrink its cash flow deficit (excluding the LNG projects) in the next few years to a minimum, assuming a ~$50 per barrel oil price environment.
The problem, however, is that, excluding the big LNG projects, Chevron's production would begin showing declines, despite the contribution from the new projects that were funded during the cyclical peak when the company's capex was higher and that are still coming online.
Production Growth Is Modest in the Context of Aggressive Capex
Chevron is yet to provide updated medium-term production guidance reflecting new spending targets and current commodity price environment. In the meantime, it might be useful to revisit the company's previous growth guidance through 2017 that the company provided in March of last year.
The slide below shows that Chevron targeted to grow its production by ~175,000 Boe/d per year on average over a three-year period, a 6.4% CAGR. Please note that Offshore, LNG and Shale projects are the key drivers of this growth.
While Chevron's production growth profile is the most dynamic among its peers - including Exxon Mobil (NYSE:XOM), Royal Dutch Shell (RDS.A, RDS.B), BP (NYSE:BP) and Total (NYSE:TOT) - Chevron's capital spending program is also the most aggressive in the group (as percent of enterprise value).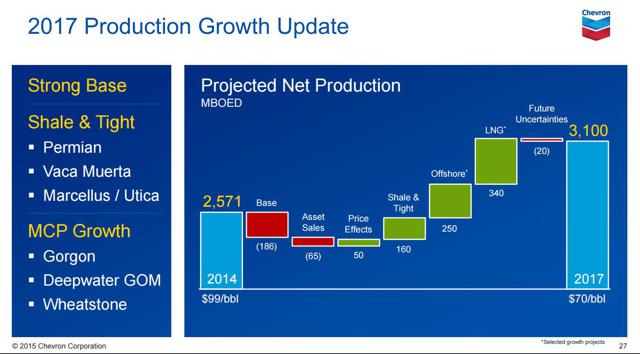 (Source: Chevron Corp., March 2015)
To accelerate production growth, Chevron increased its Upstream capital spending which ran above $40 billion in 2013 and 2014 (the slide below).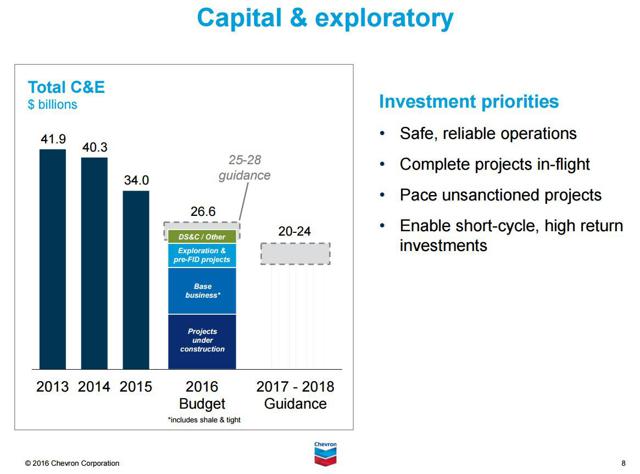 (Source: Chevron Corporation, January 2016)
The company's plan to bring capital spending to a $20-$24 billion per year level in 2017-2018 will likely lead to a flatter production growth profile.
Based on the company's preliminary comments on the conference call last week, the base decline will likely be steeper in the near term than what was guided a year ago as drilling activity in mature fields is slowing down. Most importantly, the company has significantly slowed down its offshore exploration activity and plans to defer FIDs on its new offshore projects as many of them cannot compete for capital in the current commodity price environment.
Even if oil price were to decline and cost structure in the Offshore were to improve, operating momentum in this business - which has been strategically important to Chevron's growth - will likely be lost.
Outlook for the Current Quarter Is Particularly Challenging
Needless to say, the very low oil prices seen during the month of January have set the stage for a financially weak first quarter in the Upstream. Assuming strip curve prices for the remainder of Q1 2016, the oil price-related contraction in cash flow from operations during the current quarter relative to Q4 2015 will be quite significant and may approach $1 billion, based on my estimate.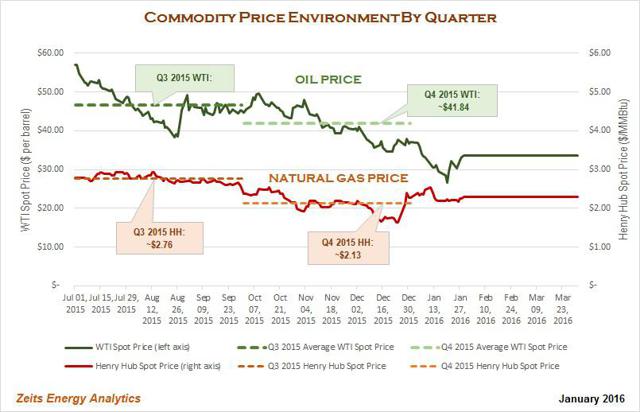 (Source: Zeits Energy Analytics, January 2016)
On the refining side, margin indicators so far this year have also been relatively weak whereas the recent rapid build-up in refined product inventories in the U.S. provides little optimism for an easy improvement in refining fundamentals in the near term.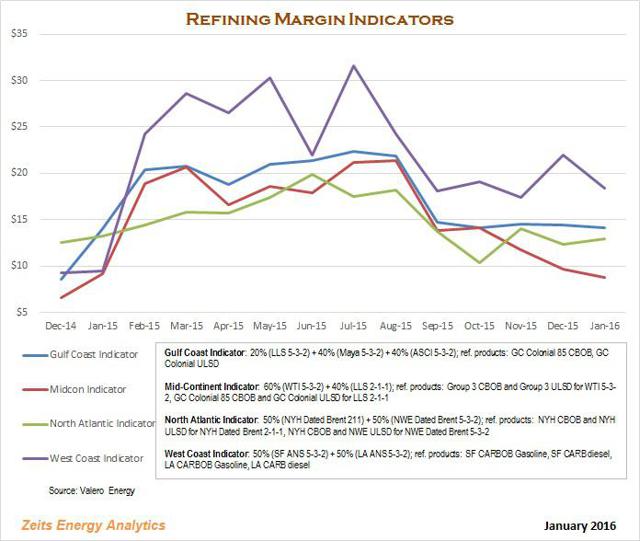 Even assuming that Chevron is able for further reduce its operating costs in 2016, the impact of lower commodity prices and potentially weaker refining margins cannot be mitigated by cost management.
In addition, the environment for asset divestitures has also become more challenging.
The Dividend Is Safe, at Least for a Year
Many readers may be wondering if there is any risk to Chevron's current dividend.
In my opinion, a dividend reduction in the near term is out of question and is highly improbably in the medium term, even under a relatively pessimistic commodity price scenario.
Of note, Chevron reiterated its commitment to the dividend, stating:
Our number one financial priority is to maintain and grow the dividend. We have a strong balance sheet for precisely transition times like this.
I also interpret the company's comments during the conference call as the commitment to the dividend coming before credit ratings.
However, it is important to realize that in the current commodity price environment sustained dividend payments simply cannot be "organic" (i.e., coming from free cash flow after maintenance capital) - dividends are being paid from asset sales or borrowing.
Chevron targets $5-$10 billion in asset sales in the next two years. The asset sales and borrowings will continue to be the sources of funds for the dividends to the extent the company does not have free cash flow. If asset sales do not materialize, balance sheet will be used as a fall back option.
Generally speaking, there is nothing wrong with a big company reducing its footprint by selling parts of its asset portfolio and making payouts to shareholders from the proceeds. However, such dividend model is obviously not sustainable in the long run.
In addition, the big difference between the dividend yield at the current time and the dividend yield a year ago is that the outlook for Chevron's production has shifted from the peer group-leading growth rate to a flattening-to-declining trajectory.
Will Chevron's dividend be ultimately sustainable on an organic basis and when will this occur?
The answer is obviously critically dependent on the assumed future trajectory of commodity prices. Based on my estimate, an oil price of ~$60 per barrel would be required to avoid production declines while paying dividends at the current rate.
For more in-depth data and analysis of commodity fundamentals, please consider subscribing to Zeits OIL ANALYTICS that provides in-depth analysis of global and North American crude oil market.
Disclaimer: Opinions expressed herein by the author are not an investment recommendation and are not meant to be relied upon in investment decisions. The author is not acting in an investment, tax, legal or any other advisory capacity. This is not an investment research report. The author's opinions expressed herein address only select aspects of potential investment in securities of the companies mentioned and cannot be a substitute for comprehensive investment analysis. Any analysis presented herein is illustrative in nature, limited in scope, based on an incomplete set of information, and has limitations to its accuracy. The author recommends that potential and existing investors conduct thorough investment research of their own, including detailed review of the companies' SEC filings, and consult a qualified investment advisor. The information upon which this material is based was obtained from sources believed to be reliable, but has not been independently verified. Therefore, the author cannot guarantee its accuracy. Any opinions or estimates constitute the author's best judgment as of the date of publication, and are subject to change without notice. The author explicitly disclaims any liability that may arise from the use of this material.
Disclosure: I/we have no positions in any stocks mentioned, and no plans to initiate any positions within the next 72 hours.
I wrote this article myself, and it expresses my own opinions. I am not receiving compensation for it (other than from Seeking Alpha). I have no business relationship with any company whose stock is mentioned in this article.