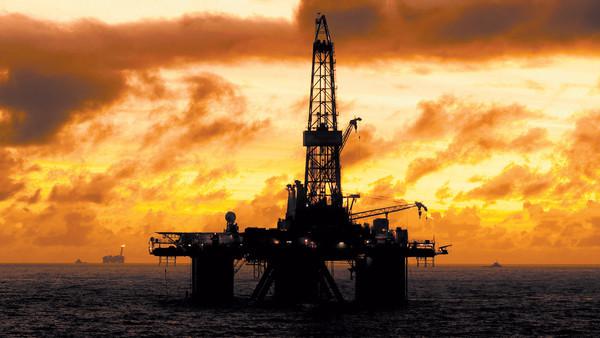 Source: Financial Times
Weatherford International (NYSE:WFT) reports Q4 earnings on Thursday. Analysts expect revenue of $2.0 billion and loss per share of $0.19. The revenue estimate implies an 11% decline sequentially. Investors should focus on the following key items:
North America Could Free Fall
Sub-$40 oil prices have punished North American land drillers who have cut the rig count in order to stem cash burn. This caused competitors like Halliburton (NYSE:HAL), Schlumberger (NYSE:SLB) and Baker Hughes (NYSE:BHI) to report double-digit revenue declines in North America. Industry capex in the region will likely fall further amid such low oil prices.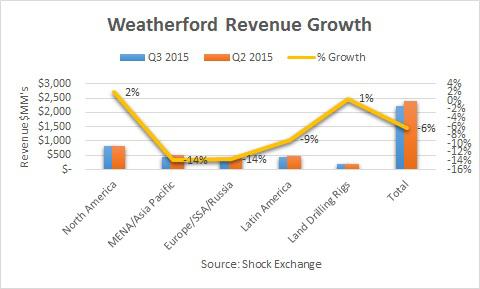 I expect Weatherford to report a double-digit fall off in North America revenue as well. This could be disconcerting to longs given that the segment rose 2% last quarter. Secondly, North America represents over 35% of total revenue. It is also Weatherford's biggest loser; North America had a $54 million operating loss in Q3 versus $174 million in operating income in the other segments.
Total EBITDA margin was 15% in Q1 and 14% in Q2 and Q3. Baker Hughes' EBITDA margins broke support in Q4. WFT investors should brace themselves for a sharp decline in Weatherford's EBITDA margin in this quarter and for the first half of 2016.
Covenant Pressure
Pursuant to its covenant with short-term lenders, Weatherford must maintain a debt-to-capitalization of 60%. Asset impairments - including non-cash goodwill - could impact the company's debt-to-capitalization ratio this quarter. I anticipate sizeable goodwill impairments related to acquisitions that where done when oil prices were much higher. Of the company's $3 billion goodwill, about $1.8 billion is related to North America which has been accumulated operating losses.
According to Fitch, asset impairments could introduce covenant pressure given the potential impact of depressed prices for oil and gas on shareholders' equity. That said, investors' expectations of a covenant breach in 2016 could cause volatility in WFT going forward.
Cash Flows
RBC's Kurt Hallead is optimistic that a reduction in severance costs and capex will allow Weatherford to generate enough free cash flow to meet debt maturities of $350 million (Q1 2016) and $600 million (Q2 2017). However, I am less optimistic. Q3 operating cash flow less capex was negative. This was alarming given that as revenue declined, the company should have been a cash cow. I believe Weatherford is having trouble collecting on stale or overvalued inventory.
Secondly, I believe there is a risk that counterparties could retrench after its recent Fitch downgrade to junk status. If Weatherford is not cash flow positive this quarter, it could call into question its ability to service its $7.7 billion debt load.
Disclosure: I am/we are short WFT.
I wrote this article myself, and it expresses my own opinions. I am not receiving compensation for it (other than from Seeking Alpha). I have no business relationship with any company whose stock is mentioned in this article.