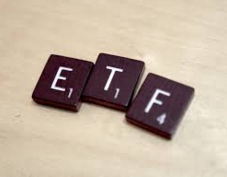 The Seeking Alpha ETF Investing Guide
I recently reviewed the Seeking Alpha Investing Guide and decided to allocate part of my portfolio to a core portfolio of ETFs, similar to that suggested by the guide. I do not intend to completely switch course from my current allocation but to set up a separate core portfolio of ETFs and to allocate a majority of my investments to this core ETF portfolio over time.
After reviewing the investing guide, I drafted a procedure for implementing the suggestions of the guide. Currently I am reviewing each of the suggested ETFs to determine which to buy. This article focuses on the large-cap portion of the core ETF portfolio and the Vanguard S&P 500 ETF (NYSEARCA:VOO).
Vanguard S&P 500 ETF - Investment Synopsis
VOO invests in stocks in the S&P 500 Index, representing 500 of the largest U.S. companies. The goal of the fund is to closely track the index's return, which is considered a gauge of overall U.S. stock returns.
5 Year Performance of VOO compared to Foreign Developed Markets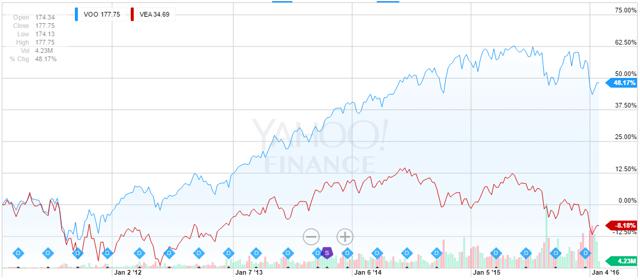 Source: Yahoo Finance (1/30/2016)
As the chart above shows, VOO has performed well over the last 5 year period, up approximately 48%. This is far better than foreign equities have performed over this period, as shown by the red line representing Vanguard FTSE Developed Markets (NYSEARCA:VEA), down approximately 8% over this same time period. There are a number of reasons for this divergence, including the relative strength of the U.S. economy and the U.S. dollar compared to foreign developed economies and currencies. When setting up an ETF core portfolio and making an initial allocation, an investor may want to consider whether they believe the U.S. large-cap outperformance will continue in both the short and long term.
Equity Characteristics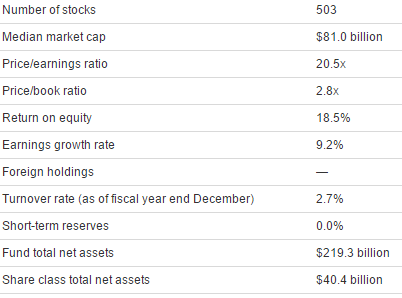 Source: Vanguard (as of 12/31/2015)
As expected for the large-cap portion of your portfolio, the median market cap of the companies held by VOO is very large at $81 billion. The price/earnings ratio at 20.5 is quite high, versus historical figures and foreign stocks, although it will have fallen somewhat from that listed above, which was as of December 31, 2015.
Top 10 Holdings
Source: Vanguard (as of 12/31/2015)
VOO's top ten holdings are very large, well known, companies and at 17.2% of total net assets, make up a fairly large proportion of the total holdings. Because the S&P 500 uses a market-cap weighting structure, the larger companies have a larger weighting and this may be considered a drawback by some. The Guggenheim S&P Equal Weight ETF (NYSEARCA:RSP), as the name implies, is an ETF that weights the 500 stocks of the S&P 500 equally and may be more attractive for some investors, although it comes with a significantly higher expense ratio.
Equity Sector Diversification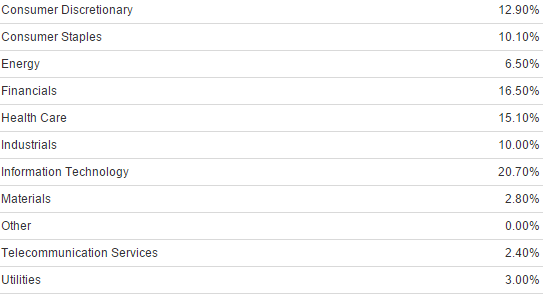 Source: Vanguard (as of 12/31/2015)
VOO's largest stock holdings are in the technology sector. Many individual investors also have large positions in technology stocks. Investors setting up a core portfolio of ETFs will probably want to reduce their holdings in individual stocks, particularly in sectors where both the ETF and the investor are heavily invested.
ETFs in the U.S. large-cap category
| | | | |
| --- | --- | --- | --- |
| Symbol | Fund Name | AUM ($MM) | Expense Ratio |
| | SPDR S&P 500 Trust ETF | 173,009M | 0.09% |
| | iShares Core S&P 500 ETF | 66,725M | 0.07% |
| | Vanguard S&P 500 ETF | 40,105M | 0.05% |
| | PowerShares QQQ Trust ETF | 37,679M | 0.20% |
| | iShares Russell 1000 ETF | 13,828M | 0.15% |
| | SPDR Dow Jones Industrial Average ETF | 11,513M | 0.17% |
| | Guggenheim S&P Equal Weight ETF | 8,494M | 0.40% |
| | Vanguard Large Cap ETF | 6,182M | 0.09% |
| | PowerShares S&P 500 Low Volatility Portfolio ETF | 5,580M | 0.25% |
| | Schwab U.S. Large-Cap ETF | 5,028M | 0.03% |
Source: Seeking Alpha (as of 1/30/2016)
Above is a list of the top 10 large-cap ETFs, listed by assets under management (AUM). As the table shows, VOO is the third largest U.S. large-cap stock ETF by AUM. For those that want to do further research, additional detail on these ETFs is available on Seeking Alpha's ETF Hub.
Expenses and dividend yield
VOO's expense ratio is 0.05%, this is well below the average expense ratio of similar funds. Of the top ten U.S. large-cap stock ETFs listed above, only the Schwab U.S. Large-Cap ETF (NYSEARCA:SCHX) has a lower expense ratio. SCHX is a passive ETF that seeks to replicate the Dow Jones U.S. Large-Cap Total Stock Market Index which represents the largest 750 stocks and I believe, is also a good choice for the large-cap portion of an investor's core ETF portfolio (and could be used to rotate the large-cap portion of your portfolio into, when tax loss selling). Given the relatively high price of the global equity markets today and particularly the U.S. markets, it is likely that future returns may be lower than those recently experienced. In this environment, it is important that the core of your portfolio is allocated to funds with low expense ratios.
VOO's SEC yield is 2.12%.
Conclusion
I believe VOO is a good ETF for the large-cap portion of an investor's core ETF portfolio. Although the U.S. large-cap market has recently sold off, I do not believe it is cheap versus either historical valuations or foreign stocks. Dollar cost averaging a new investment into VOO is probably a good idea. After reviewing the other ETFs in the core ETF portfolio, I expect to allocate a portion of my portfolio, currently allocated to individual stocks, to VOO.
Addendum
Seeking Alpha's Investment Guide Core ETF Portfolio
| | | | |
| --- | --- | --- | --- |
| ETF Ticker | Fund Name | Fund Description | Expense Ratio |
| VOO | Vanguard S&P 500 ETF | Large cap U.S. stocks | 0.05% |
| | iShares Core S&P Mid Cap ETF | Mid cap U.S. stocks | 0.12% |
| | Vanguard Russell 2000 ETF | Small cap U.S. stocks | 0.15% |
| | iShares Core MSCI EAFE ETF | Multi cap foreign developed market stocks | 0.12% |
| | iShares Core MSCI Emerging Markets ETF | Multi cap emerging market stocks | 0.18% |
| | iShares iBoxx $ Investment Grade Corporate Bond ETF | US investment grade corporate bonds | 0.15% |
| | PowerShares 1-30 Laddered Treasury Portfolio ETF | US Treasuries | 0.25% |
| | Schwab U.S. TIPS ETF | US TIPS | 0.07% |
| | Vanguard REIT Index ETF | US REITs | 0.10% |
| | PowerShares DB Commodity Index Tracking ETF | Broad commodities | 0.85% |
Simply Investing - Philosophy
Establishing a core portfolio in well-diversified, low expense ETFs, held for the long term, is a good idea for most all investors. The core of a small portfolio can start off as simple as one well diversified global ETF with a low expense ratio, like Vanguard Total World Stock ETF (NYSEARCA:VT). Typically, as the portfolio grows, the core of the portfolio would include exposure to the ten asset classes listed above.
There are four steps needed to set up an efficient investment plan. The decisions and actions required to set up the plan and purchase the ETFs can be done in about four hours (see the further reading section below for more details):
Decide on an asset allocation plan among the ETFs in the core portfolio.
Open an online brokerage account with a linked online bank account.
Determine if you will invest all your investment funds at once or over a period of time.
Determine which investments to buy in your taxable and tax deferred accounts.
The core ETF portfolio outlined above, after tax, should significantly outperform either individual stock picking or a portfolio managed by a financial advisor. Over the typical investors time horizon of 40+ years the expected advantage of this core ETF portfolio is staggering.
Investors that enjoy the investment analysis process and are willing to spend the time to analyze and invest in individual stocks or sectors can still do this. I believe, the majority of these investors should still set up a core ETF portfolio, but can allocate a small, fixed percentage of their portfolio to "edge" positions, which offer additional risk and opportunity.
Further reading
ETF Investing Guide - Written by Seeking Alpha's Founder in 2006 is a great guide for setting up a portfolio of ETFs.
Set Up A Core ETF Portfolio Now - Describes the four steps required to implement the suggestions in the ETF Investing Guide. The ETF Investing Guide is made up of 54 articles and takes some time to read and assimilate the information. This article condenses the information from the guide down to four steps that can be completed to set up a core ETF portfolio in around four hours.
This article reviewed VOO the first ETF in the core ETF portfolio. Future articles will review the rest of the ETFs in the core ETF portfolio.
Disclosure: I am/we are long VT, VEA.
I wrote this article myself, and it expresses my own opinions. I am not receiving compensation for it (other than from Seeking Alpha). I have no business relationship with any company whose stock is mentioned in this article.