As it approaches the late February release of its full-year 2015 financial results, Care.com (NYSE:CRCM) continues to encounter a lethargic reception by the equity market. The shares are down approximately 65% since the January 2014 IPO, and aggregate public shareholder value of roughly $350 million has been destroyed in that time.
Despite some modestly encouraging trends on the expense front, the company continues to hemorrhage cash. Top line growth continues at a nice (albeit slowing) pace, but also remains unable to be translated into cash flow.
Based on a variety of factors outlined below, I believe the shares could trade as low as $4.25. By way of comparison, the market's current implied value of the business (after backing out cash on hand), is approximately $4.13 per share.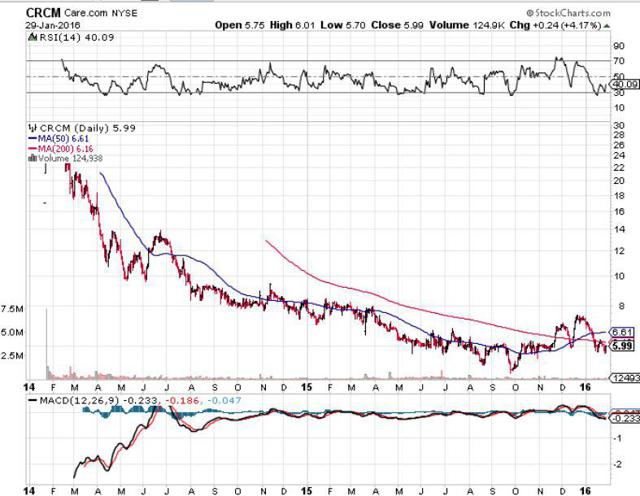 Cash Burn Continues Despite Modest Expense Improvements
During the first three quarters of 2015, CRCM torched another $10.7 million in cash from operations and investing activities. I continue to believe, despite some rather generous assumptions about their ability to right the ship, that the company will be forced at some point in the next 12-24 months to seek a cash infusion (most likely via a highly dilutive equity raise), unless more dramatic steps are taken to trim the bloated expense profile.
I have tempered my dire prediction of upcoming insolvency in an earlier article given the modest but encouraging progress they seem to have made on expenses. That said, the impact of reduced marketing spending seems to have begun to manifest itself in the form of declining year-over-year quarterly revenue growth.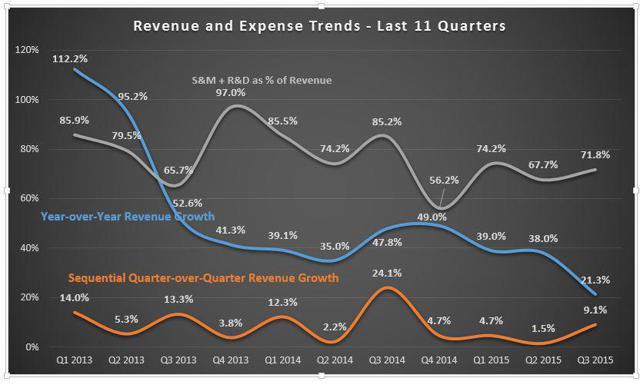 My revised view as to projected cash burn is outlined below. Given the complete faceplant in such a short time of its much touted acquisition of Citrus Lane in July 2014, I have assumed that for the foreseeable future management will not wish to burn its hands again on the acquisition stove. I have also factored in modest reductions in annual cash consumption (from both operations and investing activities), assuming the expense reductions continue going forward.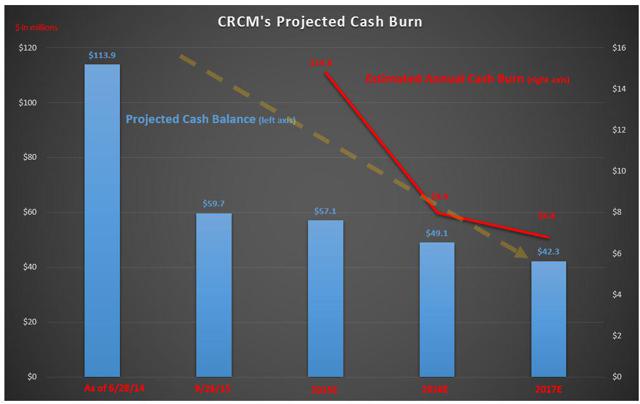 Continuing Disconnect Between Stated "Members" and Members Who Actually Pay Anything
At the end of Q3 2015, CRCM reported total "members" of 17.8 million, an ostensibly impressive figure. However, of that total, a mere 296,000 are actually paying anything. As illustrated below, despite a slight uptick in the percentage of paying customers in the first nine months of 2015, the figure remains remarkably low at 1.66%.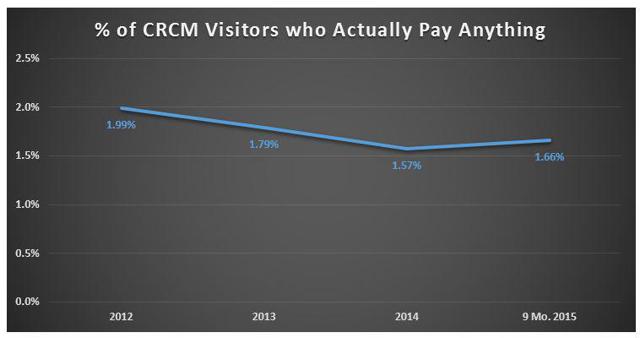 Although the HomePay business appears to be generating attractive growth and ARPU, as of the end of 2014 it had just 14,000 paying members, and its growth slowed gradually from 31% in 2013 down to 25% in the first nine months of 2015.
Expense Trends Are Improving, But Cash Flow Remains Elusive
As outlined below, the company has made strides in recent quarters to trim its bloated cost structure. Overhead and S&M are all down from year-ago periods. More progress could presumably be made as they leverage the cost structure, but top line growth is slowing and positive cash flow generation (even factoring in further cost cuts) seems a distant target. As I've discussed before, it seem to strain credulity that a company that purportedly leads its space after roughly ten years of development hasn't figured out the mousetrap.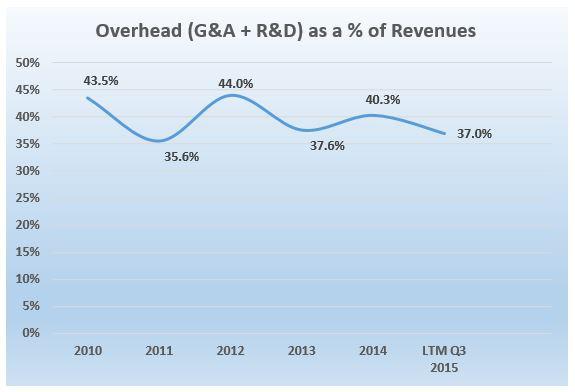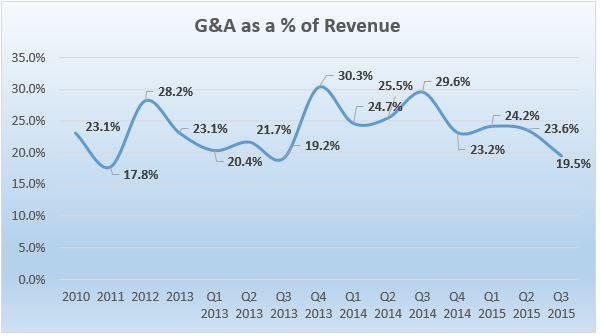 Mounting Litigation Overhang Remains Troublesome
As highlighted in previous articles on CRCM, the company has been subject to at least two wrongful death suits (one in Nebraska, and one in Wisconsin) involving cases where nannies CRCM supposedly vetted literally killed the children they were supposed to help.
More recently, in a new case in Massachusetts, a nanny purportedly vetted by CRCM who actually had an extensive criminal rap sheet involving larceny and fraud stole at least $280,000 from the family that had hired her. In 2011, the company settled out-of-court with a New Jersey couple whose CRCM-vetted nanny (whose name, according to the police report, was "Wicked") stole baptism gifts and other valuables; the nanny had a substantial prior criminal background.
CRCM disclaims any responsibility for the vetting, which begs the question: if CRCM simply outsources the background checks for prospective nannies and caregivers to a third party, and that third party misses something as obvious as this, why would anyone pay CRCM an extra fee to conduct such a faulty background check that could potentially lead to the endangerment of their children?
Aside from the potentially substantial financial liability to the company, it invokes a more central question as to whether CRCM's reputation and trustworthiness could hinder its ability to have any appeal to either prospective shareholders or customers.
It remains to be seen whether CRCM can right the ship, or whether it continues to be the Wile E. Coyote of the microcap tech space and might eventually look down to realize there is nothing holding it up.
Disclosure: I/we have no positions in any stocks mentioned, and no plans to initiate any positions within the next 72 hours.
I wrote this article myself, and it expresses my own opinions. I am not receiving compensation for it (other than from Seeking Alpha). I have no business relationship with any company whose stock is mentioned in this article.