In my latest article, "Apple (NASDAQ:AAPL) Has Serious Problems," I covered how the company had been underperforming on account of the iPhone approaching the day where it saw year-on-year losses. That day will happen during Q2 FY2016, as per Apple's recent guidance. We already knew that the iPhone was Apple's most relevant product by far, but didn't have a measure of quantification to that notion.
Given the evolution of iPhone revenues and the cries of undervaluation in the comments area, I think this is a good time to provide a model of how Apple will look like in the short term as well as longer term if the iPhone keeps shrinking. Using a new model built for this purpose, this article will cover both the likely short-term evolution, and the "iPad's worst-case scenario."
iPhone Relevance
I've often claimed, based on past study, that Apple was the iPhone. This was so because the iPhone brings two-thirds of Apple's revenue (66%, according to FY2015's 10-K). Also, I've claimed that more than 80% of AAPL's profits come from the iPhone.
The revenue share is obviously taken directly from the 10-K. But Apple does not report profitability per segment, not even at the gross margin level. To establish the relevance of each product line, we thus need to rely on a study of each product as well as several assumptions. We need to build a model based on those assumptions, and see how well it fits the data.
We do have some data that can help us. For instance, we have data on:
Teardowns of the iPhone, which put the iPhone 6 BOM (Bill Of Materials) at $227 (for the base model).
iPhone pricing, starting at $649 for the base model.
Teardowns of the iPad, which put the iPad Air 2 BOM at $275 (for the base model).
iPad pricing, starting at $499 for the base model.
The revenue distribution through time between the iPhone, iPad, Mac and Other (everything else) segments (from Apple's multiple 10-Qs and 10-Ks).
The evolution of gross margins through time, for FY2015 (40.1%), FY2014 (38.6%) and FY2013 (37.6%).
The discussion of factors which affected the evolution of gross margins from FY2014 to FY2015 and from FY2013 to FY2014, which includes the following passages, which clearly highlight the relevance of the mix, especially for FY2015 since the iPhone had a large revenue share jump:
The year-over-year increase in the gross margin percentage in 2015 was driven primarily by a favorable shift in mix to products with higher margins and, to a lesser extent, by improved leverage on fixed costs from higher net sales. These positive factors were partially offset primarily by higher product cost structures and, to a lesser extent, by the effect of weakness in most foreign currencies relative to the U.S. dollar.

The year-over-year increase in the gross margin percentage in 2014 was driven by multiple factors including lower commodity costs, a favorable shift in mix to products with higher margins and improved leverage on fixed costs from higher net sales, which was partially offset by the weakness in several foreign currencies relative to the U.S. dollar, price reductions on select products and higher cost structures on certain new products.
Simple Model
Based on the factual data above, I set out to build a simple model that could explain the FY2015 gross margin (40.1%). This simple model took the following assumptions into account:
It used Apple's reporting segments of the iPhone, iPad, Mac and Other (for everything else). It should be noted that some of the highest margin "Other" revenues, like Apple Care, will also be intrinsically tied to iPhone sales - I did not model this effect.
Using the relationship between the published BOMs and sales prices gave us a first estimate of gross margins for the iPhone and iPad before any fixed charge distributions (which would most likely reflect volume or revenue share, and thus tend to affect all physical products proportionately).
I assumed the Mac gross margins would be similar to the iPad's.
I assumed an independent gross margin for the Other segment. The Other segment includes some activities which are supposed to be low margin, like the App Store, but others which can only be very high margin, like Apple Care. There is little information and the activities are too diverse to model, so I assumed an overall 25% gross margin.
I assumed the fixed charge was ~16.5% of revenues, only applied to the iPhone, iPad and Mac segments. This charge represents fixed costs diluted through the (physical) product portfolio.
What did this model output? 40.2% gross margins for FY2015. Not a surprise, as the fixed charge part kind of was the result of a "goal seek". But more interestingly:
The share of gross margins held by the iPhone segment was 79.6% in FY2015, 71.2% in FY2014 and 69.4% in FY2013.
Applying the model "retroactively" to FY2014 and FY2013 without any other changes except the changing mix, closely matched the observed gross margins, coming in at 38.2% in FY2014 (vs. 38.6% reported) and 37.1% in FY2013 (vs. 37.6% reported). We should take into account that there was a currency effect, as well as two opposing effects (greater leverage of fixed charges going forward in time, but higher unitary costs versus rather fixed prices for relevant products as well, namely the iPhone).
The model also tells us that presently, the iPad represents 7.1% of Apple's gross margin and the Mac represents 7.8% of that same gross margin. Thus, any of these product segments is worth less than 1/10th of what the iPhone is worth to Apple.
Finally, the model sees gross margins (after fixed charges) of ~49.5% for the iPhone and ~28.4% for the iPad and Mac. These are consistent with gross margins (before fixed charges) of 65% for the iPhone and 44.9% for the iPad, which are in themselves consistent with the relative relationship between estimated BOMs and selling prices.
There is a problem when building a model for Apple. The iPhone has, until presently, only shown rising revenues. This can play foul with attempts to measure its influence.
However, we do have a proxy for variability in iPhone revenues. This proxy comes from the fact that there's strong seasonality in iPhone numbers throughout the year, so the iPhone actually experiences sequential revenue drops quite often.
We can thus go down to the quarterly level and see how the iPhone's share of Apple's revenues measure up against its reported gross margins. I ran that correlation since Q1 FY2013 (there was a step change from the iPhone 4S to the 5, which led to lower gross margins) and this was what I got: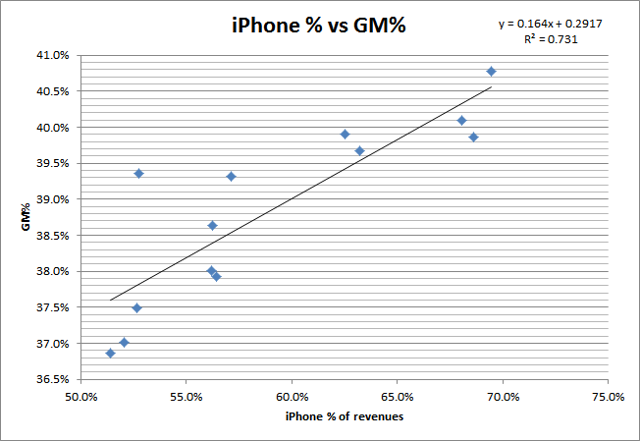 This is an interesting correlation, explaining 73.1% of Apple's gross margin during the last 13 quarters. This is also consistent with the prior model since:
Up until FY2015 (iPhone 6), the iPhone represented less than 60% of its revenues and less than 72% of its gross margins - hence, we couldn't really expect an R2 much higher than 0.70.
There have been other effects even affecting the iPhone's contribution, from currency effects to model cost effects, to varying ASPs (Average Selling Prices).
As such, 73.1% is the kind of fit we'd expect from this simple correlation. Moreover, this fit implies that Apple's gross margins would be ~29.2% in the absence of the iPhone, which is close to those implied by my model (~28.4% for iPad/Mac and 25% for the Other segment).
It is in this context of the iPhone being so important, that predictions like mine in my article, "Several iPhone Risks In Review: Apple Is About To Show Declining iPhone Shipments," or the company's latest guidance for Q2 FY2016 gain so much relevance.
Basically, we can predict that while the iPhone is the only horse pulling the carriage, any shortcomings from that horse have a great tendency to result in AAPL's underperformance. How much of this translates into actual earnings and valuation impact we will establish later on.
Growth Ex-iPhone
Another piece of information which will be useful for the forthcoming work in this article is establishing what growth Apple presently has ex-iPhone. Lately, that's been close to zero, and Q1 FY2016 confirms as much:

3.5% year on year is basically zero, especially when you consider that the Apple Watch accounted for sales during Q1 FY2016, but was not yet being sold during Q1 FY2015. The absolute difference between the two quarters comes to just $820 million in revenues. Even just 2 million Apple Watches ~$410 ASP would account for all of that.
The growth ex-iPhone is dictated by many different products, including the iPad, Mac, Apple Watch, App Store, Apple Music, Apple Pay, the iPod, etc. All of these taken together, though, have been growing ~0%. This will become relevant later in this article.
The Next Quarter (Q2 FY2016)
We already have Apple's guidance for Q2 FY2016, presented in the Q1 FY2016 earnings report. It goes as follows:
Revenue between $50 billion and $53 billion
Gross margin between 39 percent and 39.5 percent
Operating expenses between $6 billion and $6.1 billion
Other income/(expense) of $325 million
Tax rate of 25.5 percent
Using this guidance, we can build the following P&L scenarios including both extremes of the gross margin guidance and worst, midpoint and best scenarios for revenues: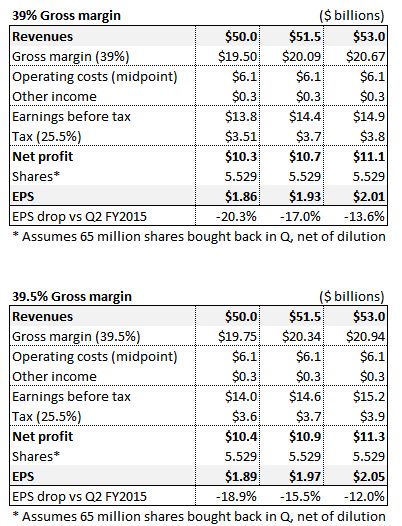 Interestingly, the market's current EPS consensus estimate for Q2 FY2016 stands at $2.00 per share while the consensus revenue estimate stands at $52.05 billion. The EPS consensus is at the top end of what these models imply for Q2 FY2016. Indeed, the current EPS consensus is consistent with what one would see if gross margin was assuredly 39.5%, given $52 billion in revenues.
The analysts are thus treating Apple's guidance for the quarter as being something of a sand-bagging exercise, even while it already implies an 8.6-13.8% drop in revenues.
Another thing to keep in mind is that we have little reason to believe that Apple's revenues ex-iPhone are going to experience a plunge, much like we have little reason to expect them to explode to the upside. They've been hovering around 0%. What happens if we assume that these revenues' growth will once again hover around 0%?
It happens that the entire drop in Apple revenues then comes exclusively from the iPhone, which in turn means:
Apple implicitly expects a drop in iPhone revenues of $5-8 billion.
At the current ASP, and taking into account the increased ASP (went from $658.4 in Q2 FY2015 to $690.5 in Q1 FY2016), this implies iPhone sales of 46.8-51.1 million units during Q2 FY2016.
This would imply a drop in iPhone revenues of 12.4-19.9%, but a drop in units sold of 16.5-23.6%.
This already gives us a powerful conclusion here:
The iPhone ASP increase is, for now, compensating a slice of the unit loss.
This also shows why Apple insists on the 16Gb base model - it's the company's main weapon in driving customers towards higher-priced models, thus increasing the ASP without increasing prices. It's also important to notice that the iPhone BOM has been increasing steadily (base model at $245, $227, $211.5 and $194 over the last four cycles - iPhone 6s, iPhone 6, iPhone 5S and iPhone 5).
The Quarter After That (Q3 FY2016)
Obviously, we don't have guidance from Apple for Q3 FY2016. But we can roughly assume that:
Whatever volume drop the iPhone is experiencing year on year during Q2 FY2016 will have a high likelihood of continuing during Q3 FY2016. This also makes it very likely that the rumors about the iPhone 5se, rushed as it looks, are indeed true and that it will indeed be launched to try and stem these volume losses.
A factor that helps Apple's reported year-on-year growth during Q2 FY2016 will be gone during Q3 FY2016. I am talking about the Apple Watch, which was not in the base during Q2 FY2016. In Q3 FY2016, the Apple Watch will actually be a drag as it will compare to the launch quarter. Q3 FY2015 was a strong quarter for the Other segment, with revenues climbing ~$1 billion sequentially in what was usually a seasonally weak quarter. This $1 billion, and indeed in excess of it, was probably provided by the Apple Watch.
Opex tends to be stable from Q2 to Q3.
Gross margin dips from the predicted drop in quantities sold, both from current weakness and from normal seasonality.
Assuming everything else (other operating income, tax rates) remains the same, this is what we can optimistically predict for Q3 FY2016: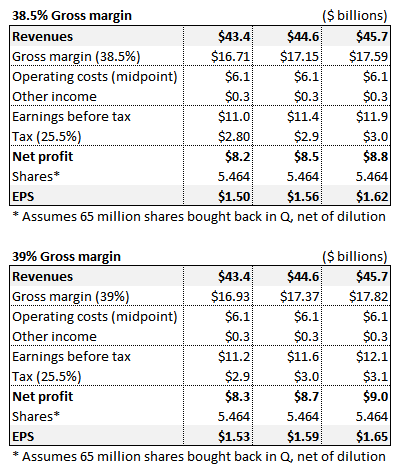 This model needs to be compared to present market consensus: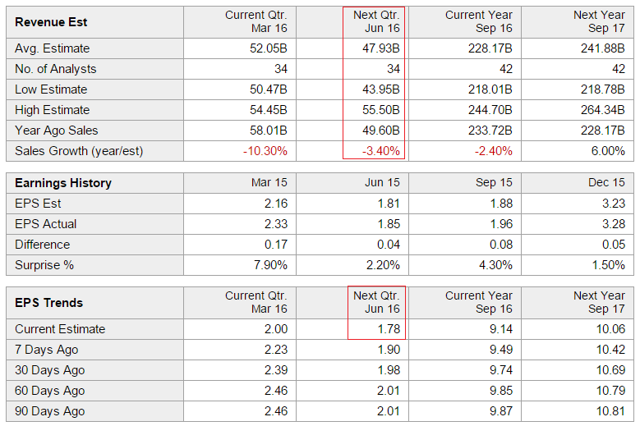 Source: Yahoo Finance, red highlight is mine
We can draw two main observations:
Consensus revenues are now much higher than what the present iPhone volume drop seems to imply.
Consensus EPS is also above my model, even considering some rather optimistic assumptions I made.
As such, I believe there's still downside to consensus expectations for Q3 FY2016, and thus potential AAPL underperformance to happen on the base of short-term expectation downward pressures.
Over The Long Term
The iPhone is shrinking. When it will stop shrinking is undetermined. We do know that the iPhone is looking more like the iPad both in the way it's sold (fewer hidden subsidies) and in the likelihood of it being "good enough" and this leading to longer replacement cycles.
The iPad's shrinkage into the future is also undetermined - but we do know that it has already dropped ~38% in revenue terms, when comparing Q1 FY2016 to Q1 FY2014. It's not inconceivable that the same might happen to the iPhone over time.
What would happen to Apple's P&L if the same thing happened to the iPhone, without the company taking significant cuts to its opex structure and with everything else remaining the same? Something along the lines of the following model would happen: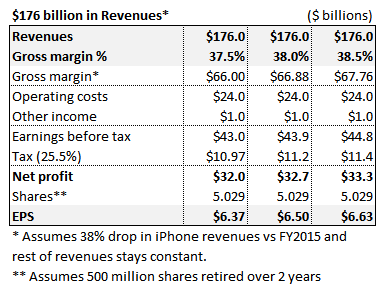 The gross margin would drop to ~38% according to my models, and I considered scenarios 0.5% over and below those levels. The drop would be driven by the iPhone's drop within the revenue mix, from 66% of revenues in FY2015 to 54.8% in this model of the possible future.
We can see that yearly EPS would end up around $6.37-6.63. Therein lies the main problem for AAPL's stock. This EPS would still imply a reasonable valuation at today's levels (14.5-15.5 Price/Earnings, or just 10.2-10.6x if we consider the ex-net cash market cap, but:
The current earnings estimates for the future would still need a lot of cutting (FY2017 consensus EPS still stands at $10.06).
Even these projections have a problem with the undetermined nature of the drop. That is, I projected a given drop, but there's no way to say whether it would continue beyond that or not.
On the bright side, the iPad was affected by ASP drops ($440 in Q1 FY2014, $419.5 in Q1 FY2016) and presently the iPhone has no such problem - indeed, the iPhone's ASP is still rising. This could change, of course.
The Response Might Be A Problem
Like we, Apple is not certain when the iPhone will grow again. But it will know that given the iPhone's importance, it needs to make all efforts to bring growth back to it.
These efforts, for instance catching up in the specs where it doesn't lead, can themselves be a problem. This is so because the required components imply less gross margin. Samsung's (OTC:SSNLF) flagship phones are now more expensive to build than iPhones because of those components - Apple might be forced to go the same way and thus give up a portion of its gross margins even if quantities remain constant (never mind if they continue shrinking).
Conclusion
We have several conclusions we can take from this exercise:
Underperformance during Q2 FY2016 and Q3 FY2016 remains likely, because Q3 FY2016 estimates still need to go down.
The long-term story is overshadowed by the iPhone's shrinkage - we can't know when such shrinkage might end. This is evident by the way a long-term scenario can point to FY2017 estimates and beyond needing to be cut unless the iPhone changes course.
The present valuation is already very acceptable and discounts most of the "predictable" iPhone shrinkage. In the event that the iPhone stops shrinking, Apple would be a clear buy.
Given what the valuation discounts, we are given further confidence that from July/August, AAPL is likely to outperform. This is so because the market will discount the possibility that the iPhone 7 might stop the bleeding. This doesn't remove the problem that, until then, earnings and revenue estimates are likely to see further downside and the stock is likely to underperform due to that.
Disclosure: I/we have no positions in any stocks mentioned, and no plans to initiate any positions within the next 72 hours.
I wrote this article myself, and it expresses my own opinions. I am not receiving compensation for it (other than from Seeking Alpha). I have no business relationship with any company whose stock is mentioned in this article.