Despite a strong end to the month of January, the start and cumulative result of the month was still one of the worst ever on record. At one point, the market was down 11%, only to recover by month's end to approximately -5%.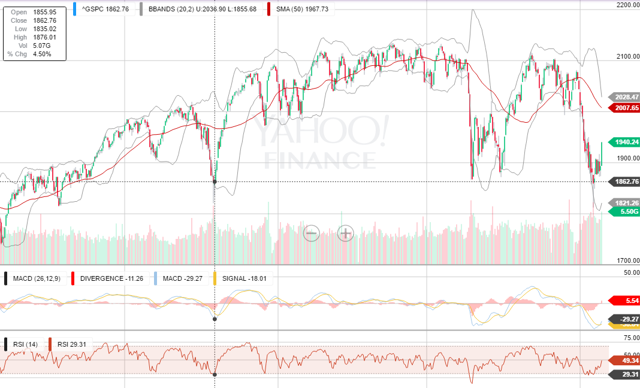 In terms of corrections experienced in the last two years, this one certainly matches up with the one we had back on August 25th, which specifically hit biotechnology hard, leading up to several great buying opportunities. Indeed, anyone who bought Biogen (NASDAQ: BIIB), Regeneron (NASDAQ: REGN), or just about any other large cap biotech stock at the bottom of that crash would have cashed in excess of 20% gains.
During this most recent correction, which some argue will resurface after earnings season has relapsed, it was the Materials, Financial and Healthcare sectors that took the biggest beatings. Financials took a 10.4% loss, while Materials went down -12.3%, and Healthcare down 8.9%.
Looking at this chart, it seems to me there will be a continued bounce back for a month or two, but the S&P 500 seems to have topped out in December of 2015. With oil trading in lockstep with major stock indices (correlations factors in mid to high 90s), and negative interest rate interactions in Japan, and chaos in the market elsewhere in the world, where can we safely put our money while also beating our benchmark index?

Take a look at this stock screen from Equities Lab, a quantitative investing research platform. In terms of parameters, I set: "Market cap <= $5 Billion," and rebalancing shares quarterly. This is from January 31, 2015 to January 31, 2016. For those who say just ride the index funds, this is exactly why one gives those arguments pause.
The only industries with positive returns generated were: Banks, aerospace, and consumer packaged. For those who were wondering, the bank stocks over $5B in market cap have an average return of about -4% over the same time period. Below is a 4-year chart of returns of a portfolio only consisting of those 173 small-to-mid cap banks versus the S&P 500 (NYSEARCA:SPY):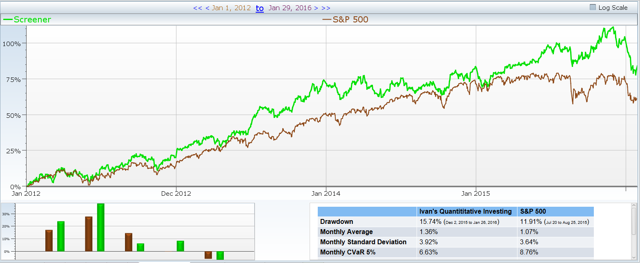 As the market becomes more volatile, the difference in return vs. the S&P 500 (brown) has become even bigger. While the S&P 500 averages a 1.07% monthly average return, this bank portfolio averages 1.36%, which is considered very good to excellent performance. Most of these stocks have limited liquidity under 1M in average volume, but decent dividends.
Breaking down the capitalization size even further, we get the following breakdown: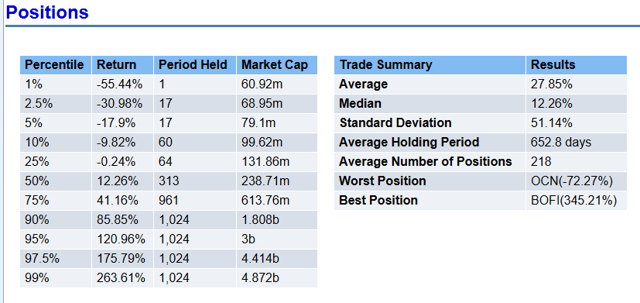 Oddly enough, while the highest returns came near the $5B threshold, about half of the 13-14 banks stocks that did poorly in the portfolio had a market cap of over $1B as well, which sets up for a win some, lose some trade off to keep my bar set at $5B rather than lowering to $1B. Some of the biggest returns in the portfolio, which gained in excess of 300% over one year came from banks with a cap between $200-300M capitalization. Almost all of these banks are regional, state, or local in nature and may or may not have a national charter.
Now obviously the portfolio gets rebalanced every quarter to get rid of the outliers and the stocks that get delisted. Every now and then, there will be a stock that gets too small, or gets bankrupt. It's the nature of small and micro-cap stocks, there will be a few that break down and one can lose all their investment, the same happens with bonds. This is why if one decides to start investing in small cap bank stocks, appropriate research must be put in to balance out the risk of losing a significant portion of their investment, however low that risk may be.
One must also be willing to diversify their portfolio ideally to at least 20-30 stocks from this group to properly allocate for one major loss that one will eventually land upon. Below is a nearly random sample of some of the stocks that lie in that outperforming portfolio.

Summary
Some may be tempted to find an ETF that has these small cap financials already in it, but the truth is, there really aren't that many ETFs out there that come close to matching the stock holdings or the returns that the portfolio I generated has. The closest ETF I could find was the PowerShares S&P SmallCap Financials Portfolio ETF (NASDAQ:PSCF), which has a YTD return of -7.58% and average volume of just 14,000 shares. The ETF obviously doesn't follow the same asset allocation, and may very well be invested in stocks that are not the assets we are looking for. Therefore, take some time on Finviz to screen for bank stocks under $5B in market cap and apply filters that may better narrow the search of what number of stocks to invest in.
If one can invest in some or all of the stocks listed in this portfolio, or at least buy a representative sample of the portfolio, then outperforming the S&P 500 and generating positive returns in a turbulent economy can be possible.
Supporting Documents
Disclosure: I/we have no positions in any stocks mentioned, and no plans to initiate any positions within the next 72 hours.
I wrote this article myself, and it expresses my own opinions. I am not receiving compensation for it (other than from Seeking Alpha). I have no business relationship with any company whose stock is mentioned in this article.
Additional disclosure: I, the writer of this article, am working on screening a representative sample of the screened output mentioned above. Will initiate positions, but not within the next 72 hours