GameStop (NYSE:GME) is one of the most well recognized brick and mortar video game retailers in the industry. The company sells new and pre-owned video game hardware, physical and digital game software and accessories. GameStop has recently also become involved in reselling, retail and repair of Apple (NASDAQ:AAPL) products as well as opening stores as authorized AT&T resellers. In total there are 6,206 stores under GameStop's Video Game Brand Segment operating in the U.S., Australia, Europe, and Canada.
We have seen the stock plummet significantly over the past six months on fears over weak holiday spending numbers as well as the increasing threats that the video game retail industry is facing. Just last week the stock hit a 52-week low a little under $25 per share after the stock had been performing decently, rising from the low $30s at the beginning of 2015 and trading in the mid $40s before it began to crash in November. Over the past two weeks we've scene the stock appear to hit a possible bottom, and the question of whether we've hit a bottom for GME or if this is the beginning of the end for the stock.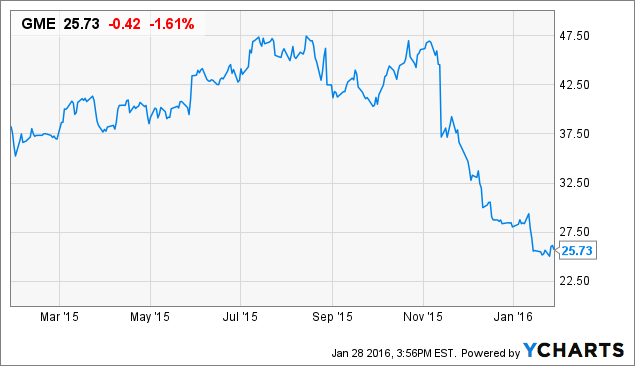 Changing video game industry presents the bear argument for GameStop
The video game industry is a cyclical business and is driven by several external factors, such as disposable income, leisure time, and the release of new consoles. According to IBISWorld reports there has been approximately 3.3% industry growth in the sector over the past five years. This growth can be attributed to several factors, including the release of the major console systems (Xbox One, PS4 and Wii) in 2013. The industry is expected to continue to grow at around 2.5% over the next 5 years, some of this growth is attributable to aging consoles being replaced, which will likely help GameStop drive their topline. However, there is cause for concern over other areas that are anticipated to drive industry growth.
The video game industry is going through a period of heightened disruption that could have detrimental effects on GameStop. One area of concern is the shift we are seeing into mobile gaming. Games on IOS and Android devices have exploded as a result of low barriers to entry as well as the ability to sell these games for very little or free of charge. Revenue from mobile gaming is growing strongly and is expected to continue to grow in 2016. Obviously mobile gaming completely skips the traditional retail middleman which will hurt GME. Mobile gaming is especially popular amongst the younger consumers, so that is also concerning because console gaming may become less popular and the sale of these consoles and their games is GameStop's core business.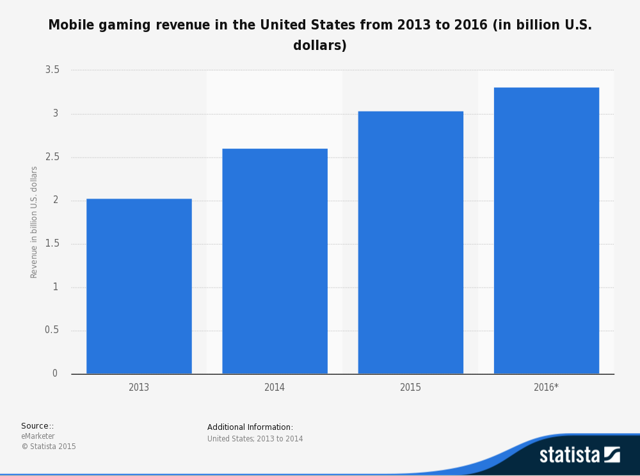 Source: Statista
Another area of concern that is well-known is digital downloads of games onto PC and the major gaming consoles. Digital downloads of games for PC is essentially 100% online now and according to one report from PwC is expected to become that largest area of the video game industry within the next few years. Although there is some resistance and belief that console gaming is not destined to become 100% online (including GME's CEO), I still believe that it is inevitable that video games in all forms will be distributed online and it is likely to happen sooner rather than later because eventually the ease of access will outpace going to a brick-and-mortar retailer.
Brief analysis of key business areas for GameStop
As a result of these two factors we are obviously seeing some major changes by management in trying to adapt to the changing landscape of the video game industry.
The areas of focus mentioned during the most recent earnings call were the collectibles or Loot business, Technology Brands, and the digital gaming space. These are all businesses that can be labeled as growth opportunities for the company outside of their core business of tradition video game retail.
Some of these areas are going to disrupt GameStop's core business, while others will help mitigate some of the slowing growth GME will likely face in the future. The future success of GME is highly linked to the ability of management to adjust to the changes that have become more apparent within the video game industry.
The collectibles or Loot business as it is called is considered one of the most quickly growing area of business for GameStop. Management has aggressively entered this space after it recently acquired GeekNet, a parent company to the specialty retailer of collectibles ThinkGeek. In their most recent earnings call the CEO Paul Raines said that this business expanded their margins expected the Loot business to reach "$300 million in sales this year and expanding our gross margin rate by 150 basis points in the other category." (Earnings Call Transcript)This is definitely a positive area for GameStop and presents an opportunity for GameStop.
The other area mentioned was the mobile phone and retail space. GameStop has a special partnership with AT&T to sell post-paid AT&T services through over 400 stores, as well as accessories and other consumer electronic products. Management sees a lot of opportunity for growth in this area, but I do not see a great opportunity in this space as the mobile phone market has started to mature. There will also likely be resistance from consumers to break their tradition habits of how they have purchased their phone.
The digital download business is a great opportunity and strategic move by management as the PC game space has gone pretty much completely digital and there is likely to be a shift toward digital downloads for consoles as well. While this presents a growth opportunity (13.8% during the last q: Earnings Call) digital downloads are a threat to the high margin used game business that GameStop has done really well with in the past. By selling games digitally, there is no opportunity to buy back the games and sell them at a high margin. Although digital downloads is a space to move into, GameStop's management seems to be really hard set that brick-and-mortar retail model, so we are likely going to see margin compression occur of the next few years.
Although there is a lot of criticism surrounding the areas of business GameStop operates in, there is definitely an upside to the fact that management is clearly making an attempt to diversify the business. So although risks surrounding these strategies do exist, there is an opportunity the company to perform well as it enters new areas of business.
Financial Analysis
Although there are a lot of negative ideas surrounding the qualitative aspects of GameStop, the company does have a strong financial position in several areas. One area specifically is the company's debt structure. Currently GameStop has 350m of LT debt on their books and a D/E ratio is .18. After driving their long term in 2012, the company has recently been able to start financing acquisitions with its debt and still has the ability to fund further diversification.
I always am favorable of companies with strong ROEs. GameStop is has historically posted very strong and superior ROEs to its competitors. We could continue to see even higher ROEs in the future with the possibility of buybacks in the near future.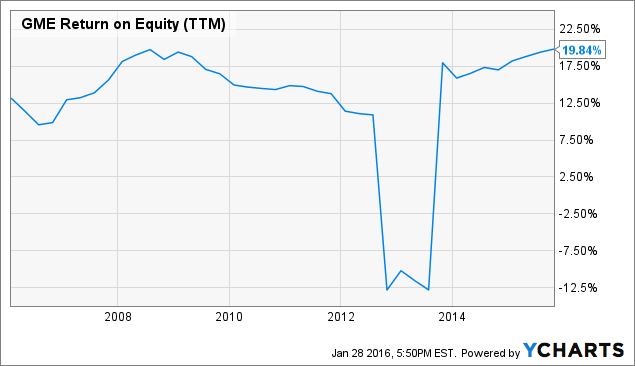 In terms of the company's income statement, GameStop has been growing their operating income over the past five years and has seen decent revenue, operating income, and EPS growth. It is clear that GameStop has been able to capture the growth in the video game industry over the past five years.
| | | | | | |
| --- | --- | --- | --- | --- | --- |
| (in millions) | 2011 | 2012 | 2013 | 2014 | 2015 |
| Revenue | 9,474 | 9,551 | 8,887 | 9,040 | 9,296 |
| Operating Income | 657 | 569 | -42 | 574 | 618 |
| Adjusted Diluted EPS | $2.65 | $2.41 | $(2.13) | $2.99 | $3.47 |
Conclusion
The market has clearly reacted to the external environmental factors effecting GameStop's business over the past few months. I think much of the uncertainty surrounding the business has been priced into the stock at this point with shares bottoming out at around $25 it is likely that the stock is going to benefit from the initiatives that management is taking. As opposed to suffering from the fears and uncertainty surround the overall environment of the company. However, there are still a lot of risks and uncertainty surrounding GameStop because of the fact that management strongly believes that the brick and mortar retail channels is going to continue to be strong going forward. At the same time it is also clear that their future is very dependent on the ability of the company to adapt to the changing business environment.
Disclosure: I/we have no positions in any stocks mentioned, and no plans to initiate any positions within the next 72 hours.
I wrote this article myself, and it expresses my own opinions. I am not receiving compensation for it (other than from Seeking Alpha). I have no business relationship with any company whose stock is mentioned in this article.