Comerica (NYSE:CMA) has been one of the rare few financials that I've been outright bearish on for some time. In a group that I generally think has been beaten up far beyond what the fundamentals suggest is prudent, CMA has stood out for a while as being very expensive. Indeed, back in October, with shares still at $42, I said CMA would make new lows due to a variety of factors. As it turns out, even after a post-earnings bounce, CMA is still trading for just $34. So is this the bottom or is there more pain ahead for CMA?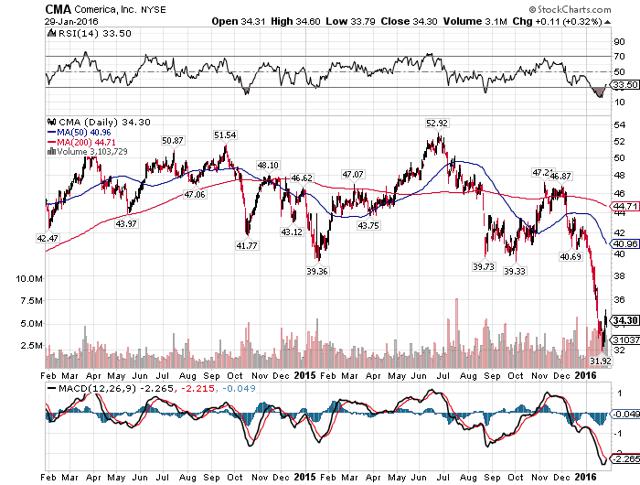 CMA is seen as a lender that is particularly leveraged to oil prices as its customer base demands it. CMA's geographical composition of its loans means that it is either directly or indirectly lending to the oil and gas community and that is why shares have been hammered. In case you've been living under a rock for the past year and a half, oil is cheap and that means lenders like CMA and others that are more heavily leveraged to that industry are getting crushed.
CMA's revenue growth in Q4 was actually very strong at nearly 10%. That's a number that virtually no other financial can touch at this point, so at least for the top line, CMA is off to a very good start. However, if we dig a little deeper, we can see that CMA's numbers aren't quite as rosy as they may first appear. A change in the contract of CMA's card program (outlined in the press release if you're interested) resulted in a change in the accounting presentation of revenue and expenses to the tune of $45 million for non-interest income and $48 million in non-interest expense. That means that CMA's gain of $45 million in non-interest income in Q4 against last year's Q4 is actually nothing as the entirety of the "increase" can be attributed to the change in accounting presentation. The same cannot be said for non-interest expenses as the increase over last year's Q4 of $70 million is only partially explained by the $48 million increase from the card program changes. In other words, the divergence between revenue and expenses that I called out last quarter are continuing but there are other signs as well that CMA may not have bottomed yet.
The company's credit losses are in laser focus for investors because of the oil and gas exposure. The company's provision for credit losses of $35 million in Q4 was an exponential increase on last year's Q4 losses of just $2 million and a 35% increase against Q3's number. In other words, CMA's provisions are getting materially worse, and when CMA reports in Q1, it will be very interesting to see just how much it puts in this number again. If credit losses continue to accelerate in Q1, CMA is in a lot of trouble. If they don't, it is possible that $32 was the low in the stock.
A big part of the problem I had with CMA in the past is that its valuation was always out of sync with its fundamentals. The issues I just laid out were present long before Q4, but it seems the market is just now coping with them. And at the company's current valuation of 11.4 times 2016 earnings estimates, it still isn't close to being cheap. When larger banking franchises with much better fundamentals have multiples in the 7 to 9 range, it is difficult to pay so much for a company with such poor fundamentals. One saving grace is that CMA's tangible book value at the end of Q4 was $39.41, indicating that even after last week's surge, CMA is trading for just 87% of tangible book value. That number is flat against Q3 but up nicely against last year's Q4 tangible book value so again, Q1's value generation will be in focus for CMA.
I don't know if CMA bottomed at $32, but I do know that its fundamentals continue to be weak. All of the factors I mentioned in addition to its low NIM production due to a high mix of securities instead of loans means CMA's ability to grow earnings in 2016 is once again likely to be impaired. But at a high earnings multiple, the valuation is still failing to reflect that fact. CMA looks like it could easily head lower before making a sustainable base from which to rally. The fact that it is below tangible book value is a nice change of pace and certainly, the easy money has been made on the short side. However, CMA needs to prove more to me than what it did in Q4 for me to recommend getting long. The company's fundamentals remain poor, and given that there are so many bargains in the banking space today, there is no reason to accept a below average bank. I think shorting CMA is probably done, but it isn't a buy yet either. I'd wait for a lower valuation and/or some evidence that the company's earnings will actually move up. Its fundamentals right now are lacking in a variety of areas so I'll pass, having been very successful on the short side of this stock for a while.
Disclosure: I/we have no positions in any stocks mentioned, and no plans to initiate any positions within the next 72 hours.
I wrote this article myself, and it expresses my own opinions. I am not receiving compensation for it (other than from Seeking Alpha). I have no business relationship with any company whose stock is mentioned in this article.