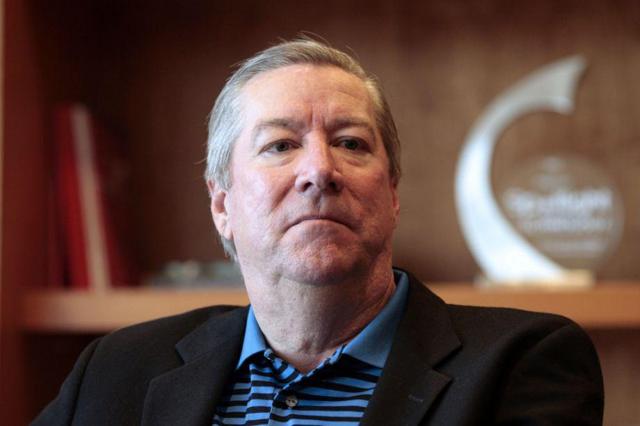 Halliburton CEO Dave Lesar. Source: Houston Chronicle
In Q4, Halliburton (NYSE:HAL) reported revenue of $5.08 billion and a net loss of $0.03 per share. Revenue was just shy of the $5.11 billion analysts were expecting. Below is my take on the quarter:
EBITDA Margins - A Magic Trick?
Halliburton's revenue declined 9% sequentially and 42% Y/Y. Revenue from every region declined, but North America (down 13% Q/Q) was the worst performer.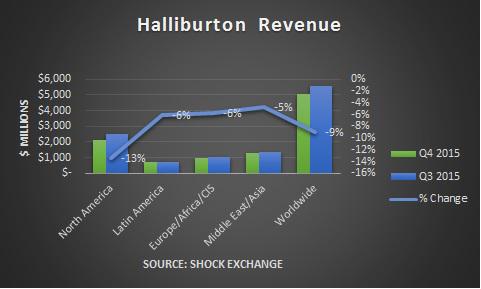 The quarter was marked by unprecedented declines in North America activities:
And in North America, of course, it was beyond a challenging year where we saw unprecedented declines in activity. However, relative to the overall market, I am pleased with our performance.

From the 2014 peak, our completions-related activity declined approximately 33% relative to a 64% reduction in the US land rig count. This clearly again demonstrates the customer flight to quality that has emerged during this downturn and positions us well for the market's eventual recovery.
North America represents 42% of total revenue, down from 44% last quarter; Halliburton's sizeable presence in North America and the fact that it pioneered pressure pumping technology are strong reasons for the company to defend its turf.
The story of the quarter might be the company's cost containment efforts. EBITDA margins were steady at 16% despite the revenue decline. Revenue has fallen 42% from $8.8 billion in Q4 2014 to $5.1 billion. Management cut operating expenses by 40% - almost in lockstep with revenue declines. This was nothing short of magic, in my opinion.
Whether management can keep this up we will soon find out. Since Q4 2014, the global rig count has fallen 46% and Baker Hughes (NYSE:BHI) believes it could decline as much as 30% in 2016. The first half of 2016 is setting up to be a dismal market for oilfield services.
Strong Balance Sheet
Halliburton ended the quarter with $10.1 billion in cash that will allow the company to sustain itself in case of a protracted downturn in the market. Cash increased by $7.8 billion from $2.3 billion in Q3, while debt rose $6.8 billion to $14.7 billion. Debt at 4x run-rate EBITDA appears manageable given Halliburton's large cash position. The company might eventually need that large cash position as well.
The implication that a customer "flight to quality" has emerged during the downturn could also portend that Halliburton is taking share from smaller, lesser-capitalized competitors. If smaller competitors have been weakened, then regulatory bodies may be reticent to approve the Baker Hughes merger, fearing it might disrupt the current competitive balance. If the merger is not approved, then Halliburton will be on the hook for a $3.5 billion break-up fee - about $2.6 billion after-tax. That strong balance sheet may come in handy in more ways than one.
Disclosure: I/we have no positions in any stocks mentioned, and no plans to initiate any positions within the next 72 hours.
I wrote this article myself, and it expresses my own opinions. I am not receiving compensation for it. I have no business relationship with any company whose stock is mentioned in this article.