Introduction
I few months ago I wrote an article titled "If I Had to Build an Income Portfolio Today," which was published by Seeking Alpha, October 23, 2015. The article described the development of a portfolio for a relative that recently came in to a significant sum of money and wanted to conservatively invest to supplement their retirement income and help the grand kids with college costs. The article was very well received by Seeking Alpha readers.
As I mentioned in the earlier article, after establishing the initial portfolio, there remained a significant cash account yet to be invested. I've decided to turn the portfolio development into a series of articles documenting not only the development of the portfolio and the rationale for the investments selected but also report on the capital appreciation and income produced by the portfolio. I plan to provide updates on the portfolio whenever there is a significant change in the portfolio holdings. This article is the next in that series.
I will take side trip here to note that I have been offline from Seeking Alpha for a couple of weeks and have gotten back on my feet only this last week. I had to undergo an induced coma and emergency bypass surgery the first week of January. My doctors are amazed at the progress I've made and I'm expected to make a full recovery over the next couple of months. If I didn't respond to your comments or questions on past articles in the last few weeks, you now know why. I was able to make a couple of additions to this portfolio while recovering and I'll describe those below.
Portfolio Capital Appreciation and Income
The EXCEL table below shows the financial performance of the portfolio through January 30, 2016.

Source: Author
The market and the portfolio underwent a number of ups and downs in January. Overall, January was not a good month for portfolio. While a fair number of holdings either paid out dividends or went ex-dividend since December 15, 2015, the portfolio as a whole is down a little over $12,000 or $9700 if you add the dividends back in.
Western Gas Partners LP (NYSE: WES) took a tremendous beating along with most master limited partnerships. The market has not figured out how to differentiate between MLPs with weak balance sheets, poor distribution coverage, and high counter party risks from those MLPs with strong balance sheets, strong distribution coverage and low counter party risks. To the market, all MLPs have been considered ugly babies. For more on WES, the interested reader can find a recent article here.
Many real estate investment trusts (REITs) were also hammered due to the Federal Reserve stated desire to raise interest rates. Stag Industrial (NYSE: STAG), Starwood Property Trust (NYSE: STWD), and Lexington Realty Trust (NYSE: LXP) all took a beating as well.
Additions to the Portfolio
After some lengthy discussion with the owner of this portfolio, and considering the weakening of the global economy and the US economic performance during the last quarter, the owner decided to put a significant portion of the remaining cash into safe, low risk bank deposits and certificates of deposit (CD). I recently wrote an article on where to stash your cash. That article can be found here. We picked three banks highlighted in that article and opened three individual accounts; one high yield savings and two CDs. Going forward, the high yield savings and two CD accounts will throw off a total of $13,750 annually ($1146 monthly). The details of those investments are shown in the table below.

Source: Author
I'm sure that a number of SA contributors will question the high percentage of the portfolio being invested in super safe and relatively low yield bank deposit investments. It must be remembered that the owner of this portfolio is a very soon to be retired elementary school teacher in a very small town with very conservative views on investment options. Given the recent market volatility and the weakening in the global economy, this is where the portfolio owner is comfortable. There remains some additional assets not yet deployed that will find their way into either another bank account or possibly a general equity mutual fund like the Vanguard Dividend Growth Fund (NYSE: VDIGX).
In addition to those stocks, mutual funds, and MLPs already mentioned above, the portfolio consists of the following stocks and mutual funds: Royal Bank of Canada (NYSE: RY), Toronto Dominion Bank (NYSE: TD), Enterprise Products Partners (NYSE: EPD), AT&T (NYSE: T), Welltower (NYSE: HCN), Realty Income Corporation (NYSE: O), Ameren Corporation (NYSE: AEE), Cal-Main Foods (NASDAQ: CALM), Old Republic International Corporation (NYSE: ORI), American Electric Power (NYSE: AEP), Omega Healthcare Investors (NYSE: OHI), Ventas (NYSE: VTR), and Verizon Communications (NYSE: VZ). The portfolio also includes the Vanguard Health Care Fund (NYSE: VGHCX), and Vanguard Mid-Cap Growth Fund (NYSE: VMGRX). A snapshot of the stock, MLP, and mutual fund portion of the portfolio as of market close on January 29, 2016 is provided below.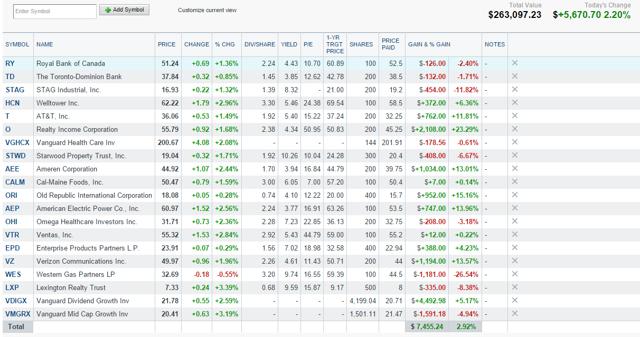 Source: Yahoo Finance
All things considered, I think the portfolio is performing relatively well. Since December 15, the S&P500 is down about 5% while this portfolio is down only 4.25% excluding dividend payments. If dividends are included, the relative portfolio performance would be better still. I will continue to update the portfolio when significant changes or additional investments are made.
Disclosure: I am/we are long AEE, AEP, CALM, EPD, HCN, LXP, O, OHI, ORI, RY, STAG, TD, T, STWD, VDIGX, VGHCX, VMGRX, VTR, VZ, WES.
I wrote this article myself, and it expresses my own opinions. I am not receiving compensation for it (other than from Seeking Alpha). I have no business relationship with any company whose stock is mentioned in this article.