Overview of Idea
LSB Industries (NYSE: LXU) has lost significant shareholder value this past year. The stock is down ~80% YoY, and its bonds are currently trading at ~$0.80 on the dollar. Beyond being a value trap for activists, the firm has faced a string of macroeconomic and operational headwinds. LSB is operating with a significant debt burden (8.9x Net Debt/EBITDA as of September 2015 up from 4.9x in June 2015), and there has been a recent shakeup in management this past fall with the former CEO, the founder's son, stepping down. The bull argument is that if the company can weather the current storm under new leadership, it can begin to repay its debt and eventually split into two firms: a Climate Control company and a Chemicals business.
We remain skeptical of LSB's ability to perform this transformation and believe that paying down its $475 million in debt (callable August 2016) will be a stretch. The near-term risks outweigh near-term rewards. Specifically, the firm finds itself in a situation where it needs to perform given its current debt burden, precarious operational position, and outstanding take-up contract with Koch - unless the firm chooses to face a restructuring. The company trades generally in line with oil, particularly the last 10 months, and it has a history of flawed operations. The next 6 months are a crucial time for the firm, which took on an additional $50 million of debt this fall (at 12% interest) and effectively gave away 20% of the equity for $210 million at 14% preferred dividend to complete the El Dorado plant. If the El Dorado plant does not become cash flow-positive when the company projects, we fear the capital markets will dry up for the firm. Our short thesis is catalyst-driven and centers on the firm's tightrope walk over the next 6 months to meet its debt obligations, and we believe a full restructuring would create more long-term value.
Company Background
LSB Industries is a ~$130 million market cap company (~$590 million EV) that manufactures and sells chemicals and climate control systems. The Chemicals division sells nitrogen-based products like high-purity and commercial ammonia and industrial fertilizer-grade ammonium nitrate, and has four facilities. The Climate Control segment manufactures and sells air conditioning and heating for niche markets like geothermal and water source heat pumps and hydronic fan coils out of seven facilities. The firm is a family-controlled enterprise that was started by Jack Golsen in 1968 in Oklahoma City, OK. We would reference readers to this SA article to better understand the underlying business segments and operations of the firm.
In late 2013, LSB Industries became the target of activists when Engine Capital engaged the company to demand board seats and operational reform. At that point in time, six out of the fourteen board members were either related to the Golsen family or were insiders of the company. Another three members had former dealings with the Golsen family that could have compromised their independence. Engine Capital also recommended splitting up the Chemical and Climate Control businesses to unlock shareholder value. It also presciently expressed concerns relating to the firm's $600 million capital expenditure plan in 2013, writing, "This is extremely significant for a company of LSB's size, and we question whether it is wise to start such a significant capex program and lever up the Company ahead of significant new production supply of ammonia coming on the market" (Source: Engine Capital December 30, 2013).
LSB did respond by turning over a few board seats and setting up a committee to investigate splitting the company in two, but the Golsen family still retained significant control. In 2014, Jack Golsen stepped down as CEO, and his son (and former COO and president), Barry Golsen, took over the firm. Also in 2014, the firm was thrust into the spotlight when more activists became involved and news media coverage from Barron's and other outlets followed. Starboard Value acquired 7.6% of the firm at an average share price of ~$40 in late 2014, and the firm issued a strongly worded letter to management in March 2015 with their suggestions to maximize shareholder value, which weren't too different from Engine Capital's suggestions.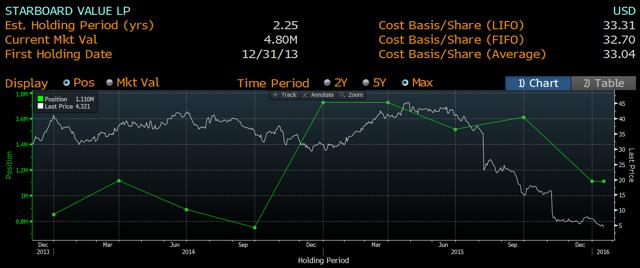 (Source: Bloomberg)
Since Starboard's entry, the share price has significantly declined (see the white line in chart above). Just as Engine Capital suggested, the firm's capital allocation was too aggressive. The company has revised its cost estimates of the El Dorado, AR ammonia nitrate plant three times. The plant, originally expected to cost $495-520 million, is now projected to cost $831-855 million. At the same time, macroeconomic headwinds and a series of production stoppages to repair other plants have shaken investor confidence in the stock.
Investment Thesis
While we are encouraged by the new management team led by Dan Greenwell and the proactive steps he has taken to remedy the historical mismanagement, we ultimately think a restructuring would be a better way to start fresh for the firm. We think management's free cash flow projections are much too aggressive. To begin, we review the current position of the firm. Below is a snapshot from the income statement per FactSet:

(Source: FactSet)
What we notice immediately is that the firm experienced turbulence in 2012 and 2013, and that the key metrics started to rebound in 2014. Last FY, 2015, started off well for the firm, but net income continued to slide, which coincides with falling EBIT (driven primarily by a decrease in the Chemicals division gross profit).

(Source: FactSet)
During this same time frame, the business is experiencing liquidity volatility. Cash is fluctuating and cash flow deteriorates, driven by large capital expenditures. In 3Q2015, the firm is at its lowest cash balance in several years and total debt continues to rise. Free cash flow is very negative, and LSB has an out-of-control capital project (worth 6x of the market value of the firm) that needs to be completed to help the firm generate enough operating cash flow to repay its debt. The long-term debt of $475 million ($425 million notes at 7.75% and $50 million notes at 12% interest) will require approximately ~$40 million of interest payments per year, which is more than the current cash balance of the firm, and with a meager operating cash flow, an operating hiccup or unforeseen cash outflow could put the company in financial strain.
Point #1: The firm cannot afford many more operational let-downs
The firm has faced a string of operational let-downs, which jeopardize the ability to continue to generate cash to pay off debt obligations. This past quarter alone, it had 2 operational hiccups in the Chemicals division, which accounted for 64% of 2014 sales and 56% of 2013 sales (+80% operating income both years).
LSB announced that the Cherokee, AL had been taken out of service for unplanned maintenance on December 11th due to a small leak. This unplanned outage was estimated to reduce operating income by approximately $2.5-3.0 million, and half of this impact is expected to be felt in 4Q2015.
Additionally, the Pryor, OK chemical facility was also under repair in 4Q2015. The plant was taken out of service between November 14th and December 21st, but on December 27th, the urea and urea ammonium nitrate (UAN) plants were taken down to repair a leaking joint. As of January 20th, the Pryor plant has resumed production, but again, this will impact the Q4 performance for the firm. As of December 30th, the firm issued an updated sales outlook.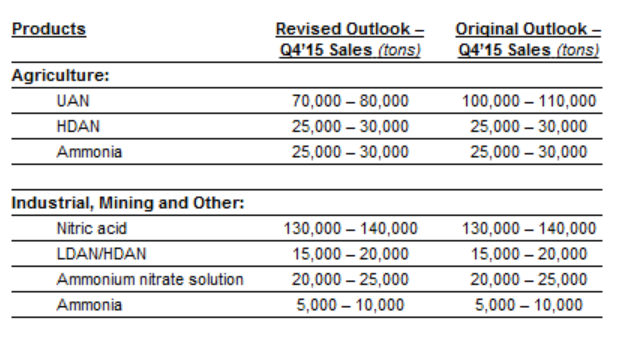 (Source: Press Release December 30, 2015)
The El Dorado plant construction, which has been a huge source of cost overrun for the firm, is 93% mechanically complete, according to the firm. As of November, LSB had spent $531 million on the El Dorado plant and was planning to spend ~$200-225 million to bring the plant to completion ($70-75 million to be spent in 2016). Production of ammonia is supposed to begin in 2Q2016, and the firm entered into an off-take agreement with Koch Fertilizer for excess ammonia.
There are many risks involved in this project. First, the company has consistently under-delivered with respect to cost estimates. Secondly, Koch can terminate this agreement if the El Dorado facility is not operational by July 31, 2016, which we believe is within the realm of possibility. Lastly, the ammonia market supply could put downward pressure on price. The spot price of ammonia could be above or below the price where the investment decision was being made for the El Dorado plant (as this decision was made over 3 years ago).

(Source: FactSet)
Point #2: Additional access to the capital markets appears bleak
On the latest earnings call, management noted how difficult it was for the firm to find financing. LSB Industries eventually secured $260 million of financing from Security Benefit through $210 million of nonconvertible preferred equity with a 14% annual dividend rate and a $50 million note with a 12% annual interest rate callable in August 2016.
The firm also issued warrants for $0.01 as part of this financing deal. LSB's CFO, Mark Behrman, mentioned, "Security Benefit will receive the equivalent of 19.99% of the outstanding common stock before the closing of this transaction, holding rights equal to the same 19.99% of the outstanding common stock before the closing of this transaction and the right to appoint three nominees to the company's Board as replacements for three existing independent directors." (Source: 3Q2015 Earnings Call). Effectively, management sold off ~20% of the company for free.
While the firm did raise $260 million, the $50 million note has a 12% annual rate and the preferred equity shares have a 14% dividend rate that accumulates. The benefit for LSB is that the firm has the financing expected to complete the El Dorado plant. Additionally, as the current market value is only $130 million, this sale would imply that the firm should be worth +$1 billion. In any event, this sale is dilutive to current equityholders who likely bought the shares for ~$40/share. I think this illustrates part of the reason that Starboard Value started to sell shares as of 9/30/2015. This equity/debt raise also suggests how desperately the firm needed capital. The fact that LSB had to go to such lengths to secure funding is surprising.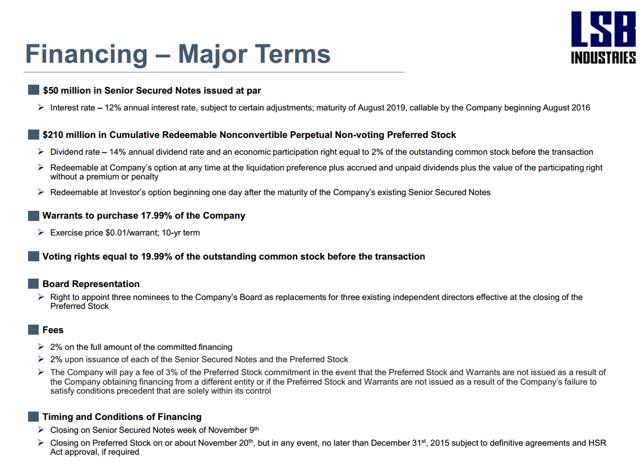 (Source: LSB 3Q2015 earning call supplement)
Point #3: The firm has significant off-balance sheet liabilities
There are several near-term liabilities that are not currently included on the balance sheet. LSB is party to several lawsuits and environmental liabilities that should add even more skepticism for equityholders. The company has accrued $452,000 for environmental liabilities, according to the latest 10-Q, which we view positively.
For instance, one item not included on the balance sheet is the class action lawsuit being brought against LSB Industries for alleged misstatements about its business, operations, and prospects. While the liability of this lawsuit is not easy to forecast, and we are the first to admit that, we think this speaks to the past mismanagement of the firm (Source).
An additional liability that is mentioned (and quantified) in the 10Q is that in September 2015, "we [LSB] and EDA received formal written notice from Global Industrial, Inc. ("Global") of Global's intention to assert mechanic liens for labor, service, or materials furnished under certain subcontract agreements for the improvement of the new ammonia plant at our El Dorado Facility" (Source: 10-Q 3Q2015). This lien claims that Global is entitled to payment for certain work in the sum of ~$18 million.
Also, in May 2015, one of LSB Industries' subsidiaries, EDC, was sued by BAE Systems Ordinance Systems in a United States District Court for a claim in excess of ~$30 million. BAE alleges that EDC breached a supply contract to "provide BAE certain products. It is EDC's position, among other things, that its inability to deliver to BAE was due to a force majeure event caused by a fire and explosion at EDC's nitric acid plant, and that a force majeure clause in the supply agreement therefore excuses EDC's performance under the supply agreement" (Source: 10-Q 3Q2015).
Lastly, the firm reached a settlement with three families relating to a lawsuit regarding an explosion and fire that occurred in the West Fertilizer Co. in 2013. LSB continues to be a party in that lawsuit, and has not recognized any liabilities associated with additional claims.
As party to several outstanding lawsuits, LSB Industries recently replaced its General Counsel. We believe this may be due to the substantial legal claims being made against the firm, but it could also be due to a possible bankruptcy or reorganization expectation. The General Counsel, Mr. Michael Foster, has experience handling the Tronox bankruptcy and restructuring. While General Counsel for Tronox, Mr. Foster led the company through Chapter 11. This included settlement of environmental and tort liabilities valued in excess of $5 billion.
Valuation
Because we are looking at a worst-case scenario here of a restricting, we elected to value the equity section of the firm as what is left over if debt holders made a claim on the underlying assets. In this scenario, we are trying to accurately assess the leftover equity portion.
We think the market would be more interested in the Climate Control business, based on previous transactions. Using WaterFurnace Renewable Energy, Inc. (acquired for 16.5x EV/EBITDA in 2014) and AAON Inc. (NASDAQ:AAON) (trades at a 10-year EV/EBITDA average 10.8x), we estimated the Climate Control enterprise value. Additionally, a fire sale of the Chemicals business, which is levered to industrials / oil, should generate ~+$250 million given the ~$850 million of recent investment into the El Dorado plant.
We varied the sale price of the Chemicals business (which we do not see as an attractive asset) and the multiple applied to the Climate Control business based on AAON's current trading value and its 10-year historical average. We then removed outside debt holder claims on the company to arrive at a fair value range of $2.4-7.4 per share (-58% to +30%).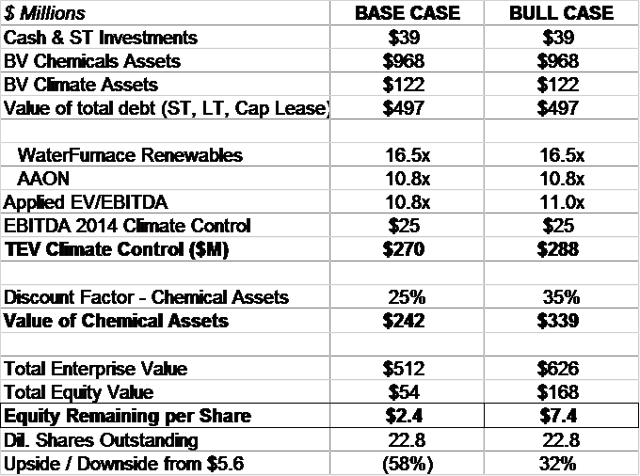 (Source: Our Estimates)
Risks
The company reports earnings on March 7th, which will provide a much clearer picture of the possibility of restructuring. We should know with relative certainty by August 2016 if the long-term potential for the firm is intact. We would like to reiterate that our investment absolutely has downside (or upside risk). The timing needs to be impeccably traded, as the share price has been volatile and the short interest on the stock is already 12.5%, which could make shorting costly. Additionally, good news could make the share price pop, creating a short squeeze.
The three main risks to this short thesis are as follows: (1) the company gets the El Dorado plant up and running, and it starts to generate more free cash flow than anticipated; (2) the stock's volatility swings to the upside for macro reasons, and the short position becomes difficult to maintain; (3) the firm performed much better than expected in a tough Q4 macro environment. As you can see below, the LXU bonds track to oil, and if the oil price rebounds, we expect both the notes and equity to rebound.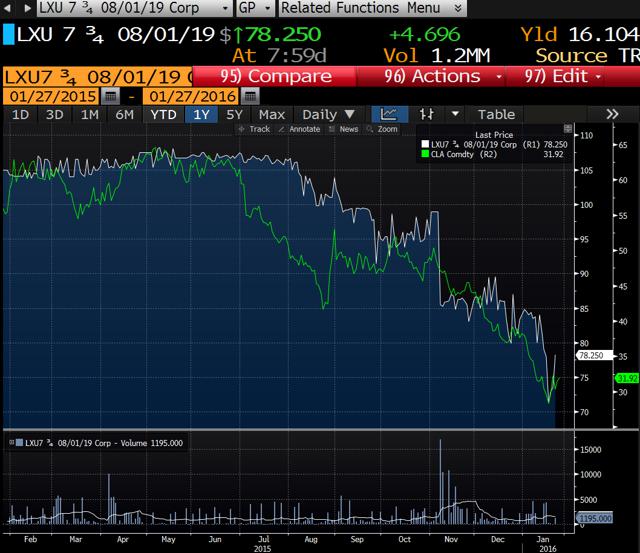 We remind investors that management's goal is to split the company into two. The possibility of owning both a Climate Control/HVAC business and a Chemicals company, and the ability to shake the historical mismanagement that has burdened the collective company drives much of the excitement for the future. Until the company repays its debt obligation of $475 million, this split cannot occur, because the notes have first lien on the assets of the combined company.
Overall
LXU is a volatile stock given the range of possible outcomes for the firm. While significant value has already been eroded, we believe the best course of action is to go through a restructuring, and we do not believe that the company will be able to start paying down its callable debt by August 2016. We are hopeful the firm can operationally improve its performance, but if it falters at any point along the way, it will be hard-pressed for additional relief from the capital markets. There are outstanding negative catalysts in the form of covenant breaches and off-balance sheet liabilities. Given these catalysts, the discount being placed on the firm's debt, and the operational pressures over the 1H2016, we believe the firm is a current short candidate at $5.60 per share.
Disclosure: I/we have no positions in any stocks mentioned, and no plans to initiate any positions within the next 72 hours.
I wrote this article myself, and it expresses my own opinions. I am not receiving compensation for it (other than from Seeking Alpha). I have no business relationship with any company whose stock is mentioned in this article.