Last week we were reminded how important the market's expectations for the Federal Reserve are. As data made a case for a Fed pause in rate hikes, investors overlooked the fact that the economy seems to be softening. It's something I think can continue for as long as the Fed sounds hesitant and the economy doesn't break. Today's data further supported this thesis and stocks gained some more. Still, this is not a Goldilocks sort of situation, as the best case scenario for investors would include robust economic growth that justifies Fed policy normalization. What we have instead is sort of like Goldilocks' twisted twin, and a hope that bad enough but not recessionary economic data keeps the Fed at bay.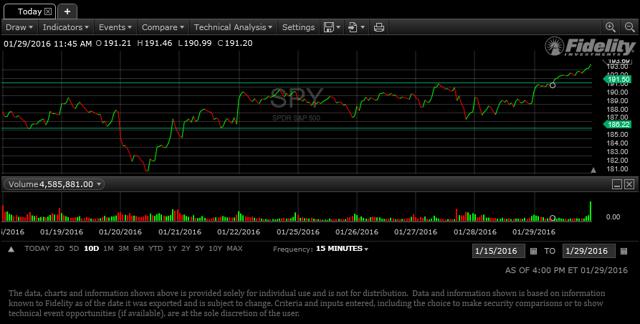 10-Day Chart of SPY at Fidelity.com
Stocks broke out of a 10-day trading range last week, I believe thanks to a case that seems to be building for less aggressive monetary policy at the Fed. In Stocks - A Bullish Breakout or Just Bull, I indicated as much, and today stocks have continued their gains even despite the oil price pullback we predicted.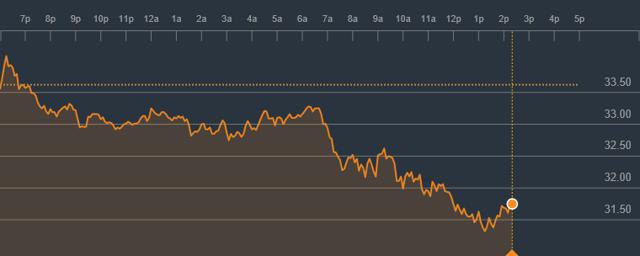 WTI Crude Decline 02-01-16 at Bloomberg
Today's Personal Income & Outlays data and Construction Spending data imply Q4 GDP will be revised lower, to 0.5% growth from the just reported 0.7% rate, according to CNBC's Rapid Update. Personal Spending was expected to have increased by 0.1%, but came in unchanged for December, implying a downgrade to GDP growth according to CNBC. However, I must note that November's growth in spending was revised higher, raising the base of December's calculation and indicating little impact to GDP. Construction Spending, though, was expected to grow 0.6% and only came in at 0.1% in December. In this case, November's data was revised lower, which should have benefited the actual December rate; given that it did not, it implies a negative impact to GDP in Q4.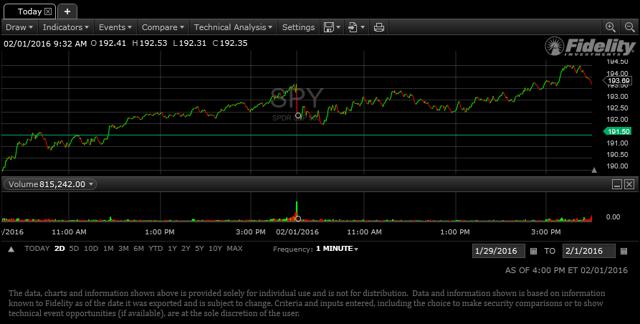 Today's Chart of SPY at Fidelity.com
Despite the bad news about the economy, stocks had recovered their opening losses by the close Monday. You'll note that at approximately 1:00 PM ET, stocks started a determined run higher. That happens to be the same moment Federal Reserve Vice Chair Fischer began to speak in New York City, with his prepared comments being made immediately available to the public.
Addressing Recent Monetary Policy, Fischer spoke about why the Fed acted to tighten rates in December and about its meeting last week as well. He did not seem to really deviate from the company line, noting the still very accommodative position of the Fed and the expected gradual pace of tightening the market would prefer it pause. However, the market seemed to focus on this paragraph of his speech:
"Now, I expect that in a few minutes one of you will ask not about what we did at our last meeting, but rather what we are going to do at the next one. I can't answer that question because, as I have emphasized in the past, we simply do not know. The world is an uncertain place, and all monetary policymakers can really be sure of is that what will happen is often different from what we currently expect. That is why the Committee has indicated that its policy decisions will be data dependent. That is, we will adjust policy appropriately in light of economic and financial events to best foster conditions consistent with the attainment of our employment and inflation objectives."
Matching those statements with the Vice Chair's statement about global economic and financial developments had the market reading a pause for rate hikes, which may or may not actually happen. Nevertheless, stocks recovered their early losses on the prospect of more easy money policy.
| | |
| --- | --- |
| Stock Sector | Monday 02-01-16 |
| SPDR S&P 500 (NYSE: SPY) | -0.04% |
| SPDR Dow Jones (NYSE: DIA) | -0.02% |
| PowerShares QQQ (NASDAQ: QQQ) | +0.27% |
| iShares Russell 2000 (NYSE: IWM) | +0.46% |
| Vanguard Total Stock Market (NYSE: VTI) | +0.02% |
| iPath S&P 500 VIX ST Futures (NYSE: VXX) | -1.16% |
| United States Oil (NYSE: USO) | -6.53% |
Over the course of the next two weeks, a parade of Fed members is scheduled to speak. The most consistent message we get from the Fed is from the FOMC Monetary Policy Statement. In my opinion, these individual speaking engagements can sometimes add noise to the market's perspective. However, in its never ending search for the truth, the market works toward efficiently determining it.
| | |
| --- | --- |
| Fed Member Appearance | Day |
| Fed Vice Chair Fischer Speech | Monday |
| Kansas City Fed President George Speech | Tuesday |
| Cleveland Fed President Mester Speech | Thursday |
| Fed Chair Yellen's Semi-Annual Report to Congress | Feb. 10-11 |
| San Francisco Fed President Williams Speech | Feb. 10 |
| Dallas Fed President Kaplan Remarks | Feb. 12 |
While the messages of Fed members could sway stocks in either direction, the most meaningful and lasting impact will come from the semi-annual testimony of Fed Chair Yellen next week. Her two day session with congressional committees in the House and Senate is always worth watching. Mostly it's for the curious questions that tend to come from some members of the panel, but I must admit the congressional members have improved over the years. The Federal Reserve Chair has opportunity to clear up any misgivings she believes the market may have about the Fed's latest monetary policy statement, so her prepared remarks and the Q&A are worth following. The market will be paying attention, and so should you.
We noted the latest economic data requires a downward adjustment to Q4 GDP. Tomorrow CNBC's Rapid Update will publish its first estimate of Q1 GDP, but the Atlanta Fed gave its estimate today. According to the Atlanta Fed, Q1 GDP will approximate 1.2% growth, which is disappointing news but not recessionary. Also, the Atlanta Fed indicated Q4 GDP was likely to see upward adjustment to 1.0%. I believe the market is interpreting these mediocre growth rates as disturbing enough to pause or downgrade Fed rate hike plans this year, but not bad enough for recession. It's a sort of twisted Goldilocks view of things, as a robust economy that justifies Fed rate normalization would truly be the best case scenario. In any event, this looks supportive to stocks for now. Let's see what the next Fed talking-head has to say. I follow the markets closely and invite interested parties to follow my column here at Seeking Alpha.
Disclosure: I am/we are short USO.
I wrote this article myself, and it expresses my own opinions. I am not receiving compensation for it (other than from Seeking Alpha). I have no business relationship with any company whose stock is mentioned in this article.