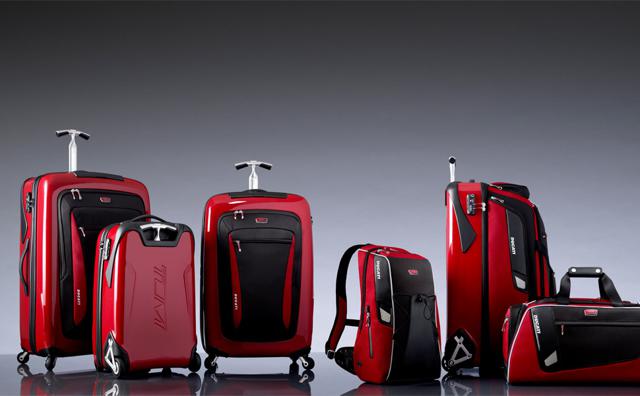 For those unfamiliar with Tumi Holdings, Inc. (NYSE:TUMI), it is a designer, manufacturer and retailer of premium travel and business products and accessories, like those shown above. It distributes its products in over 75 countries via almost 2000 points of distribution.
Although the company has been around since 1975, we feel it is not a very well-known name and as such is quite underfollowed by the markets. Its market cap is a little over one billion dollars, but we see this growing significantly in the future.
We see huge potential for the company in the future due to growth in three key markets: The United States, Japan and China. Tumi for us is a company that has benefited from the low oil prices through increased traveling. With the strong dollar riding high still and the cost of international flights remaining low, an increase in overseas traveling by Americans could mean further growth for the company in 2016. This combined with the rise in Chinese traveling makes for a great investment case.
The tourism statistics coming out of China are quite staggering. In 2014, the number of outbound tourists from China rose to 117 million; an increase of almost 20% year over year. This will almost certainly have risen in 2015, and will continue to rise for the foreseeable future. As long as the company can market its products well to this region, it will benefit. Thankfully, the company has a dedicated Chinese language site which we feel positions the brand as a premium product well.
The proof is in the pudding, so to speak, with the direct to consumer international segment increasing 16% year over year for the first 9 months of fiscal year 2015, as demonstrated below. This growth in the face of currency headwinds is very impressive and we are excited to see more of the same in 2016.

One drawback that will stop the company from long-term extensive growth is the fact that the products it manufactures are of such high quality that the likelihood is they will last for many years. Repeat purchases are going to have upwards of a decade between them. Still, the growth in China's middle class (and a rising Indian and Indonesian middle class) should fuel the fire for a good few years yet.
When investing in small cap stocks, there is often a higher level of risk that investors are exposed to. With Tumi, although it is a small cap stock, it has over 40 years experience in the business and a fantastic distribution model. We feel this eliminates an element of this risk. Another bonus comes from the fact that the company holds zero debt. In fact, it has been debt-free for almost two years. We should point out that the debt it had two years ago amounted to just $2 million, though.
Earnings per share has been growing at a nice pace now for the last five years. The growth is steady and predictable. Definitely a feature that appeals to us in an investment. Shown below, you can see the growth the company has made.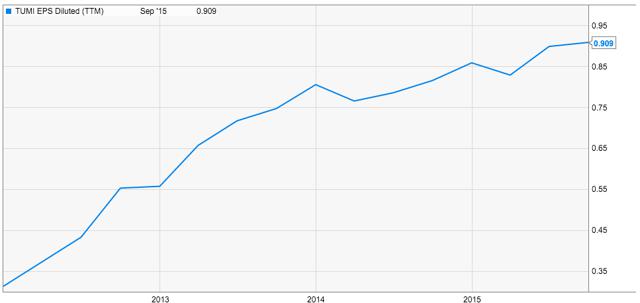 Source: YCharts
The company is expected to report its earnings at the end of February. Analysts are calling for earnings of 90 cents per share. We believe there is a strong chance that the company will beat on earnings, and produce earnings per share of 93 cents thanks to demand from Japan, China, and the United States. The sudden devaluation of the yuan and yen could be a major headwind in the future though it has to be said.
In the last twelve months, the shares have declined quite substantially. This for us points to them being undervalued at present. Traditionally, the company trades at a price-to-earnings ratio of approximately 25 times earnings.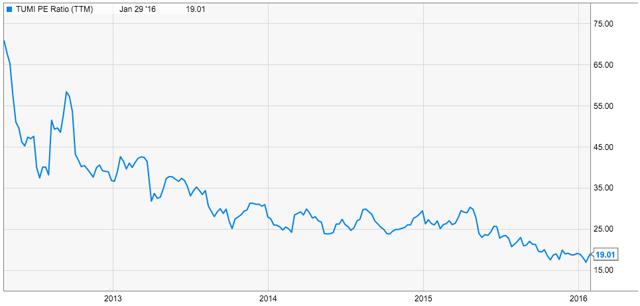 Source: YCharts
Trading at just 19.01 times earnings enables the possibility of significant upside potential. If we were to be conservative and value the shares at just 20 times earnings, the target price at 93 cents earnings per share for fiscal 2016 gives us a price target of $18.60, or 7.5% upside. Further ahead in 2017, analysts expect earnings per share of $1.01. Priced at 20 times earnings, we have a one-year price target of $20.20, which works out to be a great return of almost 17%.
This for us is a small cap stock not to be missed. The growth ahead of it, and the fact it has no debt, we believe makes this a low risk, yet high reward investment.
Disclosure: I am/we are long TUMI.
I wrote this article myself, and it expresses my own opinions. I am not receiving compensation for it (other than from Seeking Alpha). I have no business relationship with any company whose stock is mentioned in this article.