In this report, we highlight stocks that demonstrate solid growth prospects at a reasonable price (GARP) and provide an update of last month's report. For older reports, you can visit this link.
Prior to the market open on February 1, 2016, we posted the rebalancing actions for our theoretical model portfolio strategies in this Seeking Alpha blog post.
Our criteria for the selecting stocks in these model portfolio strategies, which heavily weight proxies for cash flow growth and ROIC, include the following:
Relative Value
Operating Momentum
Consensus Estimate Revision Momentum
Fundamental Quality
The highest ranked stocks are selected for our long-model portfolios and the lowest ranked stocks are selected for our short model portfolios. These criteria are explained in more detail in our September 2015 report.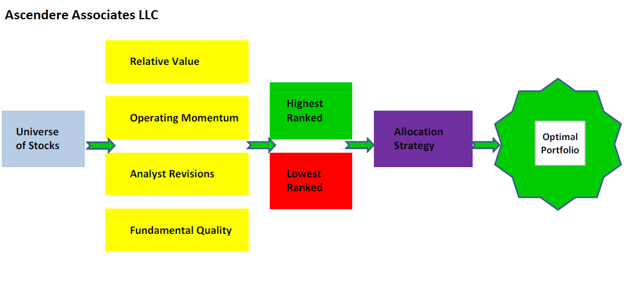 Why do I post theoretical model portfolios on Seeking Alpha?
I am advertising for your equity research, financial modeling and business plan development business. I develop custom, independent equity research reports for high net worth managers and family offices, ranging from basic overviews to detailed analysis. I also advise financial technology startups with budget forecasts and marketing strategies. Client references are available. You can read more about the details of my consulting work at the bottom of any recent post at jstephencastellano.tumblr.com. Contact me on Seeking Alpha or at the SpareHire website.
Our theoretical long/short models significantly outperformed "real" hedge funds in 2015
BarclayHedge 2015 data has been compiled for the returns of long/short hedge funds, showing average returns of +2.51%. In contrast, for full-year 2015 our theoretical Core Long/Short model returned +17.52% and our Opportunistic Long/Short model returned +28.68%.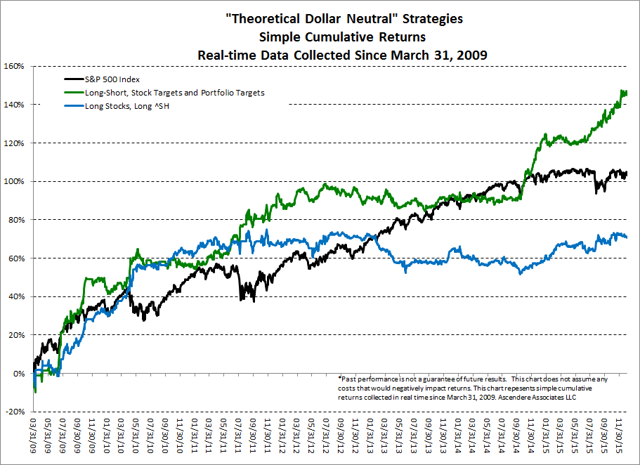 Theoretical Core Long/Short Model Portfolio Outperforms in January 2016
January 2016 was a tough month for our theoretical long-only model portfolios, but one of our theoretical long/short models significantly outperformed for another month.
Our theoretical Core Long Model declined -10.15% in January versus a -4.99% decline in the S&P 500. The Opportunistic Long Model posted a decline of -11.58% after assuming a 100% cash position just prior to the close on January 21.
(Both portfolios use the same basket of stocks but the Opportunistic model moves to 70% and 100% cash allocations during periods of high volatility or when portfolio return targets are met.)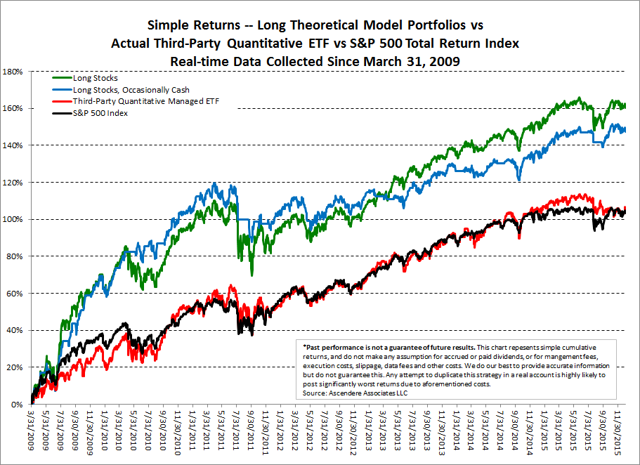 Our theoretical Core Long/Short Model improved by +5.13% for the month, a presumed short sale gain of +15.28% offsetting the -10.15% decline in the long model.
Our theoretical Opportunistic Long/Short model posted a decline of -1.62% for the month. A theoretical short sale gain of +9.96% was locked in when this model assumed a 100% cash position just prior to the January 7 close. However, the -11.58% decline in the long model portfolio more than offset this.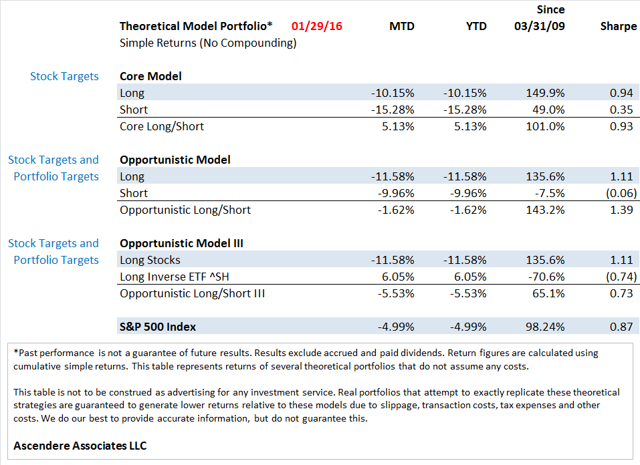 The best performers last month
The best performing stock in the long model for January 2016 was Tractor Supply Company (NASDAQ:TSCO), up +3.29%, and the worst performing stock was East West Bancorp (NASDAQ:EWBC), down -21.99%.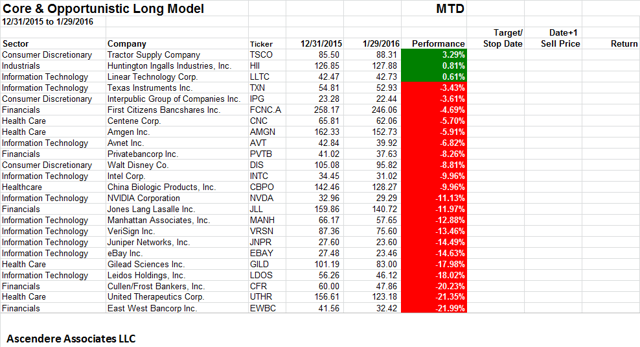 The best performing stock in the short model portfolio was Platform Specialty Products Corporation (NYSE:PAH), down -40.53% for the month and assumed closed on January 9 after declining -30.94% for the equivalent theoretical short sale gain. The worst performing stock in the short model was Cree Inc. (NASDAQ:CREE), up +5.10.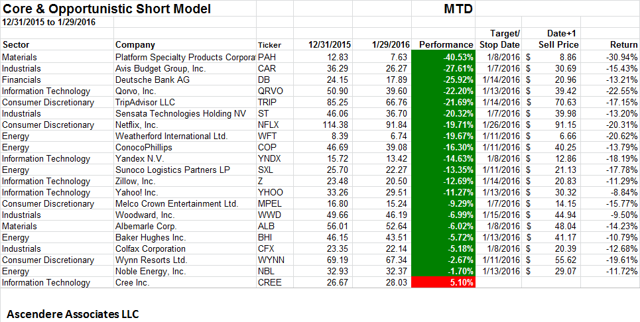 Selected returns
Last month we highlighted Avnet, Inc. (NYSE:AVT) as our favorite long stock idea, which declined -6.82% for the month. Our favorite short ideas was Baker Hughes Inc. (NYSE:BHI), which ended the month down -5.72% but was assumed closed on January 14 for a theoretical short sale gain of +10.79%.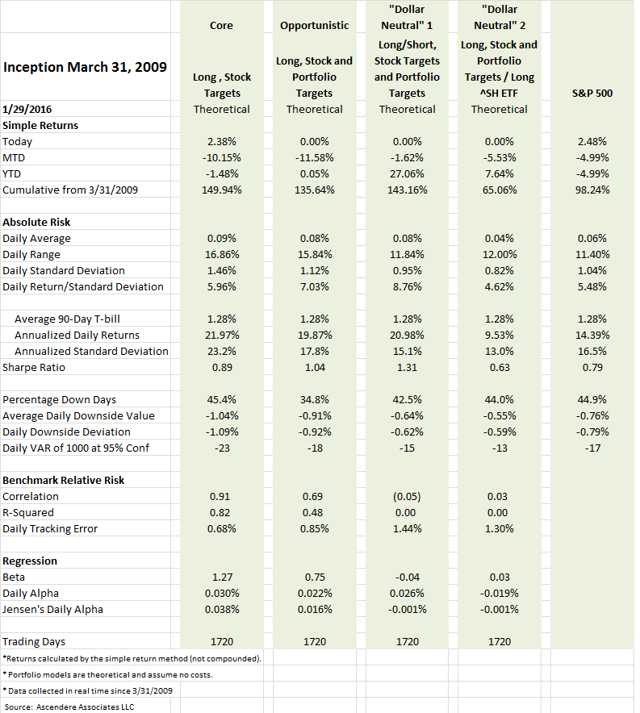 Looking ahead to February 2016
13 stocks have left the long-only model, 12 have been added, and 11 were assumed to have been rebalanced as of the January 29, 2016 close. Readers can track intra-month changes to returns and price targets by subscribing to us here on Seeking Alpha.
New Long Ideas
O'Reilly Automotive Inc. (NASDAQ:ORLY)
Sprouts Farmers Market, Inc. (NASDAQ:SFM)
Signature Bank (NASDAQ:SBNY)
Cincinnati Financial Corp. (NASDAQ:CINF)
DENTSPLY International Inc. (NASDAQ:XRAY)
Spirit AeroSystems Holdings, Inc. (NYSE:SPR)
Automatic Data Processing, Inc. (NASDAQ:ADP)
IPG Photonics Corporation (NASDAQ:IPGP)
CDW Corporation (NASDAQ:CDW)
NXP Semiconductors NV (NASDAQ:NXPI)
FEI Company (NASDAQ:FEIC)
NetEase, Inc. (NASDAQ:NTES)
Rebalanced Long Ideas
The Walt Disney Company (NYSE:DIS)
Jones Lang LaSalle Incorporated (NYSE:JLL)
PrivateBancorp, Inc. (NASDAQ:PVTB)
United Therapeutics Corporation (NASDAQ:UTHR)
Gilead Sciences Inc. (NASDAQ:GILD)
Centene Corp. (NYSE:CNC)
Amgen Inc. (NASDAQ:AMGN)
Linear Technology Corporation (NASDAQ:LLTC)
VeriSign, Inc. (NASDAQ:VRSN)
Manhattan Associates, Inc. (NASDAQ:MANH)
NVIDIA Corporation (NASDAQ:NVDA)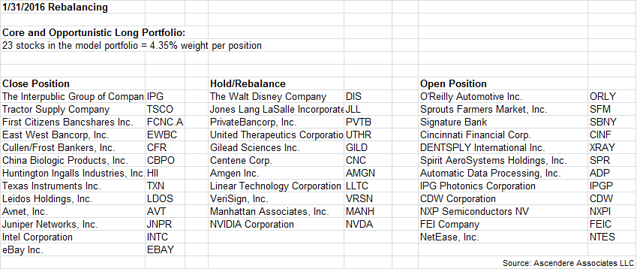 Basis for closing stock positions in the long models:
The Interpublic Group of Companies, Inc. (NYSE:IPG) - Slowing estimate revision momentum.
Tractor Supply Company - Sharply lower analyst revisions.
First Citizens Bancshares Inc. (FCNC.A) - Slowing operating momentum.
East West Bancorp, Inc. - Slowing operating momentum.
Cullen/Frost Bankers, Inc. (NYSE:CFR) - Sharply lower estimate revisions.
China Biologic Products, Inc. (NASDAQ:CBPO) - Slowing estimate revision momentum.
Huntington Ingalls Industries, Inc. (NYSE:HII) - No change in positive status. Better ideas available.
Texas Instruments Inc. (NASDAQ:TXN) - Sharply lower estimate revisions.
Leidos Holdings, Inc. (NYSE:LDOS) - No change in positive status. Better ideas available.
Avnet, Inc. - Sharply lower estimate revisions.
Juniper Networks, Inc. (NYSE:JNPR) - Sharply lower estimate revisions.
Intel Corporation (NASDAQ:INTC) - Slowing operating momentum.
eBay Inc. (NASDAQ:EBAY) - Sharply lower estimate revisions.
New Short Ideas
Apache Corp. (NYSE:APA)
Williams Partners L.P. (NYSE:WPZ)
EnLink Midstream Partners, LP (NYSE:ENLK)
Williams Companies, Inc. (NYSE:WMB)
Royal Dutch Shell plc (NYSE:RDS.B)
Hess Corporation (NYSE:HES)
RPC Inc. (NYSE:RES)
Cavium, Inc. (NASDAQ:CAVM)
Steel Dynamics Inc. (NASDAQ:STLD)
Freeport-McMoRan Inc. (NYSE:FCX)
Rebalanced Short Ideas
TripAdvisor Inc. (NASDAQ:TRIP)
Melco Crown Entertainment Limited (NASDAQ:MPEL)
Weatherford International plc (NYSE:WFT)
ConocoPhillips (NYSE:COP)
Noble Energy, Inc. (NYSE:NBL)
Sunoco Logistics Partners L.P. (NYSE:SXL)
Deutsche Bank AG (NYSE:DB)
Avis Budget Group, Inc. (NASDAQ:CAR)
Yandex N.V. (NASDAQ:YNDX)
Albemarle Corporation (NYSE:ALB)

Note: Most of these short ideas will only work in the short term, and only in a volatile environment
While many of the stocks from our short idea list are relatively overvalued, and rank poorly for consensus estimate revisions and fundamental quality, most will likely post a recovery in ROIC over the next few quarters. Therefore, we only recommend shorting this basket of stocks when the market encounters high volatility.
Our favorite new long idea is NXP Semiconductors
Consensus estimates imply that NXP Semiconductors is poised for explosive growth and yet it is still trading at a decent relative value. The stock fits the profile of other stocks that have seen extended periods of significant price appreciation such as Netflix, Inc. (NASDAQ:NFLX), Apple, Inc. (OTC:APPL), and more recently, NVIDIA Corp. While this simple quantitative profile (developed with the help of XBRL Analyst) does not always lend itself to outperformance in the stock price, the potential reward/risk tends to be favorable.


Our favorite short idea is Steel Dynamics
Our favorite short idea is Steel Dynamics, Inc. This is an interesting short sale idea and a stock I used to know very well. As an associate at PaineWebber, I was part of the team that launched coverage initiation following their IPO almost 20 years ago. Steel Dynamics is actually one of the best managed steel companies in the world. However, when steel prices are down, when there are indications of an ongoing slowdown in commodity rail freight traffic, and when steel imports seem to be right around the corner - there is a high risk that every stock in the industry will be hurt, and for much longer than anyone can anticipate.
Sell side analysts indicate that they expect a recovery in the company's earnings in 2016, and I even came across a media piece making the case for such a recovery for competitor Nucor Corp. (NYSE:NUE). I believe these forecasts are too optimistic. It is the job of a steel industry CEO to be optimistic, and there is no penalty for being so. While steel management teams and workers are the hardest working and most optimistic executives I have ever met, talking a good game is not going to protect the stock prices from global macro headwinds, in my opinion. Honorable mention for another good short sale idea is Freeport-McMoran.
Yes, Warren Buffett is buying shares of Phillips 66 right now. But Berkshire Hathaway (NYSE:BRK.B) has two problems that you do not -- literally too much cash to invest efficiently, and a 100-year outlook. Bottom fishing in commodity producers whether it be steel, copper, coal or oil is a risky proposition at the moment, in my opinion.

Tax efficient portfolio
We have started managing a tax-efficient theoretical portfolio on the Harvest Exchange website. This strategy went long a basket of stocks from last month's model portfolio report. Instead of rebalancing every month, we will use our discretion to occasionally replace some of the worst performers with an alternative. Earlier today we removed Cullen/Frost Bankers, Inc. and East West Bancorp, Inc. from this model. We have yet to replace these stocks with alternative, but we are likely to replace them with Cincinnati Financial Corp and Signature Bank.
For diversification, we are also considering adding two well-known and drastically undervalued biotech names that are unlikely to be flagged by our model portfolio criteria for several years.
Long running advice regarding the use of our model portfolio report
Wayne Gretzky said it best - "skate to where the puck is going to be, not where it has been." Quantitative screens like the one in this report show where a stock has been and assume the trajectory is fixed. Of course, this is not always the case. The best investors will use this model portfolio as guidance, and not the end all. At the same time, the model does well enough on its own, often beating the indices with ease (though not this past month). With a little effort, we hope that active fundamental portfolio managers will do even better.
Supporting Documents
Disclosure: I/we have no positions in any stocks mentioned, and no plans to initiate any positions within the next 72 hours.
I wrote this article myself, and it expresses my own opinions. I am not receiving compensation for it (other than from Seeking Alpha). I have no business relationship with any company whose stock is mentioned in this article.
Additional disclosure: There are limitations inherent in our theoretical model results, particularly with the fact that such results do not represent actual trading and they may not reflect the impact material economic and market factors might have had on our decision making if we were actually managing client money. I receive compensation from FinDynamics if you make a purchase of XBRL Analyst using the link provided in this report. We do our best to provide accurate information but we do not guarantee the accuracy of information in this report.
Editor's Note: This article discusses one or more securities that do not trade on a major U.S. exchange. Please be aware of the risks associated with these stocks.