I am short Potash Corporation (NYSE:POT). The stock is currently down 8% since I last wrote that this company was a full-year short due to deteriorating fundamentals. While the company has high quality assets and is the largest player in the industry, they are not immune to negative currency impacts on the back of a stronger U.S. dollar and lower demand from key emerging markets. Furthermore, there's the effect of low input costs and rising production from competitors, which continues to weigh on the company's earnings, clearly visible in the weak Q4 report.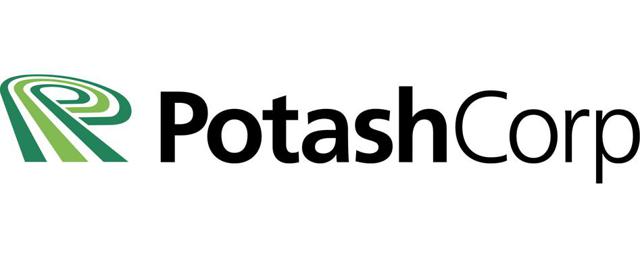 Continued Operating Problems
The company is inhibited right now with lower potash sales volumes. The fact remains that input prices are at historical lows and with the prices of fertilizer at nearly that of input costs, it's hard for these companies to produce a profit. Potash Corp.'s competitors are able to increase volumes with low production costs and begin to eat into the Company's large market share.
The company has been forced to suspend their Picadilly, New Brunswick facility this past month, and this is not a positive sign. Sure, there's COGS savings for the CY 2016 of $50 million and capex savings of $50 million for the same time period. Given that COGS was at $860 million in Q4 and capex was $415 million in Q4, when we annualize these figures, the effectiveness of the suspension is belittled. Furthermore, there's going to be a $35 million impairment associated with this suspension, which really cuts into the benefits that shareholders may immediately perceive.
CEO Jochen Tilk has even stated that he has a much more "cautious" outlook for fertilizer prices this year and while I'm all for being realistic with shareholders, the fact remains that this company will underperform in 2016 with this kind of outlook. Lower potash prices led to a -$262 million impact on gross income, lower nitrogen prices led to a -$92 million impact, and phosphate had a -$6 million impact. Nitrogen, for which natural gas is an input, should be continued to be monitored closely. While the company doesn't trade with a correlation to the Henry Hub, it's an excellent indicator of how earnings for that category might look in future quarters.
On the demand side of things, we have to continually examine the weakness in China. This nation will continue to weigh on global markets, whether it's in the recent PPI report, the lower GDP targets, or the sell off they're seeing in their equity markets. For the fertilizer market, in particular, China's inventories are increasing and that is a sharp negative to Potash Corp.
Furthermore, it's important to remember the currency impacts that the stronger U.S. dollar is having on some of Potash Corp.'s primary consumers. For India and Brazil, both the rupee and real declined significantly against the U.S. dollar in 2015, a continuation of a trend that began to gain momentum in 2011. That creates buying power weakness for these customers and, in turn, lower demand for potash.
The Company expects 1.38 USD/CAD for full year 2016, which is rather interesting considering the current spot is 1.40 and they're necessarily betting on the U.S. dollar to not see any more strength this year. That leaves them wide open to FX translation losses this year, in my opinion. Recall that for every $0.02 change in this pair, there is a corresponding $0.01 EPS impact. In Q4, the company posted EPS of $0.32, for which EPS impacts like this can make or break an earnings report reception.
The good news for current longs is that guidance is intact, despite an earnings miss. The company reaffirmed its expectations to ship 59-62 million tonnes of potash in 2016. Now, if energy prices persist and competitors continue to increase volumes, then we could see a retraction on this guidance.
Yield Changes
Now, the large headline that hit in January was the cutting of the dividend from a $0.38 quarterly payout to a $0.25 quarterly payout. This is a 34% cut and is very interesting for a few reasons. First, the stock still yields a well-above average amount of 6.29%. Think about that in terms of the average S&P 500 yield of 2.24%. Second, because the dividend is still considerably high, if the share price continues to fall (increasing the yield), speculation will continue to swell that a secondary cut could occur.
Of course, this was done to keep the investment grade credit rating intact, and while this was a necessary step, it still comes as a disappointment to shareholders. Personally, I thought they were going to cut the dividend by at least half, if not more, as speculation was building, but it remains my concern for longs that a 6.29% is also unsustainable. They'll be saving $101.2 million per quarter, which is notable and hopefully can offset some of the negative operating environment impacts for FY 2016.
Shorting With Room To Fall
On January 28, POT saw a bottom of $14.18 in early morning trading and despite missing earnings, the Company still rallied and finished the week strong. That's interesting from a resistance standpoint in evaluating just where we'll find a bottom in this stock. The short looks clearly justified considering this company saw revenue decline 29% YOY and net income fell over 50% YOY. Now, Potash Corp. was up a large 5.37% in Friday's session, but today's session is starting to reverse some of those gains. We're relatively flat on the RSI, further aiding the short argument, and the stock continues to trade well below its primary moving averages. Below is the last six months of trading: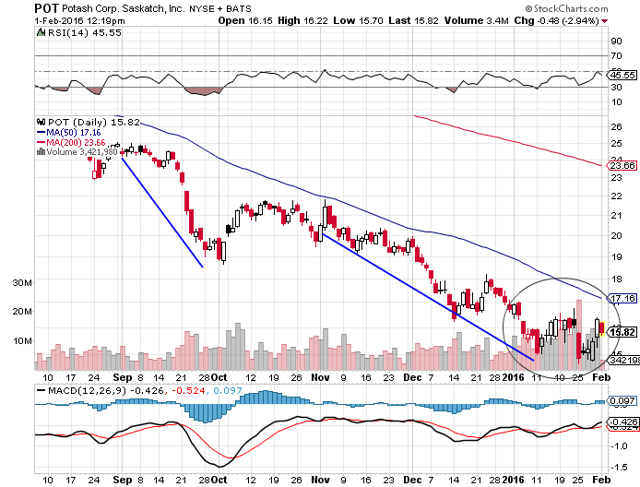 Source: StockCharts
With the average 12-month PT currently sitting at $19, which is about where the stock was trading during the end of November, it seems that the upside is limited. I did notice that BlackRock now has over a 5% stake with the company's recent SC 13G filing, which I likely attribute their buying to an improved risk/reward scenario as POT fell 51.8% in 2015.
I'd say a real major headwind that could occur in 2016 is Potash Corp. looking to acquire smaller players. While they don't necessarily have the financial stability to be able to do this, in my opinion, Tilk has mentioned that he will continue to be competitive on an acquisition front. Yet, it's best that we put the K+S speculation on the back burner, as that is one acquisition that just won't happen in the foreseeable future.
Conclusion
I believe I will continue to retain my short position on potash given the operating environment struggle in tandem with negative currency trends. The PTs are starting to come in on the back of new downgrades, and with the company providing weaker, albeit more realistic, guidance for 2016, I won't flip bullish to a company that knows it will experience more operational headwinds.
Disclosure: I am/we are short POT.
I wrote this article myself, and it expresses my own opinions. I am not receiving compensation for it (other than from Seeking Alpha). I have no business relationship with any company whose stock is mentioned in this article.