Potash Corp.'s (NYSE: POT) fourth-quarter report and the subsequent earnings call clearly did not answer all investors' questions. The debate regarding the size of the dividend cut, the sustainability of the dividend and the future of the company's share price continues. The dust settled a bit after the initial reaction to the report, and it's a good time to review main points of the Potash Corp.'s report.
Is Potash Corp.'s guidance realistic?
First, let's talk about the numbers that Potash Corp. presented in its guidance.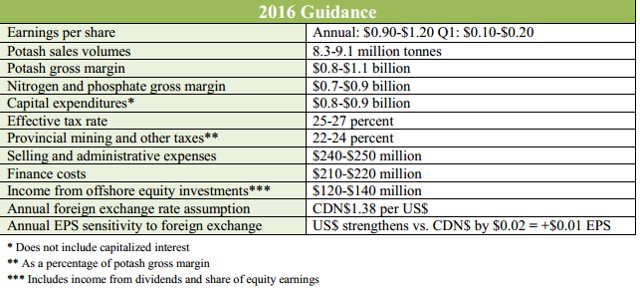 So, how realistic is the $0.8 billion - $1.1 billion gross margin guidance for the potash segment? In 2015, Potash Corp.'s full-year cost of goods sold number was $111 per ton, mostly flat compared to 2014. During the earnings call, the company declined to disclose the exact numbers that went into the gross margin guidance, so we must make certain assumptions.
I would argue that better potash pricing will correlate with better sales volume. In my view, Potash Corp. will sell more into a healthy market (as indicated by better potash prices) and curb its production in a tougher market. Taking into account Potash Corp. potash sales guidance of 8.3 million - 9.1 million tons, the company projects to have potash margins of $96/ton - $121/ton. Once again, I assume a direct correlation between sales and total gross margin, as Potash Corp. will likely sell more into a better market.
If we stay conservative and assume that the COGS number in 2016 won't change, then Potash Corp. envisions 2016 potash prices of $207/ton - $231/ton. If COGS were to drop to $100/ton, then the estimated potash price will drop to $196/ton - $221/ton. I arrive to the conclusion that the low end of Potash Corp.'s guidance implies a potash price somewhere around $200 per ton.
Let's now turn to the guidance for the nitrogen and phosphate segments, where Potash Corp. expects to get gross margin of $0.7 billion - $0.9 billion. For these segments, the implied parameters are trickier to estimate, as the company did not give the sales guidance. If the company's sales volumes stay the same as in 2015 and its COGS and realized prices for nitrogen and potash segments mimic the fourth quarter performance, then Potash Corp. can count on getting $766 million of gross margin from those segments in 2016. In my view, the current guidance leaves little room for downside - either in pricing or in volume.
I will not call Potash Corp.'s gross margin guidance conservative. At the same time, it's not totally unrealistic. Not surprisingly, the company did not present its estimates for sub-$200 potash prices. This is reasonable, as it's still a question whether we see them or not. In my view, investors should look at the lower end of the company's guidance for practical purposes.
Is the dividend sustainable with current assumptions?
As I stated above, I think it's justified to use the low end of Potash Corp.'s gross margin guidance for dividend sustainability evaluation. With a $0.25 quarterly dividend, Potash Corp. is set to spend $836 million annually on the dividend. The low end of the guidance implies a $1.5 billion gross margin from all company's segments and a $120 million income from offshore equity investments. The company started the year with just $91 million of cash on the balance sheet, so it has no immediate cash cushion to provide support to the dividend.
In my view, the numbers don't work for Potash Corp.'s dividend at the low end of its guidance unless we take into account $984 million of available-for-sale investments. With this point in mind, yes, the dividend could be sustained in a negative scenario. However, there are several things to point out. First, the company will probably stay away from any aggressive asset sales in order to continue paying current dividend. Second, I don't think that the low end of Potash Corp.'s guidance is the worst-case scenario.
I think that we are not witnessing any kind of "normal" commodity market downturn. Almost all commodities are under pressure, which creates a domino effect for market participants and even countries. The potash market has its own problem - the cartel-like structure was damaged when Uralkali broke its ties with Belaruskali and now plays its own game.
There has been much attention to the serious decrease of the Canadian dollar relative to the U.S. dollar. Surely, this decrease helps Canadian producers. However, the devaluations of both the Russian ruble and the Belorussian ruble have been significantly deeper. This puts both Uralkali and Belaruskali at a better position in comparison to the Canadian competition. Also, the ability of both Uralkali and Belaruskali to play volume games further endangers the price of potash.
So, what about the dividend sustainability? I believe that the 34% dividend cut did not provide enough flexibility for Potash Corp. The company's management stated the opposite during the quarterly earnings call, but it's natural that they defend the decision that they had just taken. I see serious risks for further cuts.
Where the share price is heading?
The potash market structure is different to most commodities. As a result of this, potash producers have been able to get margins that their peers in other industries could only dream of. The main risk is that the current global commodity market downturn could put pressure on this structure. Producers' costs leave much room for further downside. Price negotiations with China will set the tone for the whole year. I think that China news will be a negative surprise, especially taking into account the competition from Uralkali and Belaruskali.
As the market falls, there's little sense to look at P/E and P/B numbers and use them to estimate whether the company is cheap or not. First, fertilizer markets must find a bottom. Waiting for fertilizer markets to show some kind of revival won't bring you the bottom price in Potash Corp.'s shares. However, an investor could have bought multiple bottoms in Potash Corp.'s shares all the way down with negative returns, so missing the ultimate bottom and buying a little higher does not look like a very bad outcome.
The good news for current shareholders is that the dividend yield will likely keep most short-sellers away from the stock, as there are plenty of other opportunities to make downside bets on commodity companies.
All in all, I'm concerned with the impact of the global commodity rout on the potash market as well as Potash Corp.'s decision to dedicate all its earnings to the dividend. Until I see signs of a market rebound, I rate Potash Corp. as a "hold".
Disclosure: I/we have no positions in any stocks mentioned, and no plans to initiate any positions within the next 72 hours.
I wrote this article myself, and it expresses my own opinions. I am not receiving compensation for it (other than from Seeking Alpha). I have no business relationship with any company whose stock is mentioned in this article.